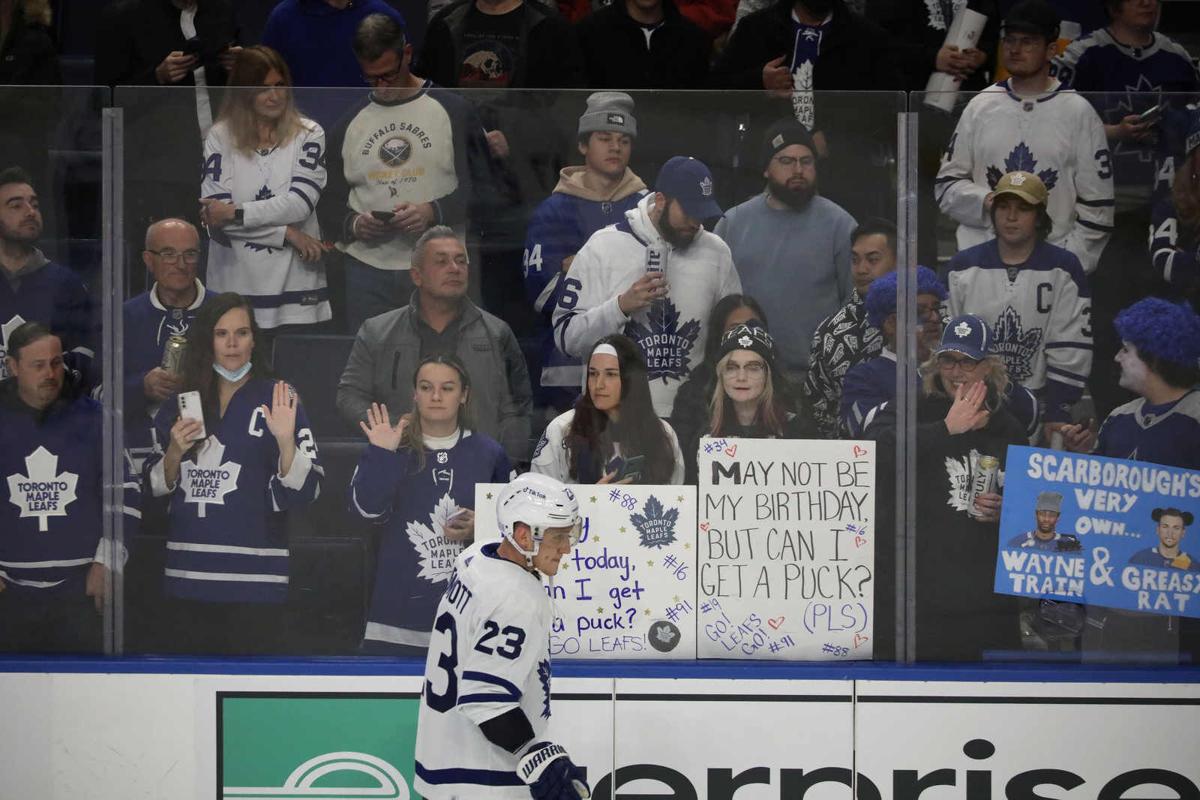 We've quickly learned Don Granato has quite the mind to talk hockey with the media. The Sabres coach doesn't speak in cliches and buzzwords, gives just enough information to fill reporters' notebooks on one hand and keep them at bay at times on the other hand. He won't throw players under the bus, but you know when he thinks his club needs to pick up the pace too.
And he's developing a penchant for some pretty good lines. When I asked the other day about Connor McDavid's 1-on-4 goal against the New York Rangers, his response about how it looked like a bunch of people who all thought somebody else was going to call 9-1-1 made the rounds through media members on both sides of the border.
Defenseman Morgan Rielly scored the game-winning goal with 12 seconds remaining on a screened Aaron Dell to spoil the comeback attempt and give the Maple Leafs a 5-4 victory over the Sabres.
I went in with Granato on another topic prior to Saturday's game, and it was about the Sabres' archrival. At least that's who the Toronto Maple Leafs used to be. But in this pandemic world, we had not seen the Leafs in 21 months and now there's no Jack Eichel and Sam Reinhart to go head to head with Auston Matthews and Mitch Marner, no Rasmus Ristolainen to butt heads with the also-departed Nazem Kadri.
Still, Granato knows what I was suggesting. His smile showed impending snark.
Said Granato of the Leafs: "I haven't missed them."
I get it. Coach's nightmare preparing for this club. You'd rather be getting ready to play Arizona or Ottawa. When it comes to Toronto, if not Matthews, it's Marner. If not Marner, it's William Nylander. If it's not Nylander, it's John Tavares. Or Morgan Rielly. Lots of weapons indeed.
And to try to do it the night after you had to deal with McDavid and Leon Draisaitl? No easy task. You have to deal with the team. And the fans. Toronto visits to Buffalo often feel like road games, but that issue was muted quite a bit Saturday by the ongoing border restrictions. More on that in a moment.
It was a ragged, loose Sabres-Leafs game full of wild highs and lows. The Sabres were in 3-1 and 4-2 holes and battled back to tie and create good old-fashioned Buffalo-Toronto chaos the rest of the way. The Sabres nearly took the lead before the Leafs tilted the ice back in their favor in the final minutes and then struck for a dagger.
Alex Kerfoot jumped Jeff Skinner along the wall after Colin Miller and Mark Pysyk had reversed the puck that way. Kerfoot fed Rielly in front and Rielly beat a screened Aaron Dell with 11.8 seconds left.
Leafs 5, Sabres 4. Big-time crusher.
"We had time to make a play and we didn't," a glum Granato said afterward, declining to elaborate. Maybe he wanted Miller to go the other way with the puck. Maybe he wanted Skinner, who was otherwise sensational in this one with two goals, to be stronger along the wall. Neither happened.
It seemed like a crazy game to coach in, just like Granato had said during his pregame chat.
"This game had a lot of surges. Credit to both teams in that regard," Granato noted afterward. "It was tough for each team to kind of break the surge and the pressure, but once it turned, it was a surge the other way. I would imagine it was an exciting game to watch for either fan base because of that. But I don't know it was that exciting to coach. The guys played hard and I don't want to discredit that."
You have to like the Sabres' battle level in this one. The building was alive when Skinner and Rasmus Dahlin scored in a 59-second span of the third period to get Buffalo even at 4-4 after Tavares' power play goal with 10:38 left gave the visitors a 4-2 lead that looked it might be game-over time.
"We have guys that play with a chip on their shoulder and want to prove something," said Tage Thompson, strong again with a goal and an assist. "It's infectious and fun to be a part of."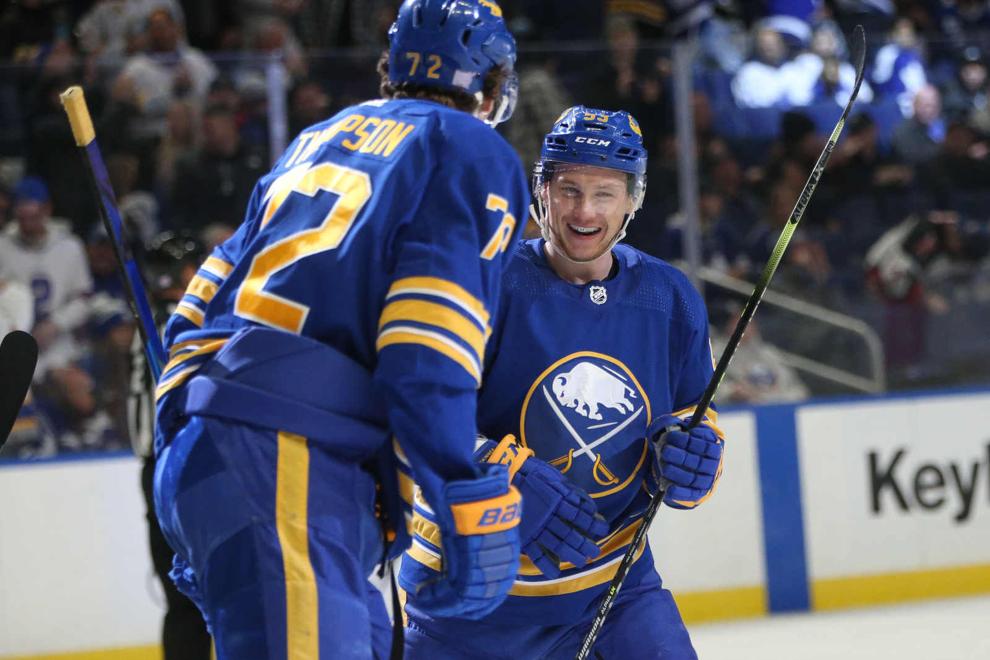 Too bad more people didn't see this one in the house. The announced crowd of 7,992 was easily the smallest Sabres-Leafs crowd anyone has ever seen.
If you're going to make fully vaccinated Canadians get a PCR test to go back home at a cost of $100-$200, they're not going to do it. We've read lots about state politicos understandably dismayed by the rule. They have to keep working on the issue and it's ruining commerce, severely damaging the Sabres and will crush the Bandits if it's still in place when their season starts.
There's your brief political interlude.
So here's some looks halfway through first period. Smallest #Leafs-#Sabres crowd ever. Stunning. Sad. Tickets far too expensive and the border testing requirement is just crushing. All parties need to keep working at it. pic.twitter.com/6TkMcvd3kU

— Mike Harrington (@ByMHarrington) November 14, 2021
As for hockey, the last time the Leafs were here was Feb. 16, 2020, a night that saw the Sabres explode for three goals in a 91-second span and send Leafs Nation back across the border smarting after a 5-2 loss.
The Leafs fans were noticeable as usual Saturday, lining the glass during warmups, singing "O, Canada" and chanting "Go Leafs Go."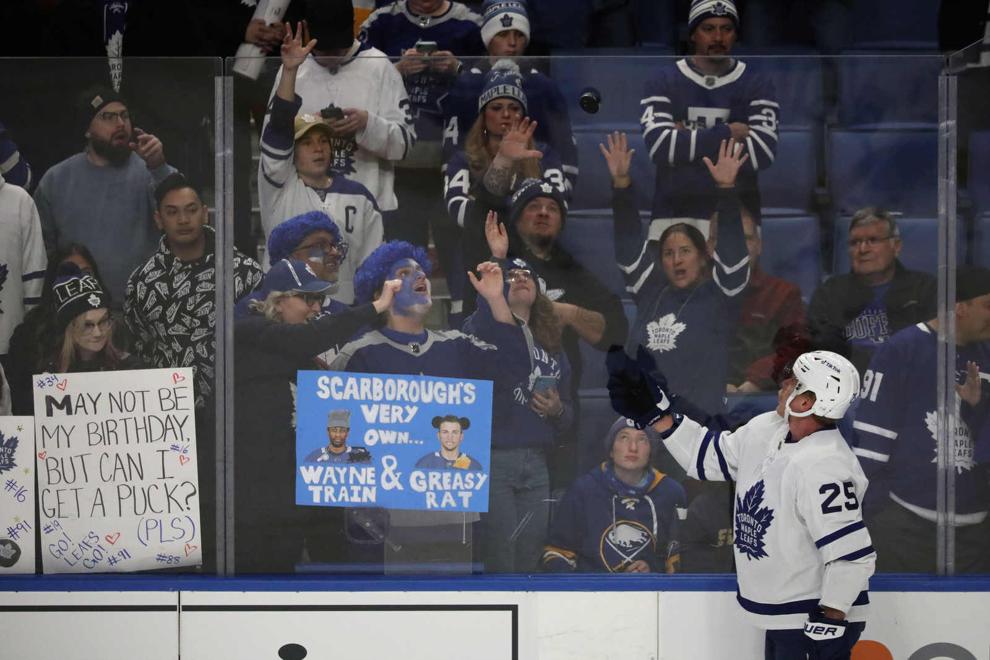 This was a strange night, with both teams on back-to-backs. The Sabres started Dell in goal, giving the 32-year-old his Buffalo debut. The Leafs went with Joseph Woll, a 25-year-old up from the AHL's Toronto Marlies in his first NHL game. Woll has Buffalo connections; he was selected when the draft was here in 2016 along with Matthews and was Team USA's most prominent goalie for the 2018 World Juniors held in the building.
Dell was not good, but still probably deserved the call over Ukko-Pekka Luukkonen, who was off to a terrible start in Rochester until his last three games. You would imagine the next time the Sabres need to dip down to the AHL, UPL would be the choice. He made 32 saves Saturday in a 4-0 win over Cleveland to post his first AHL shutout.
It was fun for one night, even though we have no idea when we'll see the Leafs here again. The Sabres' other home game against them this year, remember, is in Hamilton in March, outdoors at the Heritage Classic in Tim Hortons Field. So if their 2022-23 meetings in Buffalo don't come until the second half of next season, we could go another year-plus.
Too bad these teams can't get together more.