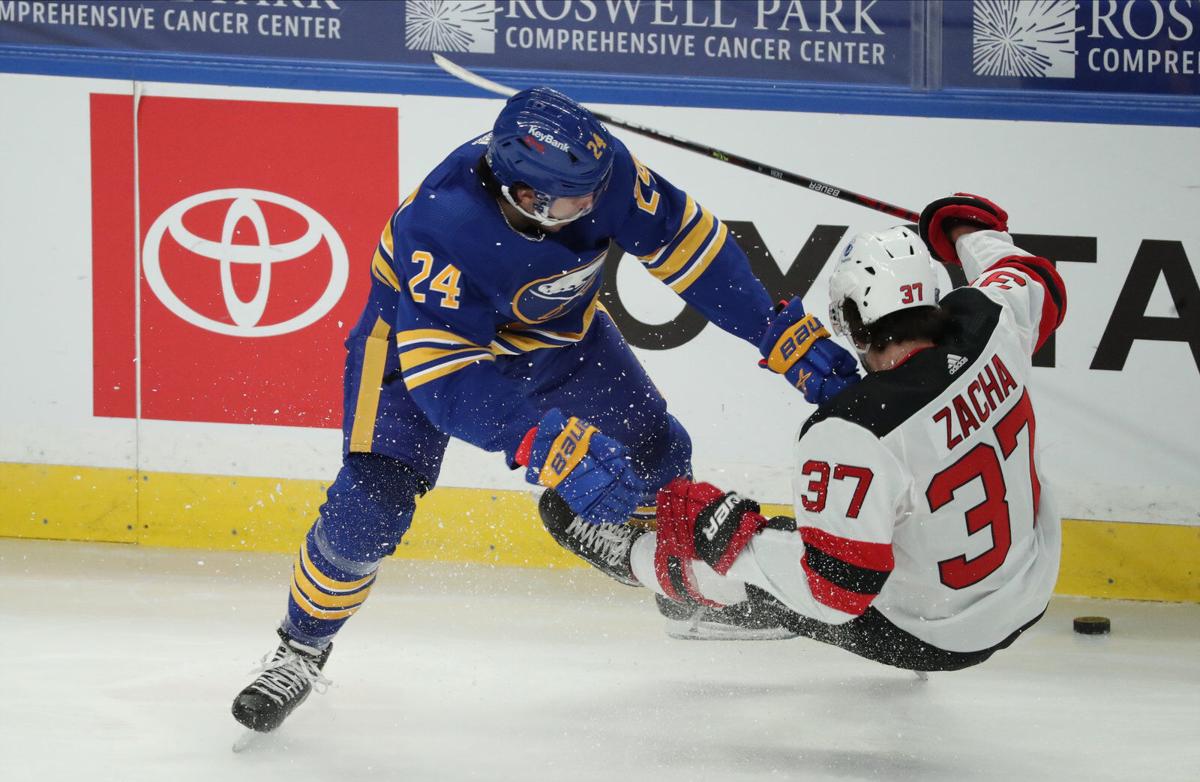 It's just plain weird in KeyBank Center this season without all of you. But there are days like Saturday where I'm darn glad you didn't pay to get in and I got paid to watch.
Because if you handed over your money and I didn't get mine, we'd all have been wasting our time for at least two periods of that game between the Sabres and New Jersey Devils. What a nothing-going-on snoozer.
Though the roster is unquestionably more talented than a year ago, Ralph Krueger is still discovering how to build a lineup that will produce consistently at 5-on-5.
At least things got a lot more interesting in the third period, overtime and shootout of Buffalo's 4-3 win over the Lindy Ruff-led Devils (and yes, that feels goofy to write). 
The Sabres are finding a way. They have points in six of their last seven games (4-1-2) and in five straight. This 3-0-2 run, in fact, matches one of similar makeup as their longest in nearly 14 months.
Still, you see trouble spots.
For one thing, it's pretty easy to ask where did the team go that was playing well and piling up shot totals against Washington and Philadelphia? Because that group hasn't been around this week for most of the last three games against New York and New Jersey, two teams on a decidedly lower level who are plus-23 in shots on the Sabres over these trio of matchups.
"Not every game can be perfect," said winger Tobias Rieder, whose three goals are already just one fewer than he had over the last two years in Edmonton and Calgary. "There's absolutely going to be games where you're not playing to your ability and if you get points out of those games, they can be huge in the long run."
Five-on-five play is spotty. Tage Thompson is playing like he has no clue what to do on his line and it's hard to imagine what he was doing on the power play Saturday. If Sam Reinhart can't play Sunday, the Sabres would be much better off with Casey Mittelstadt in the lineup than Thompson.
Goal scoring remains an issue. Victor Olofsson has four, while Reinhart, Tobias Rieder and Eric Staal have three apiece. That's good. Jack Eichel, Taylor Hall, Kyle Okposo and Jeff Skinner – who combine for $33 million in salaries – have combined for three. That simply can't continue.
At least Eichel has a pair of shootout winners and Hall has a team-high eight assists. Still, Hall needs to be a lot more noticeable in games than he has been. That Hart Trophy looks a lot longer than just three years ago.
The Sabres have done nothing to date to allow them to think they can play down to opposition. Let's not forget that the Rangers and Devils are looking at Buffalo as opportunity, too. 
Coach Ralph Krueger's relentless optimism is admirable but hard to accept. Still, he likes the way his team is embracing tight games. Six of the Sabres' first nine have been decided by a goal and they've gone 3-1-2 in them. There are going to be a lot more.
"This division is going to be all about that for 56 league games," Krueger said. "And it's going to make our division extremely exciting to watch. Great for our fans, but challenging for us every single night, all these teams with a different personality."
Linus Ullmark still has a penchant for giving up goofy goals, with Janne Kuokkanen's tying tally with 5:19 left in regulation not a good display because Ullmark pulled off his post early. But Ullmark has been the anti-Robin Lehner in shootouts, stopping nine of 10 attempts in his three outings. He went 3 for 3 Saturday and is 30 for 35 for his career. That .857 save percentage, in fact, is second all-time in the shootout era (since 2005) among goalies with at least 20 attempts to former Tampa Bay goalie Johan Holmqvist (32-37, .865).
The Sabres have a lot more faith in their goalies than in the past. Ullmark has been strong over the last five starts while Carter Hutton, who should be in goal in Sunday's rematch, had put together two games at a .952 clip until taking the cheap elbow to the head from Philadelphia's Ivan Provorov on Martin Luther King Jr. Day.
The penalty kill, an Achilles heel last year, is running at 80% after going 4 for 5 Saturday. One chance was a full two minutes of 5-on-3 after rarely called simultaneous penalties on Staal and Brandon Montour. The Devils passed and passed and passed but Curtis Lazar, Rasmus Ristolainen, Jake McCabe and Ullmark didn't blink.
"It was perfectly positioned if you look at how Lazar, McCabe and Ristolainen took the shot lanes away," Krueger said. "And how well they anticipated and read their movements. It was a textbook three on five. ... That was truly a moment where we were tested and you almost feel like you scored a goal when the guys kill like that."
The Sabres have to start getting a move-on in these games. They've only scored first three times and led after two periods twice. They've only had command of one game, the 6-1 grounding of the Flyers in Philadelphia. The Devils are playing without center Travis Zajac and goalie Mackenzie Blackwood (Covid-19 list) and center Nico Hischier, the No. 1 pick from 2017 who has been sidelined all season with a leg issue.
They play hard, like you would expect out of a Ruff team, but they're not very good and using former Sabres farmhand Scott Wedgewood in goal. The Sabres need to flat-out put one on the Devils in the rematch Sunday.
"I think we're still taking steps," said Staal. "There's parts of our game that are solid, and there's parts of it to work on. But I think that goes for a lot of teams. Obviously, the two points are huge and that's what matters. And now we need to follow it up with a new one tomorrow."
Buffalo Sabres 4, New Jersey Devils 3 in OT
Buffalo Sabres 4, New Jersey Devils 3 in OT
Buffalo Sabres 4, New Jersey Devils 3 in OT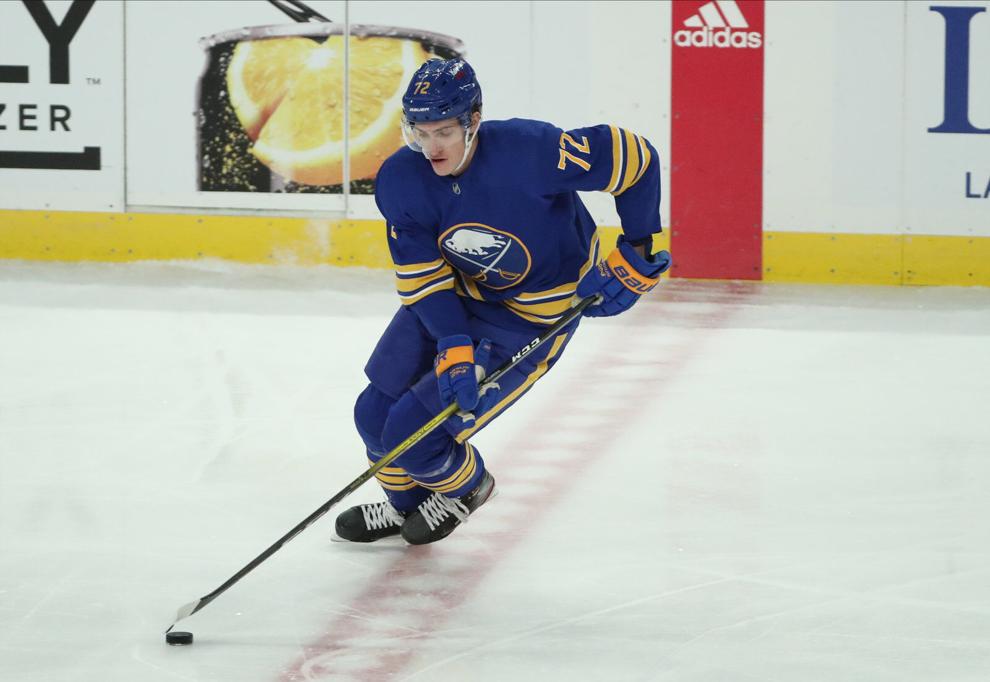 Buffalo Sabres 4, New Jersey Devils 3 in OT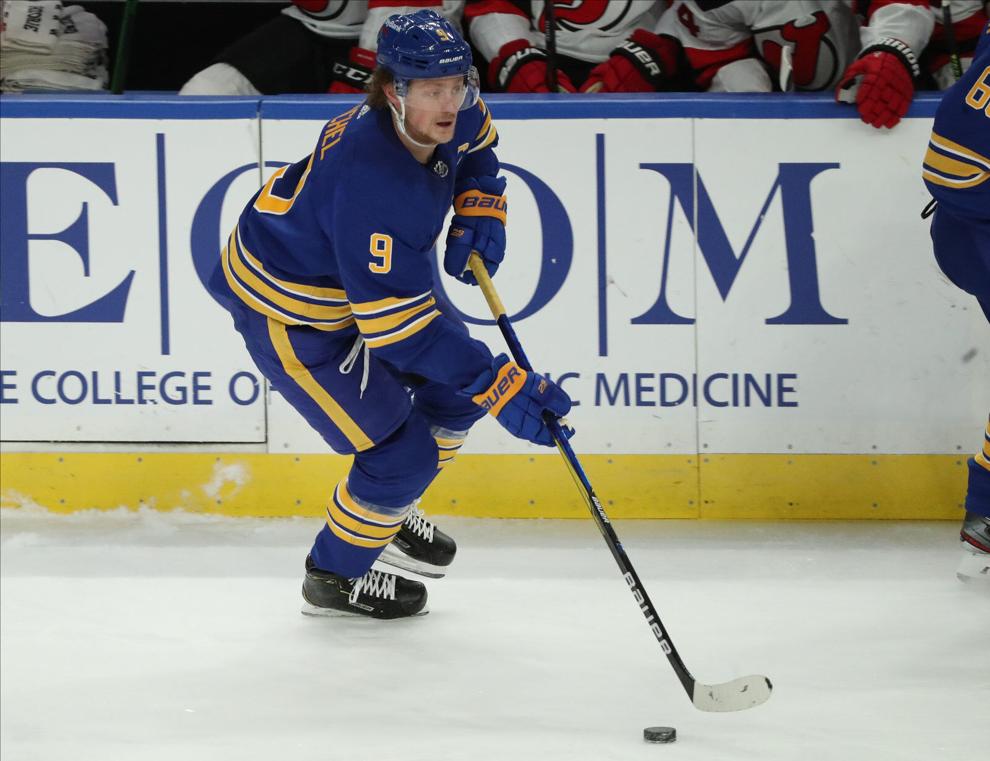 Buffalo Sabres 4, New Jersey Devils 3 in OT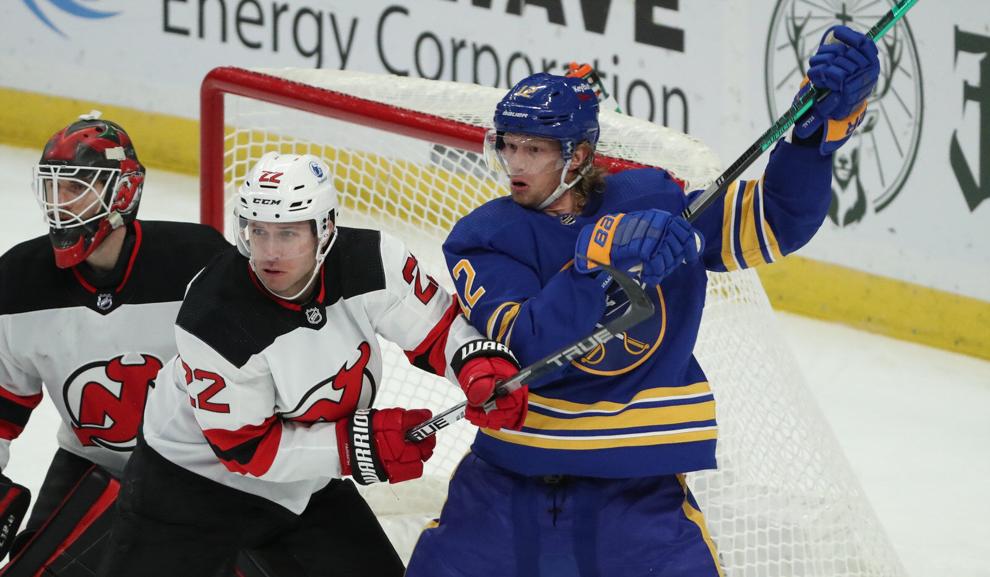 Buffalo Sabres 4, New Jersey Devils 3 in OT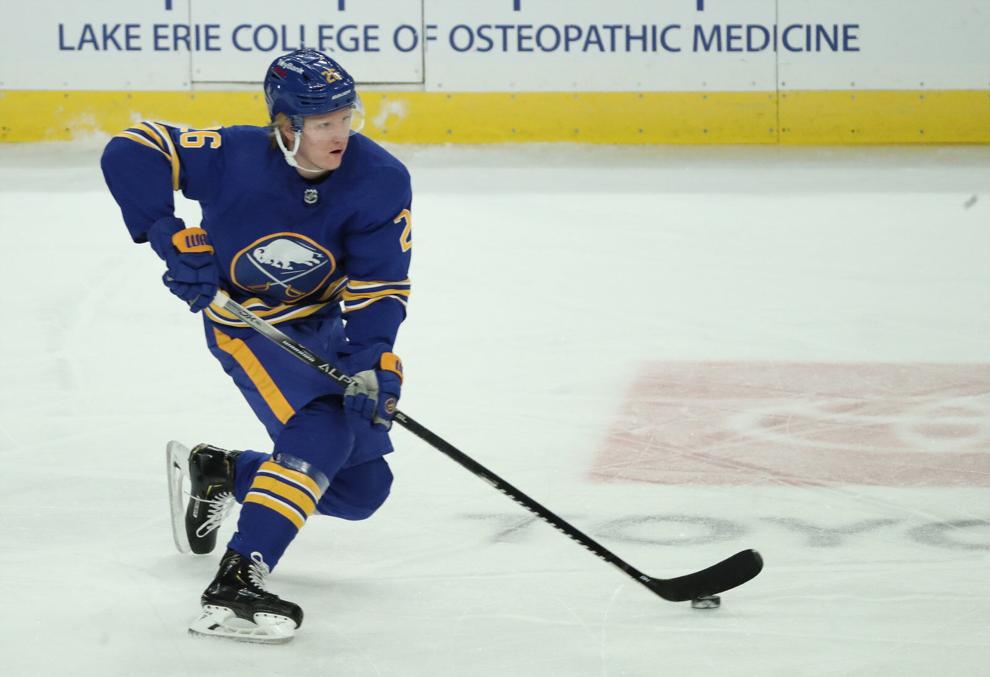 Buffalo Sabres 4, New Jersey Devils 3 in OT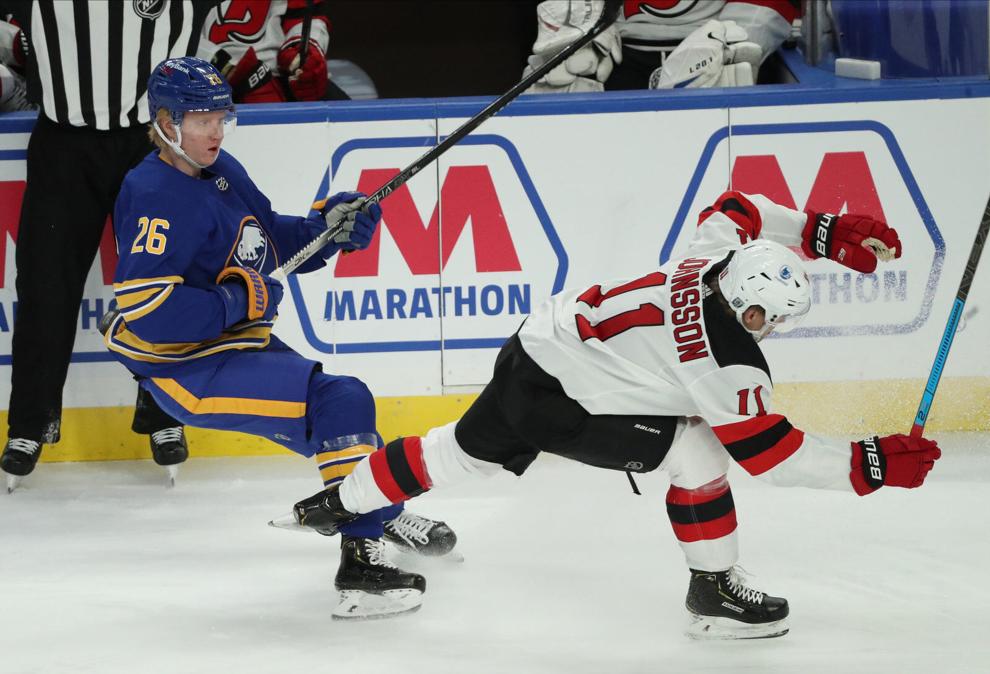 Buffalo Sabres 4, New Jersey Devils 3 in OT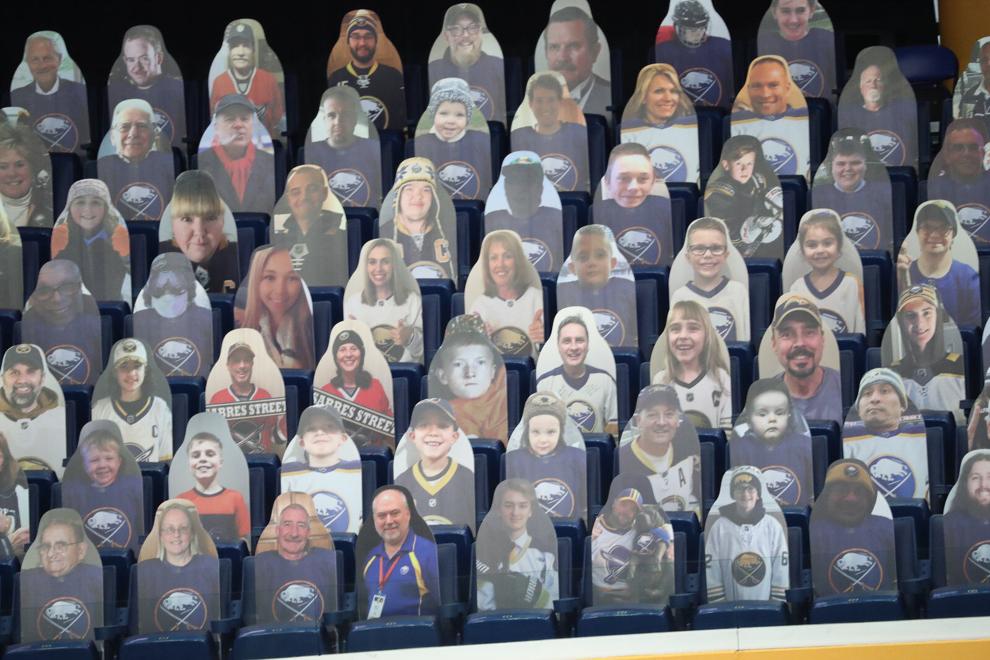 Buffalo Sabres 4, New Jersey Devils 3 in OT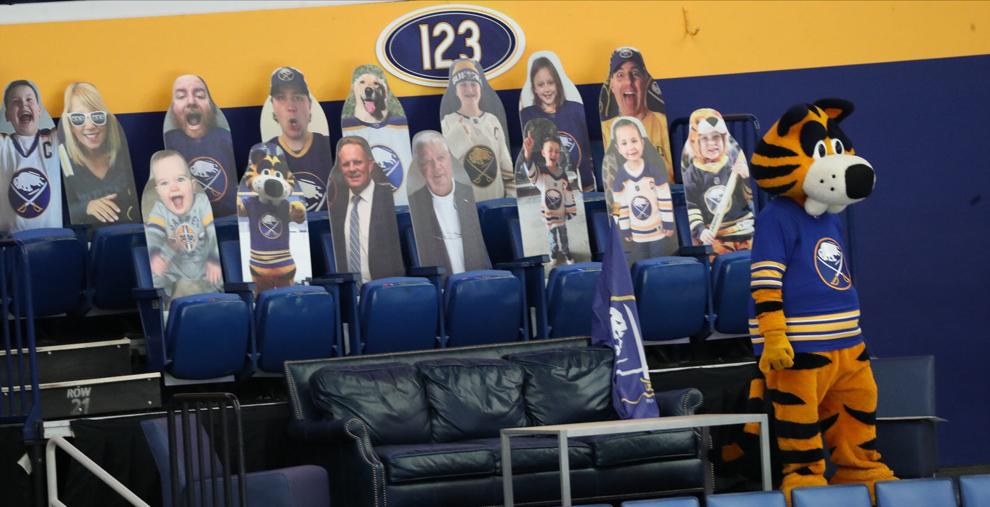 Buffalo Sabres 4, New Jersey Devils 3 in OT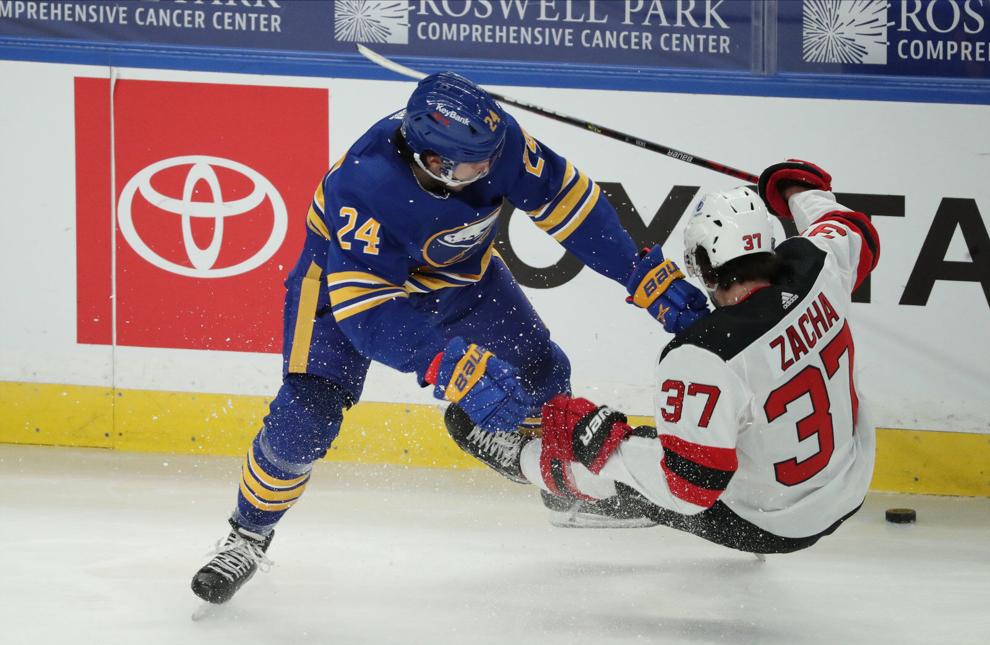 Buffalo Sabres 4, New Jersey Devils 3 in OT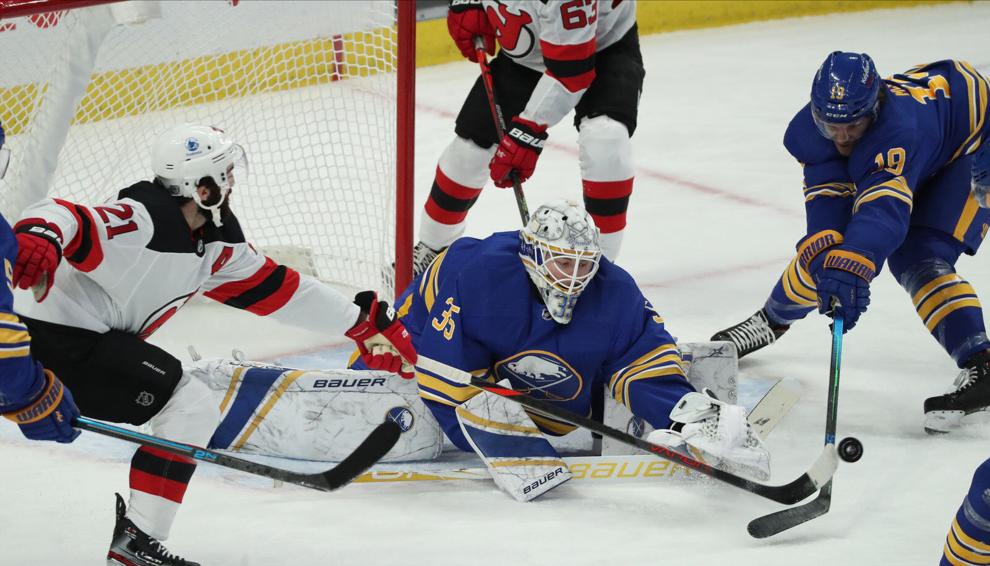 Buffalo Sabres 4, New Jersey Devils 3 in OT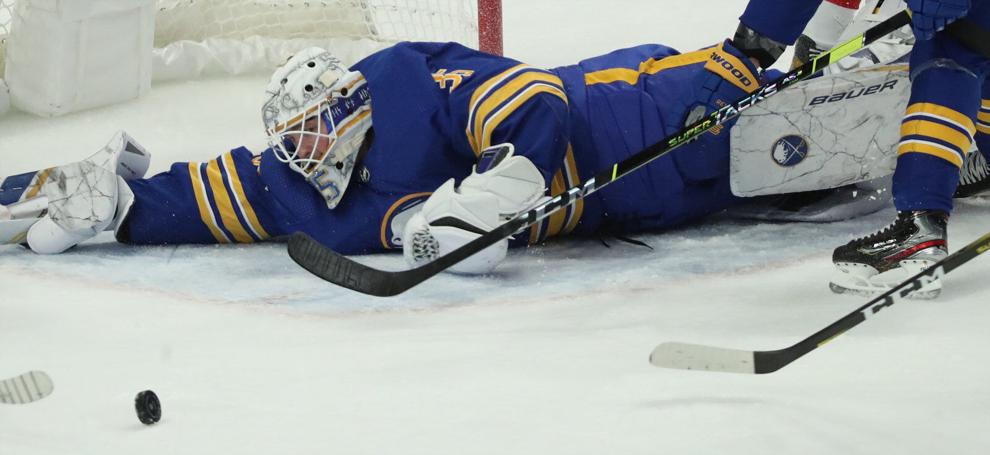 Buffalo Sabres 4, New Jersey Devils 3 in OT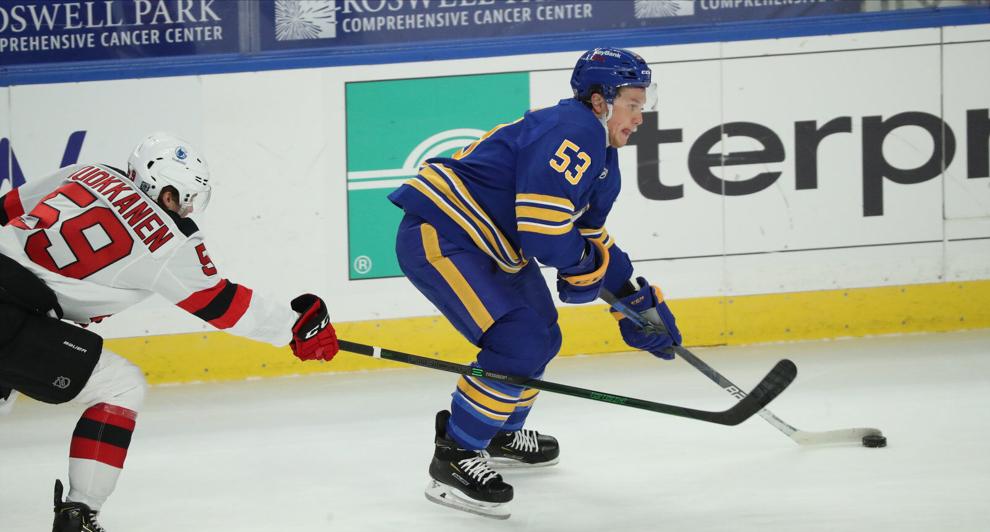 Buffalo Sabres 4, New Jersey Devils 3 in OT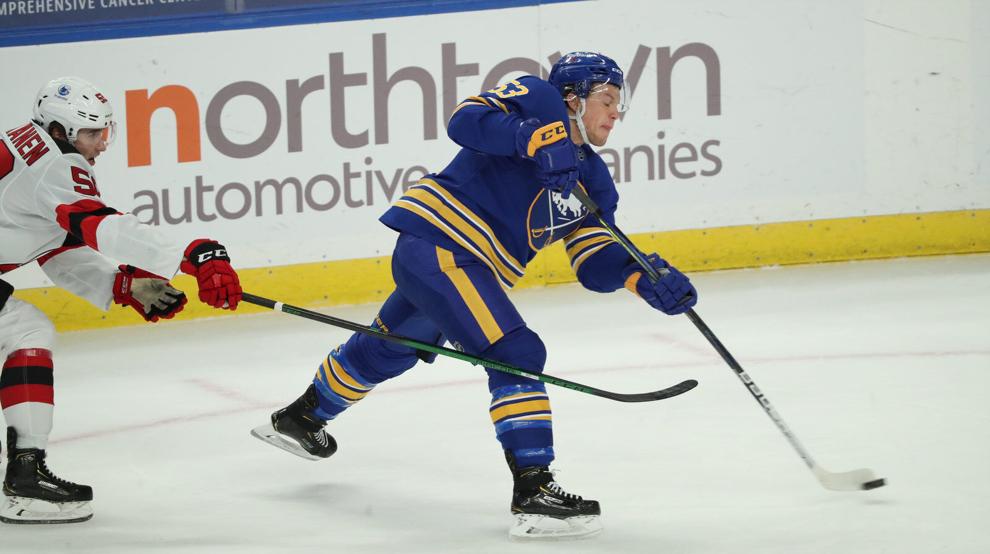 Buffalo Sabres 4, New Jersey Devils 3 in OT
Buffalo Sabres 4, New Jersey Devils 3 in OT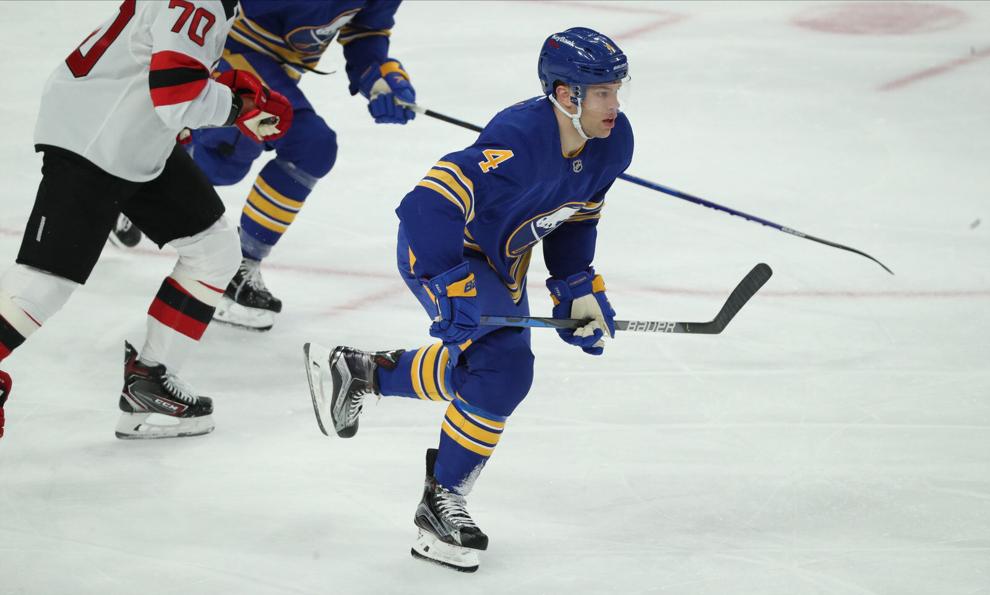 Buffalo Sabres 4, New Jersey Devils 3 in OT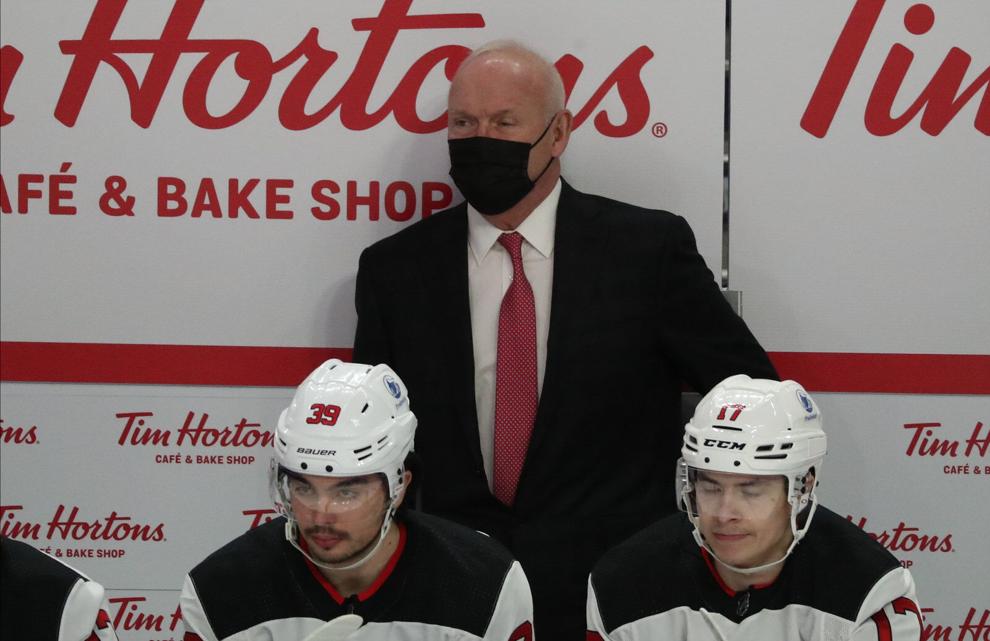 Buffalo Sabres 4, New Jersey Devils 3 in OT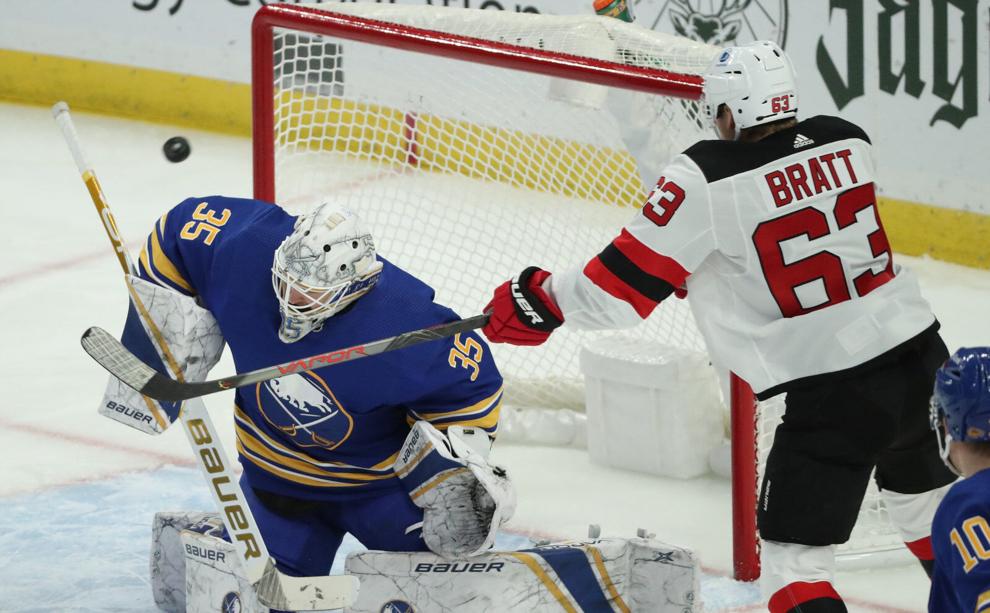 Buffalo Sabres 4, New Jersey Devils 3 in OT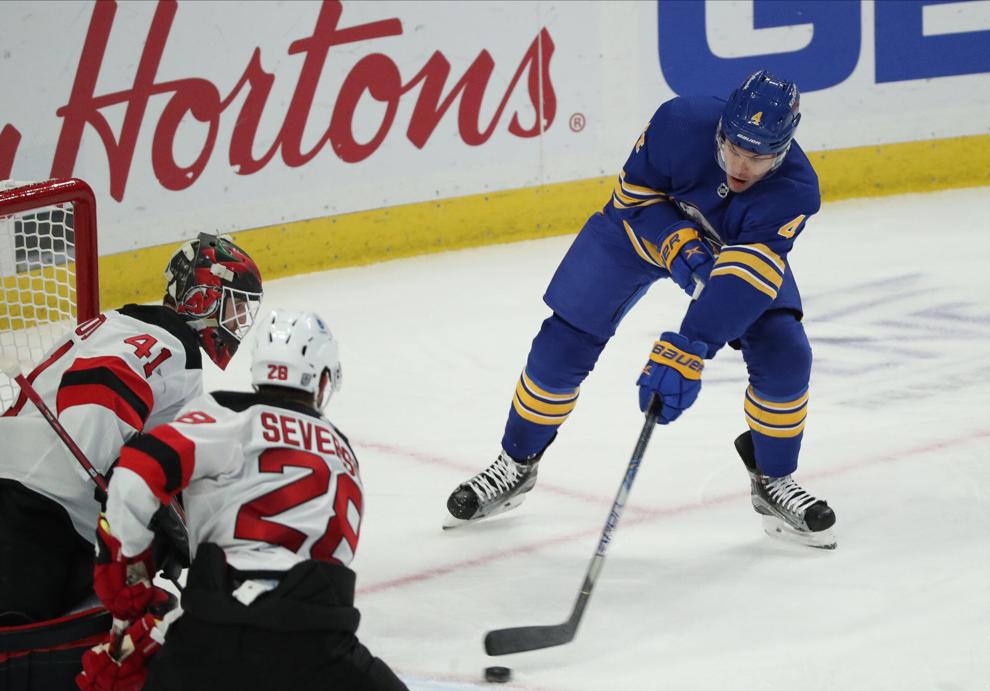 Buffalo Sabres 4, New Jersey Devils 3 in OT
Buffalo Sabres 4, New Jersey Devils 3 in OT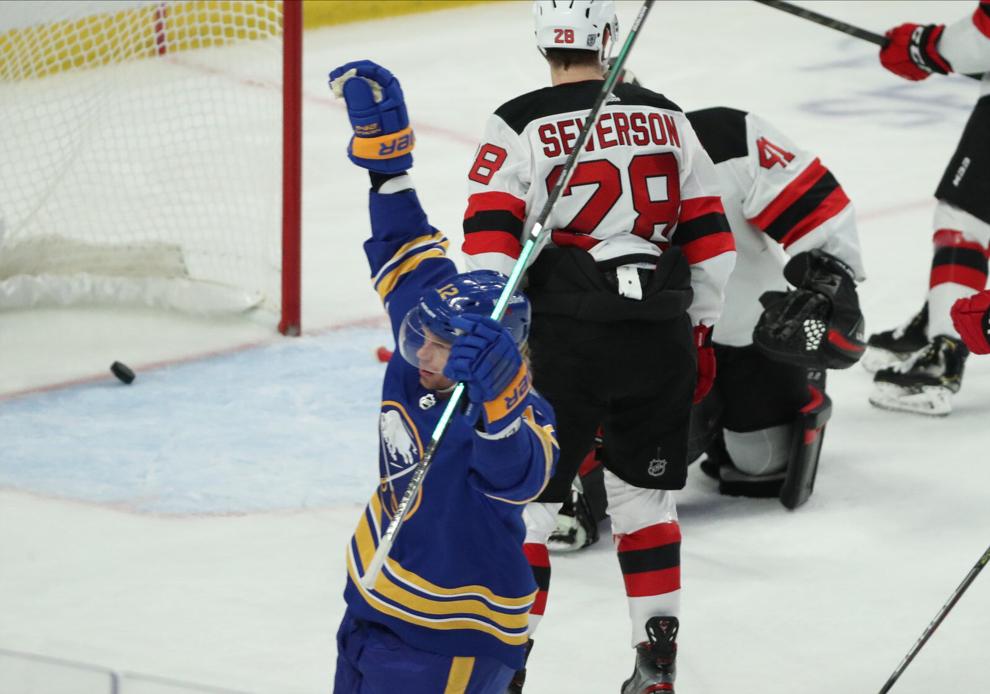 Buffalo Sabres 4, New Jersey Devils 3 in OT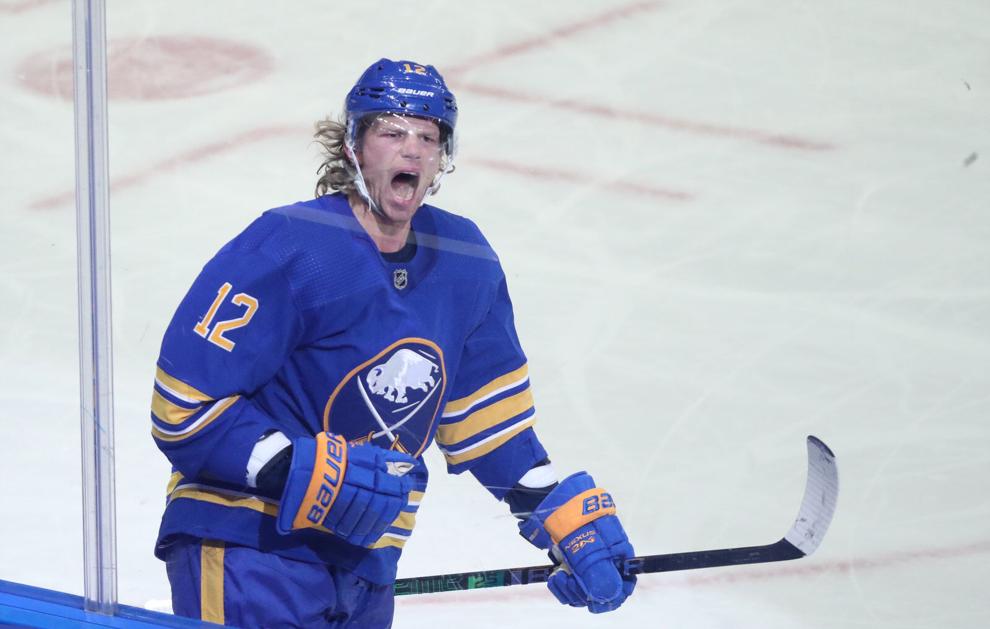 Buffalo Sabres 4, New Jersey Devils 3 in OT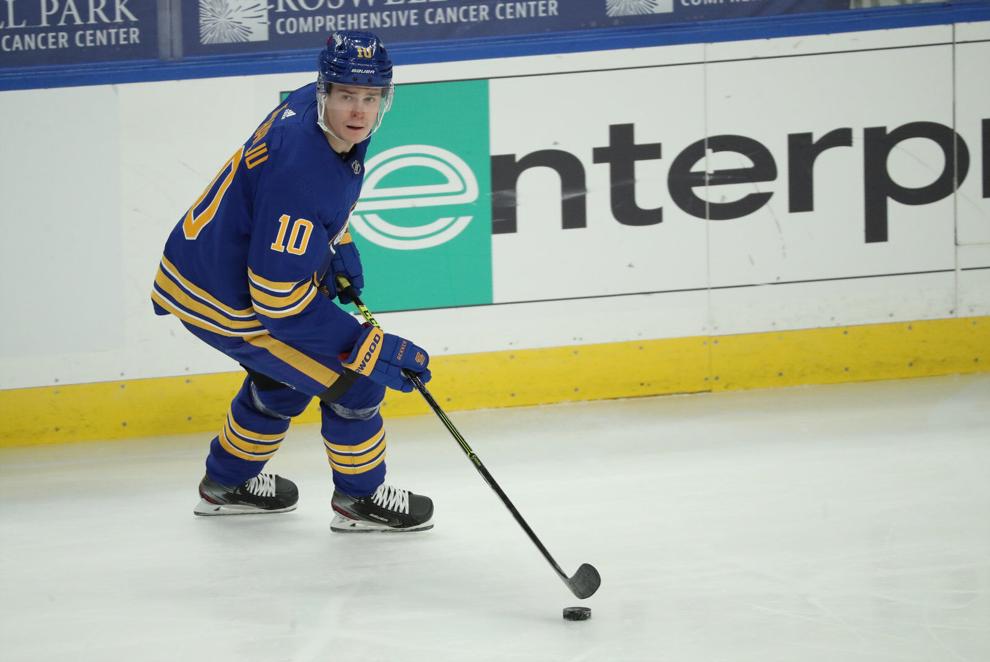 Buffalo Sabres 4, New Jersey Devils 3 in OT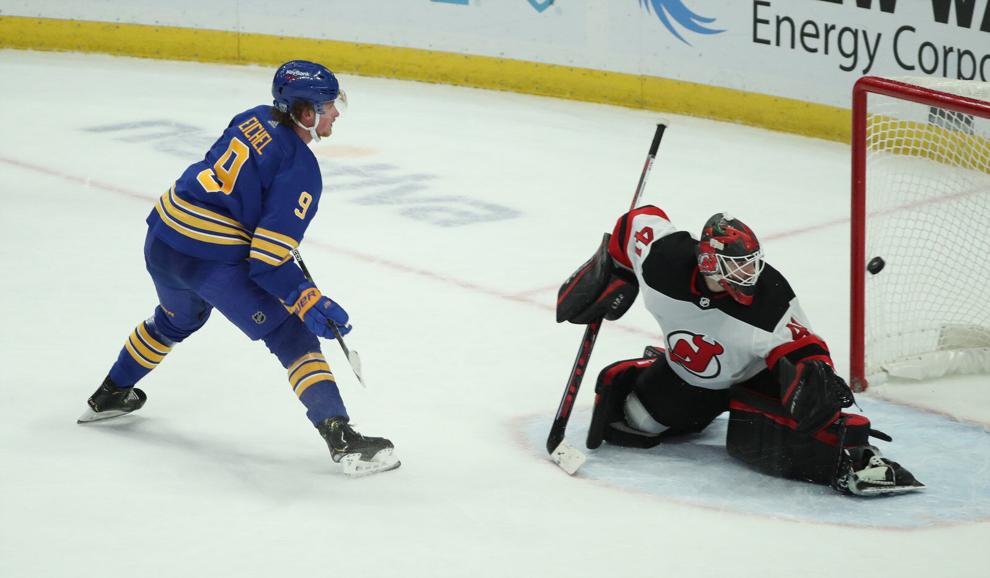 Buffalo Sabres 4, New Jersey Devils 3 in OT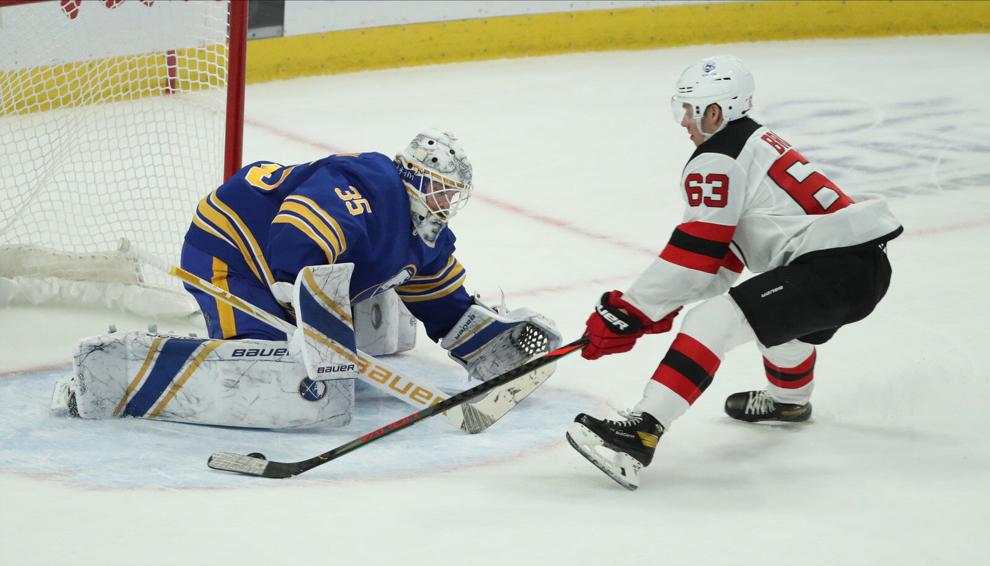 Buffalo Sabres 4, New Jersey Devils 3 in OT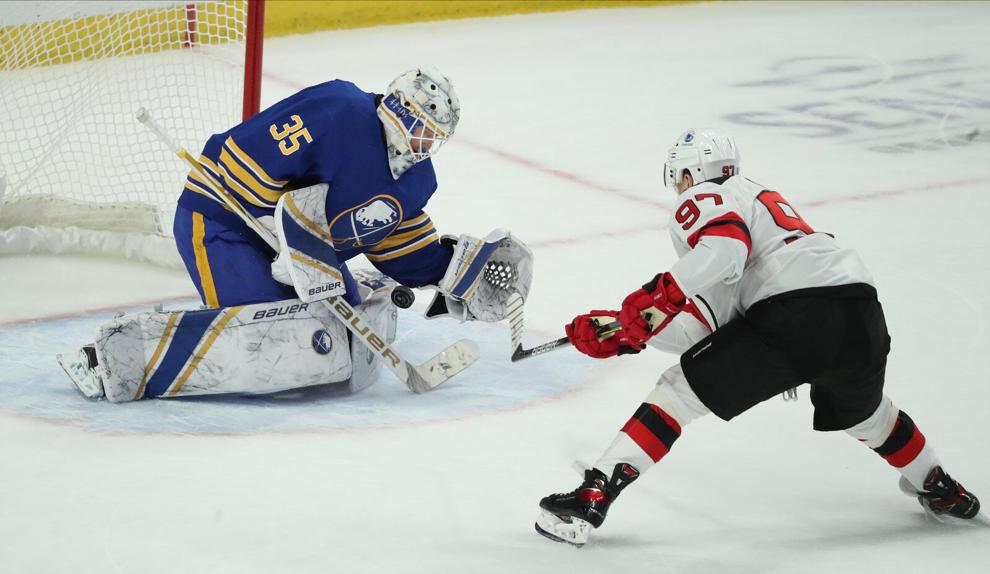 Buffalo Sabres 4, New Jersey Devils 3 in OT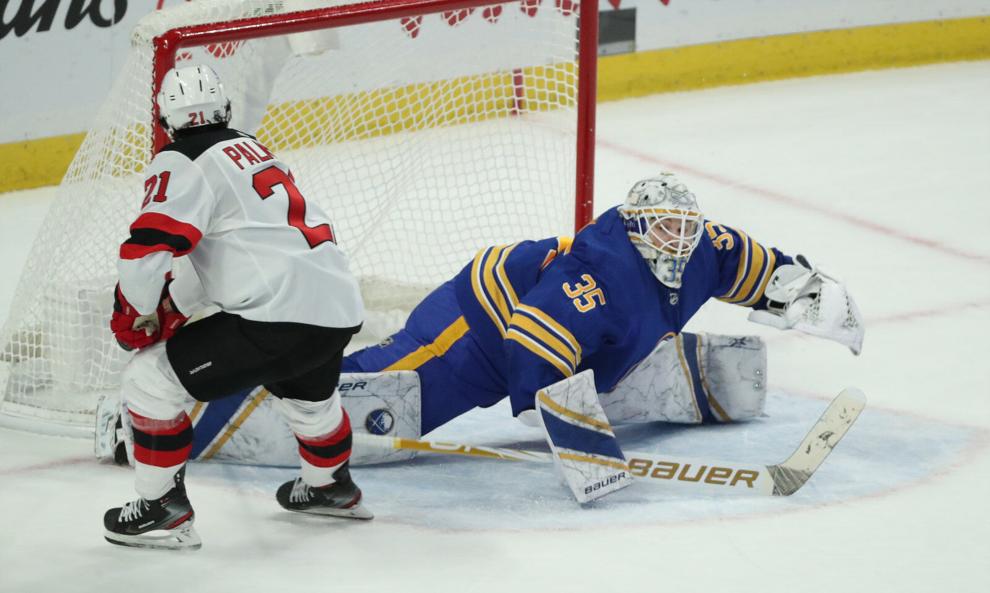 Buffalo Sabres 4, New Jersey Devils 3 in OT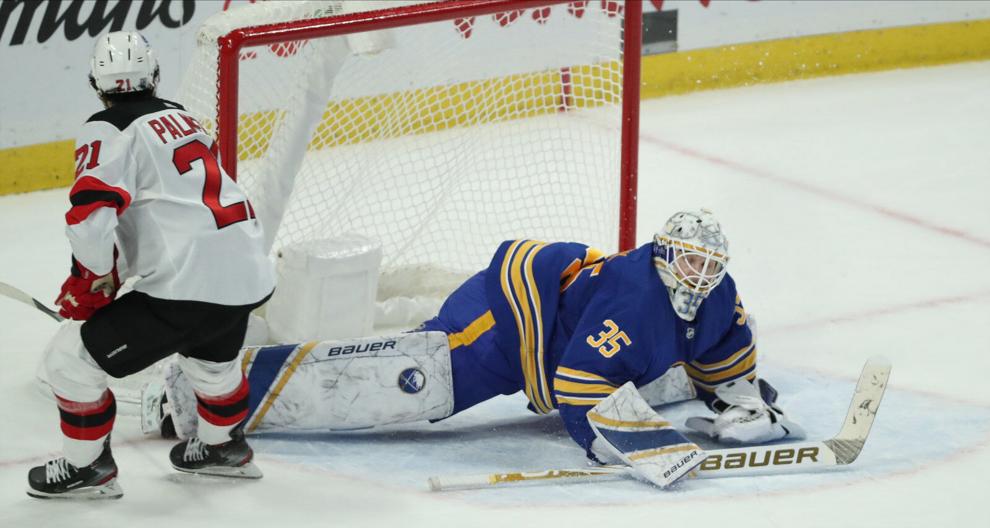 Buffalo Sabres 4, New Jersey Devils 3 in OT