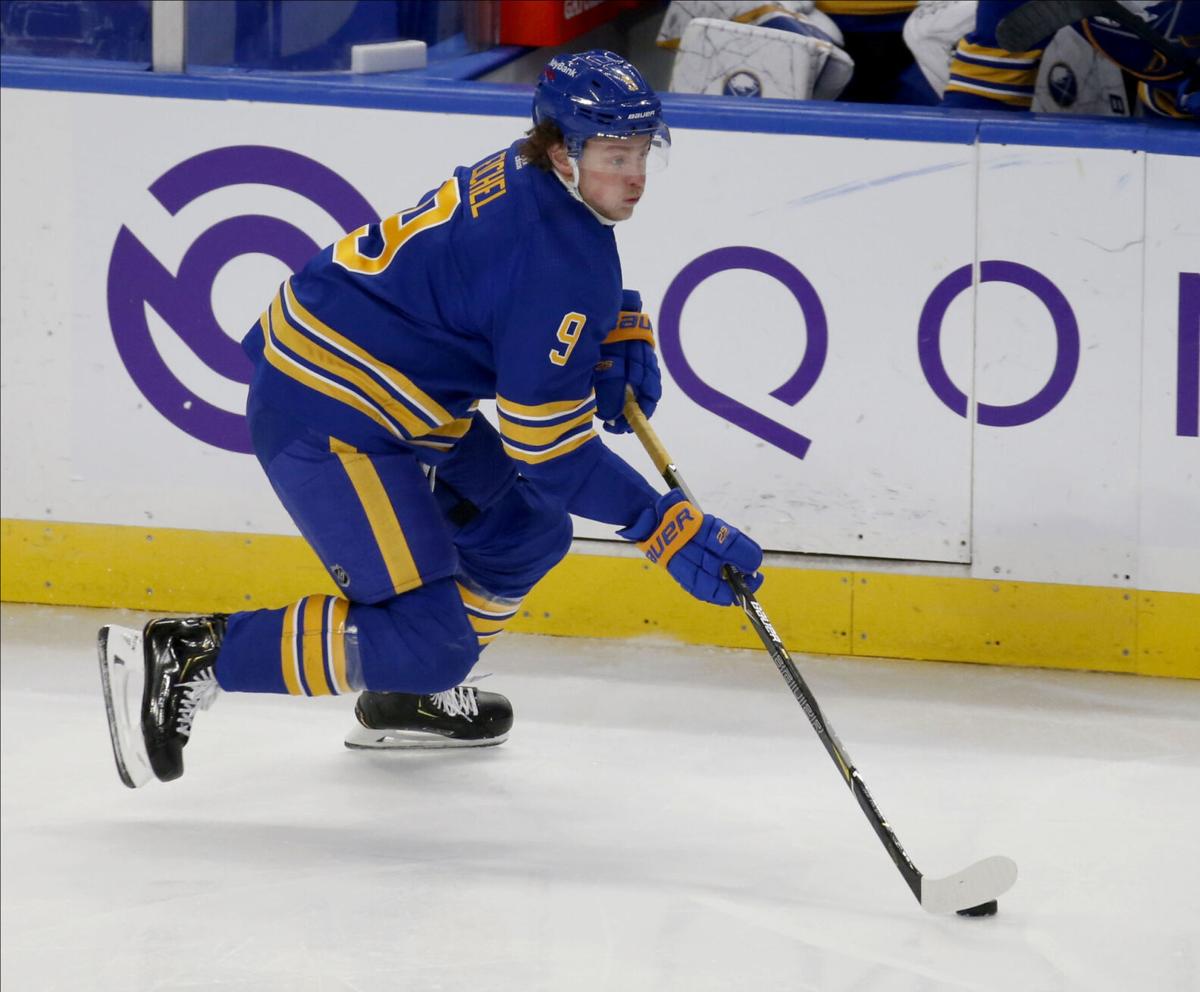 Should we be thinking this is Jack Eichel's last week with the Buffalo Sabres? Possible, but not likely.
Now that the Tampa Bay Lightning completed their second consecutive Stanley Cup boat parade Monday, the rest of the league is on the 100-mph pace that a July like no other in NHL history is about to bring.
Start with the most immediate date as far as the Sabres are concerned and that's 3 p.m. Saturday. That's when a trade freeze goes into effect for the 31 existing NHL clubs. From that date until 1 p.m. July 22, the only team you can trade with is the Seattle Kraken, who will be making their expansion draft picks July 21.
No date on the calendar this month holds more meaning to the Sabres' short-term plans than July 17, the start of the NHL's trade freeze ahead of the expansion draft. 
The Sabres aren't trading Eichel (or for that matter, Sam Reinhart or Rasmus Ristolainen) to the Kraken, who don't yet have any assets. And it might be tough to trade prior to the expansion draft anyway because it will force teams to incorporate Eichel or Reinhart into their protection lists, and force the Sabres to protect the players they acquire.
All that portends July 22 and 23 as the days most likely to see an Eichel move. Those are the day before the amateur draft and the day of the first round.
That's all pretty sound logic. But like anything else in this crazy saga, we hit another twist and turn last week in the wake of that silly fluff interview Eichel did with a Boston television station.
It seemed harmless and it should have been. Boston25 morning anchor Sara Underwood, a fixture in the city for more than 20 years, was doing a series on what the station calls "Zip Trips" to suburbs around the city.
This trip was to Chelmsford, Eichel's homestead. Made sense to have him on. They talked about Eichel's youth dreams of the NHL and then got to important points about Chelmsford. Eichel revealed he loves a restaurant called Fish Bones (I checked out the menu online and it's a super-looking New England seafood haunt), and he's also a big fan of the coffee Oreo ice cream at Sully's.
"I think I'm a two-way defenseman that can play in all situations and log a lot of minutes," Power said when asked why he should be selected first overall. 
But then Underwood deviated, pointing out "rumors out there (you're) not happy in Buffalo. I heard that on the radio." Interesting. Underwood, it should be noted, is married to longtime Boston sports talk radio host Michael Felger, a former newspaper reporter who has been a regular contributor for NBC Sports Boston on Bruins pregame and postgame coverage.
Hmmmm. Guess we know where she heard it from.
"I think every kid grows up dreaming of playing for their hometown team," Eichel first said diplomatically before stepping into the quicksand. "Whether that happens now, later in my career, whenever. Who knows? If it ever happens. But it would be pretty cool. Who knows what's going to happen here in the next little bit?"
At the end of the piece, the live shot returned to a giddy Underwood saying, "Jack, come to Boston. All your fans really want you to come here." It was local TV at its cheerleading worst.
Memo to Eichel: It's not happening now. Forget about it.
Now in fairness, the Captain was in a no-win situation here.
If you go along with Underwood's rah-rah act and say you'd love to play in your hometown, you infuriate the place where you've played and lost for the last six years when you were supposed to be the savior.
But what's Eichel really supposed to say in that spot? If you don't say you'd love to a Bruin someday, you aggravate everybody on the homefront, too.
But enough with the "now" stuff. Eichel is still the captain of the Sabres. He should know better. 
There is zero chance – and I repeat for all the Boston media that seems to keep needing reminders – zero chance the Sabres are trading Eichel to the Bruins. There is no way they would essentially reward the captain for this situation by sending him to his hometown team.
And before you drop Taylor Hall on me, that was a quickie trade deadline deal of a guy who had played here three months and was on an expiring contract. That was not the face of the franchise.
Boston would be Eichel's No. 1 choice. What has he done to earn any say in the matter? You're not trading Eichel anywhere in the Atlantic Division, let alone Boston.
And if Kevyn Adams ever sent Eichel to Beantown, it would be grounds for immediate dismissal. There should be long and hard thought of even sending Eichel within the Eastern Conference to places such as New York or Columbus.
Send him on a long trip out West. Trading Eichel to Los Angeles or Anaheim would likely get the Sabres what they want, but the Ducks are going nowhere fast just like the Sabres and the Kings, who have won one playoff game since their 2014 Stanley Cup title, are still in building mode, too. It's not as if Eichel would be any happier missing the playoffs out West than he is here.
Still, there's no shortage of teams willing to kick tires on the Eichel front and it's obvious why. They all watched the 2019-20 season just like we did. That was the 36-goal, 78-point Eichel who was a plus-5 player over 68 games.
That was the guy who finished eighth in balloting for the Hart Trophy – ahead of names such as Brad Marchand, Auston Matthews, Nikita Kucherov, Evgeni Malkin, Alex Ovechkin and Patrick Kane.
That wasn't 10 years ago. That was 10 months ago.
That's the player Adams is trying to trade for a big haul. Meanwhile, the player people are undoubtedly trying to tell Adams he's trading is the one who had two goals this season with a minus-9 rating and has an injured neck.
Adams needs to feed off the desperation the likes of Anaheim GM Bob Murray or LA GM Rob Blake must feel. Want desperation in a different way? Try Vegas owner Bill Foley, president George McPhee and GM Kelly McCrimmon. Four years running, they've been oh-so-close to a Stanley Cup. They really need an elite center, especially in the wake of that head-scratching loss to Montreal in the Cup semifinals.
An Eichel-to-Vegas package wouldn't net the Sabres a top pick, but it could get you NHL talent from Vegas' young defense, a forward like Syracuse-area native Alex Tuch and probably some strong prospects on the cusp of the NHL.
Adams is never winning an Eichel trade. That's not possible, especially if Eichel returns to form. But he should still be able to choose his suitors wisely. And they shouldn't include Boston.