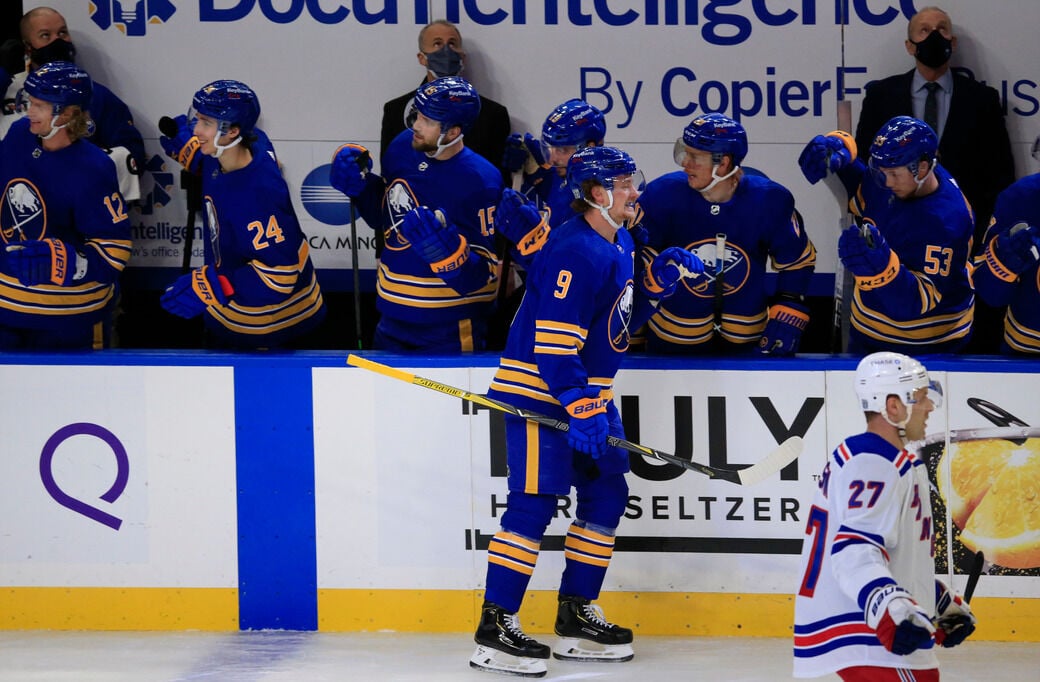 Six games into the 2010-11 season, Thomas Vanek was a mess and so was his team. The Buffalo Sabres were 1-4-1 and Vanek, coming off season goal totals of 43, 36, 40 and 28, didn't have a single tally in the new campaign, despite 19 shots on goal.
He finally scored No. 1 on the season in a 4-1 win at Phillips Arena in Atlanta, where there were always three Sabres fans in the stands for every one cheering for the hometown Thrashers.
As Vanek celebrated his goal and folks wearing blue and gold slug sweaters behind enemy lines cheered with him, it drew a a classic reaction from Harry Neale, the venerable sage of the MSG booth.
Deadpanned Neale about the goal: "A 10-pound per square inch piano off Vanek's back."
The story comes to mind because of what we saw Tuesday night in KeyBank Center. In Game 7 of the 2021 season, just like Vanek did a little over 10 years ago, Jack Eichel got the baby grand off his sore shoulder.
Dylan Cozens and Jack Eichel each scored a power-play goal in the victory, which improved the Sabres' record to 3-3-1.
Eichel banged home a power-play goal off a nifty Victor Olofsson feed at 7:31 of the second period and the celebration was on for the goal that the Sabres made stand up for a 3-2 win over the New York Rangers. Arms over his head, the captain looked to the rafters as the relief in his entire body was palpable.
The arms stayed high as he glided into the corner and pounded against the glass, where there would normally be adoring fans pounding back. Buffalo hockey fans, of course, are attuned to that sort of stuff. While they're quick to jump on similarly goal-less Jeff Skinner – and I get it – there's usually nothing but adoration saved for Eichel.
It's a shame we didn't get to hear the eruption they almost certainly would have produced for the captain.
Eichel entered the game with 24 shots on goal – the most in the league among players who had yet to score. He got the shootout winner Sunday in Washington, which had to help him mentally. This seemed like a matter of time.
Eichel first tried to downplay the goal some, and then started talking about contributors on the rest of the team. It was very modest of him to do that, but it was clear this meant a lot.
"I don't know how tough mentally it's been," Eichel said. "I've had a lot of chances, I think if I wasn't getting chances, I think I'd be more frustrated. But yeah, it's a relief to get one and kind of get that out of me. .... It was a good to make an impact offensively tonight."
Buffalo's top defense tandem has contributed more than physical play during the Sabres' 2-3-1 start to the season. 
Eichel had a late start to training camp and a rough start to the season. Lots of shots seemed off target or high. The team admitted to an upper-body injury as the reason he was late to camp, but the word that's out is that it was a shoulder ailment that occurred during a weightlifting session.
But it's clear Eichel is getting healthier by the day. Although he didn't score again Tuesday, you could clearly see the injection of swagger in his game just because of one goal.
"I think we've all been there at some point in our career and I think everyone on the bench was super happy to see him finally tap one in," said Dylan Cozens, who drilled his second goal of the year.
"It's obviously great to see, he's our leader," added ace penalty killer Tobias Rieder, who added a nifty tally. "So it's good he scored tonight and I'm pretty sure there are many more to come."
You can't blame Eichel if he forgot the feeling. Remember how last year ended for him? Even though Eichel finished with a career-high 36 goals, he had a seven-game drought that was part of the Sabres' season-crushing six-game skid.
Eichel finally broke the streak with a goal in a 3-2 win over Washington on March 9. Little did we know that night that it would be the last time we saw the Sabres in a game for more than 10 months.
So if you put it all together, it looks like this: Until scoring Tuesday, Eichel had one goal in his last 14 games dating back 338 days. One goal in nearly a year for a guy who has scored goals his whole life.
Hutton's return significantly strengthens the Sabres' goaltending depth, as it allowed General Manager Kevyn Adams to reassign Jonas Johansson to the taxi squad.
"It's been a year, a long year for a lot of people in terms of preparing for the season," Eichel said. "It feels like we're still getting our feet wet. I'm sure guys around the league would probably agree. It's tough for people to take that long time off from playing the game. So I think my game is gonna keep getting better here. And I think as a group, our game is going to just keep getting better as well. I'm excited to see that."
The Sabres reacted well to adversity in this game. They gave up a cheapie with 6.1 seconds left in the first period to K'Andre Miller to fall behind 2-1 after 20 minutes. And they had to deal with what turned into a 6-on-3 in the final minute with Taylor Hall in the penalty box, Rasmus Ristolainen playing with a forward's stick and Curtis Lazar playing with no stick at all after handing it back to his defenseman.
Lazar made the key play to get the Sabres out a trouble with a blocked shot over the glass to get a faceoff. Cody Eakin won that draw – Buffalo's 39th win in the circle on 56 chances of the night – and the Sabres killed the clock.
Special teams were a talking point. So was a good debut from defenseman Matt Irwin. And 15 saves in the third period from Linus Ullmark. But it's hard not to look back at the Eichel goal for what it meant in this game and what it could mean going forward.
"Very, very important step for Jack and for us to get rid of that 'egg,'" coach Ralph Krueger said, referencing the zero in Eichel's goal column on the stat sheet. "He's got one now and there's many more to come I'm sure."