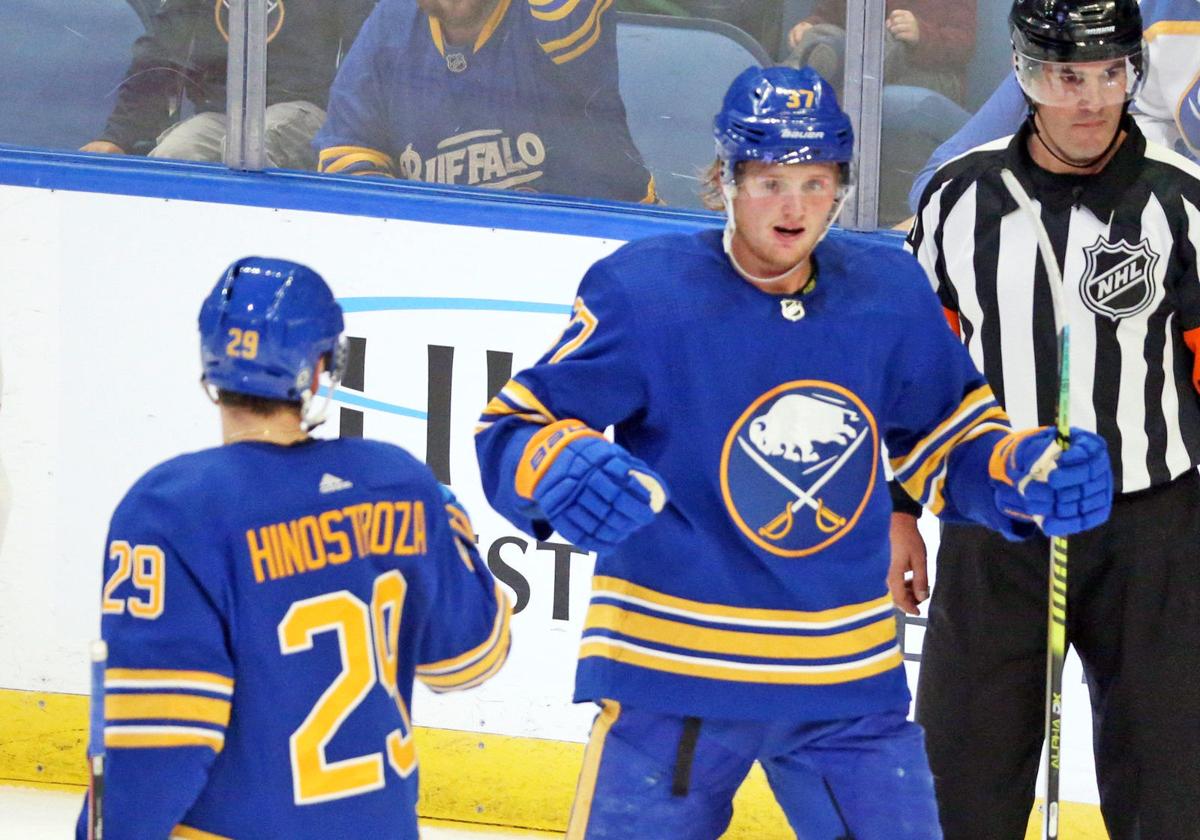 Casey Mittelstadt hasn't played a game in nearly six weeks and it might be a few more days before he returns to the Buffalo Sabres' lineup, but he had lots of Thanksgiving offerings to pass around on Turkey Day eve.
The club's No. 1 center felt blessed to finally be back on the ice with his teammates as he took the morning skate at KeyBank Center prior to Wednesday's game against the Boston Bruins in a non-contact role. Out since midway through the Oct. 14 season opener against Montreal with an undisclosed upper-body injury, he might only be a few days away from returning.
Quinn's 18 points through 14 games were third in the AHL entering Tuesday, and he has nine goals after totaling only two in 15 games last season.
"It's been long, but I haven't really had any setbacks," he said. "I think, more than anything, it's just kind of a tricky injury and just been slower than expected and something you can't really mess with too much."
Mittelstadt has only played 9:07 this season in a year when he was written in ink through training camp as the club's top man in the middle with Jack Eichel out of the picture. Some bad luck indeed. But he's taken advantage of his time. He's watched a lot of hockey, both Sabres games and other NHL teams. He's been really happy to have time to log in and watch the USHL games of his brothers John (Green Bay) and Luke (Madison).
And he's been thankful to get an early jump on the relationship with his new potential linemate, former Las Vegas Golden Knights winger Alex Tuch. 
"I got to skate with 'Tuchy' a few times, and I think my first little bit of contact was actually Tuchy," Mittelstadt said of the private sessions for the club's injured players. "Threw me right into the mix. For sure, he's a big boy and shoots the puck hard. He can absolutely fly, so we're definitely excited to have him be part of the group."
Asked by The Buffalo News what his thoughts were on the Nov. 4 trade of Eichel to the Golden Knights, Mittelstadt gave it up to the former Buffalo captain.
"I have a great relationship with Jack. He's been great to me," Mittelstadt said. "Especially ever since I got sent to 'Roch' (in 2019-20), he was always helping me so much with my game and certain situations, more than anything a lot of little plays that have made a big difference in my game. So, for me, it's hard to see Jack go.
"I think he was one of the first guys to take me and 'Ras' (Rasmus Dahlin) under his wing a bit and he taught us a lot. But at the same time, I think it's for the best. He was obviously ready to move on and he ended up in a good spot and got to get his surgery. So I think we're all happy for him there."
The big picture is more than you could have reasonably expected at this stage, Mike Harrington says.
Mittelstadt, who had 10 goals and 22 points in 41 games last season, said he felt primed after camp for a big breakout, and the injury quickly ended his momentum.
"That's probably has been the hardest part for me, especially seeing the opportunity in front of me," he said. "It was hard, at first, watching the guys get off to such a good start (5-1-1). Not being part of it was really tough for me. And now, obviously, they've been struggling (2-8-1 entering Wednesday) and it's only gotten harder. I want to go out and help the team. So that part of it has been pretty tough."
The recent collapse of the team's goaltending pins the injury to Craig Anderson as the Sabres' most critical one of the season. But that's a short-term view. With the prism of a long lens looking to next season and beyond, having Mittelstadt taken away from the top line and getting used to all those big matchups is a major downer.
"Nine minutes of ice time this season and we lose him," Granato said. "The anticipation for him, I spoke a lot to you guys over the summer, how excited he was. He was one of those guys who didn't want to leave here at the end of last year and trained extremely hard. So we're very excited to have him back here. And I think everybody collectively in that locker room when I mentioned he was going to join us in practice, guys were energized. I know he is."
Mittelstadt said there's no exact date for his return and Granato said this is a difficult week because the Sabres' six games in nine nights puts a huge limit on practice time.
"We're going to continue to read it day by day to see how he feels," Granato said. "But he does need to go through at least a couple practices and I would say with some contact before we feel comfortable even assessing where he's at. But certainly a positive sign that he's on the ice with us."
"I think it's more so going to be how I feel, especially when we get into the contact and things of that nature," Mittelstadt said. "But it's been getting a lot better. Especially the last week, I would say it's improved a lot. So obviously, the second I think I'm ready to play, I could be in there. I'm champing at the bit, so I wouldn't rule anything out."
It's the first time in a while that Mittelstadt has felt like an NHL player. The Sabres need him. The club has developed some balance with its lines and the return of Victor Olofsson has been a boon to the offense. Mittelstadt's presence would add more potential scoring touch.
"Today was a huge step in the right direction," he said. "Both physically and mentally, being out there with the guys and getting to laugh and have some fun and practice and not skating alone. Great day and a huge step."