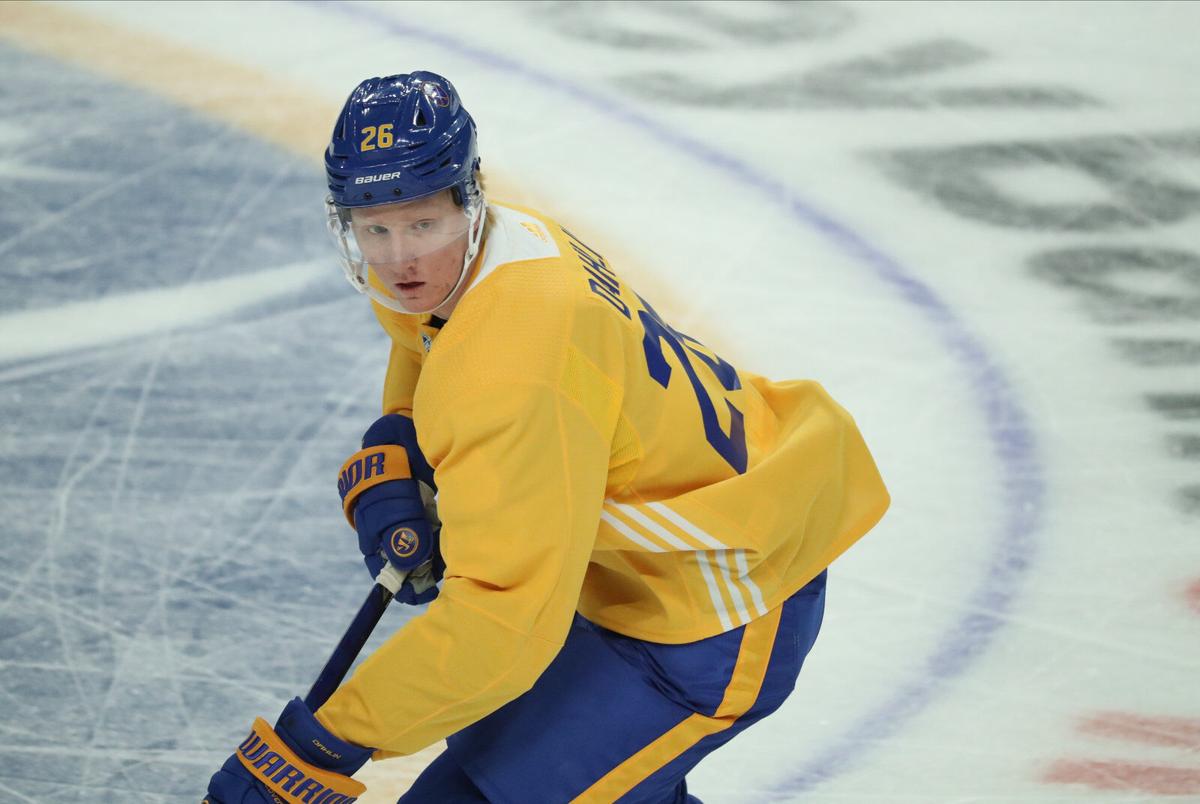 I'm open for the Sabres to prove people wrong. It's just hard to see it, so tough to picture them avoiding a dubious piece of NHL history that this franchise shouldn't have to live with.
They can't realistically be expected to do much in the made-for-2021 East Division and that word – that head-to-desk-inducing, seven-letter word – is thus a major player in our sports lexicon again.
If the Sabres don't make the Stanley Cup Playoffs come May, that will mark 10 straight years outside the NHL's postseason party. And that would tie the league's all-time record set by the Florida Panthers in 2011 and matched by the Edmonton Oilers in 2016.
Until Terry Pegula bought the team in 2011, the Sabres had never gone more than three years without making the playoffs. It's hard to accept what's happened.
I was catching up with Mike Robitaille a couple of weeks ago and the legendary Sabres analyst was utterly incredulous talking about it. I said one thing and he got so riled up, I had to just let him go. It was like having a personal edition of Empire's old "Hockey Hotline" postgame show.
Said Robitaille, his rant reaching a crescendo: "Look through the numbers. Nine years now. The amount of teams. You would think you would just trip into the playoffs at some point, right? Just by accident – by accident! – you're going to get in. And they haven't.
"We've seen it here how the management can be deadly to a team. That GM has to bring in the right players. He has to. You can't coach a medium bunch of players. You can bring them along a little bit, make them a little bit better. But there are other teams that grow year after year, they get better.
"It's not just the top guys. Everybody knows about them. It just continues here. Changing managers, changing coaches. Why so many changes? You didn't make the right decision. When that happens once or twice, it's understandable. You can't be perfect. But you're bound to get the right guy. When will that happen?"
(You read all that and you can just picture the voice, right? Man, how we miss Roby on TV.)
Longest playoff droughts in NHL history
8 Cali-Cleveland 1971-1978
Like Brandon Beane and Sean McDermott with the Bills, the Pegulas think they have the boffo combination they need in new GM Kevyn Adams and second-year coach Ralph Krueger. But the owners have thought that before, too.
Adams and Krueger always say the right things about understanding the fans' frustration and Adams clearly did a speed-up this offseason by bringing in veterans Taylor Hall, Eric Staal, Cody Eakin, Tobias Rieder and Matt Irwin. 
"I don't wake up every day thinking about the past," Adams said. "I don't think about the nine years. I wasn't in this role. But what I do have an understanding of is asking questions about why didn't things work out a certain way before, about what decisions were made that we can learn from."
A major issue for the Sabres has been goaltending and that continues as Linus Ullmark and Carter Hutton start the season as underwhelming choices. Since Ryan Miller was traded in 2014, the Sabres have had 15 players appear in net for at least one game. 
"In my mind, there's no more important position and they haven't had it," Robitaille said. "Just like finally getting the quarterback. I mean, you have no chance without goaltending. No chance. None."
Goaltending can quickly torpedo the team, no matter how good the lineup. Jack Eichel has evolved into a Hart Trophy-level talent but he made it clear in the offseason he's increasingly frustrated by the losing. Every other team in the league has been in the playoffs at least once since Eichel was drafted in 2015. And in back-to-back years, he's watched close friends Ryan O'Reilly and Zach Bogosian leave the team and immediately win a Cup.
"Jack has been very vocal and he's been ticked off. So is the rest of the team," said NHL Network analyst Mike Rupp, who scored the Cup-winning goal for New Jersey in Game 7 of the 2003 final against Anaheim. "I hope this year with a shortened schedule helps them. They certainly have some nice pieces coming along the way, with Dylan Cozens in the world junior tournament and moving forward. I think the future is bright, but Buffalo fans want the future now."
So do the players. Jeff Skinner has played the most games of any active player in the NHL (720) without reaching the playoffs. While only 141 of those were in Buffalo, look at the games played by guys whose entire careers have been spent here with no playoffs. Rasmus Ristolainen is at 493 games and he's far from alone when you consider the injured Zemgus Girgensons (489), Sam Reinhart (400), Eichel (354) and Jake McCabe (340).
"I'm looking forward to that storyline sort of coming to an end," Skinner said during training camp. "I think as you get older ... obviously a window is closing. Hopefully, it's still got some room there. But every season you come into, you should expect to make the playoffs. Otherwise, you probably shouldn't be playing hockey. That's the goal. You do everything you can in offseason to prepare yourself for that."
Current droughts in the 4 major sports
Years Team Sport Last appearance
19 Seattle Mariners MLB 2001
14 Sacramento Kings NBA 2006
10 New York Jets NFL 2010
9 Buffalo Sabres NHL 2011
9 Philadelphia Phillies MLB 2011
Source: Buffalo News research
Year 3 has to be Dahlin's time
What else do the Sabres need? To Robitaille, Rasmus Dahlin has to keep growing as a No. 1 overall pick.
"He has to be phenomenal. He can't be above average," Robitaille said. "There's a lot of attention about Eichel but Dahlin could make the difference from the defensive position, can make everybody look good by getting the puck out of his own zone and playing with authority instead of just 'teeter-tottering' on his skates back there."
Dahlin and defense partner Brandon Montour are likely to spend a lot of time on the ice with Eichel's line. And Robitaille says it's exactly the play the Sabres should make.
"I almost wouldn't put Eichel on the ice unless they're joined together almost every shift," Robitaille said. "They can do so much damage. Dahlin gets you excited for three or four games. And then he disappears for another three or four games. In his third year, he should start feeling more maturity. Like you're one of the main guys."
'Hellacious' new division
The Sabres were done no favors when they were put into a division this year with Boston, Philadelphia, Washington, Pittsburgh and the New York Islanders. 
"That's a murderer's row," NBC's Pierre McGuire said on the network's preseason conference call Monday. "Buffalo is improved but that East Division is just going to be hellacious."
Fellow NBCer Ed Olczyk had praise for the Pegulas and Eichel and said it's interesting to watch the Sabres keep trying to build a supporting cast.
"You're going to need a little luck on your side," Olczyk said on the same call. "You're also going to need your best players to be just that and other guys to step up. A guy like Eric Staal coming in has been around the block a few times. He can help a guy like Jack Eichel.
"At the end of the day, it's going to be a big ask. Do I expect them to make the playoffs? No, I don't. ... But we've seen them in the last couple years go on some nice runs, go on a real heater and be able to get 18 of 20 points in a 10-game stretch. You're probably going to need more than one of those."
Tough to think that's likely. A big ask indeed.
"They're certainly going in the right direction," added Olczyk. "Get some stability up top, let 'KA' do his thing as the general manager and figure this out. We've seen what's happened there with the football team. They've got it going after some tough years. The 'Bills Mafia' is pretty excited right about now and I'm sure everybody is hoping the Sabres can follow suit. Hopefully sooner than later."