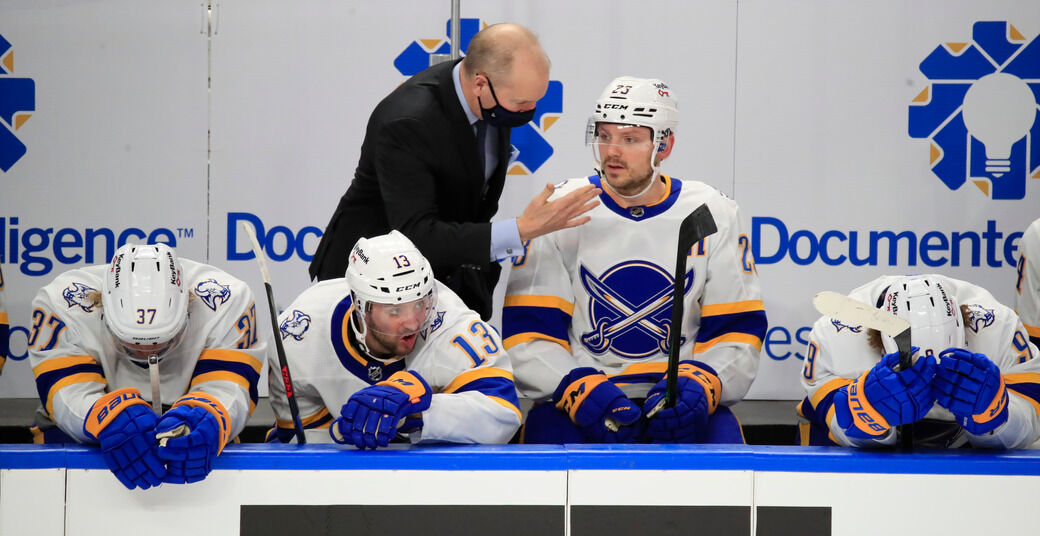 The question this corner posed to Kevyn Adams was a simple one Wednesday: What's your message to these players going forward about having some shred of accountability for all the coaches that have been fired here in recent years? 
"We're not where we need to be, and I felt it was the right time to make the change," Adams said.
You had to love the answer. The Buffalo Coach Killers rang up another one with Ralph Krueger's dismissal and Adams – the first-year GM who didn't remotely have a coaching change on his radar as recently as a month ago – promised there's going to be a pointed, one-way conversation when the team reports to KeyBank Center for pregame work Thursday morning.
Adams exhaled deeply and then laid down the law in slow, measured tones. They should put his words on the wall of the dressing room.
"There has to be a pride that goes with putting on a Buffalo Sabres jersey," Adams said. "There has to be a pride of showing up every day and being a National Hockey League player, of looking around and saying, 'I'm one of the 700, 800, or whatever it is in the league, to get to do this every day.' And that has to be something that just is inside you and drives you to be better every single day, to love to look around the City of Buffalo and see Sabres hats and signs and people wearing jerseys. You know, that matters. And that has to be within the DNA of our team."
"There has to be a pride that goes with putting on a Buffalo Sabres jersey. There has to be a pride of showing up every day and being a National Hockey League player."

— Buffalo Sabres (@BuffaloSabres) March 17, 2021
Right now, it's not. This is a country club. This is players cashing checks and not producing. This is players who didn't like the hard-charging approach of Dan Bylsma and the behind-the-scenes tweaking of Phil Housley. Let's not forgot one coached a Stanley Cup team and the other was in the Hall of Fame. Too difficult for them to handle.
So they got the philosopher, Ralph Krueger. He was positive. He was happy. Jack Eichel loved him, which is apparently all that matters here. Krueger never ranted at practice, never said a cross word about his team to the media. There was no pressure. There was no fear. There weren't any booing fans in the building this year. There were no reporters in the locker room and you just had to survive five minutes on a video call. (Memo to Sam Reinhart: We notice the eye rolls.)
It should not be easy to be an NHL player. It absolutely should not be easy when you're in 31st place like this outfit is. They've got a lot of excuses for this season – and admittedly some have merit – but they're 6-18-4 and haven't beaten anybody since Jan. 26 except poor Lindy Ruff's terrible New Jersey team. Some nights against the Islanders, Capitals and Penguins, the Sabres barely look like they belong in the league.
The season is over. The second half begins Thursday with the first of eight games against Boston and we should never ever ever ever ever see another game from this group like Monday's 6-0 whitewash against Washington. That was one of the lowest moments in the history of the franchise, a mail-order special that brought scorn from across North America.
That was a team that didn't give a damn.
If these players loved Ralph Krueger as much as we heard the last two years, they sure have a funny way of showing it.
"I don't care where we are in the standings right now," Adams said. "If we do not show up at the rink tomorrow, and for the rest of the season, and have that characteristic (of pride) about our team, it's going to be unacceptable. And that is going to be a message and something that I'm going to spend time on. And as we evaluate players, and when we scout players, that needs to be part of it. You have to just love to show up every day and want to compete and be a Buffalo Sabre."
General Manager Kevyn Adams pieced together a coaching staff on the fly Wednesday.
People work hard in this town. They expect to see it in return. This franchise was born in 1970 and not during the Tank of 2015. People have heroes from days gone by who actually won games: The French Connection, LaFontaine and Mogilny, Gare, Schoenfeld and Korab, Mike Ramsey, the Dominator and Donnie Edwards, Peca, Drury and Briere. And then there were the players we loved who weren't blessed with talent but had huge hearts and went to battle with their teammates. You think of Ray and May, Barnaby and Boughner and so many more.
Is there one guy on this team that plays anywhere near as hard as those guys did? Do you love any of them that way? That's why people are disgusted.
Rasmus Ristolainen is one current guy who could be on those teams. He's a beast in normal times, even more so this year for the way he's battled through Covid. Maybe Jake McCabe. Anybody else? Still, all they've done here is lose.
What would Chris Drury or Pat LaFontaine say to Eichel about his body language too many nights? What would Briere say to Reinhart about his lack of an all-around game? Or to Jeff Skinner, who stopped scoring for the last 25 games Housley coached and clearly spent the last two years blaming Krueger? You can tell now that Rob Ray wants to jump back down between the benches wanting to shake poor Rasmus Dahlin, whose third year has gone completely off the rails and needs an immediate intervention. 
Less than two years after his arrival as head coach of the Buffalo Sabres, and after only 97 games on the job, Ralph Krueger was fired Wednesd…
The apologists for these players are everywhere. Too many fans. Too many talk radio hosts. Too many people even inside the club. 
Enough already. Ralph Krueger wasn't good enough and needed to go but it can't always be the coach's fault. Don Granato isn't going to suddenly be a reincarnation of Toe Blake with this group.
Since starting last season 8-1-1, Krueger's Sabres went 28-48-11. They were 7-24-4 in the last 35 games. That's pathetic.
These players had far too much rope and they used it. With Krueger gone, Adams is fully in charge. It's long past time for the GM to make guys in the dressing room uncomfortable.