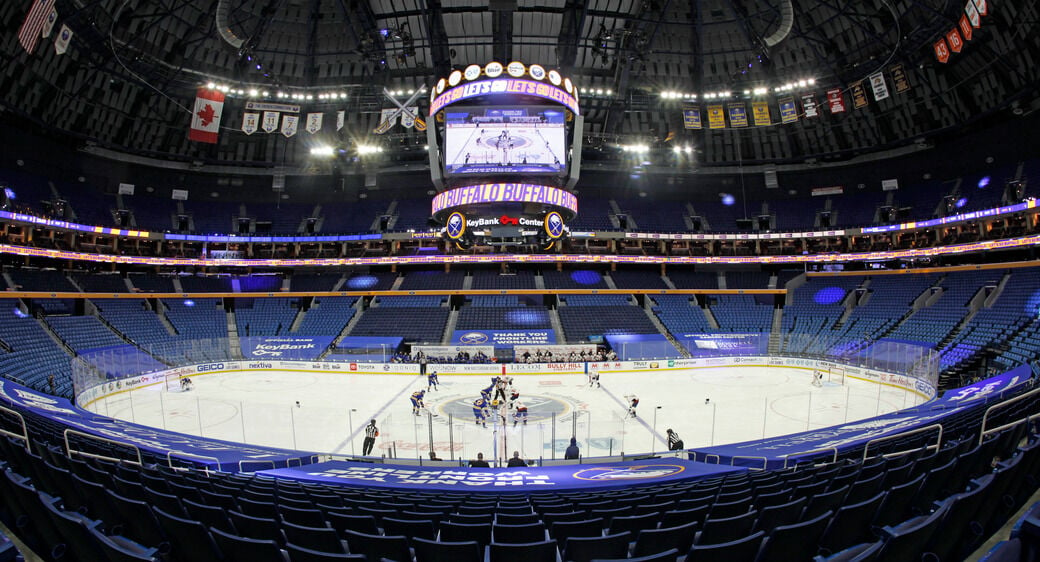 Life itself is just weird. Has been for months. So no reason to think the first game of the Sabres' new season – 10 months after we last saw them on the ice for real – should be any different.
But to give this night a framework, you have to start before even entering KeyBank Center. It was hard to believe what you saw on Washington Street around 5:30 Thursday night. There was a whole lot of nothing. 
(Cue the joke that the 6-4 loss to the Washington Capitals was a whole lot of the same much of the night as well, but just roll with me here).
Turning left off Swan Street, there was nary a car or pedestrian around the darkened Sahlen Field. It felt like those September nights when the Yankees were here to meet the Blue Jays and the only way you knew something was going on inside was that the light towers were blazing.
You headed south and there were no pedestrians anywhere wearing the Sabres' stupendous new royal blue sweaters. No requisite numbers of Caps fans rocking Alex Ovechkin's red. No stream of folks down the street past The Buffalo News building or the Courtyard Marriott. No one coming in and out of (716) Food and Sport, darkened and shuttered since early in the pandemic. No police waving people on or ordering them back to the corner. No hot dog or peanut vendors on the street. No one streaming into the iconic arena atrium or taking pictures by the French Connection statue on Alumni Plaza.
You get the point. There was nothing. Just eerie quiet. 
The unusual circumstances surrounding his debut only made Dylan Cozens' first game with the Sabres more impressive.
Sitting in the arena was more of the same. Not a soul. One small victory was the long-overdue absence of D.J. Milk's howling during warmups and intermissions. What we need, of course, was the howling of the fans and we know that's not happening any time soon. The piped-in crowd noise was ultra annoying.
"It's definitely strange," said defenseman Jake McCabe. "You think of an opening night and it's exciting. After a long layoff, you look forward to getting in front of your hometown fans and hear their noise rooting you on in a loud building. It was definitely interesting, I guess, lining up for starting lineups and anthems in an empty building. But once the game starts, you're right back into it. All of us like to compete."
The biggest theme to this one was simply that the Sabres' best players weren't very good. Jack Eichel's line passed out so many turnovers in the neutral zone that it should have spent the night in a bakery. Eichel had two assists, but only one shot on goal in the game. One of Taylor Hall's giveaways left his defense out to dry on a line change and Caps defenseman John Carlson burned Carter Hutton on a breakaway.
"That's an area we talk about. Managing the puck," Hall said. "Any team is going to make you pay for that, especially a team like Washington. Puck management wasn't doing us any favors."
While Jack Eichel has played alongside talented forwards in the past, none had the resume or skill set of Taylor Hall.
Rasmus Ristolainen was on the ice for two goals against in the first 10 1/2 minutes, allowing the frothing-at-the-mouth analytics crowd to get some quick ammunition for the new season. On a rough night for the defense, Rasmus Dahlin was mostly invisible over the first 30 minutes and Brandon Montour was scattershot in his own end. The Buffalo penalty kill looked like the Generals vs. the Globetrotters a couple of times. Hutton was pedestrian in net, allowing no real bad goals, but making no bailout saves to help the cause.
Except for one rush in the third period where he got his only two shots on goal, didn't notice Jeff Skinner after the first period. Didn't notice Sam Reinhart or Victor Olofsson at all until Olofsson's goal with 1:54 left got the Sabres within one.
McCabe made it 4-3 just 20 seconds into the third period with a nifty one-timer off an Eichel feed, but Buffalo gave it right back 26 seconds later on Jakub Vrana's goal that came courtesy of a Pee Wee-level giveaway in front of the net by Eric Staal. The 36-year-old looked to the rafters after that strip, which has to be one of the most grievous turnovers in his career.
Good thing the paying customers weren't in the house for that one. Staal would have heard about it.
Until Terry Pegula bought the team in 2011, the Sabres had never gone more than three years without making the playoffs. It's hard to accept what's happened, Harrington says.
Staal's lousy night ended with he took a shot to the head from Caps center Nic Dowd, who could be hearing from NHL Player Safety. Staal didn't return and coach Ralph Krueger made it sound unlikely we would see the veteran in the teams' rematch here Friday night.
I hate preseason games, but this opener made the point clear teams probably need a couple. Just not six, seven or eight like they often play. It's not like the Caps set the world on fire for large stretches of this one, either, in getting Peter Laviolette a win in his first game as coach. The puck was often a hot potato.
"We expected rust and there was rust," Krueger said. "We expected an adjustment to the physicality and the speed. ... There were some breakdowns, too, on their part. It wasn't just us. They gave us some chances even the first period. We had six or seven pretty good chances. It seems like it might be that way for the next few games."