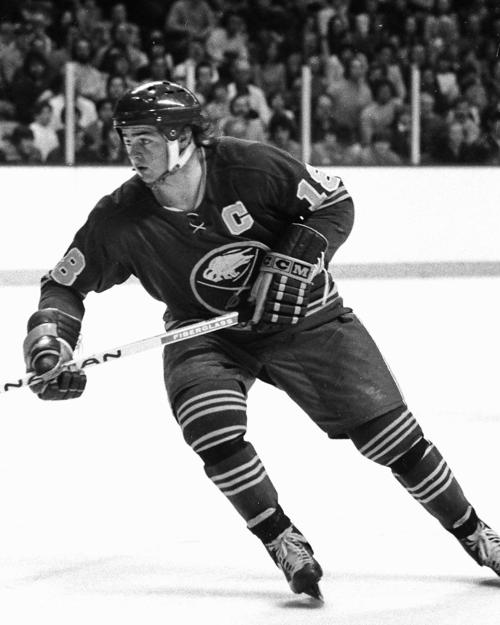 The when, where and how of the NHL season loom as the league and the NHLPA try to navigate pandemic protocols. The World Juniors are starting later this week and that will give us a badly needed hockey fix.
What else got this corner's hockey juices flowing? Looking back at one of the wackiest games in Sabres history.
It was 45 years ago Monday night – Dec. 21, 1975 – when the Sabres did something to the second-year Washington Capitals in Memorial Auditorium that requires multiple verbs.
Pick your word. Crushed. Destroyed. Annihilated. Obliterated. Slaughtered. Manhandled. They all apply.
When it was over, the scoreboard told a stunning tale: Sabres 14, Capitals 2. It remains the most lopsided game in franchise history.
"They weren't a real good team obviously and we had a strong team. We were rolling, really rolling. We were tough to stop," former Sabres captain and Rafters Club member Danny Gare said last week by phone from Tampa. "That game, goals started going in one after another at the end. You really kind of felt embarrassed and sorry for them. It just kept happening."
The funny thing about the game was it didn't get out of hand for quite a while. The Sabres led 2-0 after the first period on goals from Gilbert Perreault and Fred Stanfield and the score was only 5-2 heading into the final minute of the second period. But Rick Martin scored the second of his four goals with just 11 seconds left in the second to make it 6-2 and that was that.
In the third period, the Sabres tied the NHL record with eight goals – including five in a span of 4:51. Stanfield scored the game's final goal at 18:11 to give him the second of his two hat tricks with the Sabres.
"It was just one of those nights," said Stanfield, now 76 and still living in Amherst. "'Rico' had four goals, which was amazing, and they kind of gave up and we took over. It doesn't happen too often, but it did that night."
"The thing you remembered about the Aud was the fans would go '1-2-3-4-5-6, we want 7,' " Gare said. "Then on this night, every time we scored, it was, 'We want 13, we want 14, we want 15.' It was amazing. We were doing it on the bench, that's how funny it was. It was comical."
The Sabres goals came from Martin (4), Stanfield (3), Perreault (2), Don Luce (2), Gare, Craig Ramsay and Peter McNab. Gare added four assists to tie Martin for the team high on the night with five points. Stanfield had an assist to go with his hat trick while Perreault and Luce both had two goals and four points. Jim Schoenfeld, Jacques Richard and Brian Spencer had three assists apiece.
The Sabres combined for 40 points in the game, still the only time in NHL history a team has reached that figure. Their 26 assists also remain an NHL mark. Fourteen players notched points, with only forwards Gary McAdam and Terry Martin and defenseman Jocelyn Guevremont getting shut out. 
The Sabres got all 14 goals from their forwards, but Schoenfeld set a team record with a plus-7 night while Perreault, Luce, Richard and Jerry Korab were all plus-5.
Washington was in its second season after an 8-67-5 disaster in 1974-75 that remains the worst campaign in NHL annals. The '75-76 Caps were only marginally better at 11-59-10, going from 21 points to 32. But hey, they cut their NHL-record goal differential of minus-265 down to a sleeker minus-170.
Pummeling the expansion Caps in those days was a Sabres specialty, but this game was obviously an extreme. Buffalo won the first six meetings and was 12-0-1 in the first 13 before finally losing a game in 1977. As it turned out, Washington beat Buffalo just twice in its first 42 meetings, with the Sabres going 34-2-6 from 1974-84.
"Not a bad record, eh?" said Gare. "You were confident against them but we were a confident group against everybody. We knew what our abilities were. You think you're supposed to win those games. Will you score a lot? I don't know that every night."
"They just didn't have many wheels and much talent back then," Stanfield said. "When you keep losing, you show up and you keep losing. It's hard to put yourself into a winning circle if you don't have much talent."
Capitals starting goalie Ron Low was pulled after the 10th goal, making 26 saves on 36 shots. He was involved in another pounding nearly eight years later, an infamous 13-4 New Jersey loss to Edmonton on Nov. 19, 1983, most remembered for Wayne Gretzky's postgame rant where he dubbed the Devils "a Mickey Mouse organization." Low was pulled after giving up eight goals in 40 minutes that night.
The Sabres' eight-goal third period marked the sixth time a team reached that figure. Buffalo broke the mark with nine in the second period of their 14-4 thumping of Toronto in the Aud on March 19, 1981. They remain the only team in NHL history with a nine-goal period.
You want a couple ugly comparisons to more recent times? During the Sabres' 2013-14 season, when they set a modern NHL record with just 1.83 goals per game, it took until the 11th game of the season for them to total 14 goals (going 1-9-1 in that stretch). Later that season, they had a 2-7-1 skid where it took 10 games to score 14 goals.
Gare had a hat trick and five points in the Sabres' highest-scoring road game, a 13-3 win at Cleveland on Feb. 25, 1978. Since World War II, the Sabres are the only NHL team with two games of 14 goals, and the only one with three of 13-plus.
The NHL record is 16 goals, set by Montreal in a 16-3 win over Quebec in 1920. Detroit got 15 in a 15-0 rout of the New York Rangers in 1944 and Minnesota equaled that by rolling past Winnipeg, 15-2, in 1981.
"I loved being in Buffalo," said Stanfield, who had won two Stanley Cups in Boston and was acquired from Minnesota in January 1975. "I was the old veteran helping the younger players in the dressing room a lot. Back then, there was only one coach so it was important. There were such good players here and they could just take over the game."
"We nicknamed him 'The Crafty Veteran.' He controlled the power play with Rene Robert at the point," Gare said. "Not only did he have great hands, but he had the ability to make plays and he was smart. ... He brought the group together a lot learning from Boston how close they were. He was a class guy who brought the team together and was a great fit."
Stanfield laughed when asked if he had ever been on a team at any level of hockey, even in his youth days, to score that many goals.
"I don't remember anything like that. Fourteen goals is a lot," Stanfield said. "When I was in Boston, we won 10-0 over Toronto in a playoff game (Game 1 in 1969) and that's unheard of for the playoffs. Toronto was a damn good team and we just kicked them around. It's just that funny things happen in sports."
"What can I say? You love to play in those games," Gare said. "You're padding your stats. They're fun – for the winning team."