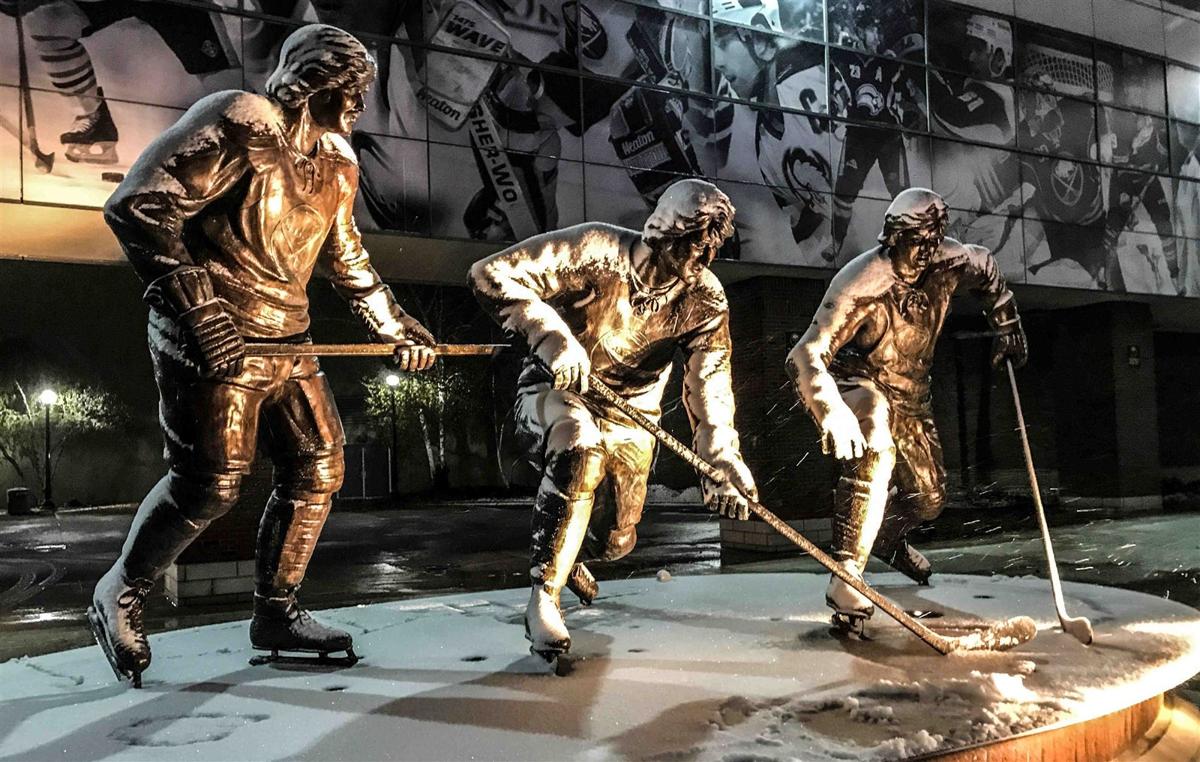 Because of the pandemic and the fact he lives outside Quebec City, Gilbert Perreault had not seen former linemate and longtime friend Rene Robert for nearly two years, since a Buffalo Sabres alumni golf tournament at Park Country Club 22 months ago.
Robert played eight of his 12 NHL seasons in Buffalo, collecting 222 goals, 330 assists and 552 points.
So the center of the famed "French Connection" and the Sabres' all-time scoring leader was still processing Robert's death Tuesday night in the wake of a heart attack suffered last week.
"Rene was in good shape," Perreault told The News Wednesday by phone. "Every time I talked to him, he was doing the bicycle two-three times a week and playing golf three times a week and was enjoying life. He was doing very well, so it was shocking news. Very shocking.
"Rene really enjoyed life. He was a joker. Him and 'Rico' (Connection left winger Rick Martin) loved to get everybody going. But after that, they had a good laugh. They were good friends and a lot of fun to be around."
Perreault said Robert's illness took fellow Sabres alumni by surprise. 
"I talked to him the last time June 6 and then last week we got the sad news he had a major heart attack," Perreault said. "You were hoping he could get better, but it's a sad day. What can I say? This is a big, big loss."
Danny Gare, whose number is also retired in the rafters of KeyBank Center, concurred with Perreault's assessment of Robert as a straight shooter.
"He was a personality. He was strong in his own skin, if you want to call it that," said Gare. "He knew what he was about. If he ticked people off, he didn't care. Seriously, he was that individual which attracted a person like me and our teammates. And the fans loved him because he was flamboyant. He had that ability. He scored three overtime goals in the playoffs for us, big goals when we needed it. Just a great player."
Perreault said he had enjoyed spending time with Robert in their later years attending various Sabres alumni events and seeing his late friend interact with fans.
"We had a big thing in Buffalo," he said. "In the '70s, we were among the early players of the franchise. And then later on the Pegulas gave us the great present with the statue in front of the arena (in 2012) so the younger fans got to learn and see us again.
"Rico and Rene and I had a big career in Buffalo and we were together for those seven years (1972-79). We had great years together and people remember us, plus all the things they show on TV or show on the Jumbotron during games. You show what we did in the '70s and it keeps the fans in touch with us."
Robert was the Sabres' first 100-point scorer, in 1974-75, and Perreault remembered how well Robert would play the right point on the power play.
"Rene had a great vision of the game. He knew when to make the right pass or make a good fake to shoot the puck," Perreault said. "When he was making a pass, the vision he had made him very successful on the point.
"I was lucky to be with two great goal scorers. Rick and Rene were scoring 40-50 goals a year and it was an easy game for the middle guy. We were practicing all kinds of plays, criss-cross, whatever, European style. Rico had such a great shot and Rene, too. They were they always scoring a big goal at the right time."
Robert got 'the whole ball of wax'
The GBSHOF introduced this year's class Wednesday afternoon at RiverWorks. 
Former Sabres defenseman and longtime broadcaster Mike Robitaille paid tribute to his former teammate Wednesday at RiverWorks prior to the press conference to unveil the 2021 class of the Greater Buffalo Sports Hall of Fame. Robert was inducted into that group in 1994.
"At 72 years old, he didn't miss a stroke," Robitaille said of Robert, using a golf analogy. "I mean, he got 72 years. Believe me, he got a full life in. How many people even make it to the NHL and all the gratification and glory he's received and the few extra bucks that helped him live comfortably? That's the whole ball of wax, man. That's what we all dream about hoping we have that.
Also attending that press conference was 2021 inductee Ron Moscati, a longtime former employee of The Buffalo News whose 1975 photo was the basis for the French Connection statue outside First Niagara Center that was unveiled in 2012.
"Rene Robert was always sort of on the side at times in my opinion," Moscati said. "Not that I thought he was, but he didn't seem to get as much attention at times from other people. I thought he was a helluva good player. Every time he was around, he was just great. Everything he did.
"I really, really liked him as a player, but the truth is there was three of them on that line. How could you not like any of them? They were absolutely the best thing that ever happened to Buffalo."
Hall archivist and board member John Boutet attended the gathering wearing a classic white Robert No. 14 jersey.
"He was funny. He was a dry, funny guy," Boutet said. "He wasn't boisterous funny like 'Rico' was, but he was dry funny, and I just think he was just a really nice guy. And I had some really good experiences with him playing golf and things like that."
Boutet, one of the preeminent experts of Buffalo sports history, marveled at the underrated trade made by Punch Imlach to acquire Robert, then an unknown, from Pittsburgh for wildly popular veteran Eddie Shack in 1972
"It's amazing how it works out, isn't it? I mean, the French Connection would have never been born without that trade," Boutet said. "How things might have been different. It's amazing. Everybody loved 'The Entertainer' (Shack's nickname). People are like, 'Are you kidding me? What's with this Robert guy? He's a fourth-liner in Pittsburgh, what are we doing?' Sure enough, he comes here and the line is born."
Robert's two adult children, Micheal and Melanie, had flown to Florida from Canada and were by his side in his final hours. He's also survived by nine brothers and sisters and four grandchildren. Robert also doted on his dogs, Coco and Chloe, who are a bichon and a shih tzu poodle mix.
Among many poignant tributes on Twitter was one by former Sabres defenseman Jay McKee, whose career with the team was well after Robert's. McKee posted a picture of his late mother in the locker room between Robert and Perreault at an alumni event during the 2019-20 season.
Wrote McKee: "I lost my mom this past December. She's waiting for you my friend. Keep playing the game up there until the rest of us arrive. Goodbye and thank you for everything Rene."
I lost my mom this past December. She's waiting for you my friend. Keep playing the game up there until until the rest of us arrive. Goodbye and thank you for everything Rene. 💔 pic.twitter.com/heENk5LoBy

— Jay McKee (@JayMcKee74) June 23, 2021