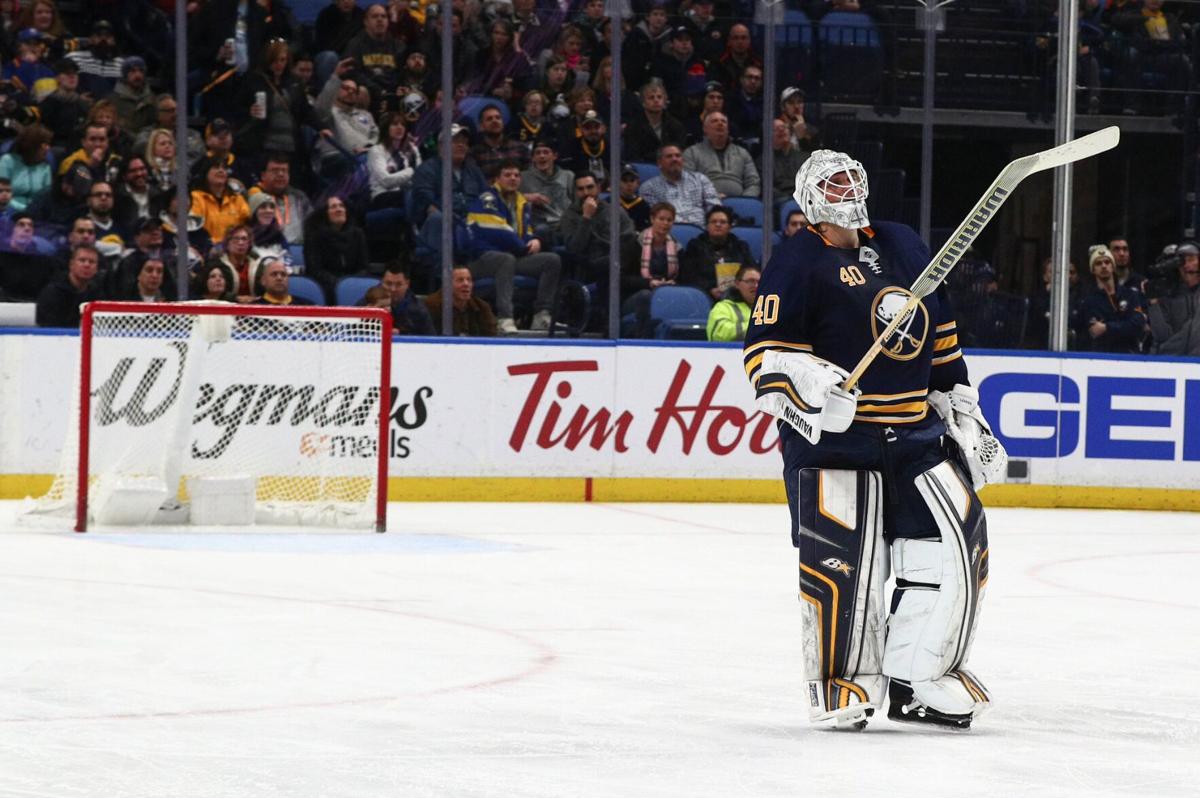 Robin Lehner wants some of those goals back. He knows he needs to play better. The puck, at times, has gotten smaller on him.
Lehner has let in some bad goals, particularly over the last two weeks. He's been pulled in three of his last five starts. Over that span he has an 0-4-0 record as backup Chad Johnson was tagged with the losing decision in a 7-4 loss to Winnipeg on Jan. 9.
In his last five games, Lehner has given up 19 goals 0n 114 shots for a 5.50 goals-against average and an .833 save percentage.
But the Buffalo Sabres goaltender isn't only piece of the problem that has become the Buffalo Sabres free fall this season. And the goaltender won't be the only source of a solution as the organization tries to salvage something good over the next two and a half months.
"I don't turn it around. Ryan O'Reilly is not turning it around. No one is turning it around by themselves. That's not how this works," Lehner said Sunday morning after the Sabres practiced in HarborCenter then returned to KeyBank Center to pack their gear and fly to Calgary.
"In the NHL today, you cannot play one line or one D pair or have a goalie carry you," Lehner said. "It's too good of a league and especially this year with the scoring that's going on, there's a lot more space this year. We've got to do it as a team, all of us have to go out and do our job. I've got to do my job, everyone has to do their job, and that's how we turn it around."
Lehner had plenty to say on the subject. He spoke about consistency, about playing three good periods, not just a solid 20 or 40 minutes. He spoke most passionately about the need for the Sabres to find a way to be a team rather than a collection of talented hockey players.
"It's easy for people maybe looking in that this guy needs to be better, this guy needs to be better, no everyone needs to be better," Lehner said. "It's that simple because everyone just helps each other out. We've all got to take a look in the mirror and go to the next game. There's a lot of games left. We can sulk and feel bad for ourselves as much as we want. You guys aren't feeling bad for us. No one's feeling bad for us. It's no point dwelling on it. It is what it is. We're grown men. We've got to look to Monday."
The Sabres play the Flames in Calgary on Monday then face the Oilers in Edmonton on Tuesday. They stay out west to meet the Vancouver Canucks on Thursday.
Calgary is in the playoff hunt, sitting in third place in the Pacific Division with 55 points. The Flames are coming off a 2-1 shootout loss to the Winnipeg Jets on Saturday.
Buffalo's next two opponents are among the stragglers in the standings of the Western Conference. The Oilers are in 13th place with 45 points while Vancouver is 14th with 42. Both are well ahead of the Arizona Coyotes, now tied with the Sabres for the fewest points in the NHL with 31.
While the Sabres are scoring the fewest goals per game in the NHL (2.24 per game), they are letting in the second most. Buffalo is giving up an average of 3.50 goals per game, second only to the 3.65 being allowed by the New York Rangers.