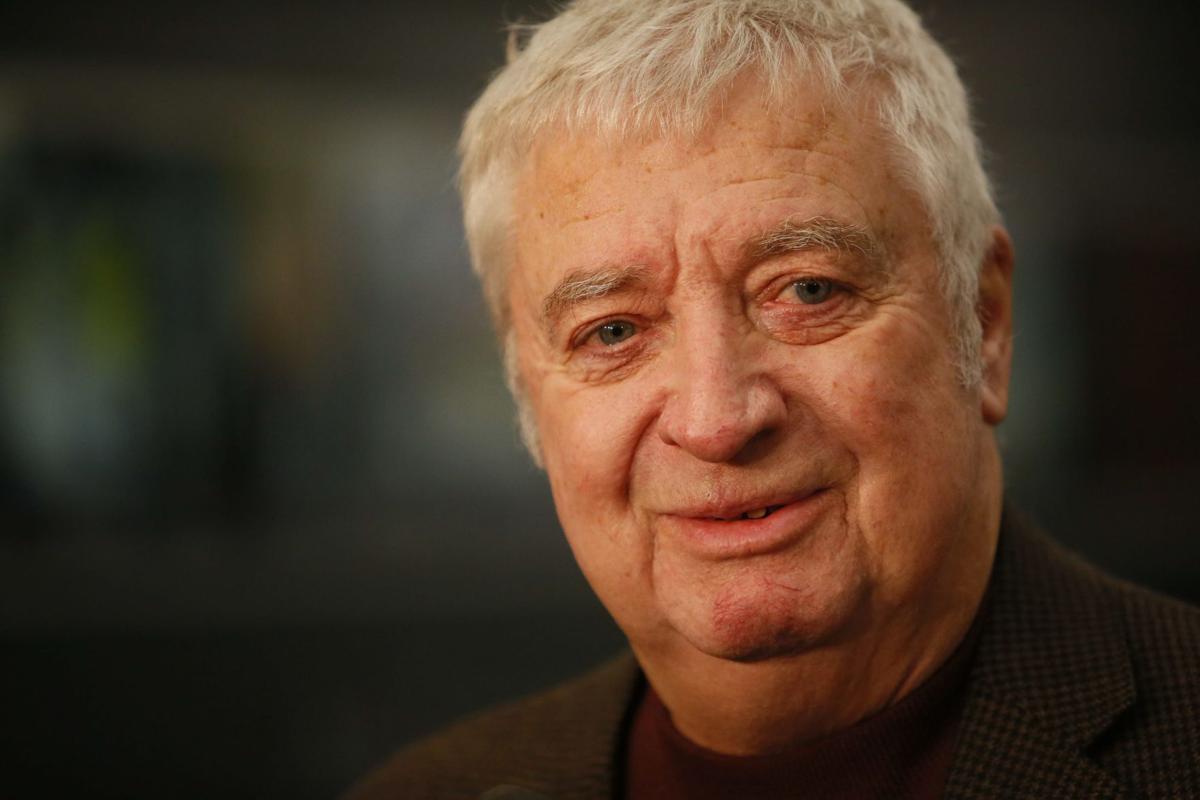 Buffalo Sabres Hall of Fame play-by-play announcer Rick Jeanneret will work 20 regular season games on cable's MSG and WGR radio in what will be his 51st and final season in the booth, the National Hockey League team announced Friday morning.
Mark Preisler, the executive vice president of Pegula Sports and Entertainment, declined to give an exact number of "limited games" that Jeanneret would work but the play-by-play announcer said in an interview that it will be 20 of the 82 regular season games, all 20 played at KeyBank Center.
That's the same number of games that Jeanneret worked in last season's abbreviated 56-game season.
Jeanneret's 20-game schedule appears to have been a compromise between the announcers' desire to do more games and the Sabres desire to give him a good send-off and also give Dan Dunleavy a larger role in his ninth season as the team's play-by-play announcer.
"We bargained a little bit going back and forth but it didn't take very long," said Jeanneret in a telephone interview.
It is a win-win, with Jeanneret getting a final season to say goodbye and being celebrated in what will be billed as his "last call" and the Sabres avoiding a public relations issue if he wasn't given a final season.
Dunleavy gave a hint that things would be changing in a recent interview when he said that he sensed he would be working more Sabres games this season than he has in previous seasons. The most games Dunleavy worked before this upcoming season was 42. He might do as many as 55-60 games this season, depending on how many Sabres games will be carried exclusively by the NHL's new TV partners ESPN, TNT and ABC.
"We are very happy Sabres fans will have the chance to give RJ the send-off he deserves as he calls his 51st season of games," said Preisler in a release. "During the past few weeks, I have rewatched his greatest calls over and over. They still bring chills.
"Like our greatest players, Rick is ensconced in this team. It's almost impossible to listen to a Sabres game without thinking of RJ."
In last season's finale, Jeanneret, 79, thanked the behind-the-scenes personnel who have worked with him before adding: "I hope to have the opportunity to work with them again."
He is happy to be getting that chance.
"I'm glad the decision has been made and that I know I am coming back and doing 20 games, which is about one quarter of the season anyway," said Jeanneret. "It is coming to end. This is the last year, this will definitely be it. I was offered the opportunity and I thought it is one more kick of the can."
In Friday's Sabres release, Jeanneret was quoted as saying "to spend 50 years doing any one job is more than a person can ask for, let alone one as special as mine. My interactions with the fans at KeyBank Center have been one of the thrills of my career, one that was sorely missing in the past year. So let's make it 51. I look forward to seeing you at the rink for one last run."
Jeanneret's relationship with the franchise is almost as long as the franchise itself, starting in the team's second season. When Ted Darling was "the voice of the Sabres" on TV and radio games, Jeanneret would call the games on radio when Darling did a game on TV. Eventually, Jeanneret segued to TV and when the team decided to simulcast games on both mediums, Jeanneret was the voice of both.
From "LalalaFontaine" to "No Goal," the Sabres' longtime play-by-play man has delivered a diverse list of classic
Generations of fans know many of his most iconic calls: "La-la-la-la-LaFontaine," when Pat LaFontaine scored; "May Day! May Day!" when Brad May's overtime goal in Game 4 of an opening round series against the Boston Bruins in 1993 sent the Sabres to the second round for the first time in 10 years; "Top shelf where Mama hides the cookies!" for goals that went in under the crossbar; and, arguably his most famous, "Oh now do you believe? Now do you believe? These guys are good! Scary good!" after Jason Pominville scored a short-handed, overtime goal against the Ottawa Senators in 2006 to win a second-round series.
Jeanneret began cutting back on his schedule of games 10 years ago when he stopped covering every road game. He was diagnosed with throat cancer in 2014, and missed part of the 2014-2015 season.
Preisler said the season will give Jeanneret the send-off that he deserves with fans attending games.
While Jeanneret said he expects to do only home games, Dunleavy will call the remaining home games as well as road games from KeyBank Center and will not be traveling to road games.
The team's plan is to give fans and former players a chance to celebrate Jeanneret's legendary career throughout the season across all its media platforms.
In a sense, the celebration will be a replay of last season's season finale, which did a terrific job celebrating Jeanneret's 50 years as the team's broadcaster. He was praised so often that by game's end he joked that it felt like a eulogy.
Of course, the one thing likely missing from Jeanneret's final season will be the rebuilding Sabres breaking their playoff drought that started after the 2011 season.
Ever the optimist, Jeanneret disagreed.
"No, I don't look at it like that," he said, laughing. "I can't. Stranger things have happened."