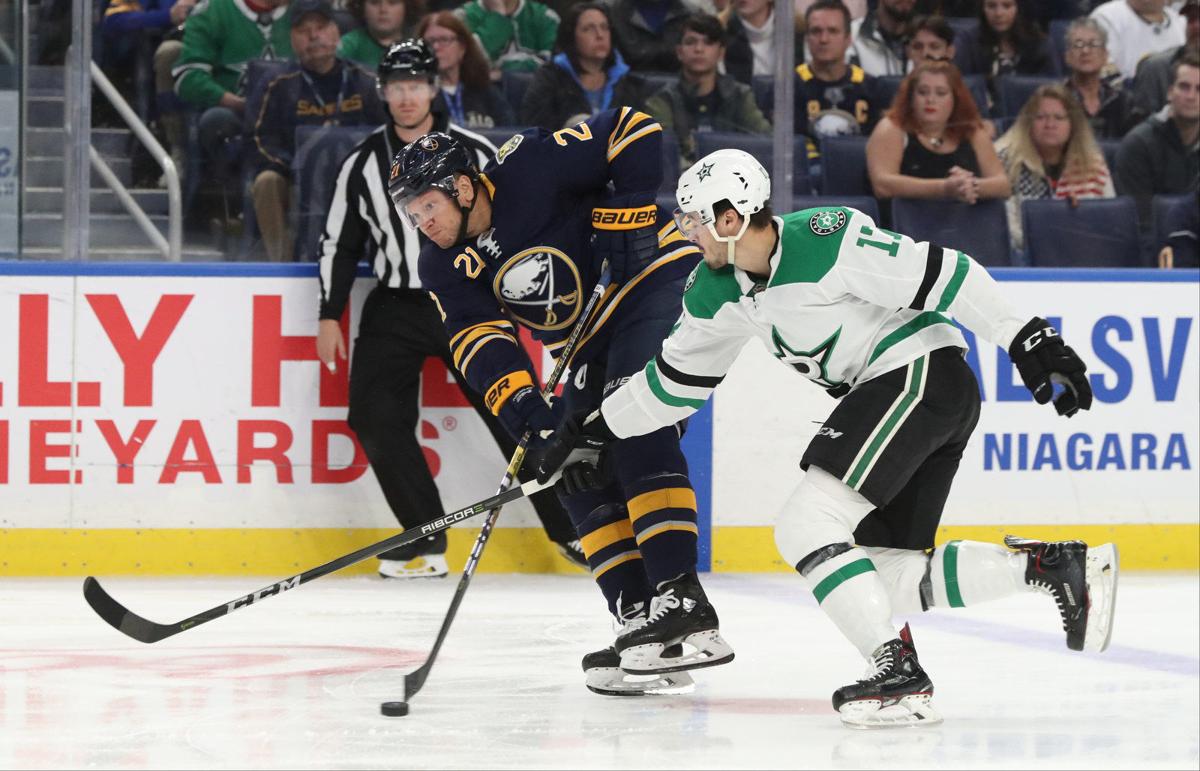 The Buffalo Sabres' medical news is almost laughable in one sense, with the team losing a forward to injury for five consecutive games and likely to put a paper-thin lineup on the ice for Tuesday's game against the Minnesota Wild in KeyBank Center.
But things took a much darker tone Monday afternoon.
The club announced veteran forward Kyle Okposo suffered another concussion Saturday against Ottawa. That's the fourth one for Okposo since joining the Sabres in 2016 and the second in this calendar year.
Okposo, 31, is listed as out indefinitely. And it's far too early to entertain the thoughts of how much his career is again hanging in the balance, or what the club does with a player still owed $6 million each of the next three years.
Still, you have to wonder.
"First and foremost, he's a person, right? You think about him and his well-being," said veteran defenseman Zach Bogosian, on the comeback trail himself from hip surgery. "Hockey comes second to everyone in this room as far as health-wise. You think about him. You'll be there for him and his family as well. Obviously, going through what he's been through in his career, it's been tough for him. We're going to be there for him."
Okposo, remember, had a tumultuous summer in 2017 when post-concussion symptoms and reaction to medications landed him in the neuro ICU unit of Buffalo General Hospital. In February, he was concussed as a result of a fight with New York Rangers defenseman Tony DeAngelo.
His latest concussion was an unfortunate accident.
Okposo had just come on to the ice late in the second period when he was clipped by Ottawa defenseman Ron Hainsey, who was starting to head to the Senators' bench on a change. Okposo immediately looked woozy and went down to his knees before skating slowly to the bench, where Sam Reinhart and Victor Olofsson helped him over the boards before he headed to the dressing room.
"It was just kind of a freak thing. I saw the whole play develop," Reinhart said. "They had a couple guys trying to get off the ice, and it was very unfortunate the way it happened. I don't think there was any intent there, but it's always scary for someone to be in that spot. We just wish him the best in his recovery.
"It's no secret in the room what he's gone through and we can only support him and be behind him 100% in his recovery. That's the most important thing."
Bogosian played with Hainsey in Atlanta and Winnipeg and agreed with Reinhart's assertion that there was zero ill intent on the play.
"Obviously, just a freak thing," Bogosian said. "He's not the type of guy that would go out of his way to bump someone, especially going off on a change. Just a freak accident."
"I'm learning about the history here and getting caught up in the past. You're always concerned," said coach Ralph Krueger. "You just hope for the best result here as quick as possible. It's all you can really do right now. It's one of those injuries where you need to have patience. It's definitely the inactivity that goes with it is always tough psychologically. But we're there for him. We're going to fix this together."
Okposo, who has just one goal in 19 games, joins Vladimir Sobotka (lower body) among veterans with a long-term injury. Tage Thompson is in a similar predicament as his Sabres season debut ended with what appeared to be a shoulder injury with just more than two minutes to play Sunday in Chicago. The Sabres said Thompson, the leading goal scorer in Rochester this season, will be out three to five weeks.
Marcus Johansson and Johan Larsson (both upper body) will again be out for Tuesday's game, with the team hoping at least one might be ready for the upcoming road trip that starts Thursday in Boston.
Krueger conceded it's hard not to feel a little snakebitten when you see an injury like Thompson's happen in a 4-1 game in which the outcome has long been decided.
"You are making decisions on the last five minutes on playing players in a game that's slipped out of reach," Krueger said. "You want to get certain ice time in. You throw Tage out one more time. It was a strange set of circumstances that caused the injury. But, yeah, you definitely hope that's the end."
The Sabres spent much of October with virtually the same lineup, other than a minor injury to Conor Sheary. Things started to go awry when Sobotka was taken out by Tampa Bay's Nikita Kucherov during the first game in Sweden and haven't stopped since.
"It was a really long stretch with the same forward lines, and there was some good synergy there," Krueger said. "The processes seemed to be quite automatic, especially the way we want to be connected on the ice. Losing a forward a game now for five games in a row has been quite disruptive. But the guys are working hard to find the right path."