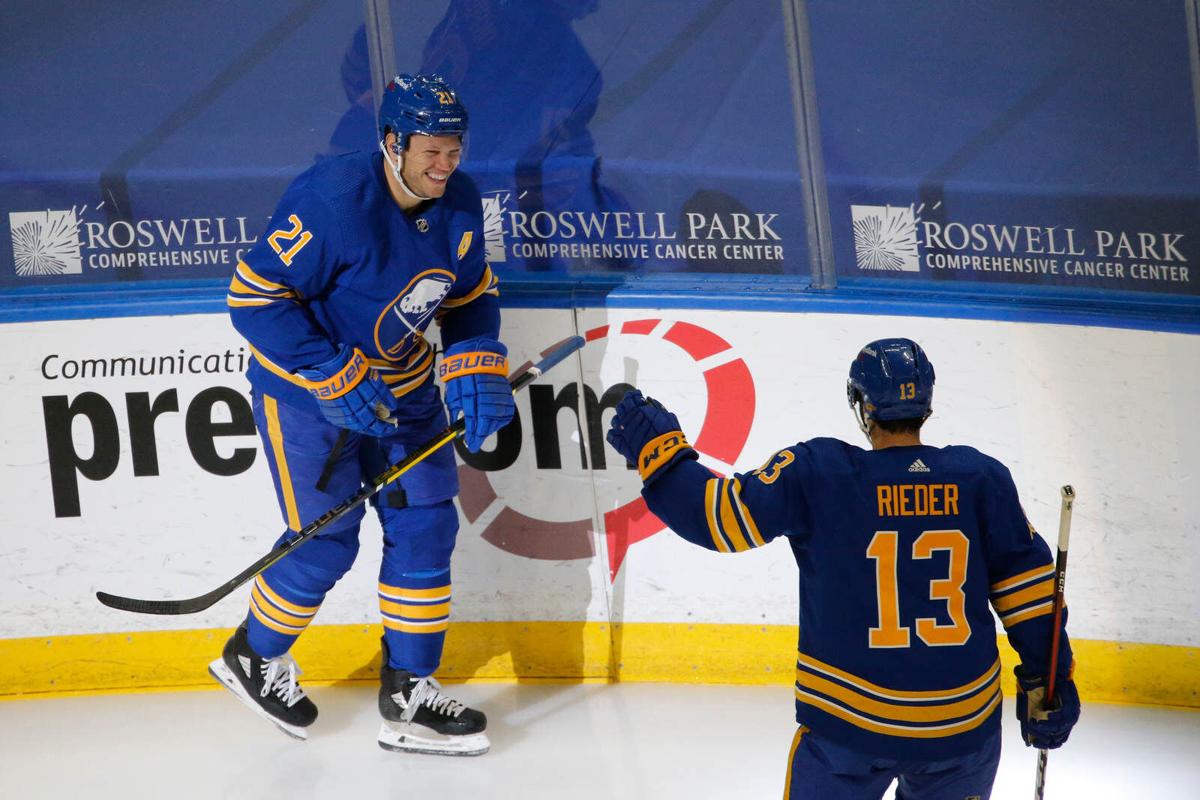 Sabres captain Jack Eichel is in suburban Montreal this week, taking part in off-ice activities for the annual BioSteel camp for NHL players. Eichel, still awaiting clarity on a surgery option for the herniated disk in his neck, is not skating in the live scrimmages at the camp.
Even in a preseason game, Bills fans can't get enough of Josh Allen.
Buffalo teammate Kyle Okposo is also participating and has naturally talked to his captain. Well into a 16-minute interview Wednesday on WGR Radio that celebrated the station's multiyear extension to carry Sabres games, Okposo was asked what thoughts he had on Eichel's situation.
"He's doing all right. This has obviously been a bit of a tumultuous process for everybody," Okposo said. "I think that everybody wants some closure and some answers. I'm looking forward to him getting some clarity on the situation moving forward. And whatever that may be, I think it's going to be great for him and the team as well moving forward."
Okposo is also represented by Pat Brisson, the agent Eichel hired last week after firing longtime representative Peter Fish. Okposo was not asked about Brisson and did not say anything else about Eichel in the interview.
Brisson is the Scott Boras of hockey agents, a guy who has the big names and generates the big dollars, Harrington writes.
Okposo, 33, said he is fully healthy heading into his sixth season with the Sabres. His injury-plagued 2021 campaign ended in April after Okposo posted career lows in goals (2) and points (13) in 35 games. He missed the final 13 games with a broken cheekbone after taking an errant puck to the face during a game in Washington.
As the oldest forward on the roster, Okposo said he's ready to help pick up some of the leadership void left by the departures of Rasmus Ristolainen and Sam Reinhart and the potential trade of Eichel.
"I'm looking forward to making a positive impact on these younger guys. Whoever is on the roster," Okposo said. "I've never tried to be anybody that I'm not. I'm a pretty honest person. I'm going to be honest with these guys. And I'm just going to try to teach them some things that I've learned along the way and share some of my experiences. Just try and be a professional and show them what it takes to be a pro in this league every day. It's not an easy thing to play 82 hockey games in the best league in the world."