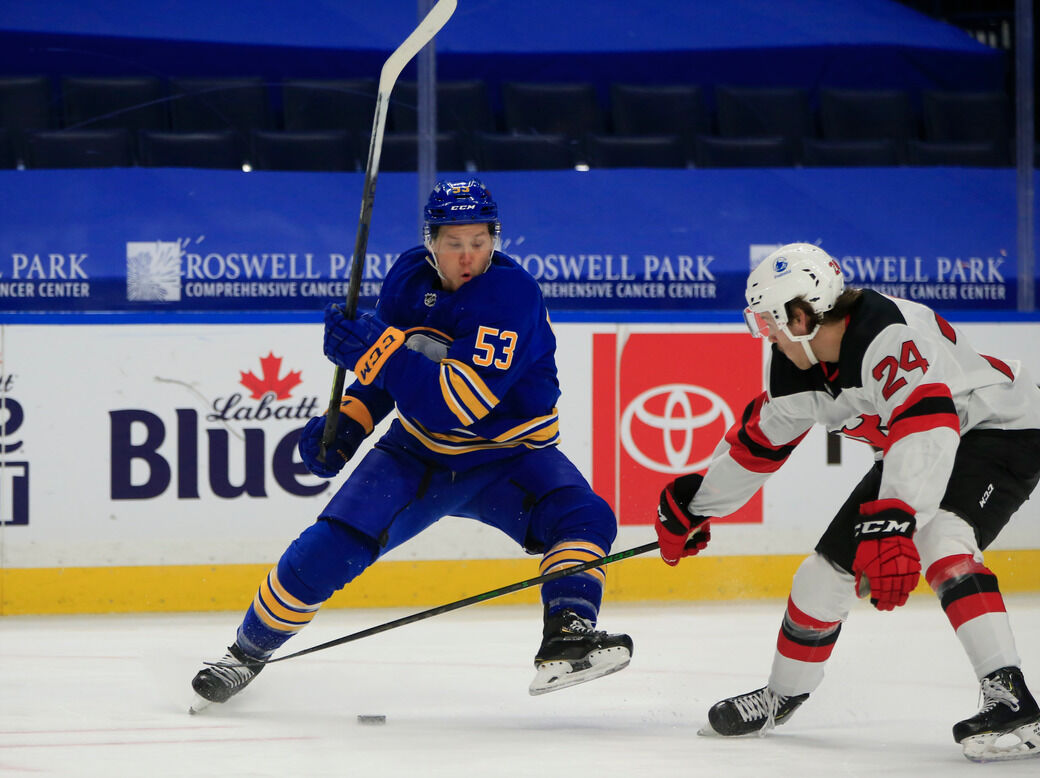 Jeff Skinner was not on the KeyBank Center ice when his Buffalo Sabres teammates held a morning skate Thursday in preparation for their game against the New Jersey Devils.
Skinner, the Sabres' second-highest paid player with a $9 million annual cap hit, was scratched for a third consecutive game by coach Ralph Krueger. Skinner wasn't even chosen to take pregame warmups Thursday night.
Instead, Skinner, who signed an eight-year, $72 million contract in June 2019 to remain in Buffalo, was relegated to working out with the taxi squad Thursday morning. Krueger again declined to reveal specifics following the skate, insisting again that his lineup decision was more about those chosen to play rather than an indictment against Skinner, who has zero goals with one assist in 14 games this season.
The situation has raised significant questions about Skinner's future in Buffalo and the plan behind sitting a player who is under contract for six more seasons beyond 2020-21.
Skinner's agent, Don Meehan, told The Buffalo News on Thursday morning that he had a lengthy conversation with Sabres General Manager Kevyn Adams on Wednesday in which Meehan expressed his and Skinner's concerns. Meehan declined to reveal what was discussed on the call.
Since Krueger took over as coach, Skinner has seen his ice time slashed and offensive zone starts limited. He didn't have a role on the power play in 2019-20 and has spent much of this season on the fourth line with Curtis Lazar and Riley Sheahan.
"Number one, I don't have a doghouse – I don't know, really, what that is," said Krueger, who added this isn't a disciplinary issue. "My job every single morning is to continually try to do what's best for the Sabres with all the information that we have and my trusted circle of coaches and Kevyn Adams and the discussions we have. Of course, I'd love to share everything all the time with everybody. You guys know I want to be transparent, but there are certain things that evolve in the development of a team or an organization or a group behind the scenes.
"Every decision is made for the whole, for the group and the mix of our 12 forwards is as complex as it's ever been because of the taxi squad. We have a huge luxury this year of having multiple extra players around the group, around the team, in practice and we get to see their energy. The way the 12 forwards evolved together the last two games, it's been for what we feel is best for the group on this given day. Again, my job, combined with the attitude and the work ethic of a player, is to work together to find the potential of the player. May this eventually, when Jeff is called upon again, may we drive him closer to his potential working together on that solution. I would say right now the decisions are more for the players that are in the lineup than against anybody else."
Skinner scored only 14 goals in 59 games last season, but he still led the Sabres in 5-on-5 goals per 60 minutes. Despite a strong training camp, and a decadelong track record of scoring goals, Skinner is averaging a career-low 11:56 in 5-on-5 ice time per game this season.
Since the start of his rookie season in 2010-11, Skinner ranks seventh in the NHL in even-strength goals (205), trailing only Alex Ovechkin, Patrick Kane, John Tavares, Steven Stamkos, Brad Marchand and Max Pacioretty.
The Sabres, meanwhile, entered their game Thursday having scored the fewest 5-on-5 goals in the NHL this season, only 20 in 16 games. Buffalo didn't fare much better in Krueger's first season, finishing the coronavirus-shortened 2019-20 campaign ranked 20th in even-strength scoring.
Krueger was reluctant to ever use Skinner on the top line with Jack Eichel, the superstar center with whom he was on the ice with for 53 even-strength goals in 2018-19 under former coach Phil Housley.
Former Sabres General Manager Jason Botterill acquired Skinner from Carolina in August 2018. Skinner scored 40 goals during his first season in Buffalo, a performance that earned him an invitation to the NHL All-Star Game. He then signed the lucrative long-term contract, opting to stay close to home – Skinner grew up 67 miles away in Markham, Ont. – rather than entering unrestricted free agency.
During a press conference following the contract signing, Skinner expressed a love for Buffalo and a desire to help lead the Sabres' young core to the Stanley Cup playoffs. Krueger was among the people in the organization whom Skinner spoke to during the contract negotiations. Skinner is under contract through the 2026-27 season and the terms of the deal include a no-movement clause, which prevents the Sabres from trading Skinner without his permission.
At the time of the contract signing, Skinner only missed three of a possible 328 games over the previous four seasons.
Krueger, though, never seemed to understand how to use Skinner's skill set. The former longtime coach of the Switzerland National Team has a fondness for role players, as illustrated by his decision to use Vladimir Sobotka in the top six to start the 2019-20 season. Krueger refuses to deviate from how he feels a player must approach specific situations, particularly on defense.
Krueger would give Skinner extra ice time early in games, only to keep him on the bench in key moments.
The trend continued at the start of this season. Skinner was signed to be a long-term solution alongside Eichel, but Krueger has preferred using Victor Olofsson, an average-to-below average 5-on-5 player according to every statistic and metric, as the first-line left wing.
In 774:39 of 5-on-5 ice time since the start of the 2019-20 season, Eichel and Olofsson have been on the ice together for 32 goals, while also posting poor shot quality, as illustrated by their 26.35 expected goals.
Skinner and Eichel, meanwhile, were on the ice for 53 goals at 5-on-5 while skating together for 845:28 during the 2018-19 season. Their shot quality was significantly stronger (40.32 xGF). Yet, Krueger has played Skinner and Eichel together in 5-on-5 situations for only 135:25 across the past two seasons.
Rasmus Asplund and Tage Thompson, forwards who have combined for 12 goals in 147 career NHL games, were chosen over Skinner to skate with the Sabres on Thursday morning.
Despite the unusual usage this season, Skinner still leads the Sabres in individual shot quality at 5-on-5, while ranking second in high-danger scoring chances and penalties drawn.