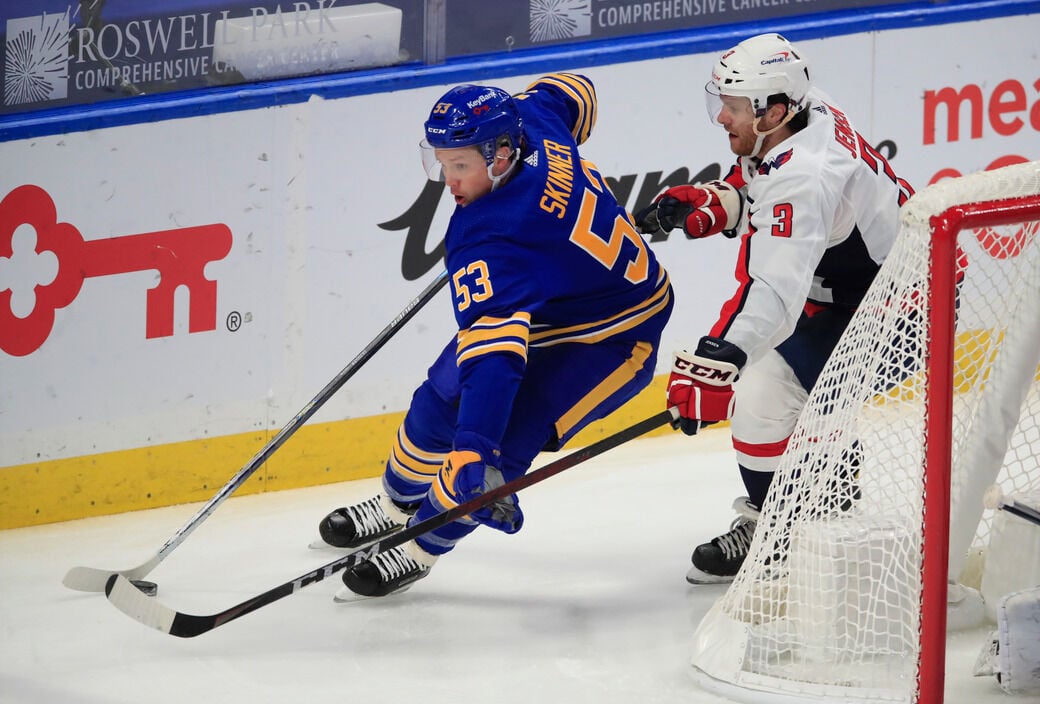 The disconnect between Ralph Krueger and Jeff Skinner became apparent this week when the $9 million-a-year left wing was scratched in three consecutive games.
Krueger, amid his second season as the Buffalo Sabres' coach, has been coy when asked why the team's second-highest paid player wasn't in the lineup. He didn't soften his stance Friday after Skinner practiced with the Sabres in KeyBank Center ahead of a weekend back-to-back against the Philadelphia Flyers.
"We are an environment of accountability and you need to earn your keep here on this group every single game and every practice," said Krueger. "What I'm telling you doesn't only apply to Jeff. It applies to every player on our team and if somebody slips there are different ways to deal with it.
"In the end, the goal is to find out what the potential of the player is for us now and get that player to that potential."
Don Meehan, Skinner's agent, had a lengthy phone conversation with Sabres General Manager Kevyn Adams on Wednesday. Meehan, one of hockey's most prominent powerbrokers, expressed his and Skinner's concerns. Skinner was scratched again Thursday night against the New Jersey Devils
It wasn't until after practice Friday that Skinner spoke to the media about his frustrations and what appears from the outside to be a contentious relationship with Krueger. While Krueger would not say who will be in the Sabres' lineup Saturday against the Flyers, Skinner made his intentions clear: He has no interest in a trade out of Buffalo.
"No. I love being a Sabre," said Skinner, who has zero goals and one assist in 14 games this season. "I love the city of Buffalo. I wouldn't have chosen to stay here if that wasn't the case. That answer is simple: no."
Skinner did not skate with his teammates Thursday morning ahead of the 4-3 overtime loss to the Devils. Instead, one of the NHL's most accomplished goal scorers across the past decade was told to work out with the taxi squad, a group that includes defensemen Brandon Davidson and Casey Fitzgerald, and goalie Dustin Tokarski.
Krueger chose to have Tage Thompson skate with the Sabres in pregame warmups. Thompson had two shots on goal in 7:57 of ice time after he was forced into the lineup when center Jack Eichel sat out with a lower-body injury. With Eichel questionable to play this weekend, Skinner returned to practice Friday and skated on a forward line with Casey Mittelstadt and Riley Sheahan.
Krueger would only say he wants to hold any player accountable who does not adhere to his "principles."
"The goal is not to punish anybody or to cause headlines that you can all focus on," said Krueger. "It's more the goal of getting the most of the Buffalo Sabres and the group that we have. … And it's about different ways of growing people in different positions and that's what this is about, is working together with Jeff to make him a better Jeff Skinner for the game today. … I feel that he's embraced it and that he'll come out of it a better player."
The Sabres, now last in the East Division with a 6-8-3 record, could use Skinner's goal-scoring prowess. Since the start of his rookie season in 2010-11, Skinner ranks seventh in the NHL in even-strength goals (205), trailing only Alex Ovechkin, Patrick Kane, John Tavares, Steven Stamkos, Brad Marchand and Max Pacioretty.
Yet, only three games following a two-week-long Covid-19 pause, Skinner was scratched in favor of Mittelstadt.
Skinner, a 28-year-old two-time all-star, had spent most of the first 14 games on the Sabres' fourth line with Sheahan and Curtis Lazar. Skinner is also averaging a career-low 12:04 of even-strength ice time per game.
Every advanced metric, both offensively and defensively, showed Skinner was consistently creating scoring chances, drawing penalties and helping his linemates shutdown the opposition. For example, Skinner leads all Sabres forwards in on-ice shot quality against in 5-on-5 situations, according to Evolving-Hockey.com.
"I mean, I think in this league there's a lot of ups and downs," said Skinner. "A lot of times I think the best way to cope with that is such a cliche, but take it a day at a time. And for me, this last little while, obviously you want to be out there battling with your teammates. …
"The situation as a whole is something that sort of I think obviously, there's a lot of emotions involved. You try and take time to digest that and stuff like that, because I think in any situation like that, that's the best thing to do."
Krueger again declined to reveal what specific areas of Skinner's game need to improve and mentioned that the former 40-goal scorer will benefit by watching teammates from a different perspective. Skinner, on the other hand, does not think he can improve by not playing.
The situation raised significant questions about the Sabres' plan for Skinner and how comfortable Adams would be with the benching of a high-priced player.
Skinner has six years remaining on the $72 million contract he signed with the Sabres in June 2019. The contract included a no-movement clause, which prevents Buffalo from waiving Skinner and he must approve any trade. He also has the power to prevent the Sabres from exposing him to Seattle in the expansion draft this summer.
Even if Skinner wanted out, a trade would be difficult considering his goal scoring under Krueger. After totaling a career-high 40 goals under former coach Phil Housley in 2018-19, Skinner had only 14 goals in 59 games last season. He has just three goals in his last 45 games dating back to Dec. 5, 2019.
However, Skinner led the Sabres in 5-on-5 goals per 60 minutes last season. He currently leads the team in individual shot quality in 5-on-5 situations, while ranking second in penalties drawn and high-danger scoring chances. Krueger said he did not know about Meehan expressing concerns to Adams and added that his bosses, specifically owners Terry and Kim Pegula, understand that there will be difficult situations such as the one with Skinner.
"Any noise coming from the outside, Kevyn and ownership has been amazing at understanding the space that I need as a head coach to be able to work properly to have the energy I need," Krueger said when asked about the ramifications of benching a player of Skinner's status. "So, my answer to you is I didn't even know that happened, the complaint, until you just told me. But what I do understand is the complexity of this situation for the reasons that you mentioned. I've just had nothing but support on the obsession I have in driving in the culture here in Buffalo that gives us a chance not only short- but long-term to be successful."
When asked if he is doing everything asked by coaches, Skinner deferred to Krueger and said: "For obvious reasons, I can't read his mind." Skinner also respectfully declined to say how long or often he has spoken to Krueger since first being scratched Monday against the New York Islanders.