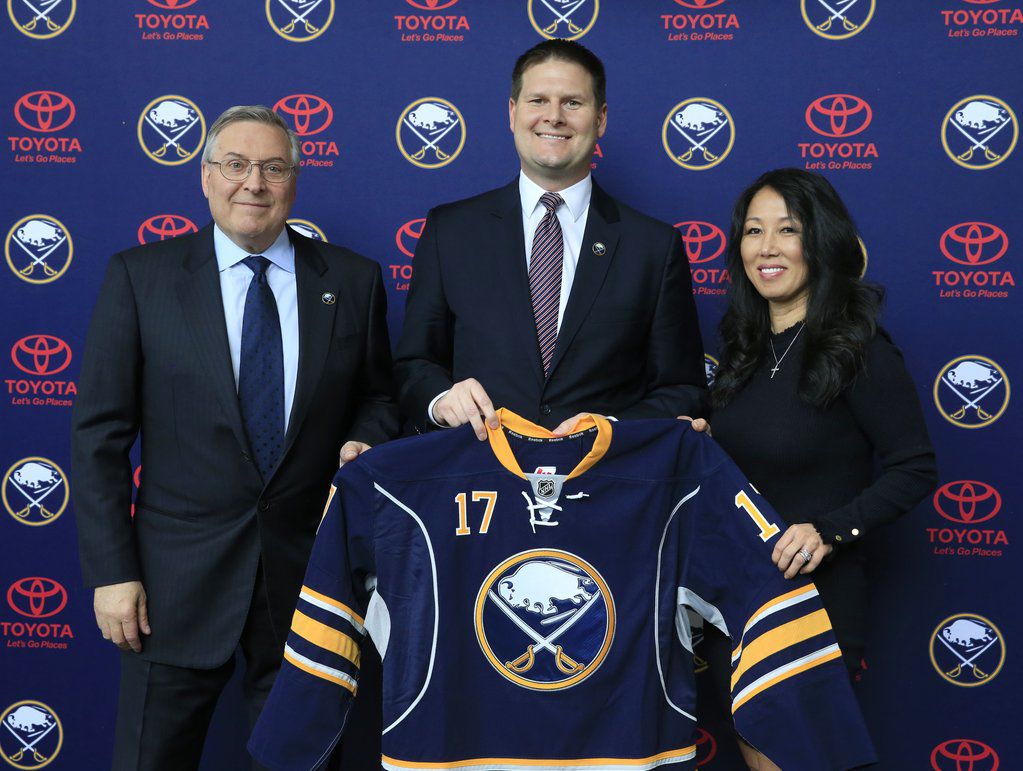 People know Jason Botterill is searching for one head coach and possibly two. That's made the Sabres' general manager a very popular guy.
"It is amazing how many sort-of friends I've had over the last week here, with people passing along names," Botterill said Tuesday on the Sabres' simulcast show, "The Instigators."
After holding scouting meetings last week, the GM is turning his attention toward his coaching search. He needs to replace Dan Bylsma in Buffalo and decide whether Dan Lambert is the right fit for Rochester. As Botterill said during his introductory news conference, he wants Buffalo's coach in place by the NHL Draft on June 23.
"I don't know who I want," Botterill said. "I don't have a specific name. I know there's certainly people I want to talk to and have dialogue."
Two of the rumored candidates, Nashville assistant coach Phil Housley and Pittsburgh assistant Rick Tocchet, are still in the Stanley Cup playoffs. They are hardly the only candidates. Given Botterill's track record, hopefuls shouldn't be discouraged if they're not the favorites.
Botterill again pointed out that he didn't expect to hire Mike Sullivan for Pittsburgh's minor-league affiliate in 2015-16. Sullivan wowed the then-Penguins' executive during the interview process and got the job. Sullivan was quickly promoted to Pittsburgh and has a chance at a second straight Stanley Cup.
"It's amazing how many good coaches are out there, but they all have their different styles," Botterill said. "Until you get into an interview process and sort of understand, like Mike Sullivan, I was sort of thinking he'd been with John Tortorella for so long, and that's what I was thinking. Then when I got into it I realized he's taken the best of John Tortorella, and then he's taken a lot from his other coaches he's been around with.
"Until you get into the interview process with that, you don't know from afar."
Botterill is planning different types of interviews, depending on the candidate. He just knows he needs to find the right coach.
"I have questions going into every interview that I want to be done, but it's not like we're looking at a sheet and I'm checking it off in that regards," Botterill said. "It's just a dialogue in that regard. There's a wider range. There's phone interviews where I just want to get a feel for some people to see what works. Other people will come in and do face-to-face, whether it's in my office just going over some things or just going out for dinner and stuff in a more casual setting, just to make sure that there's a comfort level.
"Because that relationship, there's going to be positive times here, but there's going to be difficult times, too. It's going to be key that the GM-head coach relationship is strong to make the entire organization strong."
Botterill plans to let the coach be in charge of the search for assistants.
"I've worked with the coach and said, 'Hey, what's best for your assistants? Give us parameters on what you think are the best assistants for you,'" Botterill said. "But if management's putting an assistant coach on a coaching staff, it doesn't work. Things like that can't be forced.
"You can have the greatest head coach in the world, but if he has terrible assistant coaches that aren't working and supporting him, it's not going to work."
The fate of the Sabres' assistants – Terry Murray, Bob Woods, Tom Ward and goaltending coach Andrew Allen – will be determined by the new coach.
"Depending on who is the head coach in here, what's the fit?" Botterill said. "Is there a fit with these guys? Are there weaknesses of the head coach that these guys, that's their strength? Just see if there's a relationship in that regards."
For Rochester, Botterill said he's had conversations with Lambert, who finished his first season with the Amerks, and plans to have more.
Botterill's deadline of the NHL Draft is important because unrestricted free agents can visit teams immediately following the selection show.
"This week, I've certainly had more conversations from a coaching standpoint," Botterill said. "Do I have an exact date? No. I think it's very important to have this coach in place by the draft.
"I know it's not right around the corner. We have a little bit of time. To me, just having that in place for the draft, especially then for the talking period with the free agents right after that, it's key to have your coach in place in that regard."
Be the first to know
Get local news delivered to your inbox!