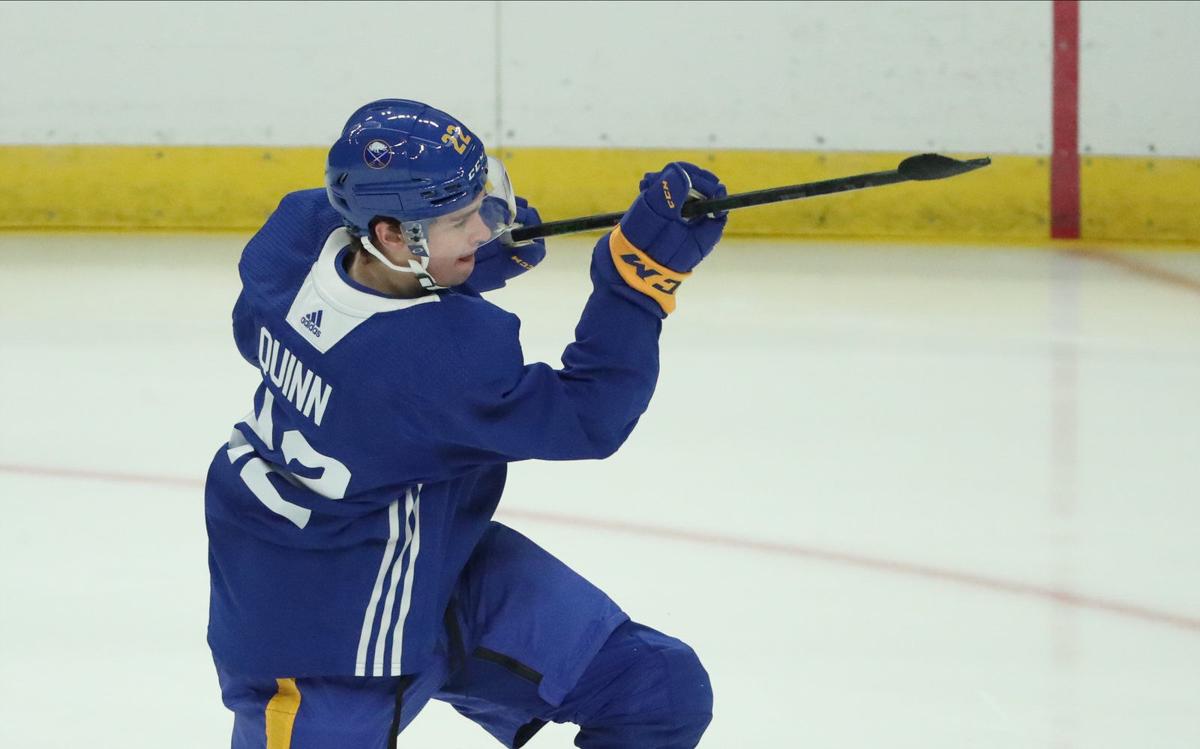 At the beginning of September 2020, when we were still awaiting word on when or if the National Hockey League would hold a season, LECOM Harborcenter in downtown Buffalo remained closed amid the Covid-19 pandemic.
Ice wasn't installed in Rink 1 until the second week of the month and, even then, the facility's only occupant was Canisius' men's hockey program. It was a time on the annual calendar typically reserved for the Sabres Prospects Challenge, an annual four-team round-robin event showcasing the organization's recent draft choices and top young players yet to reach the NHL.
However, the weekend tournament was canceled last fall, another setback in a difficult year for many prospects. This prevented the next wave of young talent from working with development coaches and competing in front of General Manager Kevyn Adams, then amid his first year on the job, and his staff.
Following a tumultuous 56-game NHL season, and a second consecutive summer without the Sabres hosting a development camp, the Prospects Challenge is returning this week, as midweek practices will precede a pair of weekend games for Buffalo: Friday night against New Jersey at 7 p.m., and a 3 p.m. Saturday puck drop versus Boston. The event is open to the public and tickets cost $10.
The Sabres' roster has fewer tantalizing names than in years past – recent No. 1 pick Owen Power is in Ann Arbor preparing for his sophomore season at the University of Michigan – and the showcase is down to three teams because the Pittsburgh Penguins chose not to attend.
Yet, this will be the first time the Sabres will host fans in LECOM Harborcenter since the Covid-19 pandemic shut down professional sports in March 2020, and although the event is low on star power, the roster features several names familiar to fans.
Forwards (13): Brandon Biro, Josh Bloom, Thomas Casey, Riley Fiddler-Schultz, Tyson Kozak, Viljami Marjala, Brett Murray, Olivier Nadeau, Matej Pekar, J-J Peterka, Jack Quinn, Arttu Ruotsalainen, Linus Weissbach.
Defense (7): Nick Boka, Matthew Cairns, Charlie Deroches, Clay Hanus, Oskari Laaksonen, Mattias Samuelsson, Peter Tischke.
Goalies (3): Ukko-Pekka Luukkonen, Mack Guzda, Oliver Satny.
The timing of the event prevents NCAA prospects such as Power and Ryan Johnson from attending, and none of the Sabres' draft choices competing in Europe could make the trip, most notably 2021 first-round draft choice Isak Rosen and the four Russians selected by the club in July. Winger Lukas Rousek, who signed his entry-level contract in April, won't attend after undergoing ACL surgery Tuesday.
With Rasmus Asplund and Dylan Cozens among those to graduate from prospect status to full-time NHLers, the Sabres filled out their roster with nine invitees, most of whom are in their junior careers or signed to an AHL contract with the Rochester Americans. The group also includes two defensemen previously drafted by other teams: Boka (sixth round by Minnesota in 2015) and Cairns (2016 third-round choice of Edmonton).
While all involved want to make a strong impression in front of Sabres brass, the stakes are particularly high for five players.
A 22-year-old goalie drafted in the second round in 2017, Luukkonen spent the early portion of the offseason recovering from an ankle injury suffered in May during his fourth start for the Sabres. His performance in the prospect practices and games won't weigh heavily in the three-man competition to start in net for Buffalo at the start of the season, but this is an important tune-up before NHL training camp.
"I think it's a really interesting camp that is coming on and I'm really excited for it," Luukkonen said.
It's Luukkonen's first opportunity to show that Adams made the right call to not block the young goalie from making the Sabres' roster. Remember, Luukkonen showed promised last spring, winning his NHL debut, and recording a .906 save percentage in four appearances. Keep an eye on how Luukkonen handles the prospect games, as the lack of practice time tends to lead to poor defensive-zone coverage for all involved.
There was no development or prospect challenge for Peterka to attend after the talented winger was drafted in the second round, 34th overall, in October 2020. Instead, the 19-year-old began his season in Austria and finished with EHC Red Bull Munchen of Germany's DEL. His impressive play with both teams bookended an IIHF World Junior Championship in which Peterka had four goals and 10 points. He finished the DEL season with 20 points in 30 games against professionals.
Peterka is penciled in for a spot in Rochester this season, but his mature approach at both ends of the ice could lead to a short stay with the Amerks or even an NHL debut next month. After all, the Sabres need more goal scorers on the wing to complement Cozens and Casey Mittelstadt at center.
The stat line for Quinn last season doesn't tell the entire story. The 19-year-old winger had two goals and nine points with a minus-14 rating in 15 games with the shorthanded Amerks, but Quinn was competing against older, stronger competition. He would have returned to the Ottawa 67's had the Ontario Hockey League launched a season amid the pandemic.
Instead, Quinn began his professional career earlier than expected, a significant challenge for even a talented player with his skill set. Also, his season was cut short by a hernia that he played through since the IIHF World Junior Championship.
"It wasn't an easy year. It was tough. I struggled more than I wanted to and production-wise, but I think it helped me a lot in the long run," Quinn said.
While Quinn likely needs more time to learn how to score as a pro, he's shown he can put the puck in the net against his peers. Quinn totaled 52 goals in 62 games for Ottawa in 2019-20, which led to his selection eighth overall by the Sabres. A dominant showing at the prospects challenge would make a strong impression on Granato and his coaching staff.
An imposing 6-foot-4 defenseman willing to clear the front of the net and finish checks, Samuelsson had some promising performances during his 12 games with the Sabres last season. He made smart breakout passes and kept his game simple. Samuelsson's physical play was a welcome addition to a lineup that lost Jake McCabe to a season-ending shoulder injury.
McCabe is gone. So is Rasmus Ristolainen, leaving the Sabres thin on physical defensemen. However, the NHL depth chart is crowded, particularly on the left side with Rasmus Dahlin, Will Butcher, Robert Hagg and Jacob Bryson.
Samuelsson will need to move ahead of Hagg and Bryson on the depth chart. While Bryson's absence from this prospects challenge indicates he might be considered a full-time NHLer following his 38 games with the Sabres last season, Samuelsson can show this week that he should be in Buffalo's lineup on opening night.
No player attending this week's events has more professional experience than Ruotsalainen, a 23-year-old forward who played 267 games across six seasons in Finland's Liiga. He made the successful transition to North America in 2020-21, scoring five goals in 15 games with the Sabres. His stat line in 59 games among Finland, Rochester, Buffalo and the world championship: 30 goals and 51 points.
Yet, Ruotsalainen will face competition in camp to make the roster for opening night. While Granato's staff knows that Ruotsalainen can score goals, he'll need to show that his skating and defensive game are advanced enough for a full-time NHL job.