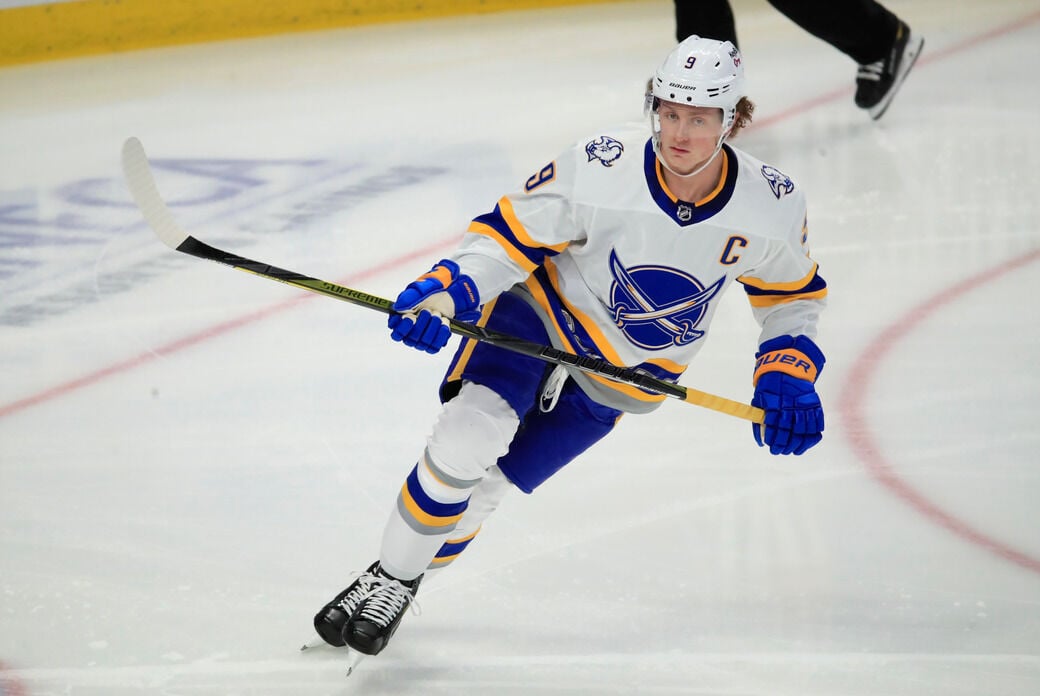 The suburban Denver surgeon who has examined Jack Eichel and recommended artificial disk replacement surgery to repair the herniated disk in Eichel's neck says it would not just be a better outcome for the Buffalo Sabres captain to get back on the ice. It would also be better for Eichel later in life.
Speaking on Sportsnet's "31 Thoughts" podcast released Saturday morning, Dr. Chad J. Prusmack said Sabres doctors agree with him that Eichel needs surgery but the type of procedure remains a major point of contention.
The most commonly done procedure is an anterior cervical discectomy with fusion (ACDF). Eichel, however, wants to have an artificial disk replacement surgery, which has been available since around 2000 but has never been performed on an NHL player.
Eichel's agents released a statement to the media late Friday night stating that Eichel and his representatives were initially under the impression that Buffalo would approve the surgery Eichel wished to have on the herniated disk in his neck. 
Prusmack said the ACDF surgery would have a three-month checkup and likely keep Eichel out of action for six months, and perhaps longer. The disk replacement would have Eichel on the ice training in six weeks and perhaps competing in practice in as few as eight weeks. In addition, the doctor said the fusion would carry a 25% chance of the need for more surgery after 10 years and future surgeries later in life.
He characterized the disk replacement surgery as a likely "one-and-done" scenario and that 10-year follow-up visits show 4.8% of patients need a new surgery.
The Sabres have declined Eichel's request to have the disk replacement and General Manager Kevyn Adams said Thursday that there has been no change in the team's stance. Prusmack said he was sympathetic to the team's position.
"With any teams, they have to mitigate risk for their team. It's a business," he said. "I believe everyone cares for each other. But the sort of glass they look through is a different color than the one I am. Intrinsically, you have a different decision-making process. I obviously can't tell you why or what they're thinking on what they do. I think a cervical fusion is an excellent option. I don't think it is the best option for Jack. Nor do I feel it is for any hockey player, if you ask my opinion."
The Sabres have declined to comment on Eichel the last two days.
Prusmack said the disk replacement has been widely done on athletes such as MMA fighters and rugby players. He said it's also been done on hockey players, although not at the NHL level, and said the Sabres' hesitancy flies in the face of medical improvements.
"I don't think that's an argument or you would never make medical advances in any rhyme or reason," he said. "This is not an experimental procedure. This is established in the literature as being superior to the ACDF. ... It is exactly what I would give my kid and it would be exactly what I would get if I was in Jack Eichel's shoes.
"This is one of those operations they wake up from surgery and they want to hug you. It is extremely effective. It is extremely safe. As a doctor, I've got to look at the whole picture. I don't want to see Jack Eichel because we defaulted to a surgery he did not want ... that when he's 60 taking care of his grandchildren, he's had fusions up and down the spine and maybe has difficulty swallowing, etc. It's my job to make sure that he not only performs in a safe way but I have to be his advocate for that.
"If anyone says that a fusion is better in the long run, they are not telling the truth or they do not know the literature. It's a good option but it's inferior in this case."
Several teams that have seemed to be good fits to acquire Eichel don't look that way anymore.
The medical situation is a major impediment to the Sabres' trade talks for Eichel, who has indicated he would like to move on after six non-playoff seasons in Buffalo. Adams said Thursday the Sabres were "in control of this process" largely because Eichel still has five years left on his contract.
Eichel agents Peter Fish and Peter Donatelli emailed a statement Friday night to several media outlets, including The Buffalo News, that said they were under the impression the Sabres had initially approved the surgery and that Eichel would be traded by Wednesday's opening of NHL free agency.
"This process is stopping Jack from playing in the NHL and it is not working," the statement said in part.
Sportsnet host Elliotte Friedman clarified on Twitter on Saturday that he was unaware the agents' statement was coming and that the podcast was taped before its release. 
Asked if any NHL teams had reached out to him to get any medical information on Eichel for a potential trade – which would be a violation of NHL tampering rules – Prusmack emphatically said, "Absolutely none. Zero."
The NHL's collective bargaining agreement with the NHLPA mandates that players have to follow the medical advice of their teams. If Eichel decided to go rogue and have the surgery on his own, he would run the risk of voiding his contract.
"As a doctor, I can't fathom this and I don't understand why the collective bargaining agreement has some discrepancies here," Prusmack said. "As one of the best players, that kid deserves this option. And if he chose the fusion, I'd disagree with him, but I'd totally get it and I would back him for it because that's his choice. And if he said, 'You know, I don't want to be the first guy in hockey to get this, that worries me'? No problem. You got it. Have at it. But that's not the case.
"The case is this is a smart man with a smart family who's done his research. He's a great person. I just don't know how a job can get in such a way of a person getting the right surgery for their well-being. I don't understand it."