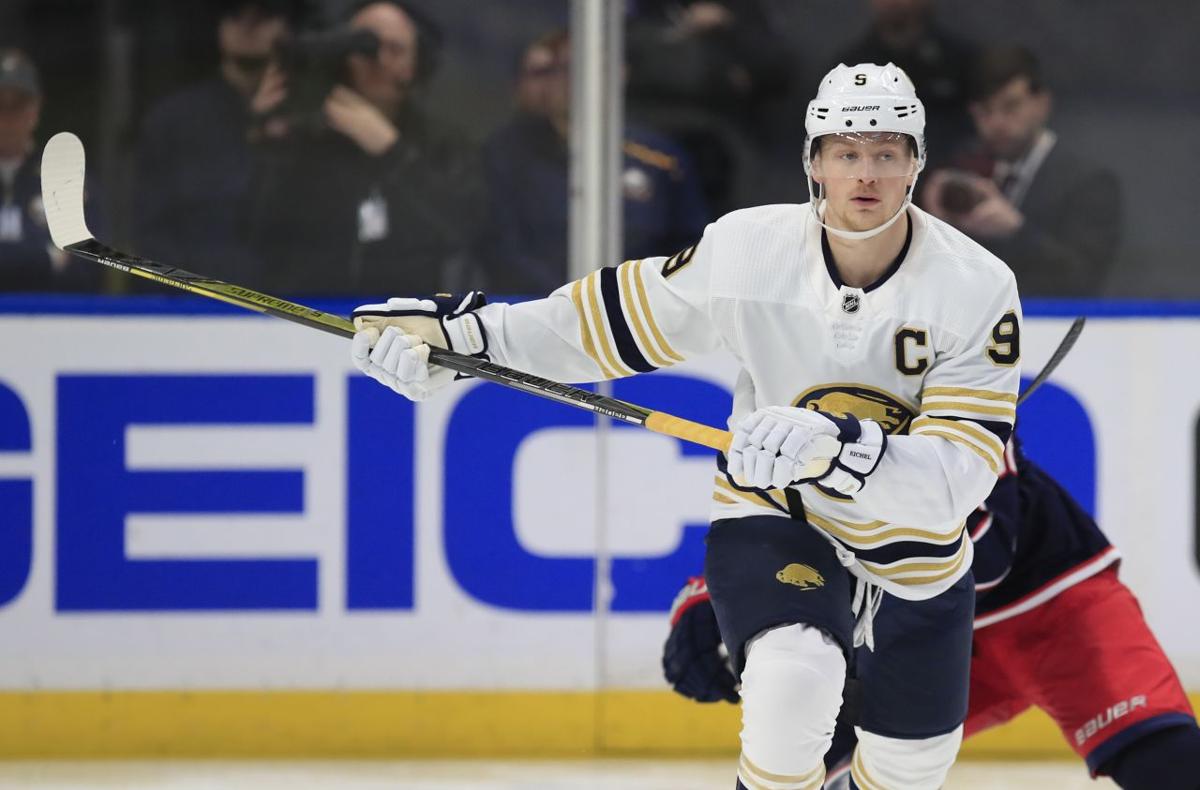 Amid an end-of-season interview with reporters in May that included expressions of frustration, captain Jack Eichel noted he wanted to see the Buffalo Sabres add more veterans to the dressing room.
Eichel's new boss, General Manager Kevyn Adams, delivered by acquiring former Stanley Cup Eric Staal, signing former Hart Trophy winner Taylor Hall and adding center Cody Eakin. The moves apparently earned high marks from Eichel, who turned 24 years old last month and is coming off a season in which he scored a career-high 36 goals in 68 games.
During a recent appearance on the hockey podcast "Missin' Curfew," which is hosted by former NHLers Shane O'Brien, Scottie Upshall and Jimmy Hayes, Eichel was asked what the Sabres need to snap their nine-year playoff drought.
His answer again reflected a desire for the Sabres to go older. Former General Manager Jason Botterill, who was fired in June with two years remaining on his contract, went younger with Buffalo's roster in previous seasons by trading Ryan O'Reilly and providing significant NHL opportunities to Tage Thompson and Casey Mittelstadt. Zach Bogosian, a veteran defenseman who is a close friend of Eichel, went on to win the Stanley Cup with Tampa Bay after being waived by the Sabres last February.
"I know the league is trying to go younger, but I think that you still need those older guys, the veteran guys, the guys that have been there and won. I think you need them in your locker room, first of all, and you need them on the ice. We've definitely been young. We've been in a transition for a few years now. There's always young guys coming through the organization and you want to see everyone have success, but you look at the transformation that our team made this offseason.
"We added Eric Staal. Obviously, he's won a Cup, he's been around the league for a while. A guy like Cody Eakin, a guy like Hallsy. These are guys, established guys in the league that are older, veteran guys. I think they bring a lot on the ice. Taylor Hall, MVP a few years ago. He's going to bring a lot to the game, but I think they bring a lot to the locker room and just overall the culture of your group. … It's so hard to win when you're young. … I think it's so important to have that veteran presence in the room and on the ice, so I think it was good for us to add that this offseason. We'll see what happens."
Though the Sabres added quality veterans, they also parted way with four forwards who possess NHL experience: Dominik Kahun, Johan Larsson, Jimmy Vesey and Wayne Simmonds. Additionally, coach Ralph Krueger may add two young forwards to the lineup who weren't on the team at the end of last season: Thompson and Dylan Cozens, a 19-year-old center drafted seventh overall by the Sabres in 2019.
Adams did not make any significant changes on defense – the team's lone signing was Matt Irwin, a 32-year-old who played in the 2017 Stanley Cup Final with Nashville – but opted to keep veteran goalie Carter Hutton, an important figure in the Sabres' dressing room.
The team also signed Tobias Rieder, an effective penalty-killer with a resumé that includes 434 regular-season games.
Eichel, who has been training in Florida with Hockey Hall of Famer Adam Oates, mentioned how the past two Stanley Cup champions – the St. Louis Blues and Tampa Bay Lightning – were led by established veteran players. He also noted that the Dallas Stars, who reached the Cup Final during the most recent playoffs, added Corey Perry and Joe Pavelski last offseason.
"It's super hard," added Eichel. "Look at the teams that made it this year. Look at Dallas. It's an older group. … These guys have played a thousand games in the NHL and have been around for a while. I think it's important. I'm not going to try and be a GM here because it's probably the toughest job in the world. I definitely agree with you that you need the older guys. You need the veteran presence. You need guys like that to calm the bench down when things get going and things aren't going the right way."