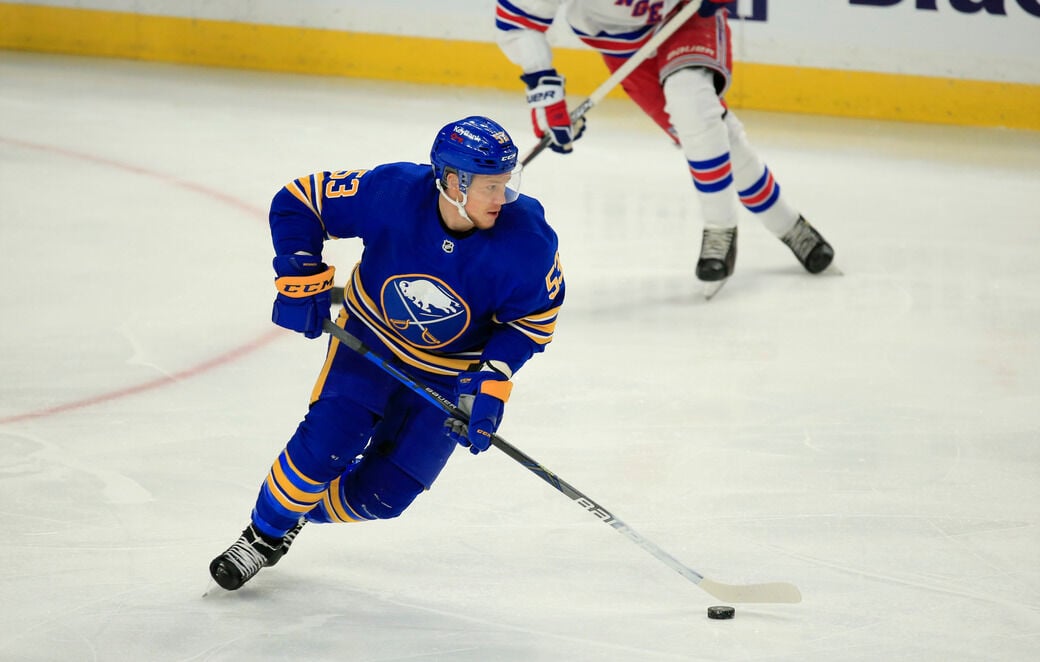 When Jeff Skinner was a healthy scratch for consecutive road games to start the week, his agent, Don Meehan, called Buffalo Sabres General Manager Kevyn Adams.
During a lengthy conversation Wednesday, Meehan expressed his and Skinner's concerns to Adams, who is in his first season leading the Sabres' hockey operations department. Meehan declined to reveal the content of the conversation to The Buffalo News.
Since Ralph Krueger took over as coach, Jeff Skinner has seen his ice time slashed and offensive zone starts limited. 
The only change made Thursday was that Skinner didn't even participate in a morning skate ahead of Buffalo's game against the New Jersey Devils in KeyBank Center. Skinner, the Sabres' second-highest paid player with a $9 million annual cap hit, was scratched for a third consecutive game and told to skate with the taxi squad – away from most of the team.
Meehan declined further comment, and Adams has not spoken to the media since the Sabres returned to practice following a two-week Covid-19 pause. A team spokesman said Adams was not available Thursday. Coach Ralph Krueger has repeatedly declined to reveal a specific reason for the decision to scratch Skinner. When questioned by the media, Krueger's answers are laced with mentions of Skinner benefitting by watching from a different perspective and how roster competition is higher this season because of the taxi squad.
The situation has raised significant questions about Skinner's future in Buffalo and the plan behind sitting a player who is under contract for six more seasons beyond 2020-21.
Is this a disciplinary issue?
Krueger has twice denied there was any incident that led to the benching, and sources confirmed the same to The News. Sources also told The News there hasn't been an issue with Skinner's attitude on or off the ice. Sources said Skinner isn't dealing with an injury, either. 
Has Skinner handled his situation well publicly?
Skinner, who takes up 11% of the team's salary cap this season, is frustrated with the benching. Yet, he has repeatedly denied publicly that he's unhappy with his role or opportunities, both of which have changed for the worse since Krueger became coach in May 2019.
Skinner was among the first and last players on the ice during the Sabres' practices out of the Covid-19 pause. He routinely has a smile on his face during practices and morning skates, interacting positively with teammates and not showing any signs of unhappiness. Skinner has not spoken to the media since Sunday, the first time it became clear he was in line to be scratched.
Asked specifically Sunday whether he could produce in Krueger's system, Skinner said, "I don't know. I've played for a lot of coaches. I don't know if it's that simple. I don't. Obviously I'm going through a little bit of a slump. And it's not something I'm used to. Especially 5-on-5. I think since I've come in a league, I've shown to have some pretty good success 5-on-5. It's just something that's not working, not going well right now. I just got to work my way out of it."
The latest Sabres Mailbag begins with a question about the ideal lineup.
Why scratch Skinner so soon after the two-week Covid-19 pause?
Krueger was quick to remind the media that his players' timing and speed were impacted by the pause that ended with a Feb. 9 practice. He used this as an explanation after the Sabres scored only one goal, none at even strength, during back-to-back losses to the New York Islanders on Feb. 15-16.
Following the losses last week, the first of which featured zero Sabres shots on goal in the third period, Skinner had his ice time drop to 11:26 and 11:22 against the Washington Capitals and New Jersey Devils, respectively. He had a team-high four shots on goal during the 3-2 win over the Devils on Saturday.
Skinner was then an extra during line rushes at practice the following day and he did not play in either road game Monday or Tuesday. 
Is this the first time Krueger has scratched a player in this fashion?
Defenseman Zach Bogosian and forward Evan Rodrigues each requested a trade last season after having their ice time slashed under Krueger. Bogosian was placed on unconditional waivers and had his contract terminated. He later signed with Tampa Bay, where he won a Stanley Cup with the Lightning.
Rodrigues was traded to Pittsburgh last February and re-signed with the Penguins this offseason. Neither player had Skinner's successful track record or immense contractual ramifications.
In June 2019, the Sabres acquired defenseman Colin Miller from Vegas in exchange for two draft picks, including a second-round selection, only for Krueger to scratch Miller for 18 games during the 2019-20 season.
Why was Skinner skating with the taxi squad Thursday morning?
Although Krueger insisted this is the norm for a player not taking pregame warmups, it's not. This was possibly a move to prevent the media from requesting to speak to Skinner following the morning skate. Each NHL team's media relations staff is only obligated to make available players who participate in morning skates, practices or games.
Does Skinner want out of Buffalo?
All signs point to Skinner wanting to remain with the Sabres. During the news conference following his signing, Skinner expressed love for the city of Buffalo and Sabres fans. He also wanted to help this young core, including Jack Eichel, reach the Stanley Cup Playoffs.
What's next for the Sabres?
Scratching Skinner or limiting his opportunities to succeed will only make a trade more difficult. Skinner's no-movement clause prevents him from being waived and he must approve any trade. He is under contract through 2026-27.
One industry source suggested that the Sabres will have to pay a significant portion of Skinner's salary in any trade, unless Buffalo is willing to include assets such as prospects and/or draft picks.
Buying out Skinner's contract isn't feasible, either. He would count against the cap for 12 years instead of six and the figures aren't always manageable. For example, according to CapFriendly.com, Skinner would still count $8,972,222 million against the cap in 2022-23. The total savings would be $14,833,333.
Skinner's no-movement clause also precludes him from being left unprotected in the expansion draft this summer. One possible long-term play for the Sabres could be to return Skinner to the lineup and attempt to trade him. One possible landing spot is the Seattle Kraken, the expansion team now led by two of Skinner's former general managers: Botterill and Ron Francis. A trade to Seattle would not be possible until this offseason.
The only potential easy way out for the Sabres would be if the NHL allows a compliance buyout in response to the Covid-19 pandemic. Buffalo would still have to pay 2/3 of Skinner's salary, but the amount would not count against the salary cap. The NHL has not allowed a compliance buyout since 2013-14, when it was done in response to the lockout the previous season.
Skinner received $7.5 million of his 2020-21 salary in the form of a signing bonus. He is due to receive the same amount as a bonus in 2022-23. His base salary from 2020-21 through 2024-25 is $10 million per season. The annual salary drops to $7 million for the final two years of the contract.
This is a master class is asset mismanagement by an organization that can't afford to misfire on expensive, talented players. The NHL's salary-cap ceiling is unlikely to raise much next season since revenues are still down.
Taylor Hall, Jake McCabe, Linus Ullmark, Eric Staal and Brandon Montour are among the team's pending unrestricted free agents. The Sabres will also eventually have to sign Sam Reinhart and Rasmus Dahlin to contract extensions. Both are scheduled to be restricted free agents this summer.