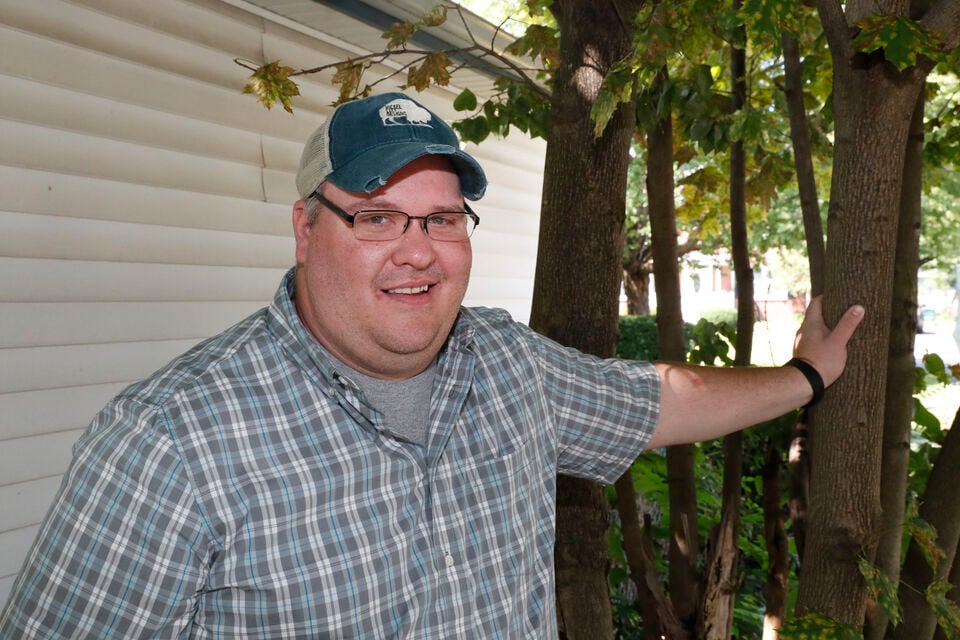 Darcy Regier's plan to give the Buffalo Sabres a competitive advantage began in 2001 with a chance encounter at the team's offices inside the arena now known as KeyBank Center.
Regier, then the team's general manager, noticed a public relations intern, Scott Schranz, using an Apple computer. Regier had long been interested in technology and how computers can be implemented in an NHL hockey operations department. In his previous role as assistant general manager of the New York Islanders, Regier used a heavy video camera to film an intriguing 1996 draft-eligible prospect named Zdeno Chara, now a six-time Norris Trophy winner for the Boston Bruins.
Regier later returned to Schranz's desk with a question: Can the Sabres use computers to organize and maintain videos for the purpose of scouting?
The conversation evolved into a hockey operations assignment for Schranz and, eventually, a plan to send scouts equipped with video cameras to film games across the globe. Footage would then be analyzed and shared with Regier as he prepared for each draft. The Sabres also planned to gain information through video sharing with other teams.
"We wanted to be different, but most importantly, all these leagues were already doing it," said Schranz, who worked in hockey operations for the Sabres from 2002-14. "The NHL was lagging so far behind and Darcy said we need to do something nobody else is doing so we're ahead of the curve."
The strategy annoyed scouts from other teams, produced more draft failures than success stories and drew the ire of fans because many believed it was born out of budget cuts by former owner Tom Golisano. However, video is now regarded as a useful scouting tool and will be used by new Sabres general manager Kevyn Adams as he prepares for his first draft this October.
"It's a supplemental tool," said Jeremiah Crowe, the Sabres' newly appointed director of scouting. "You can only be in one place at a time as a scout and we used a ton of video in the amateur and pro scouting staffs. That holds true for every guy I know in different organizations, but it can be used most effectively with an approach that incorporates it kind of at the front end."
Regier's first foray into video wasn't in amateur scouting. He assigned Schranz some NHL games to edit and analyze for the purpose of learning more about possible player acquisitions. The Sabres continued video in pro scouting and it later was used by Lindy Ruff's coaching staff to prepare for games.
Although Schranz moved into hockey operations in 2002, it wasn't until the 2003 draft that the Sabres learned the value of technology in evaluating prospects. Buffalo hosted the NCAA Frozen Four that April, providing Regier with an opportunity to use the team's in-arena cameras to capture significant footage of Thomas Vanek, the University of Minnesota winger the Sabres later drafted fifth overall.
The Sabres' vision was to someday have a video database that would allow scouts to check if certain intangibles translated to NHL success or to compare a prospect with a current NHL player.
Initially, grainy VHS footage made it difficult to evaluate the nuances of a player's performance. The Sabres then moved to DVD and later, digital feeds helped the team quickly receive footage, The difference in quality was "night and day," according to Schranz.
Their first draft with video scouting coincided with Golisano purchasing the Sabres in 2003, and he quickly issued a directive to cut spending in hockey operations, including scouting. The financial mandate made video a priority for Regier.
"I think up until that point it was supplemental to everything else we were doing, but it became more of a focus and more of a way to really build a team," said Schranz, now owner and operator of Nickel City Designs in Hamburg. "It made us say we can do this and we can do it using video."
A smaller budget forced Regier and Schranz to get creative. They developed professional relationships with one team in every major league around the world for the purpose of video sharing.
For example, Kim Gellert, then a Sabres amateur scout, used his position as a skills coach with the Western Hockey League's Kelowna Rockets to provide game footage of many top prospects in Canada. The arrangement allowed Gellert to travel to other areas in his region, thus maximizing the Sabres' scouting budget. Regier and Schranz also formed sharing agreements with teams that used SportsCode, a video analysis software.
A grading system was created to measure everything from foot speed to work ethic, and the Sabres gradually learned to handicap the video. Although Regier encouraged his department to embrace the challenge of a smaller budget, fewer resources made it particularly difficult to evaluate European prospects and the Sabres were sometimes forced to rely on video sharing.
Ahead of the 2005 draft, Regier's connections allowed him to obtain an extensive catalog of video on Anze Kopitar, a top prospect from Slovenia. The Sabres targeted Kopitar with the 13th overall pick, only to watch him get selected two picks earlier by the Los Angeles Kings. Kopitar has since won two Stanley Cups and appeared in five all-star games.
"We always knew we were going to have limited viewings of players," said Schranz. "With a player in Europe, where some teams saw him 60 or 70 times, we might have only saw him 10 times. ... It wasn't about seeing the player as many times as possible, it was making sure if we're only seeing this guy 10 times we're going to know exactly who he is and we're going to get the best information on him, and we're going to be able to measure that and compare it to players in different leagues."
In 2006, Schranz, who eventually ascended to director of amateur scouting operations, began to visit other SportsCode clients, including the NBA's Houston Rockets and English Premier League's Manchester United, to learn how they use technology.
The Sabres dispatched Schranz and a few others with a camera to videotape games and tournaments around the globe. They would upload the footage to SportsCode, which allowed scouts to track a player's shifts and, eventually, an ability to share notes.
In-person videoing allowed the camera operator to zoom in on a prospect's shifts and zoom out to better understand a player's hockey sense or performance away from the puck. Schranz also could move the camera around the arena if necessary.
Scouts across the NHL bristled at the idea of video scouting because the camera doesn't always show what happens away from the puck.
"The problem was never technology," said Schranz. "It was always old school versus new school."
"I've used video scouting a lot," said Brian Burke, a former NHL general manager. "I think it's a great backup tool, but live viewings are the best. If you watch video, you can't see how the player reacts on the bench when the coach tells him to get lost and you can't see if he's an empathetic teammate. If you're a defenseman and your partner coughs up the puck, when you go to the bench, do you say something to him? We watched a lot of things. You can't see the warmup, how players prepare in the warmup and you can't talk to the kid after the game. You can't talk to the coach after the game."
The Sabres' video scouting expanded from a small closet-like room shared with another department to an office that featured multiple large television screens. Satellite feeds allowed employees to view more NHL, junior and college hockey games. Regier's grand experiment resulted in the drafting of Tyler Myers, Tyler Ennis and Nathan Gerbe, among others.
However, overall results weren't positive and Golisano's budget handcuffed the department. The Sabres did not draft a player from a European professional or junior league from 2007 through 2011.
Over the final two drafts under Golisano, only two of the Sabres' 15 picks went on to play more than 12 games in the NHL. Previously, the team missed out on first-round draft picks Marek Zagrapan, who never appeared in an NHL game, and Dennis Persson.
"If you did utilize video, Europe was tough for us at that time mostly because of the financial limitations," said Schranz. "We had to get the best bang for our buck for our scouting budget. Anytime you sent scouts over to Europe or you sent your scouts in Europe other places, it cost a lot of money."
The "new school" has become commonplace in the NHL. For example, the Arizona Coyotes have five video scouts listed on their staff directory and multiple industry sources speculated to The News that the coronavirus pandemic could cause more teams to employ fewer regional scouts.
Adams explained to The News last month that his scouting department will use video and analytics in draft-day and trade decision-making. There are challenges to potentially having fewer in-person evaluations, though.
One Finnish scout told The News that while European professional leagues have improved video feeds, junior hockey leagues have grainy, single-camera video that can be difficult to follow. Smaller nations, including Switzerland, are beginning to produce more NHL prospects, which potentially creates a greater need for regional scouts in Europe and those leagues do not have the technology for an NHL team to rely on video sharing.
"I think it's very realistic to use video and the technology has significantly improved," said Craig Button, a TSN analyst and former NHL general manager. "I don't think scouting is going to be hindered by video evaluation. I think it will be enhanced. Do I think you gain things by being in the arena and watching players live? Yeah, I do. But there are also things video can provide that being in the arena can't. If you put those all together, it gives you as much of a complete evaluation of a player as possible."
When Terry Pegula assumed ownership of the Sabres in February 2011, he declared the team's hockey operations department would not be shackled by financial restrictions.
After Regier was fired in November 2013, his replacement, Tim Murray, lessened the use of video scouting and adopted a traditional approach. The Sabres had already accumulated footage and reports on prospects from the 2015 draft, including Connor McDavid.
Within three years of Pegula purchasing the team, Buffalo's amateur scouting staff grew from eight to 19. The Sabres employed 15 amateur scouts during Jason Botterill's final season as general manager in 2019-20, tied for the fourth-highest mark in the league.
Pegula explained to reporters following Botterill's firing last month that philosophical differences, specifically a reluctance to shift to a more "efficient" hockey operations department, resulted in the management change. It was a significant shift from Pegula's stance almost a decade earlier, but he explained his opinion changed after noticing the advancements in technology.
"I think it's probably more traditional to operate the way we want to go in the future," Pegula said. "The whole world is doing it. ... I think that operating in this world of video, you're still going out to see players and talking to them, obviously. But it makes so much sense now. If you looked at film from Finland 10 years ago, you couldn't hardly understand what was going on. Now it looks like you're watching a National Hockey League game. There is some merit to this stuff and in this new world. You can get so much more done."
Adams has not revealed his plans for staffing – his first two appointments were Crowe and Jason Nightingale, the director of analytics, who added the title of assistant scouting director – but he used video during his four years as a development coach and assistant coach with the Sabres. Adams will have the opportunity to learn from the organization's first foray into video scouting, which Schranz said needed more time to develop.
"We were new to it," said Schranz. "We were building something on the fly as we went. Unfortunately, before we could get it right, it's not something you're going to be able to put together in five or six years because there are still going to be positives and negatives that you have to work through. It's something that's going to evolve over time."
Be the first to know
Get local news delivered to your inbox!