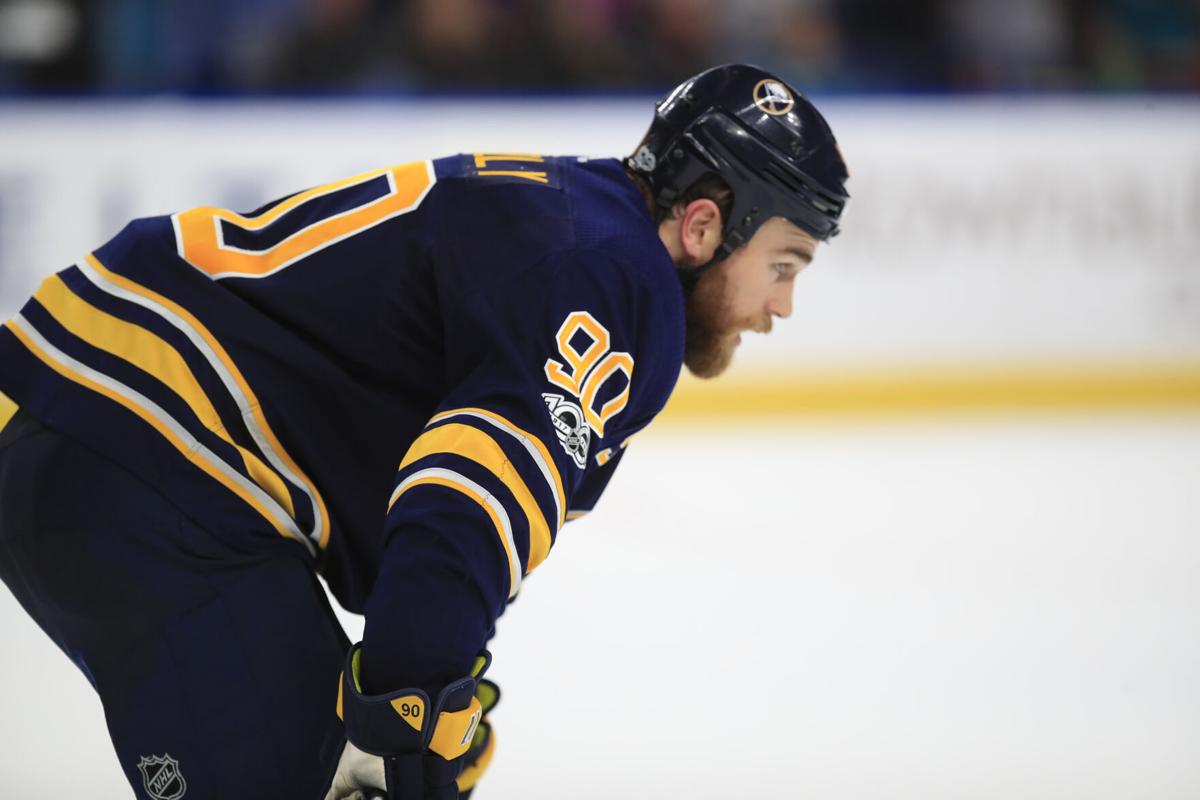 After the Sabres' lackluster loss in Philadelphia, Ryan O'Reilly said it for the umpteenth time:
O'Reilly continually shoulders the blame for Buffalo's forgettable season. The center repeatedly says it's on him to be better.
While standing next to O'Reilly, it's clear he is sincere with his comments. There is gloom in his eyes and voice.
The words, however, get lost in translation on the way through Sabreland. The fans have read or heard his mea culpa so many times that it rings hollow.
This was mentioned to O'Reilly.
"And I wish I had an answer on how to fix things, but I'm trying to figure it out as best I can," he said. "I know other guys are, too, and it's tough."
O'Reilly and Jack Eichel became Sabres on the same night in June 2015. From that moment on, it was up to them to lead Buffalo out of the basement and back to the playoffs.
Yet here they are in the basement again.
"It's probably been the toughest season I've ever been a part of," said O'Reilly, a nine-year veteran. "It hurts. When we're not able to perform our best and I let this team down, it's on myself. I can't really look at anyone else.
"Yeah, it's been a pretty miserable year so far."
During years of contract disputes with Colorado, O'Reilly longed for a change. He wanted to be The Man somewhere.
Former Buffalo General Manager Tim Murray granted O'Reilly's wish. He traded for the center and promptly signed him to a seven-year, $52.5 million extension that began last season.
There are still five-plus seasons left, but so far it's a case of be careful of what you wish for. With higher expectations comes higher responsibility. And when things don't go well, there's more blame and deeper pain.
"More and more as I have a bigger role on this team, it's on me more," O'Reilly said. "When you're younger and you don't have as much pressure, it's a little easier. But looking at it in the position that I am, it matters a lot more."
The disappointment is evident in his body language and facial expressions while he's in KeyBank Center. The alternate captain tries not to take it home.
"It is tough some nights going home and trying to figure out what's going on and why I'm not performing the way I want to perform," the 26-year-old said. "But there's things you do to try and stay away and get away from the game to come back and be hungry and figure it out."
There are plenty of things to keep O'Reilly occupied. He and his fiancée are expecting a baby any day. He has guitars and music. He takes in movies. After banking $15.8 million during his final three seasons in Colorado and $26.2 million during his opening three seasons in Buffalo, he can follow any whim.
He also talks with his father, Brian. The elder O'Reilly runs Human Potential Plus, which coaches individuals, athletes and businesses to improve and succeed through positive thinking and motivational tactics.
"We talk a lot," Ryan O'Reilly said. "It always helps to try to get back to the beginner's mindset, to always find a way to grow and reinvent yourself every game."
O'Reilly has not been impressed with his game this season. When he sees videos, he doesn't even recognize the guy in the No. 90 sweater.
"I feel I've really struggled this year," O'Reilly said. "I don't think I picture myself being anything like the way I've been playing. It's a complete lack of creativity and just not what I expected."
Numbers-wise, O'Reilly is just a shade off what he normally is. With eight goals and 21 points in 33 games, he's on pace for 20 goals and 52 points. During the previous four seasons, he averaged 21.5 goals and 58.5 points.
But the losses are plentiful, and so is the time in the defensive zone. O'Reilly starts in the offensive zone just 37.73 percent of the time. He was at 45.47 percent last year.
It's resulted in more goals against and shots against. At five-on-five, he's been on the ice for 13 goals scored and 21 against. It was 38-38 last season. The shots are 390 for and 458 against, a swing from the nearly even 996 to 1,021 last year.
When it's all added up, O'Reilly is left searching for answers. More often than not, the answer is, "It's on myself to be better."
"It's been tough this year," O'Reilly said, "but hopefully it comes."
Be the first to know
Get local news delivered to your inbox!