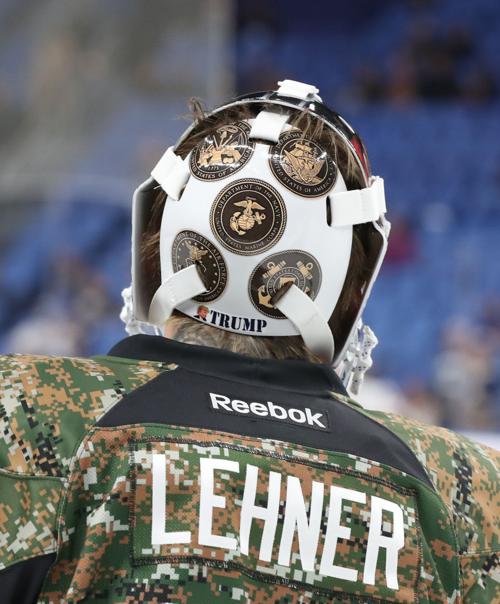 Yes, Robin Lehner admires Donald Trump.
Lehner is also a husband to a Persian wife who sees the problems in the Middle East firsthand. He's a father who holds his 2-year-old son's hand when they skate together. He's a dog lover. He's an NHL player who has lived through a crippling concussion and a tough-love childhood.
Lehner is a lot of things, but he's learned many people don't look past that first sentence.
"It's just unfortunate that it goes that way," Lehner said. "People want to portray me as a guy I'm not. I can't control that."
Since Nov. 10, people have viewed the Sabres goaltender as a racist, misogynist and [insert numerous expletives here]. They've told him to prepare for deportation.
The catalyst for the hate was a goalie mask that Lehner wore for 16 minutes.
For Buffalo's Military Appreciation Night, Lehner had a special mask designed. The decals included infantrymen from the 82nd Airborne Division and logos from the five branches of the U.S. military. On the back at the bottom, there was a small picture of the then-president-elect and "Trump" in block letters.
Lehner didn't start the Nov. 11 home game, so the mask, which was unveiled the day before, was used only during pregame warmups. It was gone the next day, but the image of a polarizing politician remains in the minds of many.
With Trump's inauguration Friday, the goalie agreed to revisit the controversy to paint a clearer picture of who he is and is not.
"I admire a lot of things about the guy," Lehner said. "You know what? I don't like a lot of things, too. But I also recognize we're all humans. People are looking for this perfect-world type human being – robots, I guess, to rule. You know what? We're all flawed.
"To get in the limelight and being called all these type of things, which he doesn't have to do, inspired me. I'm not going to apologize for that.
"I just admire the guy. You can find a lot of wrong things about it, and I know. I'm fully aware. But again, we're all flawed."
Lehner doesn't pull punches, a trait the 25-year-old shares with Trump.
"Finally, you get to know who's running things, good or bad," Lehner said. "Someone else, you don't know the layers of hundreds of people behind it who maybe pull the strings. Here you can see what's being done and you can expect what's being done.
"You've got to recognize, too, this country's the most powerful and I would say greatest country in the world. It's important to all of us how things are here. Me living here and really loving this country, the opportunities you have in this country are truly great. He's going to be president of it. He's going to be the most powerful guy in the world, and what's not to admire about that whole story?
"Again, of course there are things that I don't agree with or anyone don't agree with, but there's things probably about you or about me or about anyone that you're probably not going to agree with."
Trump's primary policies can be debated along racial lines, but that's not an area where you will find Lehner.
"My wife is Persian," he said. "Her family is Persian. They're over there consistently. It's not the easiest to come back and visit.
"A lot of my friends are Middle Eastern. There's bad ones. There's good ones. I have a lot of Muslim friends, and there's racism around the world. My kid is half-Persian. I've grown up around a diverse group of people, and they're no different than anyone.
"We've just got to start accepting each other. We're all different in the world, from all races to everything around us. That's the problem in the world. We can't accept people's differences. It's too bad."
The flash point of Trump's political career was the idea of a border wall. To get a glimpse into Lehner, it helps to look at his country.
For decades, Sweden was the place for refugees to go. In 2015 alone, more than 160,000 sought asylum in the country. Refugees have long arrived with a promise of feeling welcomed by the people and the government, which provided generous benefits.
But with terror-related crime increasing and opportunities decreasing, Sweden changed its approach last January. It put stricter controls on its border.
"You've got to have secure borders," Lehner said. "In Sweden the last couple years, everyone got in open arms.
"I hope everything gets better down in the Middle East. I have great sympathy for what's happening down there, but countries can get exploited, too, by not doing the right things. That's just the way it is."
While the political debates will rage on, Lehner is going back to playing hockey. He's happy to be in Buffalo and the United States despite the harsh comments he's received.
"I've seen the good and the bad in Europe and over here, and that's why I love this country," Lehner said. "The land of the free here, right? That's what I learned since I came. But when you express a belief of something and get a view like that scrutinized, it doesn't feel that much.
"Honestly, the only thing important for me is with this team going forward. I really like it here, and stuff like this conversation, it just takes away from what I'm here for. I'm here with my wife and my 2-year-old kid following a dream."
Be the first to know
Get local news delivered to your inbox!