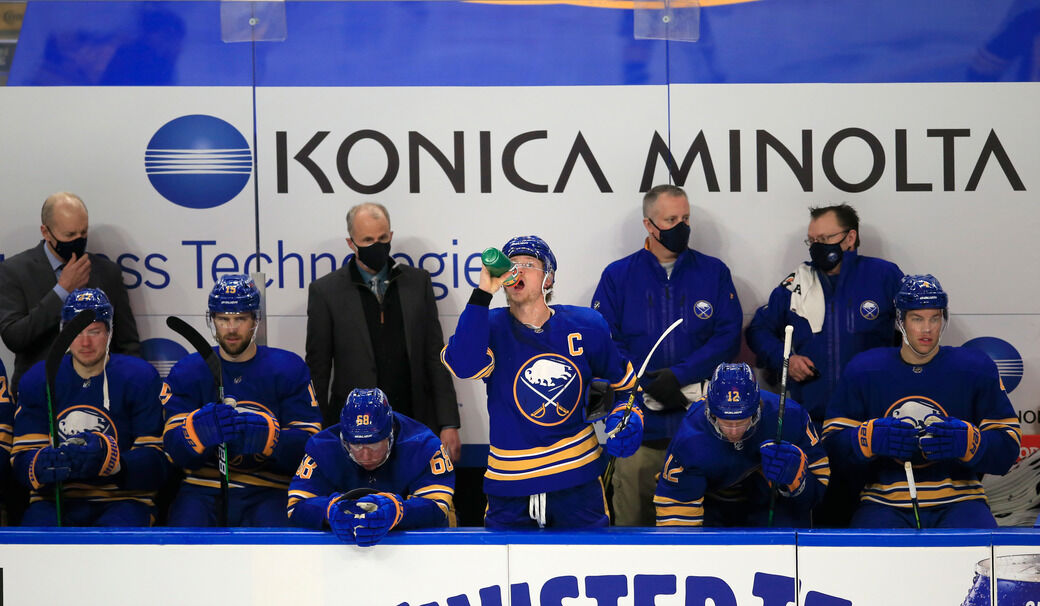 Steve Smith's poignant description of his daily morning routine encapsulated what many players, coaches and staff are experiencing across the National Hockey League during the pandemic.
Since the start of training camp in January, Smith, a 57-year-old assistant coach for the Buffalo Sabres, has awoken before dawn to check his phone for results from his latest Covid-19 test.
"I look for the green button and when I'm green, I'm a happy guy," said Smith, who is running Sabres practices while his friend and colleague, head coach Ralph Krueger, recovers from Covid-19. "But I've got to tell you, every morning I have a pit in my stomach wondering whether or not it's going to be my day. There's no doubt that there's fear in everyone, that's for certain."
Fear around the Sabres piqued when Covid-19 reached their dressing room, landing nine players on the NHL's protocol list and temporarily halting Buffalo's season after only 10 games. Krueger, 61, is symptomatic after testing positive for the virus and it's uncertain when he'll rejoin the team. One of his assistant coaches, Don Granato, may have to work from a distance because the 53-year-old is considered high-risk as the result of a battle with pneumonia and a blood infection in 2019.
Jack Eichel, a 24-year-old superstar center and team captain, admitted he experienced "anxiety," when awaiting initial test results after the Sabres hosted the New Jersey Devils on Jan. 30-31. And while there was an overwhelming sense of relief from those who resumed practice this week in KeyBank Center, all involved acknowledged that the uncertainty and anxiety won't soon disappear.
The reality of having to complete 46 games in as few as 86 days has moved mental health awareness to the forefront, as Sabres players, coaches and staff endure daily Covid-19 tests, quarantines, time away from loved ones and the disruption of treasured routines.
"For sure, that's definitely something I've been pretty vocal about publicly over the years," said 32-year-old winger Kyle Okposo, a vocal advocate for mental health awareness. "For me, I just want to make sure everybody's doing OK in that aspect. I think that as a group, the group of guys that are here have done a very good job of checking in with everybody and we've been interacting with everybody as much as we can on a personal level to make sure that guys are OK, we've been checking on the guys that are sick, that aren't doing well. … It's taking care of each other because, hey, we're human beings first and foremost.
"If somebody's not doing well mentally, there's no possible way that they're going to be able to go out on the ice and perform to the best of their ability. We have to make sure that everybody is doing their part and checking in on each other and everybody's trying to get through this pandemic just like everybody else is."
Action on the ice during games isn't much different than normal times. Players and officials aren't wearing masks. There are still glass-wobbling body checks, highlight-reel offensive plays and the occasional fight. Yet, life for an NHL player off the ice is vastly different in almost every way.
Most of the 31 arenas have barred or limited fan attendance. Recent changes to in-arena protocols have removed the glass from behind the benches and penalty box. All team meetings must now be conducted virtually. The NHL is urging its players to not spend extended time sitting together unless all participants are sufficiently distanced and masked.
Bonding off the ice is almost impossible. Players can't eat together at each other's home or apartment. They must arrive at the arena no more than one hour and 45 minutes before puck drop unless receiving medical treatment. Time on the road outside the arena is mostly spent in the hotel room. The latest protocol changes include a directive for players and their household members to avoid public social interactions. Even grocery shopping is discouraged.
"First and foremost, they're human first," said Kellie Peiper, a sports psychology consultant who has her own practice in Buffalo and works with athletes of various skill levels. "Generally speaking, there is so much as humans we can't control right now. We specifically are talking about high-performing people who are used to so much structure and having so much, what they perceive as control, over the details of their life, how they spend their time, how they continue to invest in their craft. … Their identity is so closely tied to their performance, their training, their confidence and their abilities.
"All of us are dealing with anxiety of the unknown and what happens next and not being able to do our daily activities. That in and of itself can be a grieving process that we've lost the last year. It can be really traumatic."
The Sabres successfully navigated the challenges created by the protocols until an outbreak reached their dressing room following the two games against the Devils, who have since had as many as 19 players on the NHL Covid protocol list.
Following a 10-month offseason, and an arduous, shortened training camp, the Sabres were forced to quarantine for a week. Nine players remained in quarantine as of Friday. During the pause, coaches sent out video clips to be studied, and held individual and group virtual meetings with players. Each player was provided a stationary bike and small sheet of synthetic ice, the latter of which was used to hone stickhandling while players weren't allowed to skate.
Some, if not most, were isolated. The young Sabres from Europe are thousands of miles from family, including 20-year-old defenseman Rasmus Dahlin, who was added to the Covid protocol list Monday. Goalie Linus Ullmark, 27, was in Philadelphia when he received news that his father passed away in Sweden. Protocols would prevent Ullmark from returning home. His wife and two children did not come to Buffalo with him, either. Dylan Cozens, a 20-year-old center, has quarantined for approximately 28 days since mid-November, including 14 at Hockey Canada's tryout camp ahead of the IIHF World Junior Championship. 
Even a few of the married players on the team were alone during quarantine. Eric Staal, a 36-year-old center acquired from a trade with Minnesota in August, chose to not uproot his wife, Tanya, and their three children to Buffalo during the pandemic.
The couple did not wish to disrupt the children's schooling or hockey schedules and various quarantine rules complicated matters. The routine of arriving home in Minnesota from a road trip to greet family is gone, replaced by the silence of his second-floor Buffalo apartment. During the recent weeklong quarantine, Staal had video calls with his family, some of which included him creating stickhandling drills for his children. Staal would show the boys a drill and have them repeat the movements.
"For that part, that's been tough, to be honest; that's the reality," said Staal. "I love, obviously, being with my kids and my wife, my family. … Some ups and downs obviously now with the shutdown and going through what we have. It's been difficult to find traction. But we'll do what we can. I mean, there's nothing you can do about it. You wake up every day and you're worried about what you can control and right now it's the ability to come to the rink, compete, have fun, enjoy being out there and practicing hard and we've done that the last couple days."
Mental health was taboo in hockey for decades. The conversation has changed in recent years as more players have shared their stories about struggles with depression and anxiety. Former Sabres goalie Robin Lehner, now with the Vegas Golden Knights, became the most vocal advocate in 2018 when he detailed his battle with alcoholism and bipolar disorder, particularly during his three seasons in Buffalo.
The Sabres employ a mental performance specialist, Dr. Desaree Festa, who also works with the Bills. Help also is available through the NHL's player assistance program, which has a 24/7 hotline for targeted counseling needs, including those addressing mental health. The program is jointly funded by the NHL and NHLPA, and administered by the program doctors. Players have access to confidential counseling and a network of professional counselors are available in each NHL city.
The NHLPA also has a health and wellness group that is available to players and their families during the pandemic. 
When the NHL held its most recent playoffs in a bubble, players described experiencing a sense of "cabin fever" while sealed off from the outside world. The format during this regular season has teams playing in their respective home arena, but time at home does not alleviate concerns about loved ones during the pandemic.
"For the last almost 11 months now I've kind of tried to take things seven days at a time," said Okposo. "Like, hey, long-term goals are seven days. There's no real planning ahead, and you just have to try to live in the moment. For me, my No. 1 goal is to try to make sure that my family's safe. So that's my No. 1 concern. It's an unnerving thing, but I just try to make their lives as normal as possible and not bring some of my own stresses home."
A micro approach is one of several methods Peiper suggested to help any athlete, no matter the level of competition, navigate the uncertainty caused by the pandemic. Other coping techniques include open conversations reminding players reasons to be confident in their preparation and affirm that any feelings of frustration or anger are normal; use mindfulness methods such as controlled breathing to improve focus, particularly on game day; cultivating a positive mindset; and creating three-to-five specific process-focused daily goals.
"These are significant topics," added Peiper. "We're talking about people's health and well-being, their families. This isn't just about sports. That's not lost on them, either." 
The increasingly compressed schedule – including nine games in 14 days to finish February and a week in March with four road games in three cities – will present significant challenges for physical recovery, which will likely cause General Manager Kevyn Adams to call on reinforcements from the taxi squad or Rochester. But there's no easy solution for the emotional toll this will take on players.
"As a player, sometimes people don't understand that it's not just you show up and play a game at 7 o'clock," said Adams. "There's a lot that goes into it. And we're going to ask a lot of our players, but we're also going to support them. I told the players: We are in this together, and we are going to do everything as a staff, as a coaching staff, our support staff around the team to give them every opportunity to have success. That's all we can do right now."