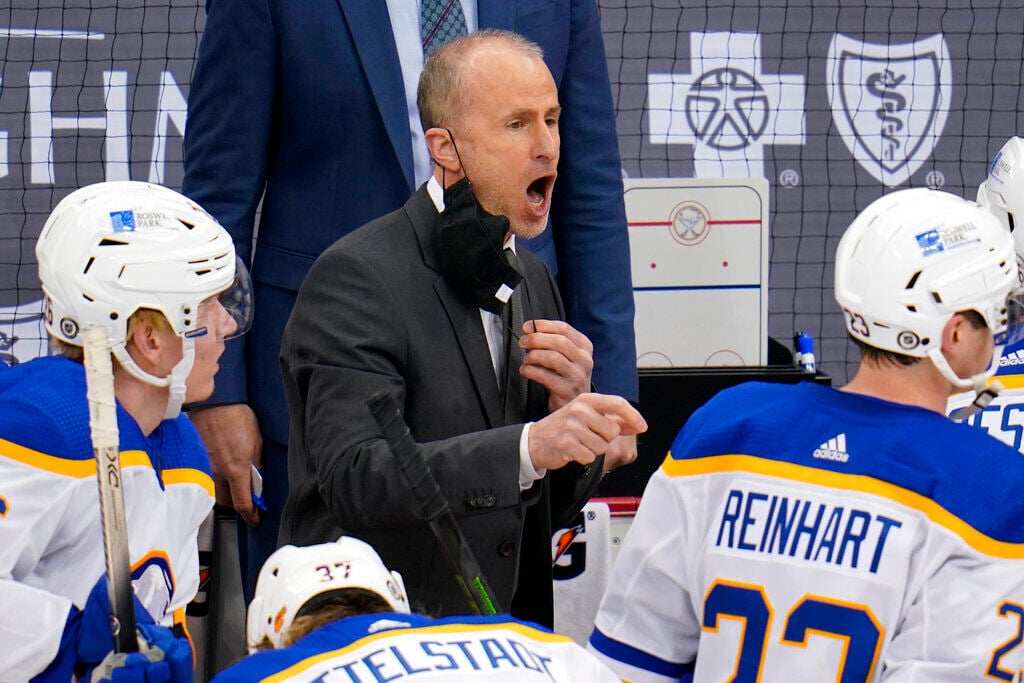 PITTSBURGH – Don Granato's mind was too consumed by what unfolded on the PPG Paints Arena ice to consider what's next.
Granato lamented the Buffalo Sabres' inability to back an impressive display of goaltending by Michael Houser, whose only blemish in a season-ending 1-0 loss Saturday occurred when a puck bounced off Pittsburgh Penguins center Jeff Carter.
Yet, the Sabres' interim coach also beamed with pride when describing how his players did not relent when the final chapter of a 56-game season could not reverse a series of unfortunate events that caused the Sabres to miss the playoffs for a 10th consecutive season and finish with a 15-34-7 record, last in the NHL standings.
"They should have had no confidence going into this building today, giving up eight goals the other day," said Granato, referring to the 8-4 loss Thursday. "They came in that game from the drop of the puck and had confidence, and that's progress."
Under Granato's watch, the Sabres posted a 9-16-3 record, including a mark of 9-11-2 since their franchise-record 18-game winless streak. He padded his résumé by implementing an effective, up-tempo system that prioritized puck possession and suited the talent on the roster.
Granato has emerged as a leading candidate to become the franchise's full-time head coach, and it's a job he covets. General Manager Kevyn Adams, though, is expected to conduct a thorough, wide-ranging search.
"Obviously, when you work with the team every day, you want to stay and be a part of things," Granato said following practice Friday. "Progress. Even decisions that I've made as coach for the future, for each player progressing and becoming better, collectively becoming better.
"Having invested time in that, of course you want to stay with the team and with the group as a coach and as a teammate and as a player. So, I think we're all in that same situation. But we know the business. And we don't know the answer to that yet. And we'll take it as it comes."
The coaching search will kick-start a pivotal offseason for Adams, his second since taking the reins of a franchise that has finished at the bottom of the NHL in four of the past eight years.  
Here's a snapshot of what lies ahead:
Adams will learn if the Sabres will own the first overall pick for the second time in three years. Buffalo holds the best odds and won't pick lower than third overall.
The Sabres will lose one player to the Seattle Kraken in the July 21 expansion draft. They can protect seven forwards, three defensemen and one goalie, or eight skaters and one goalie. All players with no movement clauses at the time of the draft, and who decline to waive those clauses, must be protected and will be counted toward Buffalo's limit. Thus, the Sabres would need permission from Jeff Skinner to expose him.
Adams needs to make decisions on Sam Reinhart, Casey Mittelstadt, Rasmus Asplund, Rasmus Dahlin, Henri Jokiharju, Will Borgen and Casey Fitzgerald.
Own unrestricted free agents
The Sabres also will likely make a strong push to retain defenseman Jake McCabe and goalie Linus Ullmark, both of whom are unrestricted free agents. Tobias Rieder, Drake Caggiula, Riley Sheahan, Matt Irwin, Carter Hutton, Michael Houser, Steven Fogarty, Jean-Sebastien Dea, C.J. Smith and Brandon Davidson will also reach the open market if not signed before July 27.
Equipped with a projected $30,021,667 in cap space, Adams must plot a short- and long-term plan. The conversation must begin with Jack Eichel, the three-year captain and elite centerman who was limited to 21 games because of a herniated disk in his neck. Eichel, 24, is under contract for five more years with a $10 million annual cap hit. His talk with reporters following locker cleanout Monday might provide a hint of his outlook for the team.
General managers across the NHL will call to inquire about Eichel's potential availability, as well as Reinhart, whose value has never been higher. The Sabres can restock organizational depth by trading one of the two but doing so will be a significant hit to their chances of competing for a playoff spot in the Atlantic Division next season.
The clock is ticking as Eichel's no-movement clause kicks in next summer and Reinhart is inching closer to unrestricted free agency. Though Dylan Cozens and Casey Mittelstadt proved capable of driving play at center, both would benefit from Eichel and/or Reinhart shouldering heavy minutes against top opposition.
If Eichel and Reinhart stay, the Sabres have an encouraging group of young forwards to complement the star power, including Mittelstadt, Cozens, Rasmus Asplund, Anders Bjork, Tage Thompson, Victor Olofsson and Arttu Ruotsalainen, all of whom improved under Granato.
"I think a lot of guys, including myself, owe Donnie quite a bit," Mittelstadt said. "He challenged me when he took over and pushed me to become a better player. I think it's that simple. A lot of the strides I made are partly because of him pushing me or had a lot to do with him pushing me. Obviously, we don't know what's going to happen, but I owe Donnie a huge thank you."
Changes are needed on defense. Dahlin and Jokiharju returned to form with Granato as coach, but the Sabres would benefit from re-signing McCabe and adding another steady veteran who can play big minutes while helping on the penalty kill. It's possible Rasmus Ristolainen and Colin Miller, both scheduled to reach free agency after next season, will be exposed in the expansion draft.
Borgen, Mattias Samuelsson and Jacob Bryson are ready to push for full-time spots on the blue line, but the latter two would benefit from more time in Rochester.
Another glaring issue is the goaltending situation, as Ukko-Pekka Luukkonen and Dustin Tokarski are the only options under contract for next season. Adams opted to not trade Ullmark ahead of the April 12 deadline as both sides planned to continue talking about a contract extension, but there's no guarantee the 27-year-old will return after appearing in 20 games in 2020-21.
If Ullmark leaves, the Sabres will be in the market for a goalie and a trade is the more realistic route to acquiring help. Ullmark developed into a starter after being selected in the sixth round in 2012, as his .937 save percentage at 5-on-5 is tied for the fifth-best mark among goalies to appear in at least 20 games this  season.
Though Luukkonen proved he is closer to NHL-ready than initially expected, the Sabres would be wise to add another capable starter to pair with Ullmark. 
The outlook brightened considerably in recent weeks, as players improved in 28 games after the coaching change, particularly those 25 years old and younger.
Reinhart had 14 goals with seven assists for 27 points and successfully switched back to center.
Mittelstadt, drafted eighth overall in 2017, had nine goals with eight assists for 17 points. The 22-year-old also showed he can center a top-six forward line.
Olofsson, 25, had five goals and 13 assists while showing improved play at 5-on-5.
Thompson, a 23-year-old acquired in the Ryan O'Reilly trade, finished with a career-high eight goals, seven of which occurred with Granato running the bench.
Dahlin, a 21-year-old drafted first overall in 2018, had four goals and showed he still has the talent to be an elite defenseman.
Cozens, 21, also made more of an impact with the puck, although injuries slowed his progress in his first NHL season after being selected No. 8 at the 2019 draft.
Rather than sheltering young players from difficult assignments, Granato provided them an opportunity to learn in prominent roles. He also pushed them to accept the responsibility that comes with more playing time.
"It's something that's huge for everyone," Thompson said. "We have a lot of young guys and guys that are capable of performing and continuing to grow and reach their potential and push their ceiling. In order for that to happen, you have to get on the ice and play your game and learn from your mistakes. That's something Donnie's been great with. When we do make mistakes, he puts you back out there and you learn from it. You try not to do it again. That's what makes you grow and become a better hockey player."
Evaluating players on this roster might be difficult considering the two-week Covid-19 pause impacted some more than others. For example, Ristolainen's play deteriorated considerably in the weeks after he returned from his battle with the virus.
There was also the coaching change as Ralph Krueger was fired when the losing streak reached 12 games in mid-March, an inability to develop on-ice chemistry due to injuries and trades, and all the challenges created by competing during a global pandemic. But Adams says he has an understanding as to what style of play will bring out the best in the talented youth on his roster.
A meeting with Granato is among Adams' first offseason tasks, where the two plan to discuss how they'll approach exit interviews and, likely, the head coaching position. It's a vacancy that might be Granato's to lose.