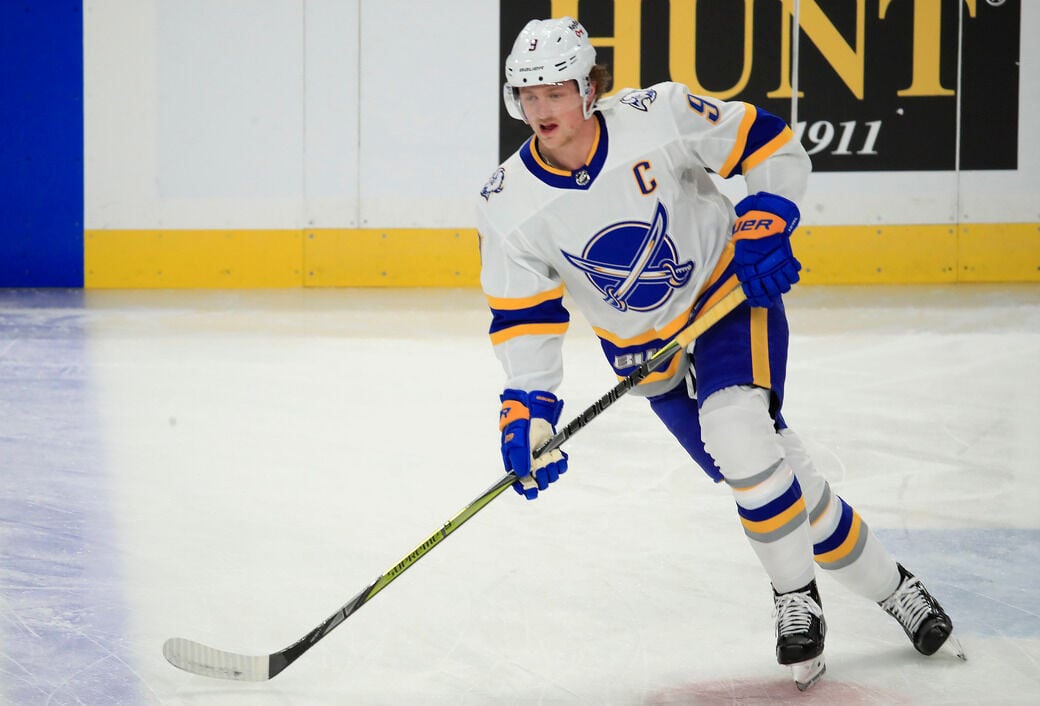 This corner has spent the last week pondering a major topic swirling around the Buffalo Sabres.
First, what would Michael Peca have said if he had Twitter and those little multi-expression faces during his contract-less 2000-01 holdout season? We see Dominik Hasek use them now from time to time, but how about in May 2001? Or what would Chris Drury and Daniel Briere have said with them around July 1, 2007?
The issue comes up, of course, because of Jack Eichel and his oddly conceived Twitter account that is now all of three weeks old (Aside: if you don't have a Twitter account by 2021, what really is the point?). Last week, Captain Jack got the hockey world buzzing with his second tweet, a "pensive face" emoji, the frown with closed eyes.
As of Thursday afternoon, the tweet had 23,833 likes and 2,384 retweets. No words, no insight on the chaos of the last three months. Nothing but an emoji.
So how are we to interpret that? Sure, maybe it was nothing. Maybe Jack's favorite ice cream shop back home in Chelmsford, Mass., was out of his beloved coffee Oreo flavor. But perhaps it was something to do with hockey, such as maybe the Sabres keeping status quo on the medical front.
By now, you know the story. Eichel has a herniated disk in his neck that needs to be repaired. He wants an artificial disk replacement while the Sabres want a standard fusion surgery because the disk replacement has never been performed on an NHL player and has only been done on the likes of UFC fighters and rugby players.
With the calendar turning to September on Wednesday, we're getting close to the point when Eichel can forget about seeing the portion of the 2021-22 season that entails 2021. Doesn't matter what procedure he has. 
GM Kevyn Adams wants a big haul and tried before the draft and free agency but now his hand is overplayed. No one was remotely giving the Sabres proper value for the Eichel we saw in 2019-20 because they were trying to undercut Adams for the two-goal Eichel of 2021. The GM held firm and good for him. The team has done likewise on its medical stance as well, and it again needs to be noted the collective bargaining agreement is on the club's side.
Remember even Eichel himself pointed out during his May video call with reporters that the "my body, my choice" crowd is wrong in this case. He has to follow the advice of the team's medical staff. He goes rogue and has the surgery he wants without permission, he runs the risk of having his contract voided.
And in a flat-cap world, nobody is rushing to give Eichel another deal to make up the $50 million he would lose by pulling that stunt. It would be an affront to being the captain of a team and he knows it. Interesting he hasn't filed a medical grievance on this situation, either. He probably knows he would lose.
But how in the world does this scenario end? The Sabres are no longer under pressure to trade Eichel until before his no-movement clause kicks in next summer and his value right now is nil until he has some sort of surgery.
Adams & Co. have made their point and they're right. But they couldn't get a trade done, for whatever reason. Adams did well by Rasmus Ristolainen and Sam Reinhart, getting deals that included first-round picks for the Sabres and legitimate playoff chances for each player. In Reinhart's case, in particular, he has a real Stanley Cup chance with the Florida Panthers going forward.
So now it's time to make a big move with Eichel. The only real pivot might be to approve his surgery and tell him to come back ready to play like Jack Eichel to pump his value again.
You want out of here, we'll get you out. Look how we took care of your buddies. But you have to come play first and show people you're back. Then you can go.
The Sabres deserve the criticism they are getting for not making the playoffs in 10 consecutive seasons. But there's not enough talk about how much responsibility Eichel bears for the last six seasons. And he bears some of it, even for all the good moments he's produced in the face of so much chaos and bad play around him.
Your star players get all the plaudits in good times and the heavy arrows in times of trouble. Eichel should not be exempt from that. No one is trashing Zach Bogosian for yet another playoff failure in Toronto in May. All the talk is about Auston Matthews and Mitch Marner not coming through for the Leafs against Montreal. That's life as a star.
This theory that Eichel can't be here because he'll poison the room has merit but if he wants out, he can't be a toxic captain. Who is trading for that? He needs to shut up and play. And play well. Every team in the league will be paying attention. He'll enjoy playing for Don Granato, too.
And with five years left on his deal, we're not talking a long stretch. Just play for a month or two and people will rethink offers and ring Adams' phone again. How can any GM trade for Eichel now? What GM can tell his owner he just traded for a $50 million contract when he has no idea how or when the player will return from surgery? 
The Sabres still control this situation, like any team would. So now it's time to make a tough decision and move things forward. It won't be a white flag. It will be a proactive approach to get a solution for this silly saga.
In emoji terms, it might be time for the Sabres' Twitter account to send out a tweet of its own that probably reflects the franchise's current state of mind.
With their season ticket waitlist long ago exhausted, the Sabres announced last week that they were offering two half-season plans. They have to try something new and this falls under that header.
With the franchise in yet another rebuild, it's expected the full-season count will significantly drop for this season. Going to 41 games has always been a big commitment when the team was good, but it was easy to find others to buy your seats when you couldn't go. That's not the case now and season subscribers have long been infuriated with having to sell off seats on third-party sites for $10, if they could even dump them at all.
A commitment of 20 games, especially some against marquee opponents, might be more palatable for some fans. But it just shows the challenge the club is facing to get some of the entertainment dollar with so much money going to the Bills and people also spending plenty of dollars they perhaps didn't expect to by going to Toronto Blue Jays games over the summer.
It sure will be interesting to see the NHL protocols for dealing with vaccinated and unvaccinated players this season, and to see if the Sabres and other teams have any Cole Beasley-type comparable players on their rosters.
The Sabres' season ended in early May and many players were just becoming vaccine-eligible by age, so it will be an early topic at training camp.
The NHL has already said anyone who will be around players and coaches this season must be fully vaccinated. That would include media, in the event there is face-to-face interactions with players rather than interviews via video call.
Expect the return of the Prospects Challenge to LECOM Harborcenter the weekend of Sept. 17-19. Previous versions have included the Sabres' youngsters against those of the Bruins, Devils and Penguins. Training camp will start the following weekend, and it's unclear if fans will be allowed into these events.
The Sabres open their exhibition schedule Sept. 28 in Columbus with the first home preseason game Oct. 1 vs. Pittsburgh. The six-game schedule concludes here Oct. 9 against Detroit and the regular season opens Oct. 14 vs. Montreal.