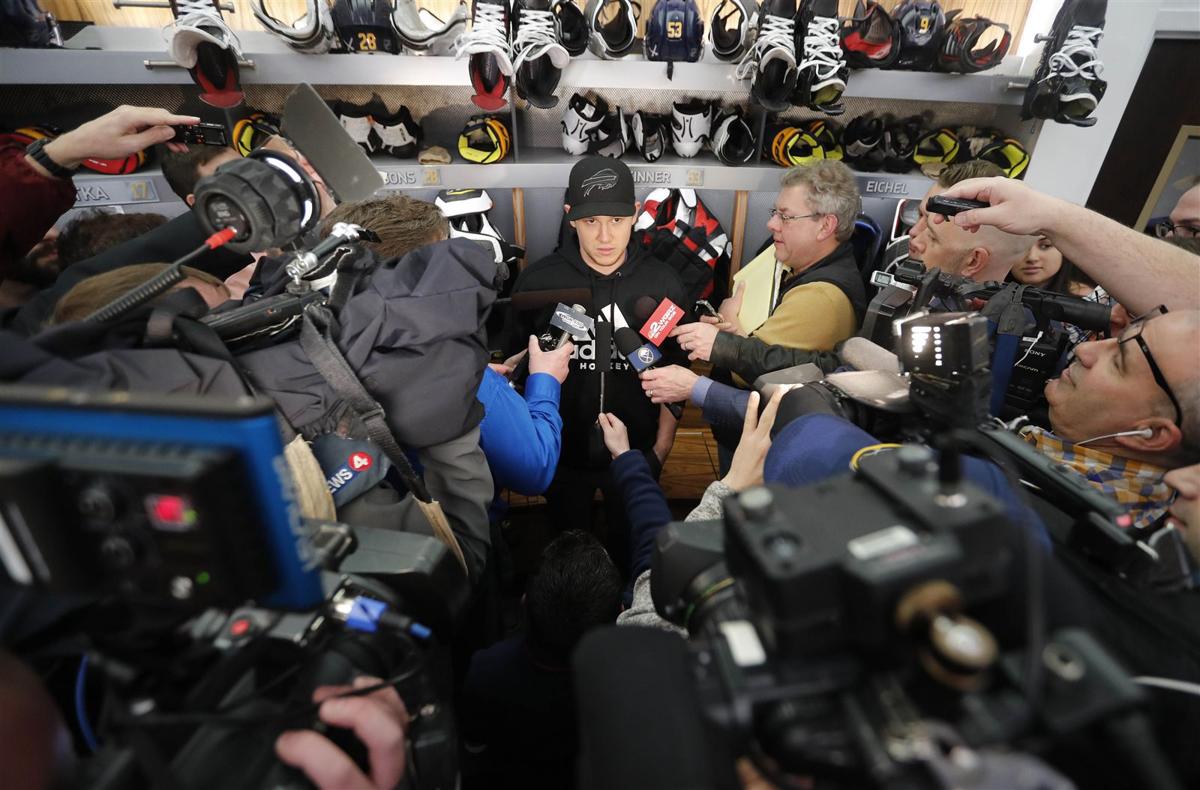 Sabres center Dylan Cozens stopped and did a brief double-take when he opened the door to the KeyBank Center media room Friday morning.
The reason? There were live reporters sitting in the room waiting to speak to him for the first time in his NHL career.
Said a smiling Cozens: "I was expecting to walk into a Zoom."
"I put a lot of pressure on myself," said Cozens. "I want to be the best version of myself and best player I can be."
Players, coaches and media around the NHL are again getting used to in-person interactions, after the 2020 playoffs and the entire 2021 season were spent solely on video calls.
But there was plenty of consternation in various precincts last week when the return to full media access reporters had hoped for was suddenly dashed a couple days before camp opened.
The Sabres opened training camp on Thursday and they will be off Saturday, an unusual choice for just the third day of camp.
Leadership of the Professional Hockey Writers Association had previously informed members access was expected to return to pre-pandemic policies, which would have made the NHL the first of the four major North American sports leagues to reopen its locker rooms to the media.
The caveat, of course, was that things were subject to change. And they changed quite a bit after a video meeting of team public relations directors and league officials sparked by discussions at the Player Media Tour earlier this month in Chicago.
While still in pandemic times, the NHL is now opting against a blanket policy and allowing teams to set their own policies based on local rules. As you can imagine, things are all over the map.
Teams such as the New York Rangers and Boston Bruins are welcoming reporters back to the locker room, with the Bruins even creating a tongue-in-cheek video of veteran Boston players issuing welcomes to veteran Beantown reporters. Others are opening the locker room at specific times or on certain days.
Thanks to the Boston Bruins players for putting together this fun video welcoming the B's media back to in-person media access this morning. What a bunch of beauties. It's great to be back, boys! @ThePHWA 🤣🏒🐻 pic.twitter.com/8DMO8KVc3f

— Joe Haggerty (@HackswithHaggs) September 23, 2021
But the New York Islanders, under the firm thumb of ultra-tight general manager Lou Lamoriello, immediately announced that all interviews of players and coaches for the entire season will be on video calls. They even started training camp with no uniform numbers on sweaters and no rosters for the media, before finally producing some information for those gathered to cover a team that has legitimate Stanley Cup aspirations and will be playing in a new arena.
The Sabres are in the relatively fair middle of the road, promising a hybrid model. The locker room is closed, a disappointment given its size and its ability to handle a relatively small media contingent, and players are being brought to the interview room for a group chat. Individual interviews that are socially distant are also being arranged. And video calls may be used for some interviews when the team is on the road.
General Manager Kevyn Adams met with Sabres players Wednesday to quell any possible concerns about Jack Eichel.
To be on the ice level of any arena, reporters must be masked and fully vaccinated. Which is why all the paranoia about the media interacting with the players is pure folly.
Nobody had any issues last season, when arenas were empty, vaccines were just starting to become available and players were largely quarantined between the arena and their homes. But with vaccines mandated for reporters and the league reporting a 98% vaccination rate for players, this all seems like a charade now.
Vaccinated players, which is basically everybody, are now free to come and go where they please in places like restaurants, grocery stores or movie theaters. And it seems ridiculous that we can now have fans sitting shoulder-to-shoulder in arenas crowded to capacities pushing 20,000 for upwards of three hours, but reporters can't go in a locker room after a practice or game to do interviews for a period that almost never exceeds 30 minutes. 
In fairness, this is not an NHL thing. And the league is peeling back restrictions faster than others. Baseball remains video call only for postgame, although players can be interviewed on the field during batting practice. The NFL is again keeping locker rooms closed this year, although interviews are being done in person around practices and games in designated areas.
Fans often crab the media shouldn't be in the locker room, but it's the best way to develop relationships and provide information. Buffalo reporters just met Don Granato as head coach in person for the first time in the last few days. And we never once chatted in person with key names like Taylor Hall and Eric Staal. They were here and gone totally in the video call era.
This season is about Dahlin moving forward to become one of the leaders in the Buffalo dressing room.
It was a relief to hear the Sabres are 100% vaccinated against Covid-19 and don't have any Cole Beasley-type vocal holdouts. Vaccinations are not the issue in the NHL that they are in other sports, in part because players will be getting docked pay if they are unvaccinated and unable to participate in games and practices.
Players who are vaccinated but have to deal with breakthrough cases do get paid.
Another difference in the NHL is the constant travel to and from Canada. It seems inconceivable that an unvaccinated player could possibly play for one of the seven teams north of the border. The Tyler Bertuzzi issue in Detroit is dicey enough, with the Red Wings all-star potentially forfeiting $400,000 for games in Canada. It's a particular issue in the Atlantic Division with multiple games in Toronto, Ottawa and Montreal.
Lance Lysowski and Mike Harrington of The Buffalo News provide their opinions on five notable topics at the start of camp.
The season is on hold for Williamsville native and former Sabres winger Justin Bailey, who tested positive for Covid-19 last week before heading to Vancouver for training camp.
Bailey, a 28-goal scorer in Utica in 2019-20, played just three games last season before a hit from behind by Calgary's Milan Lucic knocked him out of action and eventually forced him to have shoulder surgery. He was not in the lineup when the Canucks had their major Covid-19 outbreak later in the season that impacted virtually the entire roster.
Reaves not just a Wilson antidote
Ryan Reaves' first news conference in New York with the Rangers got lots of run in the New York media, largely because the offseason acquisition of the bruising forward is largely looked at as a reflex response by GM Chris Drury over the mugging of star Artemi Panarin last season by Washington tough guy Tom Wilson.
"I'm not here because of Tom Wilson," Reaves said. "I'm here because of what players like Tom Wilson brings to his team. ... I'm holding everybody accountable."
At 34, Reaves is the Rangers' oldest player.
"I (can) play daddy a little bit," he joked. "In Vegas, a lot of the young guys came to me with basically any problem they ever had."
What are the Rangers capable of?
"Stanley Cup. I wouldn't have come here if they weren't," Reaves said. "They have a really good young team here and now this year we've added some grit, we've added a little bit of that grind. ... I expect nothing less than a push for the Cup."
Vaccines in Rochester too
Add Rochester's Blue Cross Arena to the list of venues requiring proof of Covid-19 vaccination for fans to attend all events, which include Rochester Amerks games.
For all events running from Wednesday through Nov. 2, fans can enter with one vaccination dose. Beginning Nov. 3, full vaccination is required.
The Amerks have only two games in Rochester prior to Nov. 3, a preseason home game Oct. 10 vs. Syracuse and the season opener vs. the Crunch on Oct. 22. The Amerks host Belleville on Nov. 3, when all fans have to be vaccinated.