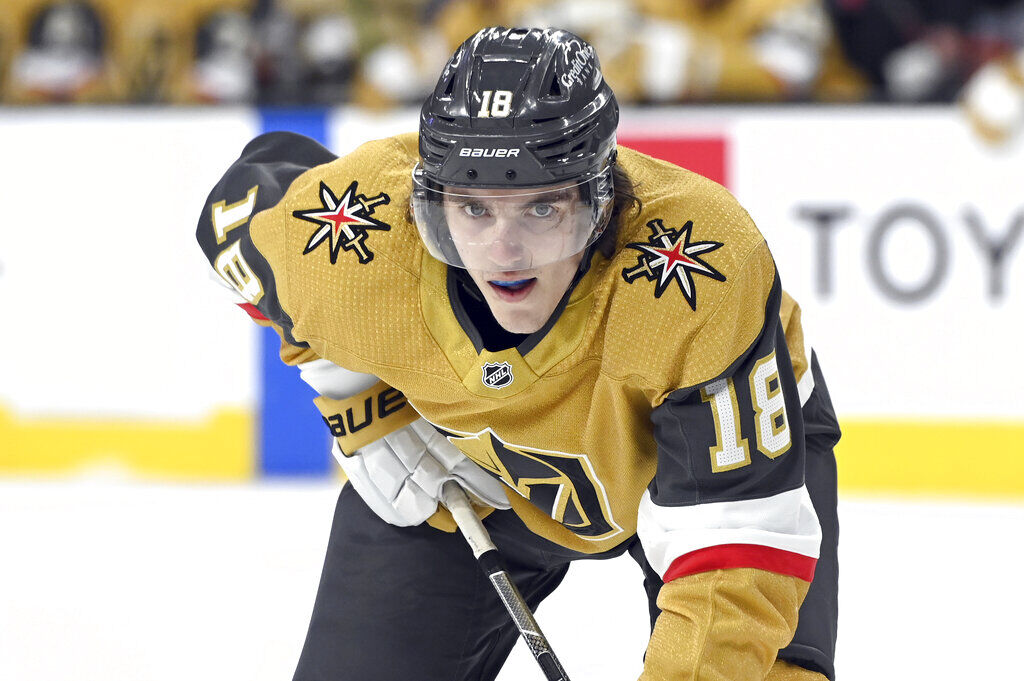 It's a phrase that first took hold during the Watergate era and was popularized by the movie "All the President's Men." Lo and behold, you can apply it to the Jack Eichel saga as well.
The sense you get is that fences are being mended in what had been a toxic situation.
Eichel's camp and the Sabres still don't see eye to eye on his surgery needs, and ESPN reported last week that agent Pat Brisson continues to get his client new medical opinions favoring their preferred method of an artificial disk replacement in Eichel's neck. But whatever happens on the medical side will merely get the ex-captain ready for a new address at some point in the future.
Teams interested in Eichel are fairly confident he can again be an elite player in the NHL. The issue is the money.
In a flat-cap time, there's just not many teams that can afford a $10 million contract for the next four years, and the Sabres aren't budging about retaining any salary.
Good for them on that one. You want to trade for an elite player without giving up your top prospects AND you want the Sabres to pay some of the freight for four full seasons and likely part of a fifth? Kevyn Adams isn't falling for that. And it's hard to imagine Terry Pegula ever doing it either.
Sportsnet reported that Colorado – a team clearly looking for an over-the-top Stanley Cup push – called the Sabres about Eichel and GM Joe Sakic immediately asked about salary retention. End of conversation.
Bettman said all parties are "wrestling" with what's best for Jack Eichel's health.
The Sabres are obviously going to have to take back a contract or two to make this trade work and they know that, but they're not keeping any of Eichel's deal.
Entering the weekend, Buffalo was one of seven teams with more than $10 million in cap space, according to CapFriendly.com. The others are Arizona, Nashville, Anaheim, Columbus, Detroit and Ottawa.
From that group, the Ducks (about $11.7 million in cap space) have the most intriguing prospect group and are the one team often linked to Eichel. Only Columbus has ever really been mentioned as being on the periphery. 
As for other teams, Vegas is close to the cap and using long-term injured reserve to stay compliant. And the Golden Knights don't want to part with top center prospect Peyton Krebs, who had five points in two AHL games this year before getting called up.
The Rangers, who signed Mika Zibanejad to an eight-year deal, and Minnesota both seem out for now. Calgary is only about $1 million under the cap and the Sabres would have to take a lot back. Names like Sean Monahan have modified no-trade clauses and the Flames would undercut an Eichel addition if they had to deal Matthew Tkachuk to get him.
If Eichel were healthy, you could really feel a desperation move coming out of Montreal. But he doesn't help the Habs out of their abyss if he's not going to play for several months, and they're capped out and using long-term injured reserve. 
Frankly, the rumor mill on Eichel is drier now than it was a month ago. If any teams are willing to allow him to have his preferred surgery, they haven't come close to meeting the Sabres' trade demands.
The Sabres are likely going to have to compromise some on those asks, be it level of prospects and/or conditions based on Eichel's play and health connected to the draft picks. But it seems like they're going to take a hard line on keeping any of Eichel's dollars and that makes sense.
So if teams like the Avalanche are serious about trying to make a deal, they're going to have to try a different approach.
Not a plus for ESPN to stream
Social media was aflame last week with the news that the Sabres-Bruins game was an ESPN+ exclusive broadcast and it just showed how this club got buried on the attention meter once the Bills kicked off.
The Sabres broadcast schedule was announced more than a month ago and repeated multiple times on the club's website and various media outlets inside and outside Buffalo: There are 72 MSG games, two on TNT and eight on ESPN+. You have to have a subscription to watch those eight. It's $6.99 a month or $70 a year, basically the cost of one middling ticket to one game.
This corner likes the service a lot but it still can be a tough ask for fans who already shell out for cable or satellite. The games on a streaming service aren't a Sabres decision. It's the league's new television contract. There are no more games on NBC or NBCSN (if you're just learning that now, I don't know what to say to you).
The biggest chuckle was all the fan outrage about "not being able to see the game." First of all, you could always buy a ticket and go. Secondly, you can see the game fine if you buy the package. And most of the blowback was from the too-young-to-remember crowd who would be shocked to learn there were always five to 10 radio-only games a season into the early '90s before Empire took on the full schedule.
Buffalo failed to start the season with four consecutive wins for the first time since 2008-09, despite having the edge in shots (36-26) and shot attempts (68-40) against Boston.
As for the broadcast itself, the reviews were pretty harsh. Not all that unusual for any national telecast. And while fans are going to be sensitive when out-of-towners comment on the Sabres' attendance issues, you better get used to it. 
Veteran Barry Melrose made a terrible gaffe during an intermission when he gave it up to the Chicago Blackhawks for paying tribute to "Tony Granato" after his death a couple weeks ago. Except that he didn't mean the brother of the Sabres' coach. He meant Tony Esposito, brother of Hall of Famer and Tampa Bay broadcaster Phil Esposito. Ouch.
Play-by-play man John Buccigross and analyst Ryan Callahan called a decent enough game, although Buccigross couldn't keep Victor Olofsson and Rasmus Asplund straight for some reason. But they got into trouble when they strayed into Eichel talk.
Callahan, naturally, took the player's side even though the CBA gives Eichel no leg to stand on. And then he admonished the Sabres for "putting a lot of things out there that don't need to be out there, that just make a lot of noise around your team when you're trying to focus on training camp and getting ready for a season."
Pretty ill-informed comment. The Sabres haven't talked about Eichel for one second since the first day of training camp, so no idea what Callahan is talking about. It was the Rochester native's first game on the mic and the inexperience showed. Don't be vague. Say what you mean. If you don't like they took the 'C' away, that's fine. Fair point. But that's one thing. That's not a lot of things. And there was zero noise about it after the first day. Implying otherwise is simply wrong.
McCabe's move an early disaster
You wonder what poor Jake McCabe is thinking. He finally gets the chance to go into free agency and sign with his hometown team and things are a disaster in Chicago.
The Blackhawks go into Sunday's game against Detroit 0-4-1, winless in their first five since 1997. They've been booed off the ice in their last two games in United Center. If they don't beat the Red Wings, their next three games are against Toronto, Carolina and St. Louis. No telling where this carnage might end.
The Hawks have played nearly 301 minutes of hockey thus far and haven't led for a single second, which is mind-boggling as well as being a franchise record for any point in any season. Not just from Game One.
They've been outscored, 17-3, at 5-on-5. Patrick Kane (one goal) and Alex DeBrincat are a team-worst minus-7 while McCabe and Jonathan Toews are both pointless and minus-6. Marc-Andre Fleury's first three starts? A 5.63 goals-against average and .840 save percentage. Yes, the Hawks don't play defense nearly as well as Vegas did.
McCabe is playing at a 42.5% overall Corsi rating – worse than any of his seven seasons as a regular in Buffalo – and his 5-on-5 mark is just 47.6%. The last two years with the Sabres, he was at 50.6% and 56.7%.
Chicago media are reporting that GM Stan Bowman is somehow standing behind coach Jeremy Colliton but you wonder if a breaking point has to be coming soon if this continues.
The Hawks, remember, are not rebuilding. Not when you trade for Fleury, sign McCabe, get Toews back in the lineup after a year off, trade your 2022 first-round pick to Columbus for Seth Jones and then sign Jones to an eight-year, $9.5 million per season extension.
You do all that and can't win a game, somebody has to be getting fired.
• Long been a critic of dynamic pricing for tickets in all sports and Friday's game against Boston shows why. Fans intrigued by the 3-0 start couldn't get on the 100 level for less than $100 and shoot-twice end tickets in the 300 level were as high as $81 the day of the game, so people stayed home. Do the Sabres want people in the building or not?
"A confluence of factors – led, of course, by the team's 10-year playoff drought – has cratered season ticket sales to a point the franchise has never endured."
If you want to go see Tampa Bay on Monday, the 300 level was at $24-$41 on Saturday morning and the 100 level had seats on the ends and corners for $45-$65. Much more reasonable. There shouldn't be that much of a premium on prices just because it's a Friday night. Fans need to stop expecting $10 tickets on StubHub because that's fantasyland sparked by the ill-advised broker strategy the Sabres have finally stopped. But with fewer seats on the market, the team has to be a lot more sensitive on box-office prices too.
• The visit from Tampa Bay will be the Lightning's first game in Buffalo since Dec. 31, 2019. That was the night the first Ralph Krueger season, which began 8-1-1, truly unraveled as a 4-1 lead turned into a 6-4 defeat. Since that New Year's Eve, not much has happened to the two teams. We've only had a global pandemic, watched the Lightning win two Stanley Cups while the Sabres fired another coach and general manager, and also saw Buffalo put its injured ex-captain and franchise player into limbo while trying to trade him. Pretty boring period for both sides really.
• The Sabres practice much harder than in the past and that's one reason they play hard. Now, you wonder how that's going to keep translating as the grind of the season pushes on and as 17 back-to-backs on the compressed Olympic-year schedule cut into practice time. But Don Granato's workouts are at a much better tempo than we saw from Krueger or Phil Housley.
"We've pushed hard in practice. We've pushed hard off the ice," assistant Matt Ellis said last week. "There's no better feeling than when guys are asking Donnie for one more rep when they know a drill is going to get cut down. Those are things that me personally I felt and lived every day as a player and to be able to be part of that, pulling the rope together with a crew is a great feeling."
• Ottawa defense stud Thomas Chabot had seven shifts of longer than one minute in the third period of the Senators' 2-1 loss to San Jose on Thursday night. But two of the shifts were epic: One went for three minutes, four seconds and Chabot was then on the ice for the final 4:06 of play surrounding a timeout. He finished the game at 29:01.
• While reeling Chicago and Montreal have to be panic-stricken, injury-plagued Vegas has to be feeling uncomfortable as well after Friday night's loss to Edmonton. Just four games into the season, Vegas is already eight points out of the Pacific Division lead as the Oilers are off to a 5-0 start while the Golden Knights are just 1-3.
• Before heading to the shelf for six weeks with a fractured ankle, Max Pacioretty scored a goal in Vegas' season opener against Seattle that made him the first player in NHL history to score against all 32 teams.