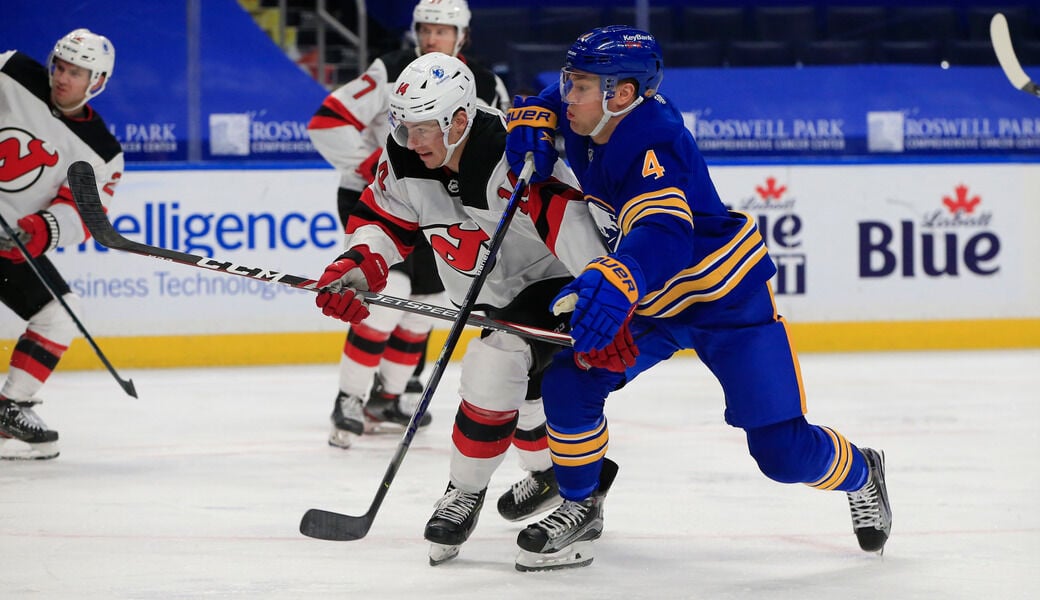 What everyone connected to the NHL needs to do right now is take a deep breath.
Tuesday, Wednesday and Thursday were difficult days. Things seemed so dark that it prompted Commissioner Gary Bettman's statement reminding all parties that fewer than half of the nearly 100 players on the league's Covid protocol list had tested positive and that many of those who tested positive are asymptomatic.
Carolina and Dallas had major outbreaks in January. The Buffalo Sabres, New Jersey, Minnesota and Colorado are the current hot spots, with Vegas just coming back off pause.
The Sabres' season was put on pause by the NHL on Tuesday and their next four games have been postponed. 
There's real fear now, albeit circumstantial rather than scientific evidence, of in-game transmission. Detroit coach Jeff Blashill insists his team was infected by playing Carolina. The Sabres apparently feel likewise about New Jersey, and the NHL Players Association was consulted by the club before Sunday's game here, according to NBCSN's Bob McKenzie.
If in-game transmission is happening, the concept of sitting out a player on the Covid list and replacing him from the taxi squad becomes moot because the whole team needs to be shut down if there's positives. After initially suggesting it did not believe there had been in-game transmission, the NHL said it is continuing to take the advice of its medical advisers. 
Bettman & Co. announced some new protocols Thursday. There were some good ideas in there, notably removal of the glass behind the benches and increase filtration systems near them to allow more air flow in the rink. Teams immediately complied and played their games, except for the Florida Panthers.
Four members of the Sabres – Taylor Hall, Rasmus Ristolainen, Brandon Montour and Tobias Rieder – are currently on the Covid-19 protocol list.
The Panthers have a beautiful club section at the top of the 100 level in the BB&T Center in Sunrise, Fla., easily the nicest NHL arena that nobody goes to. And this being Florida, where Covid-19 has not been treated as seriously as elsewhere, they're letting fans in the building. Tough to move them around on short notice, so the glass stayed for the Panthers' overtime loss to Nashville.
Ridiculous. The one building that never has any fans in it now has too many people to make a quick change to accommodate the health of players, coaches and officials?
But the Florida situation shows why that deep breath should come with a pause on the season, at least in the three divisions comprising U.S.-based teams. Maybe you let the Canadian-based North Division, where there are no players on the list, keep going.
But it's time to get houses in order on this side of the border. Let's put every U.S. team on ice for seven to 10 days. Make them get their arenas in better shape, continue to test their players and staff.
And get everyone ready to do rapid testing on the day of games so we no longer have situations where players appear in a game one day and find out the next that they were positive – which is what was happening with the back-to-back Sabres-Devils matinees last weekend.
Some of this is so obvious that it should be no surprise the NHL is going through it right now. These aren't the Edmonton and Toronto playoff bubbles of the summer.
Teams are traveling through North America and staying in public hotels, albeit on separate floors from other guests. Players and coaches are not isolated like they were during the playoffs. They're with their families at home. The weather isn't warm.
Anyone who took middle school science knows viruses do better in cold weather, a big reason why you have far more cases in winter months than in the summer. Viruses also live longer in less humid air. What's one key component all ice makers in NHL arenas worry about to get a better sheet? Keeping the building dry and the humidity out. The fear is that means viruses thus stay around the rink much longer.
"As we continue to learn about the nature and transmission of Covid-19, we are trying to identify the relevant aspects of our game that are either unique or common among other sports and adjust our protocols accordingly," the league's chief medical officer, Willem Meeuwisse, said Thursday. "We will continue to analyze all of these factors and the related medical data will continue to drive all of our decisions."
The NBA had 21 games postponed in January but while the NHL was in the depths of its despair, the NBA announced no positives among the 482 players tested from Jan. 27 through Wednesday.
What are the potential differences? A cold, dry hockey arena vs. a sweaty, humid basketball arena with the ice insulated from the floor is one. The court is wide open, with no Plexiglas barriers around it.
Two areas that have been of concern since the season started about hockey have been bench arrangements and locker room space.
Remember those huge dugouts extensions built at Sahlen Field over the summer? Those were done with social distancing in mind. The sidelines were spread in the NFL. Look at how players sit on the bench in the NBA. Masked up and with seats spread apart. You can't do that in hockey, where players sit shoulder to shoulder on the bench and are unmasked because they have to be ready to jump on the ice at a moment's notice.
With no fans in the building, why not just make the benches longer to spread guys out? First off, you might create a situation of players being offsides the second they touch the ice during a change. Secondly, the talk of the "long change" in the second period of games would become the "ultra long change" if the benches were extended. No real easy solutions there.
Locker rooms are another issue. Players sit shoulder to shoulder in stalls. Visiting dressing rooms in places like Buffalo, Ottawa, Montreal, Long Island, Carolina and Washington are stunningly small. The league has told teams to find more room, but it's not going to be easy in some of these places.
The Sabres, for instance, can repurpose the media room that's not used this year because we're not allowed on that level of the building to extend the visiting dressing room, and have some room in an adjacent hallway. But there's a finite amount of space in these buildings. Some visiting rooms are used by both NHL and NBA teams. I've been in that room in Toronto for both, and it's a whole different animal with a hockey team and all its equipment packed in there than it is with an NBA team that has fewer players and not much else but sneakers, shorts and jerseys.
This is obviously a complicated situation with a lot of variables. It requires more study and measured action so the league can preserve the season. The trends are going in a bad direction. Making things tighter, and perhaps taking the time needed to get them done right, would be a good plan of attack against the virus.
No Botts or Drury for Pens
The Penguins don't have a general manager yet to replace the departed Jim Rutherford, but it appears the new man won't have Sabres connections.
The expansion Seattle Kraken did not give the Pens permission to interview assistant GM Jason Botterill, the Sabres' GM until last June, and Chris Drury pulled out of the running last week. The New York Rangers then announced they were promoting Drury to associate general manager under GM Jeff Gorton.
Rangers deny DeAngelo puck drama here
In announcing that controversial defenseman Tony DeAngelo was going on waivers after his fight with goalie Alexandar Georgiev in the Madison Square Garden locker room tunnel, Rangers president John Davidson first had to address internet rumors of a confrontation in Buffalo following the Rangers' 3-2 loss Jan. 26 in KeyBank Center. 
As the story went, rookie defenseman K'Andre Miller scored his first NHL goal that night – but DeAngelo stole the puck and that's why the Rangers never tweeted the standard picture of a rookie holding his first goal puck. According to ESPN, the Rangers traveled here without their usual social media contingent and the photo simply got overlooked in the wake of a loss. There was one taken with Alexis Lafreniere when he scored his first goal in overtime to beat the Sabres.
Davidson said Miller's puck was with the team's equipment staff for framing and mounting and there was nothing to any mischief with it by DeAngelo.
"That is 100% false. There's no truth to it whatsoever," Davidson said. "And for people to write things like that and other people to digest it, it's just wrong. It's sad actually."
• Speaking of the Rangers, their team has an average age of 25.6 years old, which is the youngest in the league. No. 1 overall pick Lafreniere is one of seven players 22 or younger.
The Rangers still need better goaltending and much more from their top players. They look like the worst team in the East Division, but they appear on a good path to quickly improving.
• Elliotte Friedman on his weekly "31 Thoughts" blog at Sportsnet.ca: "It's a weird feeling covering the NHL this season. I'm not working a single game involving a U.S.-based team. Does anyone else feel cut off from those outside their favorite team's division?"
Absolutely. It's utterly bizarre watching a Leafs-Canadiens game and realizing it has nothing to do with the Sabres at all for the first time in the Buffalo franchise's 51-year history. But now every Islanders, Devils, Rangers and Capitals game does matter.
The Sabres haven't been in the same division as the Islanders and Rangers since the 1973-74 season and haven't been with the Penguins since 1997-98. And they have never been division rivals of the Devils or Capitals until now. 
• As noted by Toronto Sun columnist Steve Simmons, Leafs goaltender Frederik Andersen entered the season 53-11-14 against the other six Canadian teams – the only clubs the Leafs will play this year.
Andersen's first nine games have produced mediocre numbers (3.01/.888), but the most important digits are his 6-2-1 record that pushes the total vs. Canadian teams to 59-13-15. Nice to have a lot of offense behind you.
• The Canadiens scored five or more goals in five consecutive games against the defensively challenged Canucks. They had not done that in even four straight games against one opponent within a single season since 1992-93 against the Hartford Whalers.