So much went through my head while participating in Ryan Miller's retirement video call Thursday. When you covered the Sabres in those post-lockout years, Miller's locker was the place to be most days. He could talk about virtually any subject you wanted – hockey or non-hockey. He could analyze the team. And I loved hearing him riff on the state of the game, be it rules, injuries or equipment.
Ryan Miller, one of the great goaltenders in Buffalo Sabres history, announced Thursday that he will retire at the conclusion of this season.
It's no surprise that Miller said he wants to move into hockey management. He's a perfect candidate to work at the team or even the league level. No competition committee should ever be held without first inviting him to serve on it. 
He always seemed to get it: I remember one night in 2008 when the Sabres were having a terrible time winning shootouts, Miller chucked an empty water bottle over a group of reporters toward a garbage can and pointedly said to the group: "We've got to be better in shootouts. All of us." That meant him, too. He was always brutally honest. 
Miller spiked the puck into the corner after making the save on the final San Jose shootout attempt when the Sabres beat the Sharks the night after Flight 3407 crashed in Clarence in 2009. He knew what the game meant to a grieving community. Same for the way he led the Sabres' post-victory salute at center ice in 2011 a few hours after the death of Rick Martin. Following a win over Ottawa, Miller pointed his stick to the corner rafters at Martin's retired number banner and his teammates followed suit.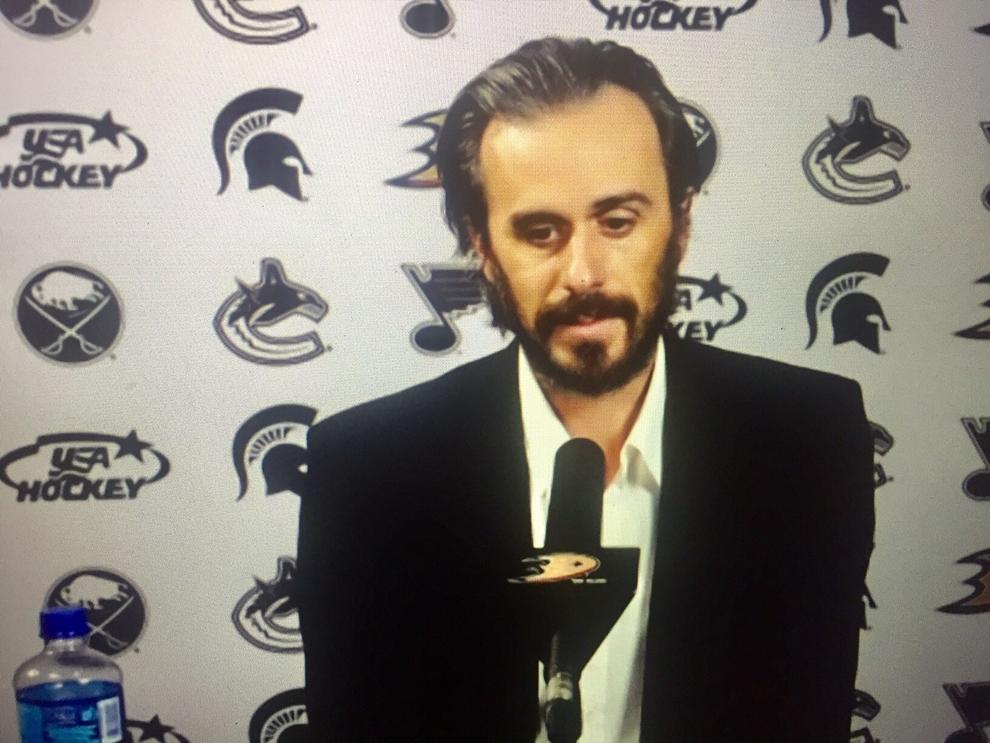 Pittsburgh, March 2010: The first night back from the Olympics, the Penguins introduced all the Olympians from both their roster and the Sabres before the game. Miller – a visiting player – got a roaring ovation, even more than the one afforded to hometown and Team Canada hero Sidney Crosby.
"It was a nice moment. I guess you don't really realize until you get there how big the Olympics can be," Miller said when this corner asked him to reminisce about it Thursday. "I certainly knew there would be a lot of people watching, but I wasn't fully prepared for that amount of attention. It was a special moment for all the guys.
"To have that moment in Pittsburgh was very special. To get that kind of response from a group of people just for playing a hockey game was quite nice. I appreciated the gesture. I know we had a bit of a rivalry going on with the Penguins over the years, the proximity and such. It's interesting. It is possible for Americans to set their differences aside once in a while. Let's carry that forward in the future."
Four diehard Buffalo Sabres fans from West Seneca were there. Some natives of hockey-crazed Minnesota were excited to be in his presence. An attorney from St. Louis handed out props even though he didn't know the name. And a few hundred others, most of whom had never heard of Ryan Miller, braved a chilly Manhattan morning to cheer him.
New York, later that month: The Sabres played a Sunday game in New York and the NHL arranged a huge media tour the next day, on an off day. It started at NBC's "Today" show in Rockefeller Center. If you've ever watched it and seen the folks in that plaza, that's where I spent 90 minutes interviewing folks from across the country. Some were die-hard Sabres fans, some only knew Miller as "the guy whose name starts with 'M.'" But they knew him as the Olympic hero. When Miller emerged from inside the studio with Matt Lauer to do the interview, the masses huddled in the cold March morning let out another big roar. 
Ready to play: Every night, well before warmups, you'd see Miller on the bench just staring at the ice. No equipment on yet. Usually in shorts. Leaning on a stick. Visualizing. Every night. When he suddenly wasn't there on that fateful Friday night against San Jose in 2014, that was the sign we knew he was about to get traded. 
Boston and Montreal, November 2011: Miller's infamous "he's a piece of bleep" press conference after getting plowed by Milan Lucic was a time-tested classic, but the incident put a label on the organization as a soft group it's still trying to get over. The next day in the Bell Centre, GM Darcy Regier lambasted the team in the locker room before practice and Paul Gaustad, one of Miller's closest friends, was somber with the realization the team had let its franchise player down by not doing more. "That was gutless," Miller railed the night before about Lucic. He may as well have been saying the same thing about his own team.
Exit, Feb. 28, 2014: That intermission press conference with Steve Ott after the trade was a tough one. There was shock, but Miller had hope because he felt St. Louis was a Cup contender. Still, there was a pall in the room I'll never forget. It was clear to everyone the era was over. That 2006, 2007 and 2010, in particular, were now reserved for the history books and could never be repeated. The Sabres still haven't found their franchise goalie since.
Anaheim, October 2018: My last extended chat with Miller was on a Sunday morning nearly three years ago during a Sabres road trip. It was mostly to reminisce on the 10-year anniversary of the Winter Classic in Orchard Park but we delved into goaltending, his family, his dog (named "Puck") and even got into more on the Olympics. Miller, of course, was beaten by Crosby for the ultimate goal in both of the marquee games.
"I guess you could write that's twice in my career where I made a decision that went wrong on Sid in an important kind of moment," Miller said, able to laugh about the moments a few years after they had taken place. "But you make your decision, you make your choice and you kind of live with it."
I remember Miller laughing some more when he thought about the swirling snow of Ralph Wilson Stadium.
"It was funny to look at the bench and everyone is bundled up," Miller said. "The heaters are on and the snow is swirling around. I hadn't done anything like that since squirts and pee wees. Toward the tunnel end where the wind blows strong, you kind of pictured what the kickers on the football team had to go through."
Should Miller's No. 30 get retired by the Sabres? Of course it should. He's the franchise's all-time victory leader in goal and is the most-decorated American goalie of all time. There's an argument out there that the Sabres have too many numbers retired for a team that's never won a Stanley Cup, and I get it. But that's not Miller's fault.
Does that mean the club should never retire another number again? Of course not. If anything, the Sabres should have retired Mike Ramsey's No. 5 years ago and have failed to do so.
And the club has completely let its own Hall of Fame drift away into nothing, with no new inductees since Dominik Hasek in 2014 and no real direction since the death of Robert Swados in 2012.
Such a big miss that it wasn't revived for the 50th anniversary celebrations. And now all the fan favorites from the 2000s who are retired and could be brought back and honored won't be heard of again? That's terrible. The Sabres need to do something about that.
Miller said during his video call he wanted to make sure to come back to Buffalo to show his son, Bodhi, the places that were important to him as a player here before the 6-year-old was born in 2015.
You'd like to think that trip would come attached with some big honors for Dad. He absolutely deserves them.
The news that NBC is out of the hockey business is sad for the hundreds of folks who worked on the broadcasts the last 16 years, both in front of and behind the cameras. But it just feels like it's time. Things were very stale at NBC and the studio show, in particular, has long been the worst in professional sports.
The games themselves were generally well done, and the NBC contract made Doc Emrick a hockey legend. Ed Olczyk and Pierre McGuire have become the game's most prominent analysts. Others like Kenny Albert and John Forslund have made a big impact and maybe some of them will move on to ESPN and Turner telecasts.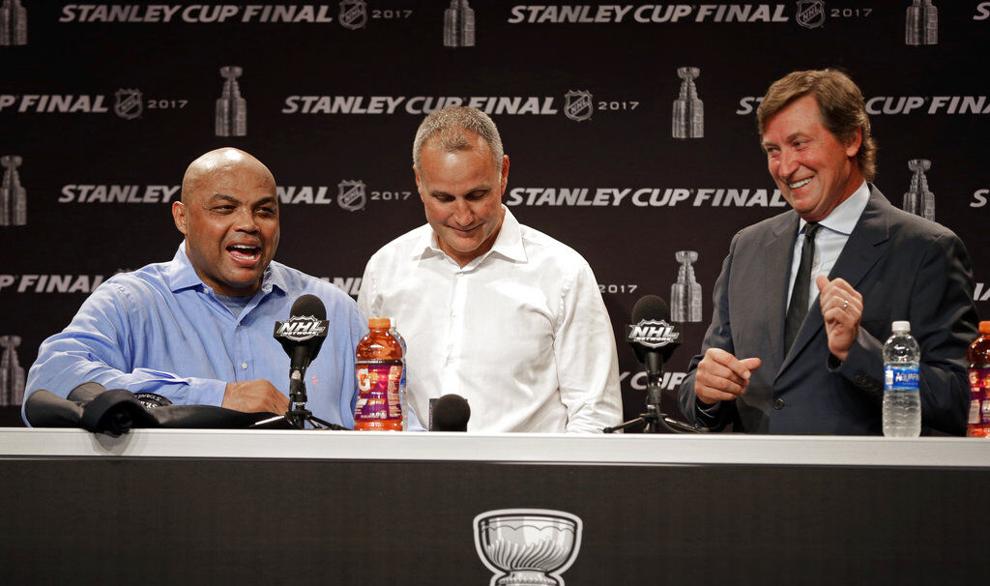 But this is a great opportunity for the game – and not just in the enormous increase in rights fees to roughly $625 million, or more than double what NBC was paying. Get new ways to present the game and its personalities. Rethink the studio show, understanding that I don't think mortal lock P.K. Subban is close to retirement yet. Let Charles Barkley contribute. The Chuckster loves the game and those of us there will never forget when he hilariously crashed the Wayne Gretzky-Paul Coffey news conference during the 2017 Stanley Cup final in Nashville.
NBC Sports Network was going away anyway. Let's see if ESPN can recapture its magic from the '90s and early 2000s and it will be fascinating to see what the Turner folks do. If it's remotely close to what they do with the NBA, we're in for lots of fun.
• The Lightning got their elaborate Stanley Cup rings last week during a private ceremony at the home of owner Jeff Vinik. The massive 557-diamond specials, which feature a rotating Stanley Cup, had many touches related to the Bolts' season, including the word "Stockholm" engraved under the Cup.
In November 2019, the Lightning took back-to-back games from the Sabres in Sweden as part of the NHL Global Series, and the team credited the weeklong trip as a unifier after a tough start to a season that came in the wake of their four-game sweep in the first round six months earlier against Columbus.
• Martin Hlinka, an assistant coach at Canisius College the last two years, has been named director of youth hockey for the Seattle Kraken. The expansion team that opens play in October is unveiling a $90 million training facility later this year.
Hlinka, who played at Augsburg (Minn.) College, had a seven-year pro career in North America highlighted by 192 AHL games with Portland and Hershey from 2000-2005. He has a decade of coaching experience in places such as Austria, Belarus and Poland, and has served as an instructor in Russia at hockey camps run by former Detroit start Pavel Datsyuk.
• The Kraken officially became the NHL's 32nd team Friday when they submitted their final expansion payment to the league. Memo to the other 31 GMs: Don't make the same stupid trades with Seattle that you did with Vegas four years ago. You're losing one player. When Seattle calls you, hang up the phone. Let them take their player and don't give them other players or draft picks.
• According to STATS Inc., the Flyers have become the first team in the four major sports to alternate making and missing the playoffs for 10 consecutive seasons. They're just about locked into sixth place in the East in a season that started with huge promise.
Philly was 11-4-3 and three points out of the Division lead after its back-to-back 3-0 wins in KeyBank Center on Feb. 27-28, but entered the weekend just 11-16-4 since and never won consecutive games in April.