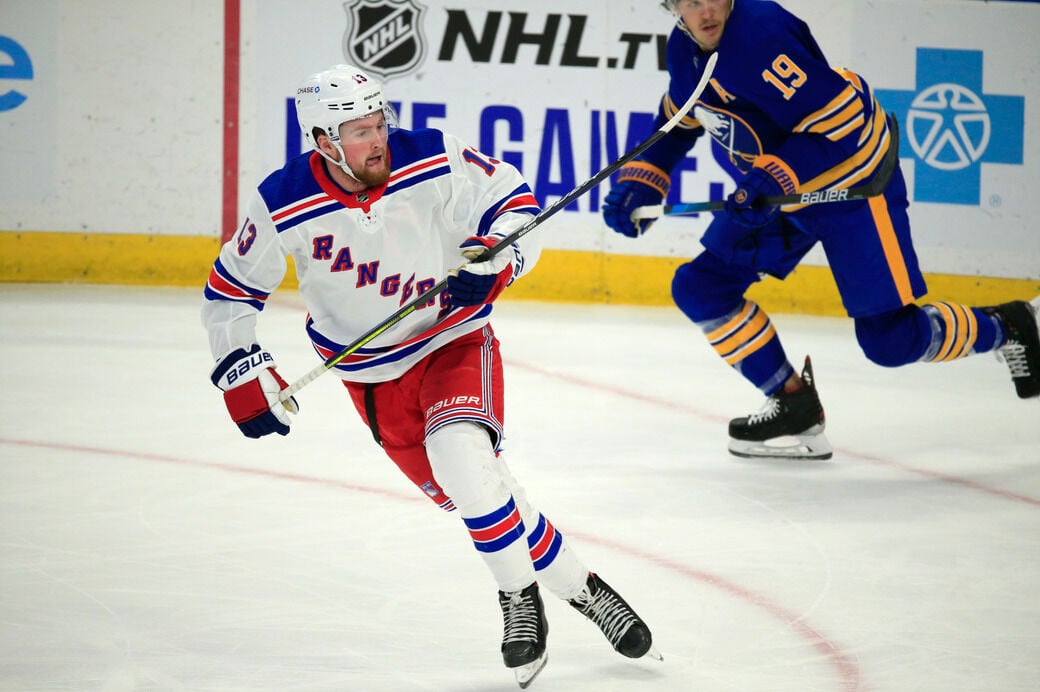 Here we are again. No playoff race. Eyes starting to turn to the draft.
The Sabres finally snapped their franchise-record winless streak at 18 games Wednesday night, so there won't be any media circus around an NHL team hitting 20 games for the first time since 1993 or approaching the all-time record of 30 set by the 1981 Winnipeg Jets.
The streak, of course, has rendered yet another season moot and the Sabres will tie the record of 10 consecutive non-playoff campaigns. And it is prompting the annual questions looking forward to the draft and the draft lottery.
You have early questions? We have answers.
Assuming they finish 31st overall, the Sabres can drop no lower than No. 3 after Colorado (2016) and Detroit (2020) fell to No. 4 despite finishing with the worst records in the league by far that year.
When's the draft? The Seattle expansion draft is set for July 21 with the entry draft for amateurs slated for July 23-24. While the league has made no official announcements on sites, the word is that it's hoping to be in Seattle for the expansion festivities, but the amateur draft will be held virtually for the second straight year due to Covid restrictions.
The last in-person draft was held in 2019 in Vancouver (when the Sabres took Dylan Cozens and Ryan Johnson in the first round). Last year's canceled draft was slated for Montreal but was instead held virtually in October.
Why July? The league has stuck with its longtime schedule of the draft being about 10 days later than the last possible day of the Stanley Cup final. That's currently July 13, although you would imagine it could be flexible if Covid-19 issues alter the schedule. Because scouting is so difficult this year in the wake of the pandemic – and key precincts such as the Ontario Hockey League have yet to even play – there was a movement to skip this July or move back the draft date.
Some NHL GMs even wanted to hold two drafts in June 2022, but it was simply too complicated to move the entire process. Issues such as service time and draft rights as they relate to free agency, and a delay in top prospects from making their NHL debut in October 2021 proved too burdensome for the league and players association to overcome. 
Who are the top prospects? If you're looking for the Sabres to nab a slam-dunk, surefire stud at No. 1, that kind of talent isn't in this draft. There might not be much difference between No. 1 and No. 3.
The choice for No. 1 could be between two University of Michigan teammates, 6-foot-6 defenseman Owen Power and 6-1 center Matthew Beniers. Defenseman Luke Hughes of the U.S. National Development Team and the brother of Jack and Quinn, rates as a top-five pick and he's committed to Michigan as well.
Michigan, whose backup goalie is 2019 Sabres draftee Erik Portillo, was bounced from the NCAA Tournament by Covid-19 concerns so Power and Beniers didn't get the increased visibility they would have from that event.
Defenseman Simon Edvinsson, from Rasmus Dahlin's Frolunda club, and winger William Eklund, are two names out of Sweden who could also land in the top five. With so few games going on in the junior ranks, scouting has never been as inexact as it figures to be this year. Several players could move up the board as the spring moves on.
What picks do the Sabres have? Entering the weekend, Buffalo has eight picks. It has its own choices in Rounds 1, 2, 4, 6 and 7. It has Montreal's picks in Rounds 3 and 5 in exchange for Eric Staal and Colorado's No. 6 in exchange for Jonas Johansson.
The Sabres traded their own third-rounder to the New York Rangers in 2019 for Jimmy Vesey and their own fifth-rounder to New Jersey in February 2020 for what turned into a six-game rental of Wayne Simmonds.
Sam Reinhart, Curtis Lazar, Steven Fogarty, Casey Mittelstadt and Brandon Montour found the net to help Buffalo snap a historic 18-game winless streak with a 6-1 victory over the Philadelphia Flyers inside KeyBank Center.
During the Sabres' 18-game winless streak that started Feb. 25 and ended March 31, Buffalo was 0-15-3 – and every other NHL team had at least four wins. Twelve teams had at least 10 wins and 20 points in that stretch.
The Sabres had three points in the 18 games. The next worst was Los Angeles with 11. The Sabres were last in the league in goals for (30), goals against (74), average goals for and against (1.67-4.11).
Buffalo was tied for last on the power play with Columbus at 8.1% but 17th on the penalty kill at 79.3%. The Sabres were 30th in shots on goal (25.8) and 29th in shots against (34.1).
Goals: Sam Reinhart 6, Jeff Skinner 3, five players tied at 2.
Assists: Taylor Hall 6, Brandon Montour and Victor Olofsson 5.
Points: Reinhart 8, Montour, Olofsson and Hall 7.
Plus-minus (best): No one was plus. Tobias Rieder was even in 12 games.
Plus-minus (worst): Rasmus Ristolainen minus-20, Rasmus Dahlin minus-18, Olofsson, Eric Staal and Casey Mittelstadt all minus-14. Hall and Reinhart minus-13.
Even-strength goals: Reinhart 4, Skinner 3.
Goalies: Carter Hutton 0-6-1, 3.89/.878, Jonas Johansson 0-5-1, 3.82/.884, Dustin Tokarski 0-3-0, 4.11/.890, Linus Ullmark 0-1-1, 3.04/.920.
Granato puts it on players
Don Granato's world got quite a bit happier late Wednesday night with the Buffalo Sabres' 6-1 win over the Philadelphia Flyers.
It's been enjoyable to hear Sabres interim coach Don Granato discuss what he's seeing with this group, and it's plainly obvious he's been taking notes at how things went down the last two years under Ralph Krueger. Granato is more than comfortable in his own skin to put the onus on players for their performance on the ice – turning the second intermission over to them Wednesday with a 4-1 lead in hand over Philadelphia – and in the way they answer to each other in the dressing room.
"As a coach, what is accountability? Everybody has their own opinion on it, organizations have their own opinion on it," Granato said. "I'm in a position where as a coach, you can punish people, but is that holding them accountable? We need to get people that understand that being accountable is a trait.
"I can only punish you with the leverage of a position you have. You're either accountable, or you're not as a person. And we need to take that to heart. I think our guys embrace that feeling. Find it within yourself to take charge of yourself and control what you can control. And that's been the push for us."
Goaltending carousel hits Sweet 16
When Linus Ullmark isn't in the crease, you can just about book a loss for the Buffalo Sabres.
Tokarski's arrival makes it 16 goalies and counting on the Sabres' roster since Ryan Miller was traded to St. Louis on Feb. 28, 2014. Jhonas Enroth was on the team and won in place of Miller in that night's game against San Jose in KeyBank Center.
Who preceded Tokarski? This season, that list included Carter Hutton, Linus Ullmark and Jonas Johansson. But there's plenty more names.
The rest of the list: Nathan Lieuwen, Connor Knapp, Michal Neuvirth, Andrey Makarov, Anders Lindback, Matt Hackett, Jason Kasdorf, Anders Nilsson, Adam Wilcox, Robin Lehner and Chad Johnson.
Makarov (2015), Kasdorf (2016) and Wilcox (2018) are three of the four goalies in franchise history to play just one game for the Sabres. The other was Peter Skudra, who played just 27 seconds in relief while Dominik Hasek had an equipment issue during a 2-2 tie against the Mighty Ducks of Anaheim on Oct. 20, 2000.
"I think it's a valuable time for players to gain some experience, internalize that experience. It's what we're about right now," interim coach Don Granato said.
It makes sense for the Sabres to wait until after the April 12 trade deadline to give some of their Rochester prospects an NHL look, both from the basis of having slots on their roster to fill for departed players, and for the AHL players to get in more games.
Until Wednesday's 5-1 loss to Cleveland, the Amerks had played just one game in the previous 20 days because of their Covid pause and similar issues surrounding Utica.
Rochester started a back-to-back Friday against Syracuse, meets the Crunch again Wednesday and has another back-to-back before the deadline April 9-10 against Utica and Cleveland, respectively.
That would be five more games for the likes of Mattias Samulesson, Jack Quinn and Ukko-Pekka Luukkonen to be ready for a call. The same applies for Arttu Ruotsalainen, who just returned to practice a few days ago.
• It's pretty easy to see there's a huge travel advantage in the East Division. Teams in the North are crisscrossing Canada, teams in the West are going to and from California from places such as Dallas, St. Louis and Minnesota and the Central stretches from Detroit to Florida.
But in the East, no one leaves the Eastern time zone. And check out this nugget: Following Saturday's game in KeyBank Center, the Rangers are scheduled to play a franchise-record 17 consecutive games in the New York metro area from April 6 to May 5 (11 in Madison Square Garden, four in Nassau Coliseum on Long Island and two at New Jersey's Prudential Center in Newark).
According to NHL Stats and Information, the longest previous run was 12 during the 1991-92 season (nine games at MSG, plus two at the Meadowlands in New Jersey and one in the Coliseum).
• The regular season schedule has already been stretched to May 11 and it will be interesting how much further the NHL might need to go. Vancouver's four-game Covid pause makes things dicey in the North Division and there's still more than a month to go. To date, it appears every team will get to 56 games. But more outbreaks, especially later in April, could bring points percentage into play if all teams don't get to 56.
• Williamsville's Andrew Poturalski entered the weekend leading the AHL in assists (18) and one point out of the league scoring lead with 23 while playing for San Diego in the Anaheim chain. Cooper Marody of Bakersfield, the Edmonton affiliate, was the leader in goals (14) and points (24). Poturalski was the MVP of the 2019 Calder Cup playoffs after leading Charlotte to the championship.