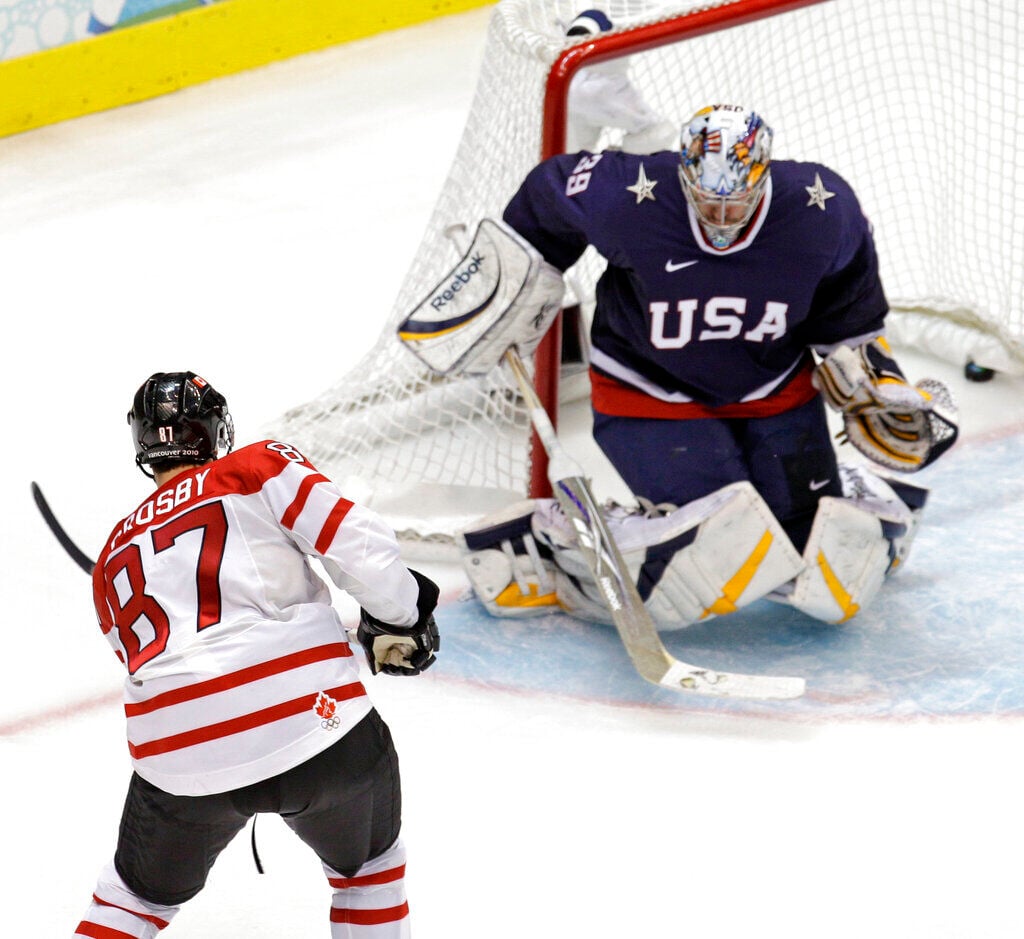 NHL players want to go to the Olympics. Simple bottom line.
It's a bad idea to be going in 2022. Equally simple.
We're heading into a season that is going to be unnecessarily chaotic because it's shutting down for three weeks in February so the NHL can take part in the Olympics in Beijing. The league hasn't gone since competing in Sochi, Russia, in 2014. The NHL skipped the trip to South Korea in 2018.
Owners and GMs abhor the Olympics, for the most part. They understandably fret over injuries, and the schedule for the entire season is brutally compressed because of the break. The NHL's head office, frankly, isn't a big fan, either.
It's one thing if the Games are in Salt Lake City (2002) or Vancouver (2010). It's another thing entirely going to a locale such as Beijing, especially amid a global pandemic.
The NHL, however, has done a good job toeing the line on this issue. When the league and the NHLPA extended the collective bargaining agreement through the 2025-26 season – a real victory for both sides – the work was done with an implicit deal to go to the 2022 Olympics provided there was an agreement with the International Ice Hockey Federation.
"I think we all have a high level of concern about whether these are the appropriate Games at the appropriate time," deputy commissioner Bill Daly told NHL.com after the deal was struck this month. "But given the players' overwhelming interest in going, we felt it was important to extend ourselves to make sure it happened."
So the NHL will be shutting down its regular schedule from Feb. 3-22, first for All-Star Weekend in Las Vegas and then so players can travel overseas. Such a bad idea. 
Just when the NFL is wrapping up, you're punting the hockey season for a while. Yes, I know there will still be hockey on TV. From China. Maybe at 6 a.m. or 10 p.m. But the 32 NHL buildings will be silent.
Miller retired in May with 391 regular-season wins, the most for a U.S.-born goalie in NHL history.
It's even worse in Buffalo. You can guffaw all you want about how fans here won't care and will need a break from what's expected to be a terrible team, but have you studied the Sabres' schedule? They have road trips immediately before and after the Olympic break and don't play a single home game in February. Not one.
In fact, the Sabres will go from Jan. 22 (vs. Philadelphia) to March 4 (vs. Minnesota) without a single game in KeyBank Center. Joke all you want, but that's not a good thing for any NHL market. And it's all because of the Olympics.
The Olympics are another tentacle to the ongoing Jack Eichel saga, as the Sabres' captain has long expected to be a key member of Team USA at these Games but better figure out a way to get some sort of neck surgery soon if he wants to be on the ice by February. Rasmus Dahlin will likely be playing for Sweden and Zemgus Girgensons for Latvia. Henri Jokiharju (Finland) and Victor Olofsson (Sweden) could go as well. Former Sabres Ryan O'Reilly (Canada), Robin Lehner (Sweden) and Rasmus Ristolainen (Finland) also have a good chance to be there.
(An aside: It's odd to call Ristolainen a "former Sabre.")
Among other teams, this might be the last Olympics for Patrick Kane, Alex Ovechkin, Patrice Bergeron and the Pittsburgh duo of Sidney Crosby and Evgeni Malkin. It's the first chance for names such as Eichel, Auston Matthews, Connor McDavid, Nathan MacKinnon, Cale Makar and Victor Hedman. And old friend Ryan Miller gets to try out coaching for the first time, as he's been named an assistant under Mike Sullivan for Team USA.
Brisson is the Scott Boras of hockey agents, a guy who has the big names and generates the big dollars, Harrington writes.
Sure, the Olympics produce moments. You think of Dominik Hasek in the shootout in Nagano in 1998, Crosby's Golden Goal on Miller in Vancouver in 2010 or the T.J. Oshie shootout in Sochi in 2014. Off the top of your head, what else do you remember?
And behind the scenes, dealing with the IIHF has been a complicated process over the years. There have always been quibbles over insurance issues and the NHL has had a growing problem with media rights, as it was unable to get video footage or still photos to use on its platforms of its own players competing in the Games. 
An added problem with Beijing, of course, is the Covid-19 threat, which will cause players to stay in a strict bubble in China and not have the true feeling of an Olympics in a host city or even in the athletes' village. The IIHF has agreed to create a $5 million fund to help cover NHL salaries lost due to contracting the virus, provided players are following protocols.
IIHF head Rene Fasel, who met with commissioner Gary Bettman and other NHL/NHLPA officials at the Stanley Cup final in Tampa in June, said he didn't want to see the potential for an entire generation to miss out on the Olympics if players didn't participate from 2014 to 2026 in Italy, and perhaps beyond. 
Last month, I appeared on the Bob McCown audio/YouTube podcast and the legendary Toronto radio host, who spent 30 years opining on sportstalk giant The Fan 590, essentially agreed with my sentiments on the Olympics.
But McCown actually took them much farther down the road.
"Not only is it not important, it diminishes the significance of the National Hockey League," McCown said of the Games. "You give a hockey fan the opportunity to watch the best 150 players over an extended period of time, that can be pretty entertaining. What's the comparison when the NHL starts up again? It ain't the 150 best players. It's the 700 best players or however many there are. And the quality of the games are nowhere near what the Olympics are. So by comparison, it makes the NHL look bad.
"And the NHL gets almost nothing out of it and we know this only because if they did, Bettman would be riding his horse at the head of the line to get them there."
Yep. The players all firmly want to go. If Bettman, the owners and the league as a whole wanted to go, barely any negotiation would have been required. It just would have happened in short order.
"Economically, it means nothing," McCown continued. "Expansion of the game, international interest in the game? They've tried it. They've demonstrated it doesn't mean a damn thing and now it's only a gift to the players association because these players want to go.
"I get they want to go. Impact? Zero. Importance? Less than zero. Makes your regular season look bad. Even makes the playoffs look bad. Because the quality of play is never as good as an Olympic games when you put the best of the best together."
So remember it's the Olympics' fault this year when NHL teams are bemoaning all their four-game weeks or their crazy back-to-backs and the injuries that come with them. Or if some player gets injured and doesn't return this season (think John Tavares in 2014). Remember why every NHL building is dark when the season should really be heating up.
And remember to set your DVRs for those early-morning or late-night games. From China.