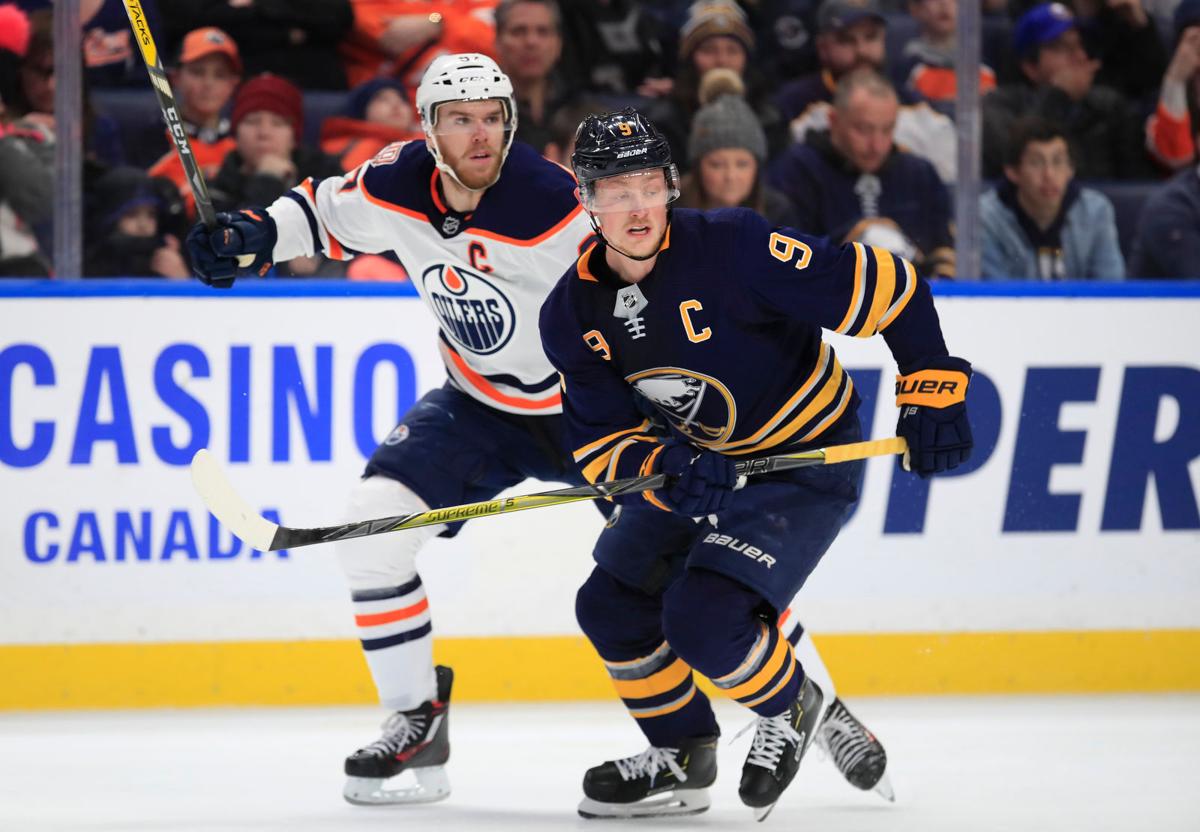 Jack Eichel has been on bit of a redemption tour ever since he hit the jackpot and got his long-awaited trade to Vegas last week. We had not heard from the ex-Sabres captain since that fateful day in May when he put "disconnect" into Buffalo sports lexicon forever. The fact Eichel was talking apparently was one reason the trade went down as it did.
Dylan Cozens scored twice in a span of 5:14 for his first career multi-goal game, and goalie Dustin Tokarski delivered several remarkable saves in the third period to help the Buffalo Sabres snap their five-game skid with a 3-2 win over the Edmonton Oilers.
Eichel suddenly showed up on Sportsnet, ESPN and the ESPN Plus game broadcast Tuesday night from Vegas. He met with the Vegas media and even served as the siren-cranker at the end of the T-Mobile Arena pregame show.
The most interesting moment? When Sportsnet's Elliotte Friedman asked if Eichel understood the Sabres' stance refusing to allow him to get his artificial disk replacement surgery in his neck. Said a stern Eichel: "If I hadn't been traded last night, the question would have went differently."
And when Eichel went on the Barstool-connected "Spittin Chiclets" podcast, he said he told the Sabres he would help them facilitate a trade if they would let him get the ADR procedure and come back to play for them to pump his value.
"I hope that the fans in Buffalo, they understand," Eichel said. "I was adamant about getting the surgery before anything else."
Eichel had his surgery Friday in Denver, finally getting him back on the road to playing hockey again.
So with the passing of a week, here are more of this corner's reactions to the key parties: 
Eichel's reputation: It's damaged. The Sabres gave their opinion of him by stripping him of his captaincy and essentially telling him to go home and stew while they work a trade. Eichel talked all about meshing into Vegas' team strategy. He downplayed the Beijing Olympics, clearly knowing that's a no-go at this point. As a player, Eichel gave everything he had on the ice with the Sabres but there's always been an undercurrent about him in the dressing room.
Longtime NHL coach John Tortorella didn't mince any words when speaking about Eichel this week on ESPN's "The Point."
"I don't think he was a good leader for that team. I don't think he should have been a leader for that team, because he wasn't ready for that," Tortorella said. "He didn't have the people around him to teach him. He does in Vegas. If he gets healthy, I think he's going to be a better player because I think he's going to get pushed in the right direction on how to be a good pro."
Eichel did have people around him here in Brian Gionta and Josh Gorges, but chose to ignore them and listen to the likes of Evander Kane. Bad choice. A Vegas team with names like Alex Pietrangelo, Max Pacioretty, Mark Stone and old friend Robin Lehner will allow Eichel to not have to be the singular face of the franchise. It will help him.
The Pegulas: Eichel has never referenced Terry or Kim Pegula by name, which was very notable. It's obvious the relationship is toast. For their part, the Pegulas gave Eichel an $80 million contract as well as the captaincy and felt betrayed by him when he initially asked for a trade in 2020. Understandable.
"Obviously that didn't go over well," Eichel said.
The reticence of ownership and the Sabres' medical staff to Eichel's preferred surgery choice did draw some reaction.
"To me that's not a reason to not do a surgery," he said on "Spittin Chiclets." "It's not really a good medical reason to not do something. Think about the first person that got Tommy John surgery, the first person to get triple bypass. These are regular things that happen now. I don't want to say I'm a pioneer. I'm not the first person to get it, the first athlete. I may be the first hockey player but people have gotten this surgery and had great success with it."
The Pegulas, as has been their pattern the last 10 years, have said nothing about the Eichel situation. They let their GMs do the talking for them. Fair enough. I've long disagreed with that approach but it's their team. Still, to not even issue a simple statement about the deal and give the appearance of wishing Eichel well while simultaneously welcoming Peyton Krebs and Alex Tuch? Needlessly bad look but no surprise. Be bigger.
Krebs, who the Sabres acquired from the Golden Vegas Knights, in the Jack Eichel trade deal, is no stranger to a franchise-altering roster rebuild.
The Sabres and Kevyn Adams: The GM is getting quite the reputation for patience. NHL observers have been impressed at what he got back for both Rasmus Ristolainen and Sam Reinhart over the summer and watched as he didn't wither under any pressure points in the Eichel saga either. While the Sabres may have some recruitment trouble with players because of their medical decisions, it's likely that players on other teams have taken notice of how Adams has taken care of his stars who wanted a new start.
Reinhart was given a legitimate Stanley Cup chance in Florida and so was Eichel in Vegas (how about a Panthers-Golden Knights Cup final?). Ristolainen was sent to Philadelphia, with a decent chance of a playoff run and to a team perfect for his game. Even one-offs last year like Eric Staal and Taylor Hall got chances with Montreal and Boston, respectively. Players notice that kind of thing. Krebs, Tuch and two picks including a No. 1 is more than fine to put an end to all this and finally push this rebuild fully forward.
The Golden Knights: No team is in more of a win-now mode. Their salary cap hit is over $92 million and it seems like their use of Long Term Injured Reserve may have to go right to the start of the playoffs, just as Tampa Bay did last year with Nikita Kucherov.
If you add Eichel and fellow injured stars Pacioretty, Stone and William Karlsson prior to the end of the season, somebody else and maybe more than one somebody is going to have to go. As for draft picks, sending Krebs to the Sabres means four of Vegas' first six first-round picks in franchise history have been traded. Better win a Cup. Or a couple of them.
The Pacific Division: Eichel was always pretty glib with the Buffalo media over the years but we learned the one great interview-killer was asking about Edmonton's Connor McDavid. It got to the point when we would laugh at out-of-towners bringing up the topic and getting shot down.
There will be no escaping the topic for Eichel now. The Golden Knights are chasing the Oilers in the Pacific Division and just imagine what an Edmonton-Vegas playoff series might be like. It seemed impossible, since the Sabres and Edmonton could have only met in a far-fetched Stanley Cup final. Not far-fetched anymore.
"It's tough to be linked to that guy isn't it? Jeez, I got the short end there," Eichel said when he met the Vegas media this week. "He's having a tremendous year, tremendous career. ... In terms of being in his division, there's a lot of really good teams in this division. It's competitive. I think that competitiveness brings out the best is me. I look forward to competing against the world's best every night."
Leon Draisaitl (26) and McDavid (24) entered Friday 1-2 in the NHL scoring race and combined for 50 points in 12 games, just nine fewer than the entire Buffalo forward corps they met here Friday.
Sabres coach Don Granato had a good laugh on Thursday when I asked for his reaction to McDavid's already-iconic 1-on-4 goal that tied the game against the New York Rangers in the final three minutes last Friday. The Oilers went on to win in overtime on a Draisaitl tally.
"He used the four guys against each other. ... It's almost like a psychology study I read," Granato said. "There's 50 people seeing an incident and nobody calls 9-1-1 because they think the other person is going to call 9-1-1."