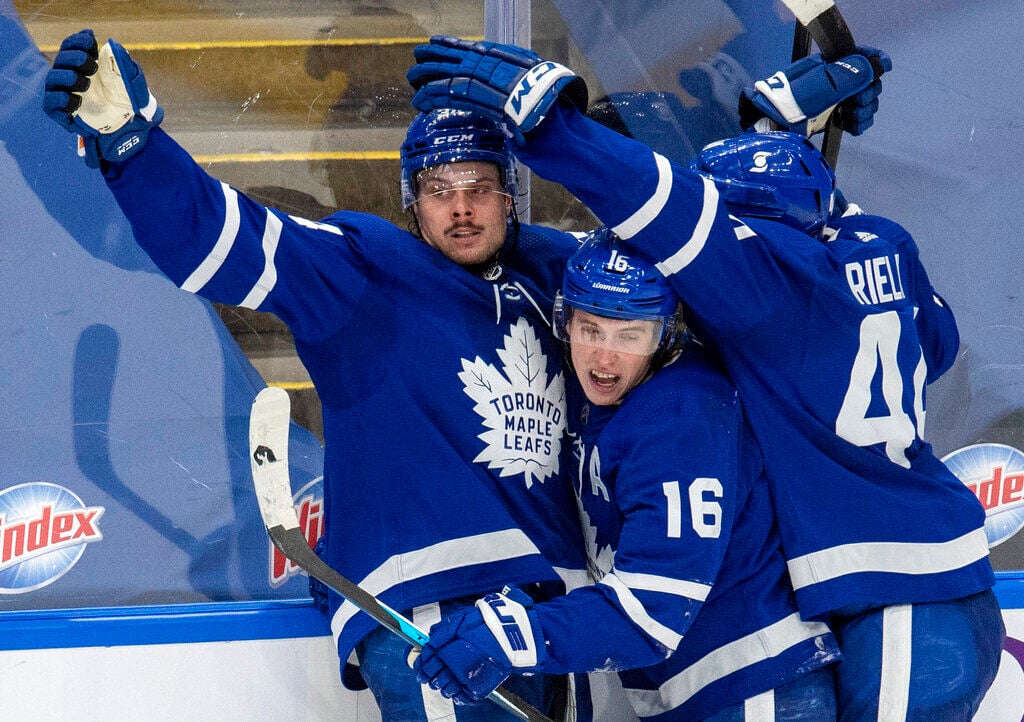 As if this season hasn't been bad enough, here comes a new wrinkle. Of all the hideous things Sabres fans have had to endure in 2021, one possibility looms about four months in the distance that's almost unspeakable.
It's not a given, but it's not a ridiculous thought either, given the state of the NHL and the world at large.
Just imagine how you'd feel if the Toronto Maple Leafs – yes, the Toronto Maple Leafs – won the Stanley Cup for the first time since 1967.
And did it in KeyBank Center.
Picture captain John Tavares taking the Cup and holding it high with at least a few thousand of those rambunctious blue-and-white-clad fans roaring their approval. Then most likely handing it first to 42-year-old Joe Thornton for a moment the Giant Bearded One has spent 23 seasons chasing.
Picture Auston Matthews (drafted No. 1 overall in the same place five years earlier), Morgan Rielly, Mitch Marner (taken two picks after Jack Eichel in 2015) and William Nylander having their turn. And the same for former Sabres Zach Bogosian, Jimmy Vesey and Wayne Simmonds.
Ponder the fact that as rough as Bogosian's Buffalo career was, leading to his contract termination 13 months ago, he has a legit chance to win two Cups in a span of 10 months after winning with Tampa Bay in the Edmonton bubble in September. That's crazy.
There's a lot of maybes here, but this much is clear: One Canadian team will emerge from the North Division after the first two rounds of the Stanley Cup playoffs. And unless the border is opened come June, that team is not going to be able to play in its home arena.
The NHL knows this. The league's public stance is it's hopeful the speed of vaccinations in the United States will influence the Canadian government to open the border. Or at least approve travel of a team for playoff games.
But privately, the NHL is concerned. Things are in the very preliminary stages, but the league knows it might have to ponder alternate sites for at least part of its final two playoff rounds, and multiple sources expect the Sabres to have an interest in hosting. The semifinal round would begin in mid-June.
"We are engaged, are in the process of engaging with respect to the playoffs," deputy commissioner Bill Daly said Thursday in a video call with reporters when asked about talks with the Canadian government. "We've got a little bit of time to deal with this. I believe there will be a process. I can't certainly promise any result, and we'll work through the process and we'll see what the result is and we'll respond appropriately."
The Sabres talked to the league last year about being the site of one of the playoff bubbles, which were eventually held in Toronto and Edmonton. And prior to this season, when it seemed like division bubbles could be in the offing, the Sabres again told the NHL they would like to be considered.
And remember, the Sabres gave a tour of their facilities to the Toronto Blue Jays last summer and offered their assistance to them during the team's stay in Buffalo. The organization knows events such as this could put people back to work and fill up rooms in the Buffalo Marriott at LECOM Harborcenter.
As for talks with Canadian officials about the border, Daly simply said, "We're engaged, they're engaged, and we'll get an answer when we get an answer."
Added Commissioner Gary Bettman: "We're going to try and maintain our flexibility and our agility, and we will be respectful of the process."
Bettman said he hoped the Canadian government will have faith in the NHL's ability to execute playoffs in Canada based on the huge success of last summer's bubbles. The league waited until the last minute to choose those cities and Bettman said that experience would allow the league to take things to the wire again, if necessary.
Just like the Blue Jays' desire to play in Toronto but prepare for other possibilities such as Sahlen Field, the NHL wants these games in home sites. But it can't be left unprepared, either. To date, the Canadian government has given no leeway to the NHL, the Blue Jays or the NBA's Toronto Raptors.
With no conferences this year, the final four teams are being reseeded by regular season records. So you could have a semifinal or final between, say, Toronto and Boston. Or Washington and Tampa Bay (wow!). Or Vegas and Pittsburgh. The possibilities are endless. Because they clearly rate as one of the favorites, the Leafs winning the Cup on American soil – and maybe even in Buffalo – can't be discounted.
Pens' Angello makes Buffalo dream a reality
You probably didn't give a second of thought to the goal Penguins fourth-liner Anthony Angello scored here Thursday night. Nice wrist shot, albeit one Jonas Johansson should have stopped. First of the season, second of the career for Angello, a 25-year-old lifelong New Yorker. He was born in Albany, grew up in Syracuse and played college hockey at Cornell after the Penguins took him in the fifth round in 2014.
And he was a Sabres fan all the way. The goal you didn't notice meant everything to him.
"It was awesome. Obviously playing in Buffalo is a little bit surreal especially because this is close to home, to where I grew up and these are the NHL games I came to," Angello said. "So finally playing in the building was awesome. And then scoring, honestly, was, even more surreal if that's even possible."
Angello was friends growing up with Vegas winger Alex Tuch, who lived in the Syracuse suburb of Baldwinsville next door to the parents of former Sabres center Tim Connolly. That made Connolly, along with speedy winger Maxim Afinogenov, instant choices to be his favorite Sabres.
Angello said he always pictured himself on the ice at KeyBank Center like Connolly and Afinogenov, trying to react to different situations.
"I envisioned scoring goals here," Angello said. "And I'd say I was pretty spot-on as to how I envisioned it."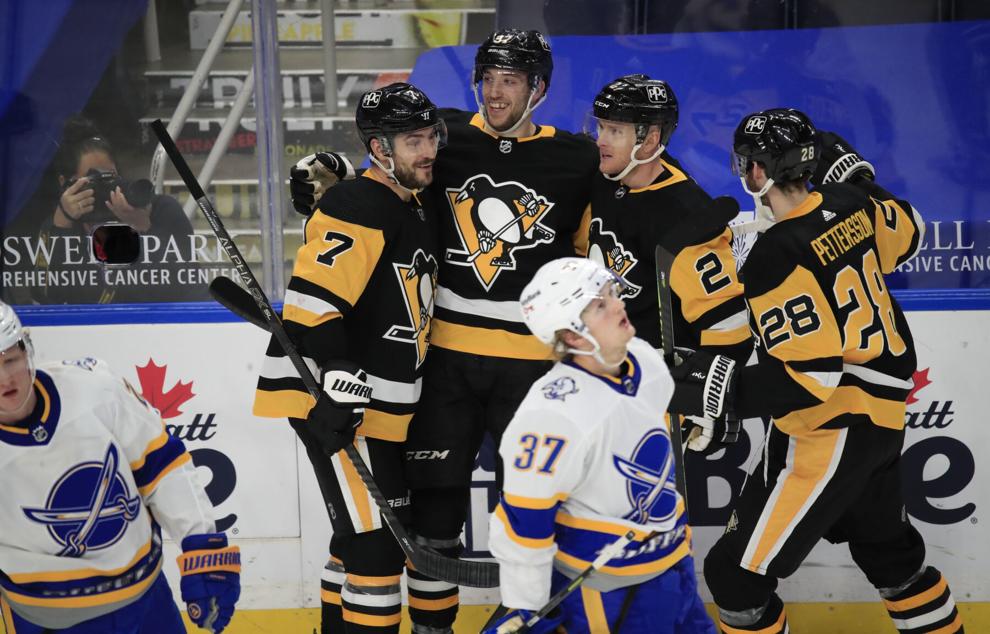 • Go ahead, admit it. You've gone to YouTube and played the ESPN "NHL Tonight" theme music a hundred times since last week's announcement that the league has brokered a new contract with the Worldwide Leader starting next season. After a 17-year hiatus, SportsCenter will finally give hockey some respect again. The real palace intrigue, however, is who gets the rest of the TV deal and the three up-for-grabs Stanley Cup finals between now and 2027.
You would think the NHL would stay with NBC, providing NBC still wants in, but there's no question Fox is lurking. Either way, the league is going to derive much more television revenue that it has been getting just when owners need it coming out of the pandemic.
• If you're thinking ahead to the trade deadline next month, Tampa Bay might have the best acquisition already in hand. GM Julien BriseBois told reporters Friday that Nikita Kucherov started skating last week and is on track to be ready for the playoffs after hip surgery Dec. 29.
Kucherov, the 2019 Hart Trophy winner, had 32 goals and 85 points last season. His goal, assist and point totals for the three previous campaigns were 40-45-85, 39-61-100, and 41-87-128, respectively.
"I fully expect that he'll be able to contribute come playoff time and hopefully add a little oomph to our team," BriseBois said. "I don't know there is anything that any team can do at the deadline that would be as impactful as adding Nikita Kucherov to our group."
• Penguins captain Sidney Crosby entered Saturday's game with 64 points in 43 career games against the Sabres, an average of 1.49 points per game against Buffalo. According to the Penguins PR department, that's only the sixth-best against Buffalo (minimum 15 games played). The leader is current Pittsburgh owner Mario Lemieux (70 points, 40 games, 1.75). He's followed by Steve Yzerman (67/41, 1.63), Pavel Bure (35/22, 1.59), Bobby Orr (44/29, 1.52) and Wayne Gretzky (83/55, 1.51).
• Something you never heard in the Sabres' dressing room was Leafs defenseman Travis Dermott's comment Friday on Bogosian: "I feel like he is making me into a way better player."
• Philadelphia's shutout streak of 185 minutes, 44 seconds against the Sabres that was broken by Sam Reinhart's first-period goal Tuesday set a franchise record for the longest against one opponent. The Flyers were born in 1967.
Philly had shut out the Sabres in three consecutive games until Reinhart's goal 4:33 into the game. By getting into the second minute of play, the Flyers broke their mark of 182:42, set against New Jersey in the 1983-84 season.