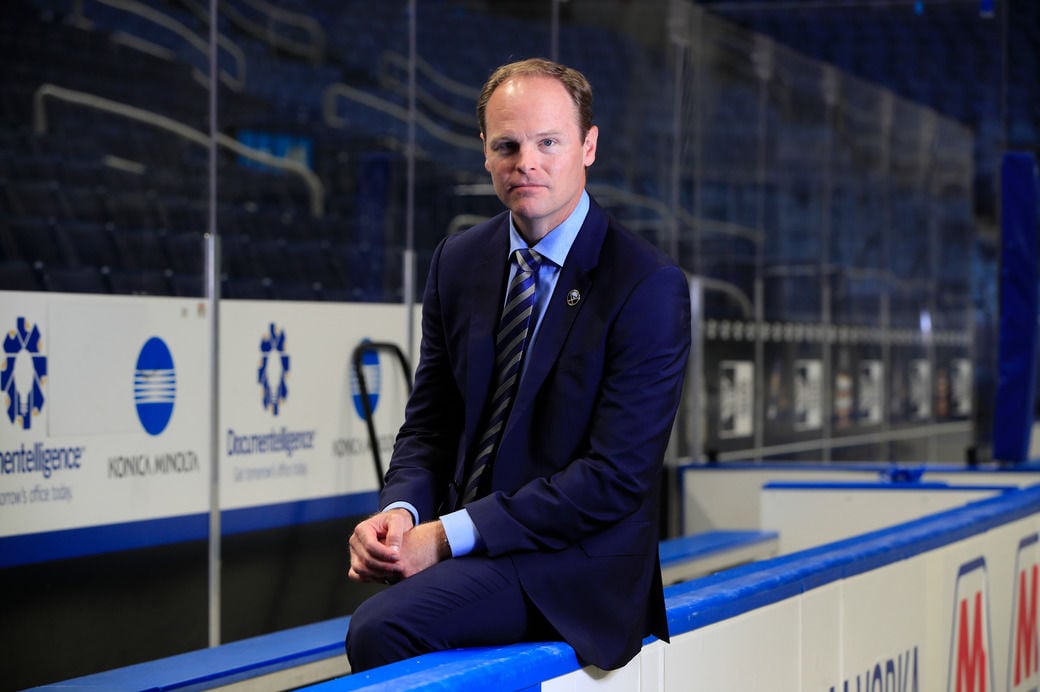 This corner will obviously be following the picks in the NHL draft as they come across the Zoom on Tuesday and Wednesday, but in a just-for-the-record manner.
In 2020 when it comes to the Buffalo Sabres and new General Manager Kevyn Adams, I don't care about the draft at all. Not a bit. 
Yes, that's blasphemy to the ears of hockey folks. But people need to wake up from their post Connor McDavid/Jack Eichel haze – now more than five years old – to realize this isn't the NFL draft. Never has been, never will be. The NHL selections offer no instant gratification.
And the Sabres, of all franchises, have lost any wiggle room on patience. Adams, a first-timer with a thin résumé for his job, isn't going to get any slack.
The nine-year playoff drought didn't come under his watch, but it's now all on him. Unfair? Too bad. 
Remember, it seems GMs around here only get three years and most players you draft – if they even become NHLers – need at least three years to contribute. Adams simply doesn't have time to start yet another rebuild. He needs to get players in here right now.
At a time when a new season would normally be starting, Adams has to figure out what to do with his restricted free agents, figure out if he can entice any unrestricted free agents and find a legitimate No. 1 goalie. All this while reportedly having financial restrictions on his work from ownership not seen since Tom Golisano was infamously telling Darcy Regier "dollar for dollar" on all trades.
Now, Adams got off to a stellar start with the Eric Staal trade, proving you can get a better player and save money. Fellow GMs looking to fleece Adams should instead be looking to rob Minnesota GM Bill Guerin, who must really be over his head if he thinks Marcus Johansson is a No. 1 center in this league. That's if you believe the Swede is even a center at all.
What kind of numbers is Adams going to work out for RFAs Sam Reinhart, Victor Olofsson, Linus Ullmark and Domink Kahun? How does he work out the Brandon Montour situation? Can he really walk away from a guy who cost this franchise a first-round pick just 20 months ago?
It's going to be tough to get any UFAs to want to play here without overpaying them (Jason Botterill, remember, gave Johansson $9 million for two years). Adams is going to be better suited to make deals, and if that means the No. 8 overall pick is in play, so be it.
You don't see top 10 picks moved very often like you might in the NBA or NFL. I remember the holy-cow buzz that went through the Prudential Center in Newark when then-Devils GM Lou Lamoriello dealt the No. 9 pick to Vancouver for goalie Cory Schneider just before the start of the 2013 draft. The rarity made the moment.
The video conferences might burn up come Tuesday night if the Sabres pull a similar move. The acquisition of Staal makes it less likely to happen now that Buffalo has the No. 2 center it desperately needed. But if a scoring winger or legitimate No. 1 goalie is available (hello, Columbus), the Sabres have to consider dangling the pick to get what they need.
(The goalie market leaguewide figures to be insane all week with trades, and at the start of the free agency period Friday. Easily the No. 1 topic to watch.)
Draftniks can go on and on about top prospects such as Marco Rossi, Cole Perfetti, Lucas Raymond or Alexander Holtz being the apple of the Sabres' eyes. I'll remind you what Alex Nylander never became, what we're still waiting to see from Casey Mittelstadt. 
Can this franchise wait any more on 18-year-olds to become 21-year-olds? Nope. 
The bigger draft takeaway over the actual selections will be to see what kind of personality Adams and new scouting director Jeremiah Crowe start to forge. It became clear Botterill & Co. didn't think much of Canadian kids and were enthralled by Swedes and Finns.
Finances might steer the Sabres more to this side of the ocean and the hiring of former U.S. National Development Team coach Seth Appert in Rochester could further push the club to focus on American prospects.
At 34 and with experience largely as a pro scout, Crowe is viewed as a neophyte in his new role much like Adams is. What's the best part of Crowe's résumé? Two years with the USNTDP, including a stint as director of player personnel. Hmmm.
No real clarity on 2020-21
NHL owners are expected to have a video meeting this week as part of the draft proceedings to try to get some early clarity on the 2020-21 season.
At his annual media briefing at the start of the Stanley Cup final, Commissioner Gary Bettman hinted a start date could push into January, past the league's previously stated goal of December. It's widely known ownership in most cities is making it clear to the league it needs at least some fans in buildings to start recouping revenue.
There are just so many unknowns.
"Nobody can tell me whether or not the border between Canada and the United States is going to be open by a certain date," Bettman said. "Nobody can tell me what the state of COVID-19 is going to be. Nobody can tell me whether or not our arenas will be able to have either socially distanced or fully occupied buildings, and we're going to have to do the same thing we did to get ready for the return to play: Explore all the options, be flexible and agile enough to implement when the time comes."
Bettman has said he wants to play a full 82-game season but it's hard to see that happening with a January start. And you can't play deep into the summer in 2021 with the Tokyo Olympics slated to take up the bulk of NBC's programming starting in late July.
When Bettman takes a rare opportunity to speculate, he's often throwing out meaningful thoughts. That could have been the case when he said he could see a scenario in which the league gets the season rolling with no fans and then transitions to welcoming paying customers back into buildings as the season moves on.
Said the Commish: "How we start doesn't necessarily relate to how we're going to finish."
Around the boards
• The Lightning's Cup win came Sept. 30, which was 363 days after the league's season openers on Oct. 2, 2019. The clincher came 201 days after the March pause began and 326 days after the 5-3 win in Stockholm on Nov. 9, 2019, that wrapped up the Bolts' two-game Sweden sweep of the Sabres.
• Tampa Bay became the third team in NHL history to win the Cup after being swept in a best-of-seven series during the opening round of the previous postseason, joining the 1967 Maple Leafs and 1961 Black Hawks. The Lightning, of course, were stunned in a four-game sweep by Columbus in April, 2019.
• A word of note to the NHL: Bravo on a job well done. It's hard to imagine the "Bubble Hockey" tournament going any better. It was easy to find folks who thought there was no way the league could pull of its two-city, 24-team extravaganza. Well, 33,174 negative tests later – with no positives – Bettman was standing at center ice in Edmonton handing the Cup to Steven Stamkos.
• A word of note to the Lightning: Read the room just a little. The boat parade in Tampa was marked by a lack of masks and little social distancing. And videos surfaced across social media of players allowing fans to drink out of the Cup.