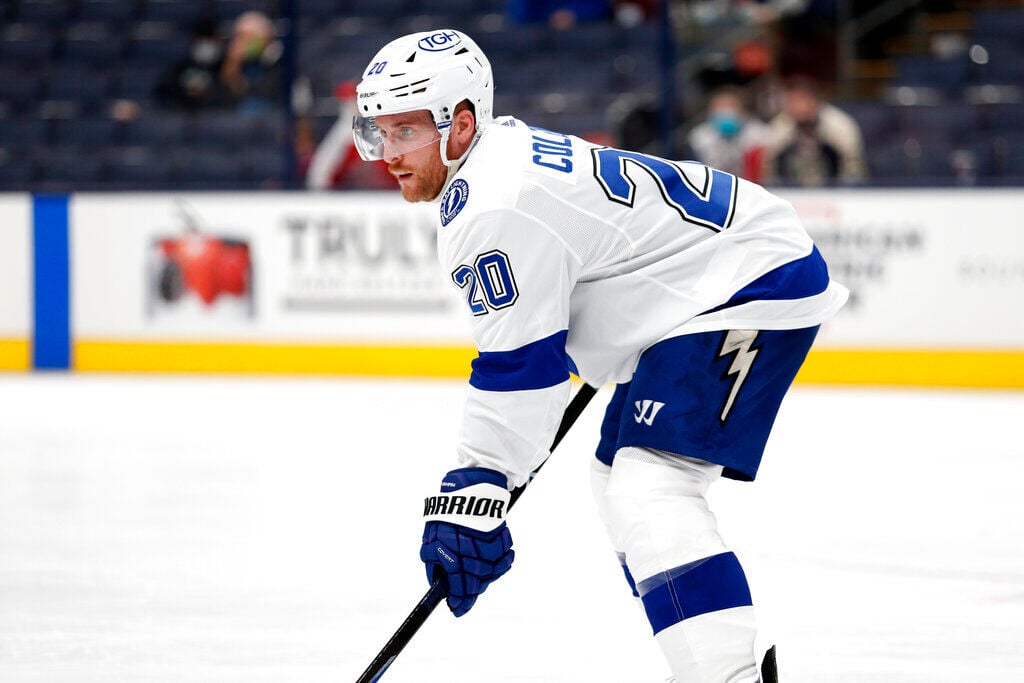 The trade deadline doesn't always work for teams gunning for a Stanley Cup. And it doesn't always require you to get the biggest names on the market – think Taylor Hall – to have an impact.
But you just have to go back about 14 months to see how it's done and to get a glimpse on the kind of impact any team's general manager hopes he can have by 3 p.m. Monday.
Hall remains out of the lineup as General Manager Kevyn Adams negotiates with other teams.
The Tampa Bay Lightning's Cup victory in last September's bubble of Edmonton was set up by the work GM Julien BriseBois did in February, 2020. And it's instructive: Fill holes in your lineup and don't think parachuting in rental stars is the only way to go.
BriseBois paid a heavy price in trading first-round picks for both Blake Coleman (to New Jersey) and Barclay Goodrow (to San Jose). He also signed contract-terminated Sabres defenseman Zach Bogosian. As it turned out, he got some of Bogosian's best hockey in years and his two acquisitions joined Yanni Gourde to form what remains one of the best bottom-6 lines in the game.
Coleman, in fact, scored what proved to be the clinching goal in the 2-0 Game 6 win over Dallas that closed out the Cup final.
Then Tampa Bay did more of the same Saturday. The Bolts got some strong help on the blueline by acquiring David Savard from Columbus for a first-round pick this year and a third-rounder this year. And by getting Detroit involved in the trade, Tampa Bay is on the hook for only 25 percent of Savard's cap hit.
3-WAY TRADE:Tampa Bay #Lightning:D David Savard *D Brian LashoffColumbus #BlueJackets:2021 1st RD pick (TBL)2022 3rd RD pick (TBL)Detroit #RedWings:2021 4th RD pick (TBL)* CBJ and DET each retained 50% of Savard's cap hit, meaning that TBL is only charged $1,062,500

— CapFriendly (@CapFriendly) April 10, 2021
There has to be several teams thinking they need to make some moves like the ones Tampa Bay has pulled off around these two deadlines. And everyone is chasing Islanders GM Lou Lamoriello, who detoured away from Hall to instead take Devils winger Kyle Palmieri and then was completely stealth when he got veteran Travis Zajac in what turned into an even bigger deal.
Who needs to make impact like the Islanders already have? To get past Toronto in the first two rounds of the playoffs, I would label Edmonton and Winnipeg as two teams that fit that bill and need to add some depth.
Montour, who turns 27 on Sunday, is a pending unrestricted free agent and has totaled five goals with nine assists while averaging 20:32 of ice time across 38 games this season. 
Florida is a club that has opened cap space and has to be thinking big. It has a Stanley Cup coach in Joel Quenneville and moving on Sabres defenseman Brandon Montour in the wake of Aaron Ekblad's season-ending injury was a good move. While the Panthers have a strong young corps and should be solid for several years, there's some desperation there too: The franchise has not won a single playoff series since getting swept in the 1996 Cup final by Colorado. And now that the Panthers are making moves, what does budget-conscious Carolina do?
St. Louis GM Doug Armstrong has to be wondering which way to go as well. His club was scoring no goals and had briefly slipped to sixth in the West. But his players are sending an "add" message of late with a win over Vegas and Friday's 9-1 pounding of Minnesota. Still, UFAs Mike Hoffman, Tyler Bozak and Jaden Schwartz could be interesting pickups for other clubs.
Boston needs offense from the wing. You would think the Bruins would have to be in on either Hoffman or Hall.
Memo to teams out there: If you're looking at the Sabres, Montour was your guy. Not Hall. Florida GM Bill Zito beat you to him. I realize the former Hart winner is the guy here who has been getting most of the attention. Maybe in his new home, Hall will stop putting every shot in the goalie's pads.
Some of the preseason criticisms about the Sabres' roster decisions have definitely come to pass with this club.
• The season started with no real No. 1 goalie. Linus Ullmark has emerged in that role but not having any capable backup has been a major problem.
The Sabres' comeback fell short in a 4-3 loss to the Capitals in front of a small crowd in KeyBank Center.
Buffalo's three-headed backup of Carter Hutton, Jonas Johansson and Dustin Tokarski has combined to go 1-19-3 this year, far and away the worst mark for any backup(s) in the league.
Forget about an 82-game season. You can't even get through a 56-game season afloat with only one win from your backup goaltenders. Since Hutton won Jan. 19 in Philadelphia, he's combined with the other two goalies to lose 21 straight games, going 0-18-3.
The Sabres were hamstrung by the last year of Hutton's contract, with a cap hit of $2.75 million. And he started the season decently enough but nothing has worked in that slot since the first few games and the club didn't pivot.
• Another sign Ralph Krueger had too much influence: A three-year contract to Zemgus Girgensons and a two-year deal for Cody Eakin. I would have instead  kept Johan Larsson, who could win faceoffs and kill penalties and play with an edge. Eakin, a Winnipeg native like Krueger, has been a bust at $2.2 million and is under contract for next year as well.
• Rasmus Asplund in the minors? Casey Mittelstadt on the taxi squad and at wing and not center? Those calls went on far too long as well. They're on a deep list of guys who clearly benefitted from Krueger's departure. Think Rasmus Dahlin, Henri Jokiharju, Montour, Kyle Okposo and Tage Thompson as well.
• The Sabres might have already made the best trade they were going to make in advance of the deadline: Steve Smith for Dan Girardi behind the bench. Girardi, who just retired in 2019, has had immediate impact with the defense and seems to be exactly what Dahlin and Jokiharju have needed in particular.
It's a trial run for the longtime Rangers stalwart, who is making his first foray into coaching. He was a nose-to-the-grindstone player, one of the all-time NHL leaders in shot-blocking, and the results show he's putting lots of effort into his new role as well.
• The one guy most thought to benefit from Krueger's firing who really hasn't is Jeff Skinner. He's got two goals in the last 10 games and is minus-4 in that stretch, with his ice time no higher than 14:10 in one four-game run. But interim coach Don Granato has gone back to him the last two games (18:40 and 18:13) clearly in an attempt to get his game going. Hasn't worked yet but it's probably a better approach at this point to see if a veteran can play himself out of a rut rather than rot on the bench.
• The Sabres enter Sunday's game in Philadelphia at 9-25-6 with a points percentage of .300 – which would be the lowest in franchise history if it holds up. The current record of .317 was set in 2013-14, when the club went 21-51-10. Buffalo's best points percentage was .706 in 1974-75, when its record was 49-16-15.
Since 2000, only three teams have finished with a sub-.300 points percentage: Atlanta in 1999-2000 (14-57-11, .238), Detroit last year (17-49-5, .275) and Colorado in 2016-17 (22-56-4, .293)
• The new lockdown in Ontario could mean curtains for any games played this year in the Ontario Hockey League, another serious trouble spot for scouting for a draft come July. Jack Quinn, the Sabres' No. 1 pick, is set to spend his entire first season in the organization in Rochester and that's a good thing.
Quinn's early experience in the AHL should benefit him in the long run over simply dominating again in juniors. I wish getting top picks into the AHL even as young as 18 was a normal rule, and not just a pandemic exception.
Alex Ovechkin scored his 35th career goal against the Sabres on Friday night. 
• Auston Matthews is on a 40-goal pace and Connor McDavid is on a 94-point pace. Andrei Vasilevskiy and Phillip Grubauer both have 24 wins. In a shortened season, didn't think we'd see anyone pushing 40 goals or 100 points, or any goalies approaching 30 wins. Wrong on all counts.
Spectacular seasons by all four players. You assume McDavid is going to walk to the Hart Trophy but the goalies should get their due in MVP balloting too.
• We finally had a day with no new Covid cases in Vancouver and it's definitely a good sign that the NHL is pushing ahead with the Canucks' return to a game schedule as soon as Friday. It's interesting to see how the NHL keeps retooling the North Division schedule as well. Now, it will stretch to May 16 and the regular season could be finishing in the North while the playoffs are under way in the other three divisions.
One thing I'd suggest: Cut back. Do the Canucks and Ottawa really need to play their four remaining games from April 22-28? Yes, Vancouver is technically still in the race mathematically. But a little reality check is needed here. It looks like the league is forging ahead to get 56 games for everyone, no matter how tight the schedule becomes. TV rules, after all.