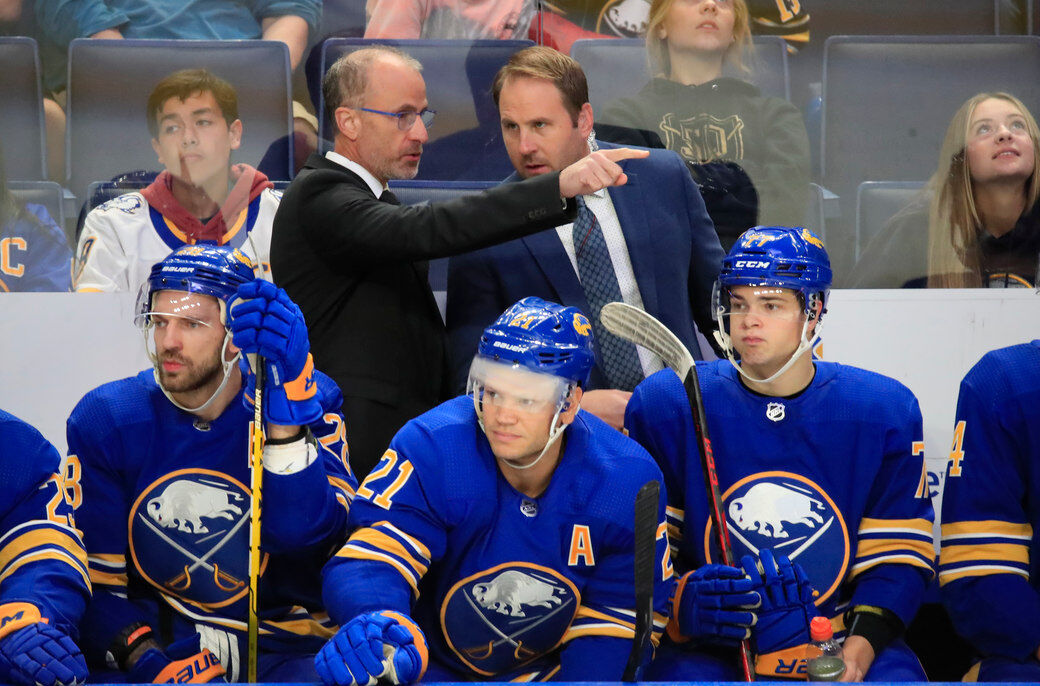 Here's an early crisis point for Don Granato with the Sabres: Five games in seven days in the wake of that 5-0 flameout against Calgary. As much as we see how the team reacts, it will be interesting to gauge the first-year head coach's response as well.
The Buffalo Sabres were a disaster in front of goalie Dustin Tokarski, allowing three goals in a span of 1:37 in a second period that ended with fans booing the Sabres off the ice.
The big picture is more than you could have reasonably expected at this stage. At 7-7-2, the Sabres entered the weekend just two points out of a playoff spot. Yes, two. And an 82-point pace for the season far exceeds any prediction offered before the season.
But the team has been trending downward at 2-6-1 in the last nine games and without Victor Olofsson, the power play has been abysmal. Injuries have been such a huge issue that the surprising return to practice Friday by defenseman Henri Jokiharju was a major booster shot to the club.
Coaches matter a ton in this sport. We've see in recent years how names like Mike Sullivan (Pittsburgh) and Craig Berube (St. Louis) took over a team in midseason and won a Stanley Cup. This year, Derek King has won his first four games in Chicago after Jeremy Colliton got fired. Demeanor often is as important as strategy, which is why the play-free attitude of Granato was a welcome change from the regimented structure of Ralph Krueger.
Granato resisted the temptation for any major shakeups in practice in the wake of the Calgary debacle, a game that rates as an aberration for this club this season but one you could still see coming, given the growing number of scoring chances the team has allowed in recent games.
We'll see what a largely status quo lineup will mean Sunday in Madison Square Garden against the New York Rangers and back home Monday against Columbus. Then see what Granato does for home games Wednesday and Friday against Boston and Montreal.
There's not going to be major callups from Rochester. And Granato is patient, perhaps to a fault. He waited a game or two too long to switch his defense pairs, finally getting Rasmus Dahlin away from Will Butcher and to a more dependable partner in Mark Pysyk. And he rarely erupts much on the bench, but had an outburst Tuesday in Pittsburgh that alternate captain Kyle Okposo said made an impact on its rarity alone.
The mostly calm response to trouble so far brought you back to something Granato said earlier this season when asked what he thought makes Tampa Bay coach Jon Cooper tick.
With the Jack Eichel trade done, the question now is what's next for GM Kevyn Adams and the Buffalo Sabres? 
"He has a great balance of coaching. He coaches in the moment, the players are always in the moment," Granato said of two-time Stanley Cup champion Cooper, a fellow alum of the coaching tree from the USHL's Green Bay Gamblers. "I don't think he overcoaches, I don't think he undercoaches, it's a really good balance there. And his teams have life and personality. There's a lot to like."
The Sabres are still trying to forge their identity. They were an attacking team that was difficult to play against early in the season but injuries eroded that style and you wonder how much it can work on a nightly basis anyway given stretches of the schedule like this one.
"If we want to get to our game, you don't just go out and do that," Granato said Friday. "You don't get a meeting with the other team and say, 'Hey, let us do this.' And it was almost as if we played that way (against Calgary). You've got to wear on the other team, And then you can get to your game and how you want to play. Your style, your identity will show.
"It's one of those games you want to forget but you know you have to remember," he added. "You want to get rid of it. But there's lessons in there to be learned."
Granato admitted that Saturday's practice in Harborcenter was likely the most in-depth one the schedule will allow the Sabres to have for the next week or so, but he's not fretting over that either.
"You can make adjustments right away and instead of practicing them, you're saying, 'OK, this adjustment has happened tonight in the game,' " Granato said. "It's completely different because you're playing the game and not practicing but it's equally and sometimes even better to do that. I'm not concerned with the bulk of games and not practice. I think you can do things and make improvements to target within the next game."
One positive is that Granato has been able to get balance through his lineup. A crutch of having elite players like Jack Eichel and Sam Reinhart is too many other players waited for them to get the job done. Can't do that anymore.
The Sabres have gotten scoring from every line as eight forwards have at least three goals. And you would think Vinnie Hinostroza (one goal on 26 shots) will start finding the net soon, as he's tied for fifth among the forwards in shots.
"We need all our guys to believe they can score," Granato said. "When you think about the NHL, you think about, 'Oh, this guy's a goal scorer and this guy's not.' Well, I always looked at it and said, 'Guys score different ways. Some guys score and it goes off their shin pad, but get to the area where you can score. And don't be surprised that you score.'"
"If you want to be mad Eichel is an ex-Sabre, this one lies squarely at the feet of Terry and Kim Pegula, as well as Dan Bylsma, Phil Housley, Ralph Krueger and Jason Botterill," Harrington writes.
• Sportsnet Elliotte Friedman said in last week's edition of his "32 Thoughts" blog that Jack Eichel told him he visited Sidney Crosby and Nathan MacKinnon last summer in Nova Scotia and (Friedman's words) "was really impressed how the community respected their space."
Buffalo can be a bit of a fishbowl for prominent Sabres. Sounds a little bit like Chris Drury complaining after he left town for New York that he was tired of having to discuss the power play when he was at Wegmans.
• Vegas coach Peter DeBoer continues to resist the temptation to forecast what his team might look like when it's healthy, particularly the time later in the season when it might finally get Eichel back on the ice.
"I'm trying to stay in the moment," DeBoer said. "Say, three to four months from now, Jack Eichel walks in the door, we don't know what our health situation will be.
"I can write down all the line combinations and dream all the dreams I want to as a coach about what we could look like, and yet we know this game changes every day. It's a bit of a fruitless exercise to try to (look ahead)."
• The Sabres got lots of social media play over the unveiling of Rick, the new team dog named after retiring announcer Rick Jeanneret. Of course, they were also subjected to lots of social media snark. Too many folks went for the easy layup wondering if Rick had already asked for a trade. My favorites were the few who thought deeper on the Eichel saga and asked if Rick was having any "disconnect" issues with his leash.
Disconnect, of course, was the word Eichel used in his bombshell news conference in May when he first revealed he was at odds with the team over treatment of his neck injury.
It's legitimate to wonder if the Kraken will be on a 10-game losing streak when they hit KeyBank Center for their first visit to Buffalo on Nov. 29. Seattle hasn't won since its 5-2 win over the Sabres Nov. 4 in Climate Pledge Arena and has plummeted to 31st overall at 4-12-1.
The Kraken are 0-4 on their current homestand after Friday's 7-3 loss to Colorado and have been outscored, 22-11, in the four games. They host Washington on Sunday and Carolina on Wednesday before playing at Tampa Bay on Friday and at Florida on Saturday. They then head to Buffalo.
Jordan Eberle scored a pair of third-period goals to complete the first hat trick in Kraken history and Seattle overpowered the Sabres before a roaring sellout crowd.
"When we do get down we've still got to be patient and stamp out guys," captain Mark Giordano said after the Colorado game, which saw Seattle fall into a 6-0 hole through two periods. "It went from bad to really bad there in a hurry because we were taking chances."
The issues are bad for special teams (27th on the power play, 24th on the penalty kill) and abysmal goaltending. For their six years and $35.4 million, the Kraken have gotten terrible numbers from Phillip Grubauer (3.27/.875) and backup Chris Driedger has been injured and also abysmal in the crease (4.78/.791).
GM Ron Francis' key early decisions look suspect. Grubauer's numbers with Colorado the last few years sure look like a product of the Avs' defensive system. Dave Hakstol, who never won a playoff series in four years in Philadelphia, was an uninspiring choice as head coach. And the Kraken, of course, are drowning in Vegas comparisons. There has never been an expansion season like the 2017-18 Golden Knights who went to the Stanley Cup final. It was too much to expect a repeat.
• Leafs captain John Tavares was pleasantly surprised to walk into the KeyBank Center visiting interview room last week, which is set up in the Bandits dressing room.
"I like this media room. Good vibes for me in here," Tavares said.
Tavares' uncle, of course, is the Bandits legend of the same name and the all-time scoring leader in the National Lacrosse League.
• The Sabres will be glad to have Canadian fans back in KeyBank Center and able to escape testing requirements starting with the Dec. 7 game against Anaheim but they've already lost out on major attendance numbers from north of the border they can't get back. Both visits by Montreal and the lone visit of the season from Toronto, Edmonton and Calgary were all played with either a closed border or one that required a PCR test to return to Canada. None of the games even hit a tickets-sold count of 9,000. Just disastrous.
• The bottom five teams in the NHL's overall standings had one road win apiece heading into the weekend. Chicago, Montreal, Ottawa, Seattle and Arizona were a combined 5-30-5. Arizona (1-9-1) got its first win with a 3-2 upset Tuesday in St. Louis.
• Speaking of the road, the Islanders lost the last four games of their 13-game death march to open the season and finished the trip 5-6-2 as construction finished on UBS Arena. Their new home adjacent to the famed Belmont Park racetrack opened Saturday night against Calgary.