The hockey world was buzzing last week when Émilie Castonguay left the ranks of player agents and became assistant general manager of the Vancouver Canucks, just the second woman in NHL history to earn such a post.
But to those who remember Castonguay as a finance major and grinding forward on the women's hockey team at Niagara University, the reaction was simple: No surprise. All part of the plan.
"Honestly, my first reaction is she'll prove that she will be a GM in the NHL someday as well," said longtime former Niagara women's coach Margot Page, now leading the program at Brock University in St. Catharines, Ont. "It was no surprise. She's a very driven, passionate person, very intelligent, very professional, very detailed. She's someone you'd love to sit and have coffee with. A beautiful human being. It's no surprise to any of us who knew her that if she goes for something and wants it, she's going to get it."
That was the immediate scenario that came to mind for Edward Hutton, associate professor of finance and Castonguay's faculty advisor at NU.
"I remember an advisement meeting I had with her," said Hutton. "She's still a teenager and she just said, 'Here's what I want to do. I want to get a degree in finance. I want to go to law school, I want to become a professional sports agent, and then I want to work for an NHL team.' And I said, 'OK, sure. But let's think about something practical as a career.'
"But what that shows was that she had a plan. I was not surprised at all to hear this news, because that's exactly what she had told me and how it's gone. It was so unique that it stuck right out, and I remembered it."
Hutton said Castonguay could have had a brilliant career in finance but she told him how she was going to prepare for her post-Niagara days.
"She said, 'I'm already looking into the different courses I'll need to take in law school for contract negotiations and all that stuff,' " he recalled. "'While I'm here at Niagara, I want to make sure that I leave here understanding the whole financial side of it.' So I just said, 'OK, great.' "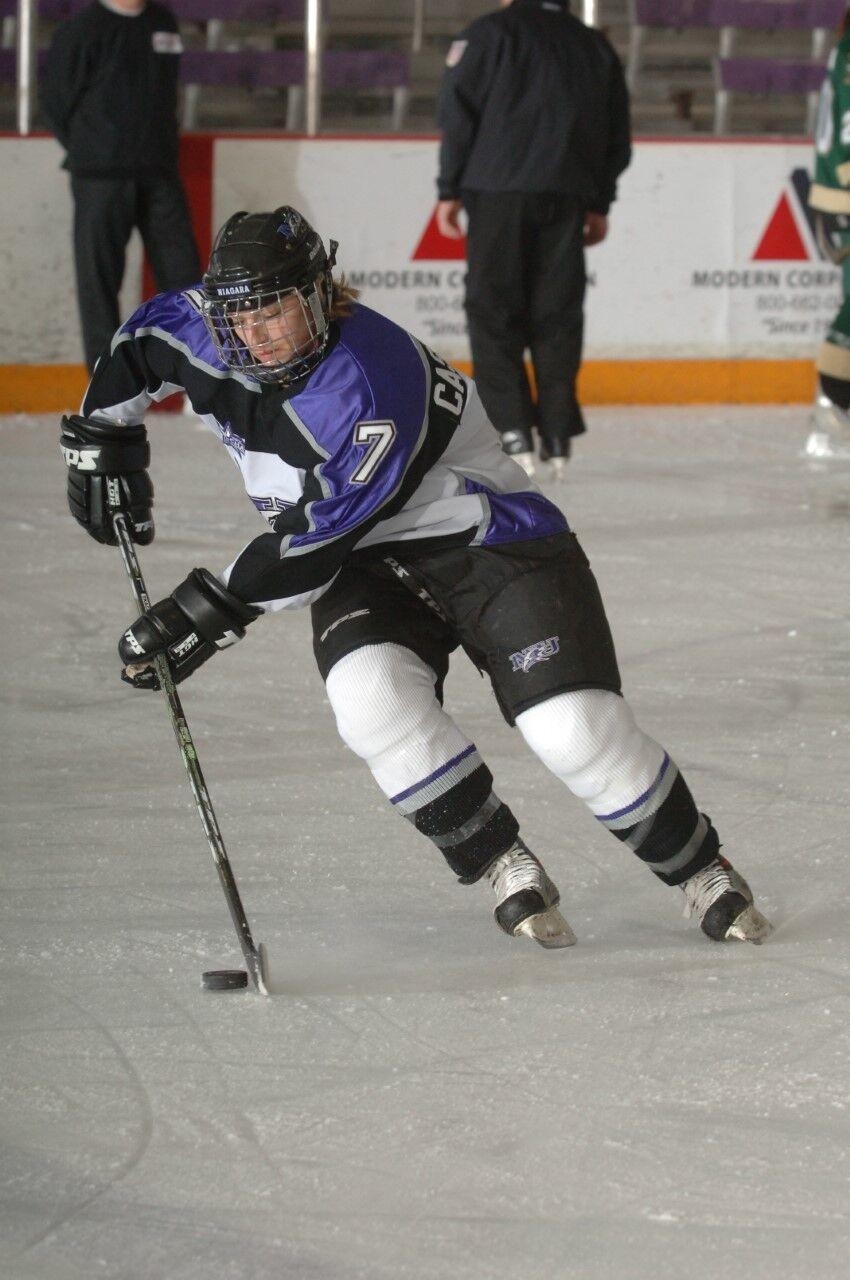 Hutton said as a student-athlete, Castonguay's off-the-ice view of the game stood out.
"I have a lot of very sports-obsessed students, but they're never thinking about it like that," he said. "They're always thinking about an individual player, or whether a team's going far and that sort of stuff. She wanted to know behind the scenes. What do the numbers mean and how do they add up? What does it mean to value things like cash flow?
"Her questions to me were all about sports as business. What are the things that make you structure a contract? And how do you take into consideration things like if you have to have bonus money that's paid out later? Pay that out sooner, or you can restructure it? And how does that affect the overall value? It was amazingly interesting somebody that age would be so interested in those kind of things."
Castonguay, 37, graduated from Niagara in 2009 after serving as a team captain and earning All-Academic team honors in College Hockey America. She got a law degree at the University of Montreal and the top players she represented were Alexis Lafreniere of the New York Rangers, the No. 1 overall pick in 2020, and Canadian women's national team star Marie-Philip Poulin.
"It's no surprise that players like that did sign with her because she's so trustworthy, she's easy to talk to, she cares and she's compassionate," Page said. "So she's just not all about the money in the signing of the contract. She truly, truly cares about the people."
During her introductory video call with Vancouver media, in fact, Castonguay said the most emotional part of taking the new position was telling her clients she could no longer represent them. Castonguay also thanked former Montreal GM Pierre Gauthier for being one of her main NHL mentors while she was in law school.
Page said Castonguay was a player she relied on to set an example with the Niagara program, which had some tough times after its 2002 run to the Women's Frozen Four and was dropped in 2012.
"She was one of the best role models on the team, really showing how to lead the way and how to be a good teammate, work hard, all those kinds of characteristics you look at," Page said. "She knew what it took on the ice in the way of the character, the work ethic, all that kind of stuff. And she was a very cerebral player, really understood the game. She would talk the game with me and give input on different things. It was normal to be able to have that kind of discussion with her."
Castonguay spent her video call downplaying the historic nature of her appointment, as did the Canucks. New Vancouver president Jim Rutherford is in the Hockey Hall of Fame and has won Stanley Cups with Carolina and Pittsburgh so he's not looking to check off diversity boxes when making a hire.
"I never really thought about gender when I was going through my journey," Castonguay said. "I had a very nonbinary approach to it in the sense that I wanted to do something in hockey and I wanted it to mean something to me. I never thought, 'Hey, there's only men in this industry. I can't do this.' I got all the knowledge I could get to where I am today and I just put my head down and did the work. If you let gender get in the way or intimidate you, that's when it will do that."
Those words resonated with Page.
"We still have to be better because we're not even close to where we should be with women in positions that they want to have," Page said. "Émilie said it really well. We have to make sure that whoever is best for the job gets the job and that nobody is overlooked. It's really imperative that young girls right now who are in sports are seeing if I do want an NHL job, I can do it."
The lone previous female assistant GM in the NHL was Angela Gorgone with Anaheim in 1996-97. Castonguay is hoping to forge a path to NHL history, much like Kim Ng has done in baseball with the Miami Marlins as MLB's first female GM.
"It wouldn't shock me at all," Hutton said. "From my impressions of her and following her career afterwards, she would be just the kind of person to do that. Her personality is such that she would be able to handle all of that pressure. She's a no-nonsense person. To have the career in mind, have it laid out, have a 10-year-plan, have that vision? Well, that's got to be a good frame of mind if you're running a team."
Adams thrilled by Staal's choice
"We're really looking forward to what he's going to do for our organization, and we have others," GM Kevyn Adams said, referring to the several talented young players in the Sabres' pipeline.
Sabres GM Kevyn Adams is happy for the development opportunity that prospects Owen Power and Devon Levi will get on the Canadian Olympic team, but he might even be happier about the selection of his friend, Eric Staal.
During their Carolina days, when Staal was a young player and Adams one of the club's veterans, Staal would often have dinner at Adams' house. Things went full circle last year, when first-year GM Adams traded for veteran Staal to join the Sabres. And even though his time was short and not that productive on the ice (three goals and 10 points in 32 games), Staal was highly respected in the Sabres' dressing room.
"Who he is as a person, the leader he is, I am so excited for Devon and Owen to spend that time just being around him," Adams said. "I know there's other good people there in that locker room as well, but the day-in, day-out picking someone like that's brain that's played that long and won Stanley Cups and Olympics and other things that he's done, and seeing just how he prepares for games will really help them.
"I think Dylan Cozens sitting next to Eric in the locker room last year is something that he'll carry the rest of his career. So I'm really excited for our two guys to have that."
The Taylor Hall hit on Nathan MacKinnon in Wednesday's Boston-Colorado game showcased an unintended flaw with replay that the league might have to close at some point.
In case you missed it, Hall drilled MacKinnon at center ice, leaving the Colorado star face down in a bloody heap. Officials initially called a five-minute major on Hall but those penalties can be reviewed and this one was. Upon looking at the replay, it was clear the damage to MacKinnon was caused by his own stick getting wedged into his face by the impact of Hall's check.
The play looked like a legal one with just a bad result. The problem? Majors cannot be completely rescinded on replay, they can only be downgraded to minors and that's really a foolish caveat to the rules. If you're looking to see if a major penalty is a deserved call and stumble upon the fact there should be no foul at all, why can't it be overturned?
"Farewell, 2022 postseason vintage Buffalo Bills. Meet the 2006 Buffalo Sabres. You will live together in Heartbreak Hotel forever," writes Mike Harrington.
• Alex Ovechkin had what for him rated a very meh season in last year's shortened campaign with 24 goals and 42 points in 45 games. But when the NHL hit the halfway mark of the season Wednesday, Ovechkin was just one point out of the league lead in both goals (29) and points (58). That puts the 36-year-old in position to join fellow 36-year-old Bill Cook of the 1932-33 Rangers as the oldest player in NHL history to lead the league in both categories in the same season.
Ovechkin is on pace for 54 goals and a career-high 108 points, his highest total since 2010 and outrageous numbers for a 36-year-old. Sure seems energized by the chase to reach Wayne Gretzky's all-time goal record.
• If in the wake of Aaron Dell's brain cramp Tuesday in Ottawa you thought goalies getting suspended for an on-ice indiscretion was rare, you were correct. Until Dell's three-game ban for his foolish interference on Ottawa's Drake Batherson, the last time a goalie was sat down came when Calgary's Jamie McLennan got five games for slashing Detroit's Johan Franzen during the 2007 playoffs. McLennan never served his time because he retired after that season.
• When Tampa Bay goalies Andrei Vasilevskiy and Brian Elliott went on the Covid protocol list last month and prompted recalls from the Syracuse Crunch of the AHL, it also impacted the career of Sweet Home product and former Plattsburgh State standout Jimmy Poreda – as he got a Player Tryout Offer from the Lightning affiliate to join the Crunch.
Poreda didn't play there, but has now transitioned to the Tulsa Oilers of the ECHL. Prior to the stint in Syracuse, the 25-year-old was 9-2-1, 1.75/.939 this season for Knoxville of the Southern league. Poreda was a standout for three years at Plattsburgh, topped a 1.88/.935 season in 2018-19 that earned him second-team all-SUNYAC honors. He is the son of Mike Poreda, the longtime ticket operations director of the Buffalo Bisons since the 1988 opening of Pilot Field.