We got our first in-person look at the Sabres' "butter knives" reverse retro jerseys Thursday night. This corner's initial view when they were unveiled in November was a thumbs up. Give them two thumbs up now after seeing them on the ice.
The crossed swords chest logo from the 2000s-era red alternates is the main focus. Goat head shoulder patches are a nice touch as is "Buffalo" stripped across the bottom. All within the current royal blue, white and gold color scheme.
Previously the Sabres' primary logo from 1996-2006, the "goat head" will be featured this season on each shoulder of the team's reverse retro jersey.
They're a welcome look, not jarring at all. And a nice ode to the franchise's past. That's much the same feeling expressed by Chris Creamer, creator of Sportslogos.net. The Canadian-based website is considered the gold standard in the sports industry for news and views about logos and jerseys for all sports.
"I was surprised they went with that uniform because I almost forgot that existed, but it's a pleasant surprise," Creamer said in a recent phone interview from suburban Toronto. "Retro colors, crossed Sabres logo. Why not bring back from 20 years ago the modernized crossed Sabres logo? I think it looked good. A surprising decision but a good surprise.
"For a team that seems to keep struggling with throwing all the way back – it took them so long to finally go back to royal blue because it's clear they want to push forward and the fans clearly wanted to tug them back to the '70s – I feel this was a good compromise. Modern design, retro colors and fans almost automatically like throwback designs."
The history of the Sabres' uniforms, of course, is a complicated one. And it's one of several stories Creamer and co-author Todd Radom have tackled in their new book, "Fabric of the Game: The stories behind the NHL's Names, Logos and Uniforms."
The 254-page hardcover book is filled with photos and stories of teams past and present. You want the Quebec Athletics of 1919 or the Quebec Nordiques? You can get it. You want the July unveiling of the Seattle Kraken? The book waited for it to get its final chapter in on the NHL's newest team.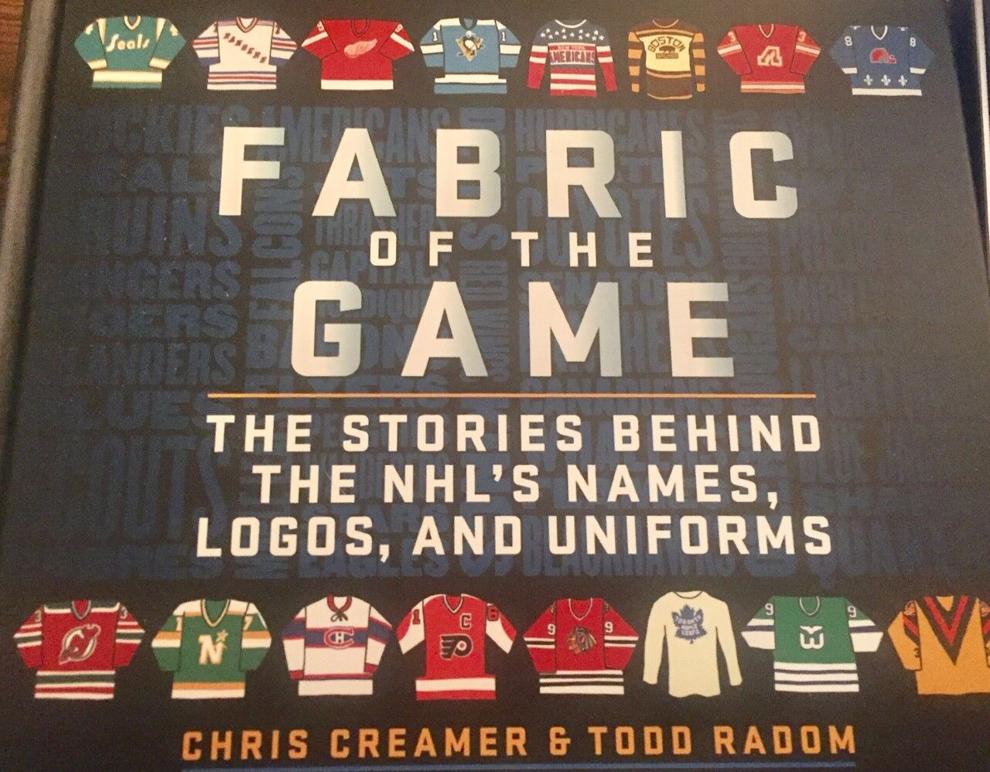 As for the Sabres, the seven-page section is full of information that the average fan might not know and includes a full-page picture of current broadcaster Martin Biron wearing the circa 2007 "slug" jersey with teammates Jochen Hecht and Daniel Briere.
Creamer said he had extensive conversations with Seymour Knox IV, son of the Sabres' late original owner, for the book. One nugget I never knew was that the Knoxes referred to the team's original colors as the "Aurora colors" because they were the colors used on their polo pinnies.
"I think it's great the East Aurora Polo Club is finally represented again," Creamer joked of the team's return to royal. "Its time had come. The fans clearly made it known that royal blue and gold were their colors and their Sabres. The fans had to live through the 'Buffaslug' the yellow jerseys with the blue tape (the Ted Black 'turdburgers'). I feel for these fans. They made their wishes known and the team was ignoring them or telling them, 'No, no, no, you want this.'
"Well, people didn't. They wanted royal blue. Royal gives them a chance to own a color scheme in the NHL."
And what's in the name? Creamer's research showed St. Louis owner Sid Salomon Jr. suggested "Buffalo Buffs" to the Knoxes. Robert Sonnelitter Jr., the winner of the fan contest as one of four people who suggested "Sabres,"  had the alliterative "Buffalo Blades" as his first choice.
Creamer reiterated the story that it was Northrup Knox, Seymour's brother, who advocated changing the spelling of "Sabers" to "Sabres" to give fans from nearby Southern Ontario closer identification with the club.
"As a Canadian, that probably would not have affected our fandom in any way," Creamer said. "But kudos to the Knoxes for acknowledging the other side of the border when it comes to naming this team."
Other names the Knoxes considered: Flashes, Pumas, Hesters, Sky Hawks, Buzzing Bees and Cavaliers. One that surfaced in later years was Bandits, the name of the city's indoor lacrosse team.
"Sabres seems so random for a city in Upstate New York to be named after an old sword. That's what fueled me for this book," Creamer said. "I wanted to know these stories. Teams and leagues have a tendency to try to rewrite history to make stories more interesting and maybe more marketable. I wanted to research the actual origins."
To hockey fans, the sweater is everything, writes Mike Harrington.
The Reverse Retro look has been largely praised across the NHL, gaining huge notice with the Colorado Avalanche's tribute to the Quebec Nordiques worn in last weekend's outdoor game in Lake Tahoe.
"At first I thought it was a money grab," Creamer said. "Throwbacks normally see an old design on players of today that bring back memories. "The idea that they would take that and change the colors and logos defeated the purpose, but then when I actually saw some of the designs, I couldn't deny a lot of them looked pretty good. It was a sort of alternate history if the NHL had them in the 1970s.
"When you do stuff like this, you see some interesting designs. Nordiques, Whalers silver, Kings in Gretzky-era jerseys with Marcel Dionne colors. Overall, I love the idea."
Equipment managers rue lots of jersey combinations because of the need for matching pants, socks and gloves. But the NHL has been taking the plunge more in recent seasons.
"It was time the NHL sort of caught up to the rest of the 21st century here," Creamer said. "Baseball has done five or six jerseys for some teams for 30 years, it seems. You watch an NBA game and you have no idea who you're seeing half the time. I understand why the NHL took so long. I'm glad most teams stayed in their same color family."
A personal favorite of this corner is the Wild's green and gold ode to the Minnesota North Stars. Not every one is a hit, of course. The Maple Leafs' gray on blue with large logo has been widely panned. There are others that don't resonate as well.
"The Red Wings didn't look like they even tried (with an all-white design) and the same goes for the Islanders (who mimicked their 1970s jerseys)," Creamer said. "That's Lou Lamoriello saying, 'No, I'm not having fun.' If it becomes an annual thing like the NBA 'City' jerseys their hands will be tied and they'll have to go to the 2000s-era 'Fisherman' jersey sooner or later."
Creamer said he started the book project in 2017 and held on just long enough to include a chapter with the info behind the naming and logo of Seattle Kraken that were unveiled in July.
"I literally called the publisher and yelled, 'Stop the presses.' I always wanted to do that and I got to do it for real," Creamer said. "I said, 'Stop it, stop it. Make sure you're not printing anything yet. Seattle is coming out with their name and they have to be in the book. Everybody is going to want to know about it.' "
Price not right for new Habs coach
Montreal GM Marc Bergevin moved all his cards to the middle of the table when he fired Claude Julien last week with his team in the middle of a 2-4-2 rut. The first game for new coach Dominique Ducharme wasn't much better, as a 3-1 lead against Winnipeg turned into a 6-3 loss.
Bergevin is clearly in the crosshairs now in Montreal, and he won't escape the attention if he doesn't start getting saves from Carey Price.
The loss in Winnipeg was another rough night for Price, who fell to 1-4-1 in his last six games – with a 3.49 goals-against average and .870 save percentage in that stretch. He's going to get extra time with goaltending coach Stephane Waite.
"Carey will have the time to practice, to work with Stephane over the coming days, before playing again," Ducharme said after practice Friday, announcing that Jake Allen will be his starter for now.
Price has a 3.13 GAA and .888 save percentage for the season.
"Maybe I'm overthinking things," Price said after Thursday's game. "That's all I've got for you,"
Group howls for Coyotes comebacks
Arizona became the eighth team in NHL history to overcome a three-goal deficit in consecutive games, doing so Monday and Wednesday to Anaheim.
The last team to do it? The Sabres, who roared back from 3-0 deficits to beat Pittsburgh (4-3) and Atlanta (4-3 OT) on Dec. 29, 2009, and Jan. 1, 2010.
The Coyotes, by the way, became the first team to do that against the same opponent since Quebec stunned Hartford in 1983. The rally in Thursday's game prevented Ryan Miller from winning his 389th game and tying Dominik Hasek for 14th on the all-time list.
• Chicago's Jeremy Colliton is going to rate plenty of coach of the year votes at this rate. The Hawks entered the weekend 11-3-4 after an 0-3 start and with a better points percentage than teams such as St. Louis, Dallas and Pittsburgh.
• If Auston Matthews has been dealing with a wrist injury all season, just imagine how he would be playing if he were healthy. The Leafs' sniper entered the weekend with 18 goals and 31 points in 20 games. We should all be so injury-riddled.
• Pretty amazing job by the NHL to get the Covid protocol list down to four players. Entering the weekend, Philadelphia's Travis Konecny, Ottawa's Ryan Dzingel, San Jose's Tomas Hertl and Kaapo Kakko of the New York Rangers were the only players listed.
The league acted quickly with Hertl's situation, shutting down the Sharks' facility and postponing a game with Vegas. There has been a lot of new thinking since the Sabres/Devils fiasco.
• The Stars had the start to their season delayed by Covid and then had four consecutive games canceled last week by the winter storm that sparked the power crisis in Texas. It's left them with 43 games in 76 days, including an incredible 10 back-to-backs. Dallas and New Jersey entered Friday having played an NHL-low 15 games. Eighteen teams had played at least 19 games, and eight teams had played 21 or more.
Said Dallas coach Rick Bowness: "Hockey is not meant to be played four [games] in six [nights], let alone what we're going to do. I've never seen anything like this. I hope I never see it again. This is going to be incredibly taxing on our players. ... When you look at that schedule, I see injuries written all over it."
• Old friend Lindy Ruff, when asked by New Jersey reporters if the compressed schedules of his Devils and the Sabres are fair: "My dad used to tell me fair is something you go to in the summertime and get on a ride. So I'll leave it at that."