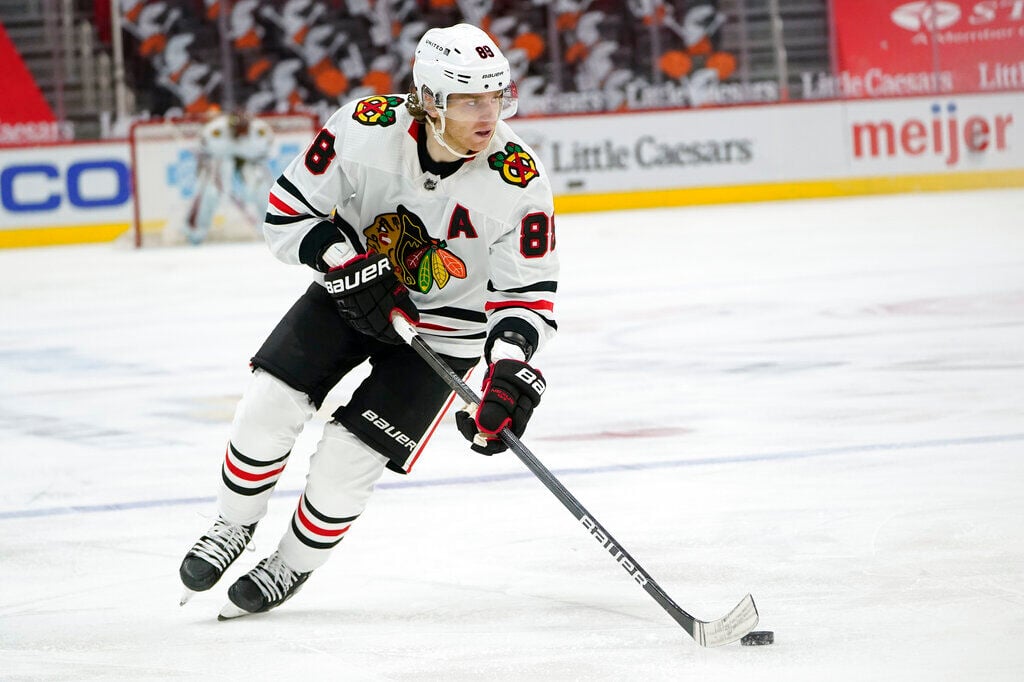 Barring an injury or a sudden Covid-related postponement, Patrick Kane is expected to play his 1,000th NHL game for the Chicago Blackhawks on Tuesday night in Dallas. At age 32, the South Buffalo native is as good as he's ever been and has thrust himself into the thick of the race for the Hart Trophy.
If this corner was voting today, the top three in the Hart race would not include Connor McDavid. In some order, they would be Kane, Toronto sniper Auston Matthews and Tampa Bay goalie Andrei Vasilevskiy (goalies should get more MVP love). Matthews and Vasilevskiy have been spectacular for teams expected to be strong, but Kane has lifted a team that was expected to be where the Sabres are into a strong position in the Central Division.
Heading into Sunday's matinee against Tampa Bay, the Hawks are just three points behind the first-place Lightning for the top spot in the division after going 1-0-1 against them in the first two games of their current three-game set. Chicago is also six points ahead of Columbus in the battle for the final playoff spot.
Kane enters Sunday with 11 goals and 37 points in 25 games – that would be a 121-point pace for a full season. He started the weekend second in scoring in the NHL to McDavid (40) and tied with McDavid for the league lead in assists (26). And he's the kind of leader his young teammates have needed, especially this year with the season-long absence of captain Jonathan Toews.
At 1,059 career points, Kane is seventh in scoring among American players, and Brett Hull's record of 1,391 seems easily in reach. 
In his 14th season, Kane is fourth in Blackhawks team history with 1,056 points. 
"The biggest thing is once you start reaching these type of milestones — 400 goals and 1,000 games coming up — it leaves you wanting more," Kane said after scoring No. 400 of his career on Feb. 28 against Detroit. "It's exciting to achieve them and nice to have these types of milestones. Probably means I've played a while, but I just think you just want to keep getting better."
Jeremy Colliton is suddenly a coach of the year candidate after coming into the season with many Hawks fans wondering how long he might last. While Kane's production has obviously helped, he has also fostered a buy-in to the coach's plan from the young players in the dressing room. When the top players show belief in the coach, the rest of the room follows.
"His production is better than ever, but to me, it's all about the work ethic away from the puck," Colliton said. "That type of team-first mentality, that's what we're trying to build here so we can have long-term success. Not only is he doing it, but he's encouraging other guys to do it."
The Hawks, remember, are doing their work this year without their top three centers in Toews, Kirby Dach (broken wrist at World Juniors) and Dylan Strome (concussion), so they have to feel good about the direction of their franchise after winning just one playoff series since their 2015 Stanley Cup championship.
Kane will be the seventh Chicago player to reach 1,000 games and he's not slowing down a bit. He has two years left on his eight-year, $84 million deal he signed in 2014. It's hard to imagine player and team not coming back for more.
• The Sabres desperately need a president of hockey operations and former Pittsburgh GM Jim Rutherford is the kind of candidate to fill that bill, but it seems like a non-starter.
Terry Pegula wants a direct line to the GM and the organization foolishly doesn't believe in the model of a hockey president. That has been made even more clear since Kim Pegula was named team president in May 2018.
"Now the GM needs to do something – anything – to fix a team that is nothing short of disgraceful," writes Mike Harrington.
But why should we worry? Remember last spring how Kim Pegula said Jason Botterill was being retained because she had more information than the fans and there were "some inner workings we see some positives in"?
Of course, Botterill was gone a few weeks later when the four-month delay in the draft allowed her time to pivot. Her team, her choice. But do you think Rutherford would work for the people who did his old assistant dirty like that?
• GM Kevyn Adams to reporters Friday: "We just need to have a better identity as a group." Reaction: A better identity? How about some identity? Right now, this team has absolutely none.
• Adams took no excuses Friday, but the one he had some rope on was the Sabres' division. The East is truly insane. The Sabres have 34 games left entering Sunday – and 16 of them are against Boston and Pittsburgh. There's also 10 left against the trio of the Islanders, Philadelphia and Washington, against whom the Sabres were 2-10-1 heading into Saturday's game on Long Island.
Maybe Lindy was the move in '19
The quest for an elusive Stanley Cup has never left Lindy Ruff's mind. He has a long road to get there with the New Jersey Devils, but he's just grateful to at least have the chance.
When the Flames replaced Geoff Ward as coach with Darryl Sutter late Wednesday night, they were bringing back a former coach of their franchise. Just like Dallas did with Ken Hitchcock and Montreal did with Claude Julien.
In the wake of Ralph Krueger's struggles, it sure seems like Botterill – and by extension the Pegulas – should have given Lindy Ruff more of a look than they did in 2019 when they instead went out and hired Krueger. Ruff wanted the job, too, as he told WGRZ-TV in an interview that spring surrounding the 20th anniversary of "No Goal."
Until their Covid outbreak and an injury to captain Nico Hischier seemingly sucked the life out of their offense, the Devils were off to a surprising 6-3-2 start. They were just 1-7 heading into Saturday's game against the Rangers.
Speaking of Sutter, the Calgary move comes off as a desperation ploy by GM Brad Treliving to save his job similar to what Marc Bergevin pulled in Montreal by installing Dominique Ducharme. The Flames are small and soft, hardly the mold of a Sutter club.
Flames captain Mark Giordano on the Sutter hiring: "If you're not going to listen to a guy who is a proven winner like that, you shouldn't be in the game. We all respect him. We all know what he's going to bring. He's going to bring that intensity, and we're looking forward to it."
Hornqvist roars for Panthers
The Penguins' 2016-17 Cup wins over San Jose and Nashville were triumphs of speed, but they had some bulk, notably winger Patric Hornqvist. Pretty easy to think new president Brian Burke wishes Hornqvist – who scored the 2017 Cup-winning goal in Game 6 in the Music City – was still on the team providing truculence and not in Florida, where he was traded in September.
At 34, Hornqvist has done a great job in Florida, with nine goals and 19 points in 22 games. Rutherford opted to move on from him in Pittsburgh. Bad move. Joel Quenneville & Co. have taken advantage as the Panthers have been pushing for the top spot in the Central Division.
"I came in here as fresh blood," said Hornqvist, an eight-time 20-goal scorer who dropped to 17 last year in Pittsburgh. "And I'm going to show everyone I can keep playing and be effective out there."
• St. Joe's product Dennis Gilbert, now with Colorado, was added to the Covid-19 protocol list Friday. Gilbert, with no points in three games for the Avs, is on the injured list for 4-6 weeks after facial surgery. He was injured in a fight against Vegas' Keegan Kolesar on Feb. 16.
• Chicago and Tampa Bay played two straight sizzling overtime periods Wednesday and Friday. The Lightning won Thursday's game on Alex Killorn's deflection of a Victor Hedman shot that crossed the line with one-tenth of a second left, while Chicago took Friday's game in a shootout – after the OT began with ping-ponging 2-on-1 breaks over the first two minutes. Might be the best 3-on-3 session this corner has ever seen.
• If you're looking for a team that might have a scheduling advantage in the East Division, it seems to be Pittsburgh. That's because the Penguins have 16 of their remaining games against the Sabres and New Jersey.
Entering the weekend, only four divisional matchups remain that haven't been played this season. One is Buffalo-Pittsburgh, which opens here Thursday night, and another is Buffalo-Boston (opener here March 18). Also yet to start are the Penguins-Devils series and Minnesota vs. St. Louis.
• Ryan O'Reilly's mother, Bonnie, is recovering from surgery Wednesday in London, Ont., after donating a kidney to a family friend, Graham Nesbitt, 65. He was the manager of the local arena in Seaforth, Ont.,. where O'Reilly and his brother, Cal, skated as kids.
The St. Louis Blues tweeted a picture of Nesbitt and Bonnie O'Reilly giving the thumbs up from adjacent hospital beds after the surgery and Graham's wife, Pam, expressed her gratitude Thursday on Facebook.
"From our family to you and yours Bonnie, thanks for the gift of a lifetime," she said. "Your selfless act means more than you'll ever know."
We want to say get well soon to Bonnie O'Reilly, who is recovering from surgery today after donating a kidney to a family friend.That friend would often open the town rink early so Ryan and his brother, Cal, could skate when they were kids.Way to go, Bonnie! #stlblues pic.twitter.com/3MFSMhAyJy

— St. Louis Blues (@StLouisBlues) March 4, 2021