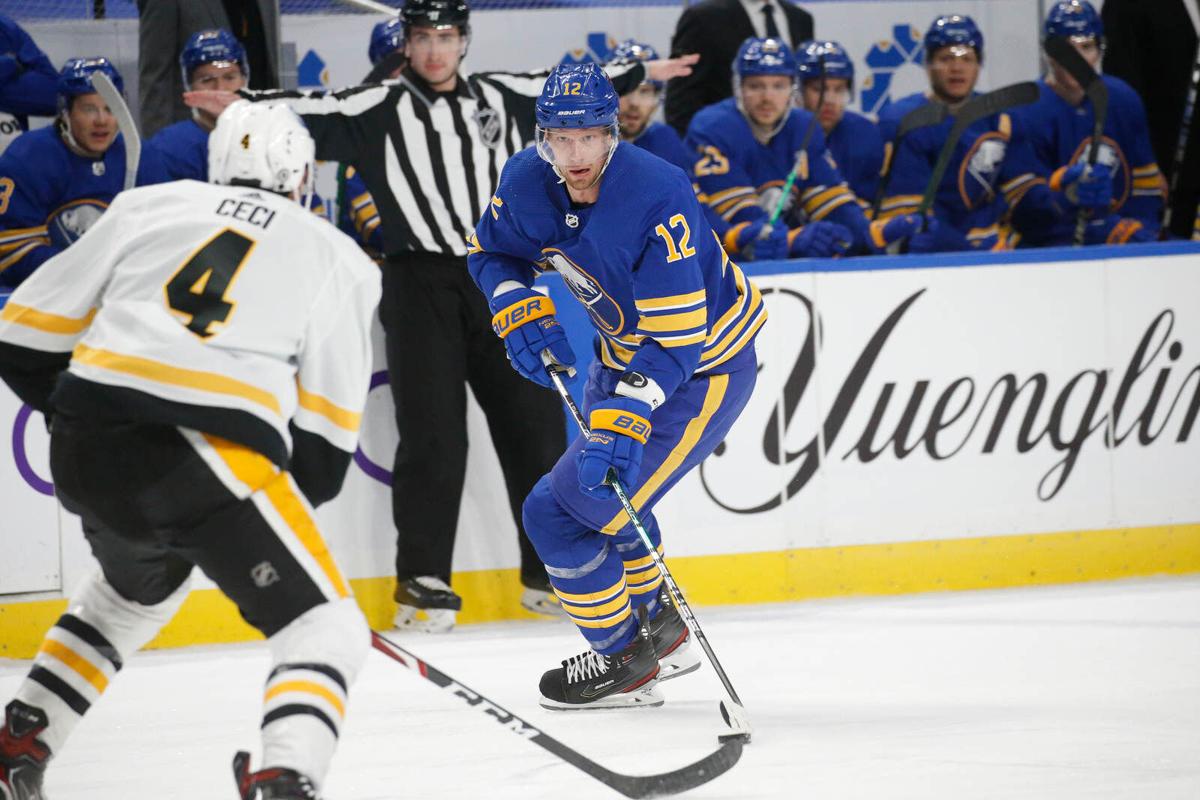 BOSTON – Trading goaltender Jonas Johansson to Colorado last weekend was just a sneak preview at what was to come. Sabres General Manager Kevyn Adams moved on to some feature presentations Friday.
Getting a big jump on the April 12 NHL trade deadline, Adams sent veteran center Eric Staal to the Montreal Canadiens for a third- and fifth-round pick in the 2021 draft. Buffalo also retained half of Staal's $3.25 million cap hit.
Staal played 19 minutes, 14 seconds in Thursday's 4-0 loss at Pittsburgh and it was one of his better performances in recent games as the Sabres continue to muddle through their franchise-record 16-game winless streak. When he did not practice here Friday in advance of Saturday's game against the Boston Bruins, antennas were raised.
Word circulated that Sabres players had said their goodbyes in the dressing room, a fact that winger Kyle Okposo confirmed.
"Found out about 'Staalsie' right before practice and just got off the ice to go wish him well," said Okposo. "He's a character guy. He's a really good person. He's a good man. He's had a heck of a career to date. And he's gonna continue to play well, so wish him nothing but the best."
The 36-year-old former Stanley Cup champion is trying to make the best of an increasingly challenging situation.
"He's been unbelievable," defenseman Brandon Montour added when asked about Staal's presence in the dressing room. "I think you can see his passion. Obviously, he's experienced everything he can as a player and all the success that he's had. Even in his downtime here he always came in with a positive mindset. Always a great guy to even just lead the younger guys onward."
Acquired in a September trade with Minnesota, where he was coming off a 19-goal, 66-point season, Staal's production went bust with the Sabres. He didn't score in his final 23 games and finished with just three goals, 10 points and a minus-20 rating.
And this comes from a player who had been a 20-goal scorer 10 times in his career.
"Clearly, in my mind, I had envisioned things differently coming here, and it just hasn't come to fruition and it hasn't lived up to those thoughts," Staal said last week. "I think that's for sure been challenging, that's been difficult, but that's still no excuse. It doesn't matter. I have more pride in myself, what I can do in this league, what I can do on the ice."
Staal and Adams were teammates on the 2006 Stanley Cup champion Carolina Hurricanes and Staal's experience and playoff pedigree made him intriguing to teams as a rental. Earlier this month, TSN pegged Edmonton as a possible destination for the unrestricted free agent, but Staal reportedly was not keen on the 14-day quarantine required of players heading into Canada.
CBC reported Thursday that the Canadian government is willing to drop that to seven days and Adams moved quickly. So did Staal, who waved a limited no-trade clause to accept a deal to the Habs.
"The professionalism Eric displayed during his time with the Sabres was felt by everybody in our organization from top to bottom," Adams said in a statement. "I know his leadership and demeanor were valued by our players, coaches and staff, and Eric's impact on our young players is obvious. It was a pleasure to be around Eric again and I wish him and his family all the best."
The trading of Staal is just the first big, um, skate to drop for the Sabres. Winger Taylor Hall has a no-trade clause but quickly answered, "Yeah, sure," when asked Thursday if he would drop it and accept a move.
The Sabres would likely need to retain as much as half of Hall's $8 million cap hit to facilitate a deal for him. Pierre LeBrun of TSN and the Athletic said Friday that Adams is shopping around trying to get a first-round draft pick for Hall, the 2018 Hart Trophy winner as league MVP.
Montour, another UFA, could be an intriguing rental for teams looking for blueline help.
"I can only control being on the ice," Montour said. "I'm not my agent or the GM. I think everybody knows I'm a UFA at the end of the year. Teams could be calling, could not be calling. That's not my decision. If I'm wearing a Buffalo Sabres jersey or whatever jersey, I'm a player and my job is to go on the ice, so that's all I'm focused on."
Forwards Tobias Rieder and Riley Sheahan, defenseman Matt Irwin and goaltenders Linus Ullmark and Carter Hutton are all pending UFAs. Both goalies have been injured but Ullmark practiced again Friday and it's possible he gets the call here Saturday.
With that bevy of players and perhaps others as well, there's no shortage of plot lines Adams can write the next 2 1/2 weeks.