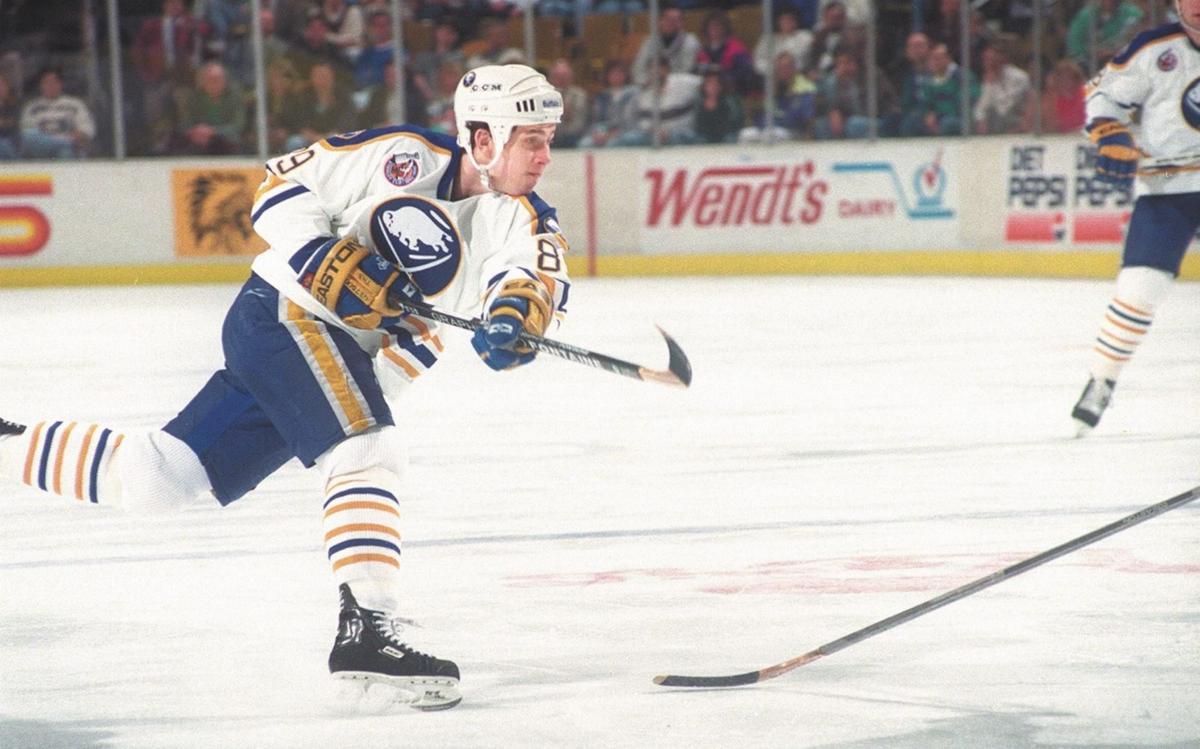 After what was a difficult 50th anniversary season, perhaps the Buffalo Sabres will finally get the dose of good news they've waited many years to hear on Wednesday.
In his 11th year of eligibility, former Sabres winger Alexander Mogilny is one of the top candidates for selection to the Hockey Hall of Fame. The Hall's latest class will be announced at 4:30 p.m. on a show streamed via TSN.ca through NHL Network.
Mogilny, of course, is best remembered for his clandestine defection from Russia to Buffalo through Sweden in 1989 and for his 76-goal season playing on Pat LaFontaine's wing in 1992-93. It's a franchise record considered untouchable; next on the club's single-season list is Danny Gare's 56 goals in 1979-80.
Mogilny's 76 goals remain tied for fifth in a single season in NHL history. Mogilny and Winnipeg rookie Teemu Selanne, a 2017 Hall inductee, tied for league's goal-scoring lead in '93 – and no one has scored 70 goals since.
The continued snub of Mogilny is one of the most talked-about exclusions to the Hall these days.
Despite a 1,032-point career, it appears one reason Mogilny doesn't get rubber-stamped is that he didn't hit the magic 500-goal mark in the regular season, with his 39 playoff goals giving him a combined total of 512. But he surely would have had more than 473 goals were it not for three consecutive injury-plagued seasons in Vancouver in the late '90s when he played less than than 60 games in each one.
"There's absolutely no doubt to me," former Sabres General Manager Gerry Meehan, who orchestrated Mogilny's defection, told The News last October. "Five-hundred goals, 1,000 points, Stanley Cup, international play. Leading goal scorer in the league. Why is he not in? It's hard to understand."
Other chatter centers around his reclusive nature, with the Hall committee rumored to be concerned Mogilny would ignore his selection and not travel from Russia to participate in induction ceremonies (it should be noted the Hall has made no announcements about its plans for this year's scheduled November events). Mogilny, for instance, did not acknowledge or return to Buffalo for his 2016 induction into the Greater Buffalo Sports Hall of Fame.
Mogilny, now 51, is president of Amur Khabarovsk in the KHL. His defection was a benchmark moment for Russian hockey players to come to North America, and many followed his lead to build standout careers. His 127 points in the '92-93 season were an NHL record by a Russian until Tampa Bay's Nikita Kucherov posted 128 in 2018-19. The 127 total is second in Sabres history to LaFontaine's 148 points the same year. Mogilny also served as Sabres captain during the 1993-94 season, a first in the NHL by a Russian.
Mogilny won his lone Stanley Cup in 2000 with New Jersey and was a 43-goal scorer for the Devils in 2000-2001, the year they lost in Game 7 of the Cup final at Colorado. Prior to his own induction in 2018, former Devils goaltender Martin Brodeur stumped for Mogilny's candidacy.
"He's a guy that's worthy of being in the Hall of Fame, and I think one day he will get to the Hall," Brodeur said. "Alex was a great teammate. He was not like a lot of the Russian guys. He really wanted to come to America and be playing in the U.S. He was almost a scratch golfer and really became almost a typical American guy, just with a Russian name."
Mogilny faces plenty of competition to enter the Hall, as the 18-member selection committee is limited to electing no more than four former men's players. The vote will be done remotely for the first time because of the pandemic, with some voters who live in Toronto attending the meeting at the Hall and the rest of the committee participating via video conference.
Former Calgary winger Jarome Iginla is considered a lock in his first year of eligibility, and winger Marian Hossa, a three-time Cup winner with Chicago, is also a good bet to be selected.
Mogilny is on the next tier of candidates that include ex-Ottawa captain Daniel Alfredsson, former Carolina captain and current Canes coach Rod Brind'Amour, longtime defenseman and current San Jose GM Doug Wilson, as well as wingers Patrik Elias and Theo Fleury. There is also a backlog of goaltenders, and former Sabres No. 1 draft pick Tom Barrasso, a two-time Cup winner in Pittsburgh, is among that group.
Up to two women can be selected, and the top candidate appears to be former Canadian Olympic star Jennifer Botterill, the younger sister of recently deposed Sabres GM Jason Botterill.
Jennifer Botterill, 41, was a three-time Olympic gold medalist for Canada (2002, 2006, 2010). At Harvard, she was the first player to win the Patty Kazmaier Award twice as the top player in U.S. women's college hockey. She scored 319 points in her career and would be the sport's all-time collegiate scoring leader, except for the fact women's hockey was not sanctioned by the NCAA in her first two seasons.
She currently works as a motivational speaker and as a television analyst for the New York Islanders.
Be the first to know
Get local news delivered to your inbox!