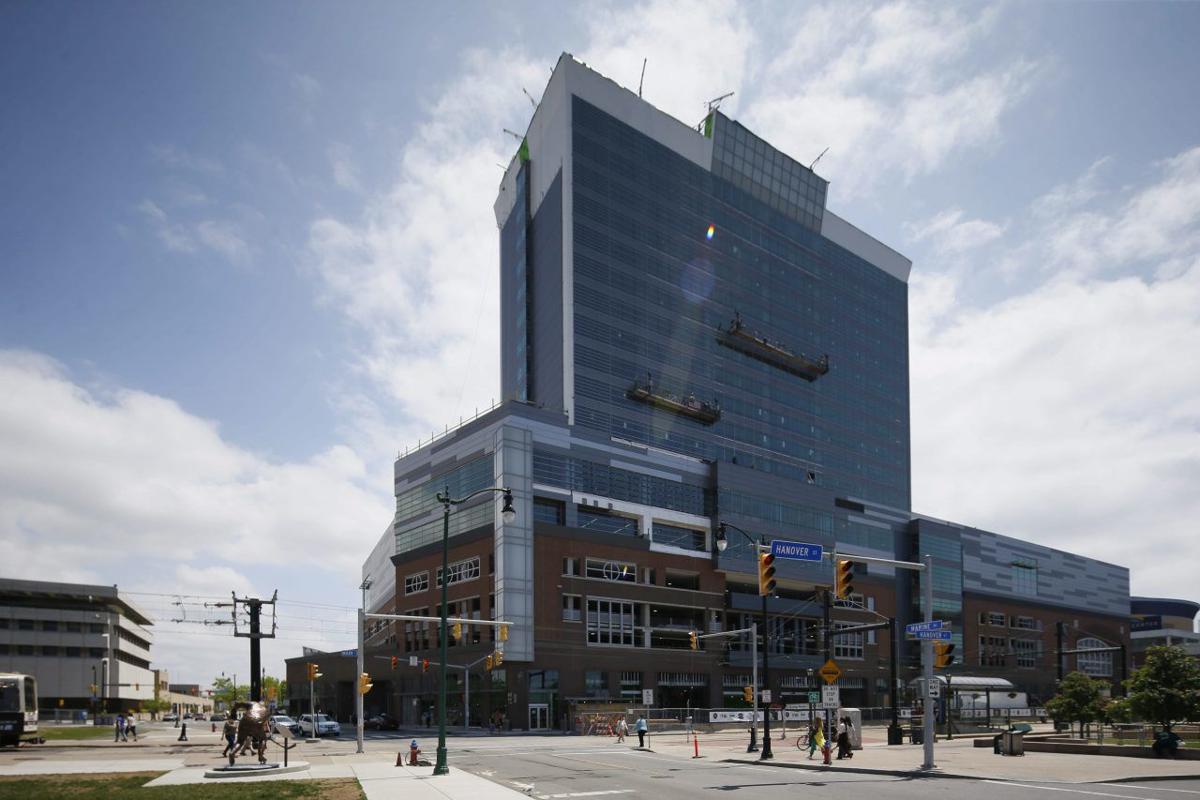 Hockey is returning to LECOM Harborcenter for the first time since Pegula Sports and Entertainment closed the facility in response to the coronavirus pandemic in March.
Jason Long, the LECOM Harborcenter general manager, said ice will be installed on Rink 1 in time for a "soft opening" Monday. The same process will be completed on Rink 2 by the following Monday.
For now, the facility will only be used by Canisius' men's hockey program, the Buffalo Jr. Sabres and any Buffalo Sabres players wishing to skate ahead of their training camp, which could begin as early as November.
Long said that he and his staff established Oct. 5 as a tentative date to expand operations, though all reopening plans hinge on guidelines laid out by the state and Gov. Andrew Cuomo, who is expected to provide an additional update next month.
"Right now we're just taking it week by week, but I think we're going to sit down and evaluate after these first two weeks, and right now I have October 5 as a date we want to look at to maybe ramp up a little bit more," said Long.
Though some ice rinks in the area opened in early July, LECOM Harborcenter remained inactive while Long and his staff monitored when the facilities partners, particularly Canisius and the Buffalo Jr. Sabres, would be able to resume on-ice workouts.
Canisius has played its home games at the facility since it opened in 2014, but it's unclear when the Griffins' season will begin. The 11 Division I men's and women's ice hockey conferences, including the Atlantic Hockey Conference featuring Canisius and Niagara, announced Thursday a delayed start to the season. Each conference will announce its restart plans at a later date.
The Buffalo Jr. Sabres, meanwhile, will have one less team in 2020-21 because border restrictions will prevent the organization from competing in the Ontario Junior Hockey League. Some of the Jr. Sabres teams have been skating at Northtown Center.
The New York State Public High School Association's Section VI has yet to formalize its schedule because some local rinks have been closed, including LECOM Harborcenter.
The mixed-use facility – which features a Marriott property, other hospitality entities and a parking garage – presents different challenges when it comes to establishing safety protocols because there are multiple points of entry, but Long noted his staff's preparedness is in a "really good place."
The extended absence was not related to any necessary repairs, Long said. The Athletic, citing sources, reported in July that the boards in a LECOM Harborcenter rink were permanently damaged in March when staff failed to properly monitor the HVAC system after the ice melted.
However, Long said Thursday that cosmetic sheathing covering the boards in Rink 2 appeared to be warped because of the temperature change, but he deemed that the rink would have been "playable" if ice were added. Previously scheduled maintenance has been done on Rink 2 during the closure, including new panes of glass and a kick plate.
"There was no damage done to the boards and Rink 2 was still playable," Long said. "I imagine there was just some confusion. ... There was no damage done. As a matter of fact, we planned on doing updates and maintenance to Rink 2. We already had the materials and we were updating the rink anyway. We're actually on a rotating basis as far as Rink 1 and Rink 2, what we do to update. Really to maintain the high standard of quality people expect when they come there. The guys are doing a great job getting that all in place right now."
When the Toronto Blue Jays were evaluating Buffalo as a potential host city for the pandemic-shortened season, PSE presented a plan for the team to use LECOM Harborcenter as an additional training facility. The Blue Jays opted to instead build temporary facilities at Sahlen Field.
It's unclear if any Sabres will use LECOM Harborcenter anytime soon because most of the players do not live in the area. NHL training camps are tentatively scheduled to open Nov. 17, though the seven nonplayoff teams, including the Sabres, might be awarded an earlier start date. It's also possible camps and the start of the season will be delayed while the NHL waits for fans to be able to attend games.
"I think it's more a feeling of relief that we're finally heading in a direction that we're going to be in the building a little bit more often and you're going to see more activity," Long said of LECOM Harborcenter's opening. "It's been a long time and we're pretty excited to get going and to see some activity."
Be the first to know
Get local news delivered to your inbox!