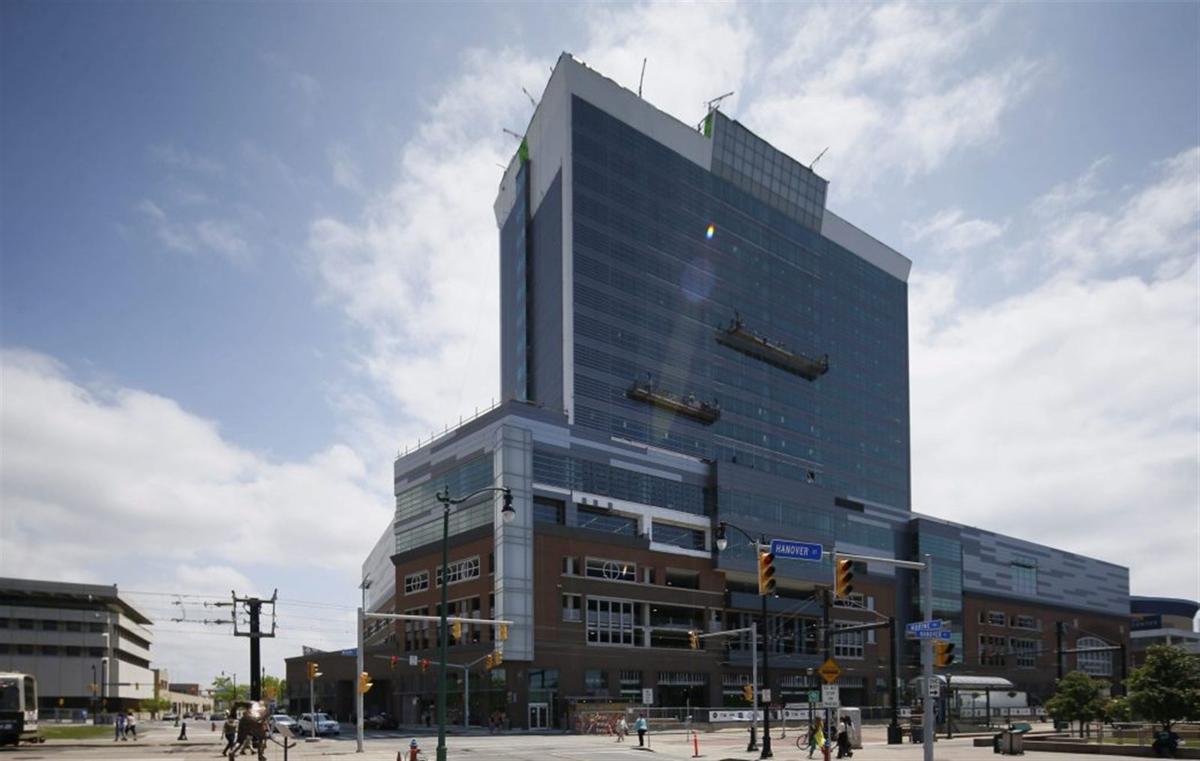 When the Toronto Blue Jays were unsure whether they had a home for the pandemic-shortened Major League Baseball season, their assistant general manager, Joe Sheehan, sought help from the professional team they'll now call a neighbor.
Sheehan asked a mutual acquaintance to contact Kim Pegula, co-owner and president of Pegula Sports and Entertainment, about the Blue Jays using the Sabres' KeyBank Center and LECOM Harborcenter as off-site training facilities if the baseball team needed to move its operations from Toronto to Buffalo's Sahlen Field.
Sheehan was trying to form a contingency plan in the event the Canadian government barred the Blue Jays from hosting 30 games in Toronto's Rogers Centre. While Sahlen Field was built to host a professional team, the facility's clubhouses, batting cages and workout areas did not meet MLB standards.
Pegula saw the Blue Jays' potential temporary relocation as an opportunity to lift Buffalo's economy and on July 6, she connected Sheehan with Mark Preisler, an executive vice president at PSE. Thus began a collaboration in which the Sabres and developer Douglas Jemal, owner of Seneca One tower, offered accommodations such as housing and areas to train.
The Blue Jays learned last week they could not play home games in Toronto and the players' desire for an MLB facility led to failed attempts to share ballparks in Pittsburgh and Baltimore.
Finally, hours before the Blue Jays opened the season Friday in Florida, the team announced its intent to play as many as 28 of 30 home games in Buffalo.
"Kim basically said to us, 'Figure out a way to help these guys because it would be great for the community if we can get them here,'" Preisler said.
As the Blue Jays awaited word on their home field for the season, a contingent of team employees arrived in Buffalo on July 19 to tour KeyBank Center and Harborcenter. Neither facility has ice installed and they haven't hosted games or practices since the coronavirus pandemic halted professional sports March 12.
Preisler; Ron Raccuia, executive vice president at PSE; Mike McFarlane, PSE's vice president of finance and administration; Jason Long, general manager at Harborcenter; and Stan Makowski, Jr., the Sabres' vice president of arena operations, were tasked with building a proposal to accommodate the Blue Jays. 
The Sabres created a similar plan this spring when the NHL explored the possibility of finishing its regular season in multiple cities around North America. The NHL eventually canceled the regular season and will host its 24-team return-to-play format in Toronto and Edmonton.
"The Sabres have been great. We spent some time looking at their facilities," said Mark Shapiro, the Blue Jays' president and CEO. "They're very close (to the ballpark). I'm not sure whether we will push the button on that, but we have toured that, we know exactly what's there and it's certainly an alternative and option to support what's in Buffalo."
PSE presented the Blue Jays with a plan in which the locker rooms in Harborcenter would be converted into clubhouses and batting cages, and pitchers' mounds would be installed on the facility's Rink 2. The Blue Jays would also have access to meeting rooms and IMPACT Sports Performance's 5,000-square foot training facility on the sixth floor.
"We really thought Harborcenter is where it would work for them," Preisler said. "We never gave up and the Blue Jays figured out a way to make this work. I think they're going to be very happy here."
The proposal offered the Blue Jays major-league training areas close to Sahlen Field and Buffalo Marriott at Harborcenter. Players would be able to follow social distancing and those areas of the facility could be sealed off from the public, or possibly Sabres players, when they return.
The Bisons were also consulted in how to successfully host an MLB team.
"It was perfect because we have such a good working relationship with them already, both personally and professionally," Raccuia said of the Bisons. "They think like we do that this is going to be great for the community. We could all use this and how can we help each other. Mike Buczkowski (president of Rich Baseball Operations) was fantastic throughout this whole thing and he deserves a lot of credit for this actually coming to fruition.
"He never gave up on this and they kept working and working. We partnered with them and said, 'What do you need us to do?' We stayed in touch throughout the process. We tweaked things where we could tweak them and they're here now."
The Blue Jays' representatives arrived while it was raining in Buffalo and raised concerns about transportation from Harborcenter to the ballpark on game days. Social distancing could be difficult to maintain if players traveled by bus or car.
PSE then connected Sheehan with Jemal, whose 38-story Seneca One tower stands across the street from Sahlen Field and features 120 apartments. Jemal and Paul Millstein, vice president and head of development for Douglas Development, offered to furnish the apartments to house players and proposed areas that could be used for individual changing rooms.
The mixed-used complex remains under construction and will feature retail stores, restaurants and technology-fused office space. Jemal offered to allocate his resources to finishing any areas of the building that could be used by the Blue Jays. 
Although the Blue Jays have not revealed their plans for player and staff accommodations, Jemal expects the team to use some of the building's apartments. He also offered the team's broadcast partners access to areas overlooking the ballpark and views the Blue Jays' arrival as an opportunity to showcase the city.
"I'm ecstatic," Jemal said. "Everything is positive with this. I love baseball. It's America's pastime and I love the fact they're playing on our field. I love the fact they're playing right downtown, on Seneca Street and Main Street, in the heart of our city. Any cooperation whatsoever that Seneca One can give them, we offered it. ... 
"I'll do whatever we need to do to make this possible. Everyone is talking about Buffalo, the Blue Jays coming to Buffalo. This is what we need. All these positive things are going to be talked about."
Since the Blue Jays could be playing in Buffalo as soon as Friday against Philadelphia, there is little time to relocate equipment, in-game sponsorship elements and other materials to Sahlen Field. The team has also begun significant work on the ballpark.
Stadium lighting will be upgraded for MLB field and TV specifications. Clubhouses, weight rooms and training rooms will be repurposed to promote social distancing. Additional batting cages and training areas will likely be created in stadium concourses. Auxiliary dugouts will be built to supplement existing ones. The Blue Jays could also relocate the bullpens from foul territory to behind the outfield fence.
Those significant modifications likely rule out the Blue Jays using a Harborcenter rink as a main training ground, but PSE has extended an open invitation to its new neighbors in Buffalo.
"Whatever they need," Raccuia said. "That's what we're here for. Any way we can help. That's the beauty of Harborcenter. It's so multi-dimensional that with this opportunity you can pivot on a dime and create an environment that a Major League Baseball team is looking for during this unprecedented situation."