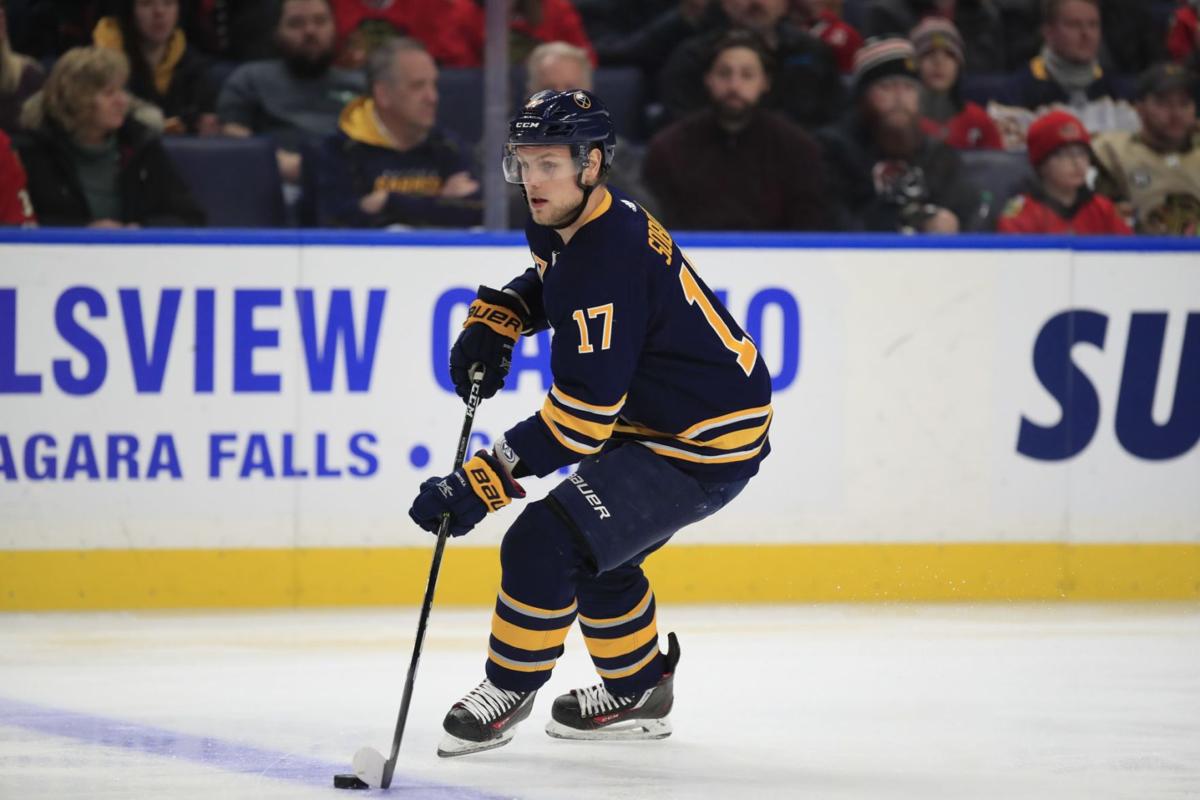 At the beginning of the offseason nearly four months ago, the Buffalo Sabres were equipped with enough salary cap space to sign Jeff Skinner to a long-term contract and supplement the roster through trades or free agency.
Now, with training camp five weeks away, Sabres General Manager Jason Botterill must find a way to create more cap space. Signing restricted free agents Linus Ullmark and Jake McCabe over the weekend put the Sabres more than $1 million over the cap ceiling for the 2019-20 season.
The team has until the season opener to become cap-compliant, which could mean clearing multimillion-dollar contracts because it will require enough space to account for in-season call-ups from Rochester and $3.7 million in potential performance bonuses. The Sabres also will likely want additional room in the event they add at the trade deadline.
Botterill has a few options to clear salary, outside of placing someone on long-term injured reserve or attempting to move one-way contracts to the American Hockey League.
The first is utilizing the offseason's second buyout window, which opens for 48 hours beginning on the third day after the settlement of the Sabres' final arbitration case. Since Ullmark and McCabe avoided an arbitration decision Saturday, Buffalo's window will open Tuesday and it has at least two possible buyout candidates: center Vladimir Sobotka and defenseman Marco Scandella.
Sobotka, who will be an unrestricted free agent next offseason, had five goals among 13 points in 69 games with the Sabres last season and might be the odd man out after the team added two additional forwards this offseason.
Using a buyout on Sobotka would save the Sabres $2 million of cap space in 2019-20, though they would need to carry a $1 million cap hit for him in 2020-21, according to CapFriendly.com.
A buyout of Scandella, meanwhile, would save the Sabres $3.166 million in cap space this season, while they would add a $1.583 million hit for 2020-21. Botterill is in position to add salary for the following season because he has a number of expiring contracts.
However, he is not a fan of using buyouts. This is the first of four seasons in which former Sabre Cody Hodgson will count $791,667 against the team's salary cap, the result of a buyout in June 2015 under the previous front office.
Botterill is likely trying to clear cap space by offering players in trades.
Sobotka likely has little value after his performance last season, but Scandella and Matt Hunwick, who is owed $2.25 million this season, could draw some interest from teams in need of blue-line depth. Trading either player would not address the Sabres' surplus of right-shot defensemen, though.
After acquiring Henri Jokiharju from Chicago, the Sabres have six on their depth chart: Jokiharju, Rasmus Ristolainen, Colin Miller, Brandon Montour, Zach Bogosian and Casey Nelson. Ristolainen has been the subject of trade rumors for months and seems to be the player most likely to be dealt. However, the Sabres would likely be seeking a top-six forward and such an acquisition would likely offset Ristolainen's $5.4 million cap hit for 2019-20.
The Sabres could try to buy some time until they can trade Bogosian, who is expected to miss the start of the season after undergoing hip surgery this offseason. Bogosian is set to count $5.14 million against the cap in the final year of his contract and should draw interest from other teams once he is healthy. Realistically, the team would likely have to wait until February's trade deadline to deal Bogosian's contract, which does not address their current cap concerns.
Botterill managed to add Miller, and wingers Jimmy Vesey and Marcus Johansson, this offseason without unloading a player from the NHL roster. Though the moves added scoring depth and a capable defenseman, the Sabres now have a surplus of players on the roster and too many non-entry-level contracts.
Their hope was to add competition for next month's training camp; however, Buffalo's roster will likely look different when players finally take the ice in Harborcenter.