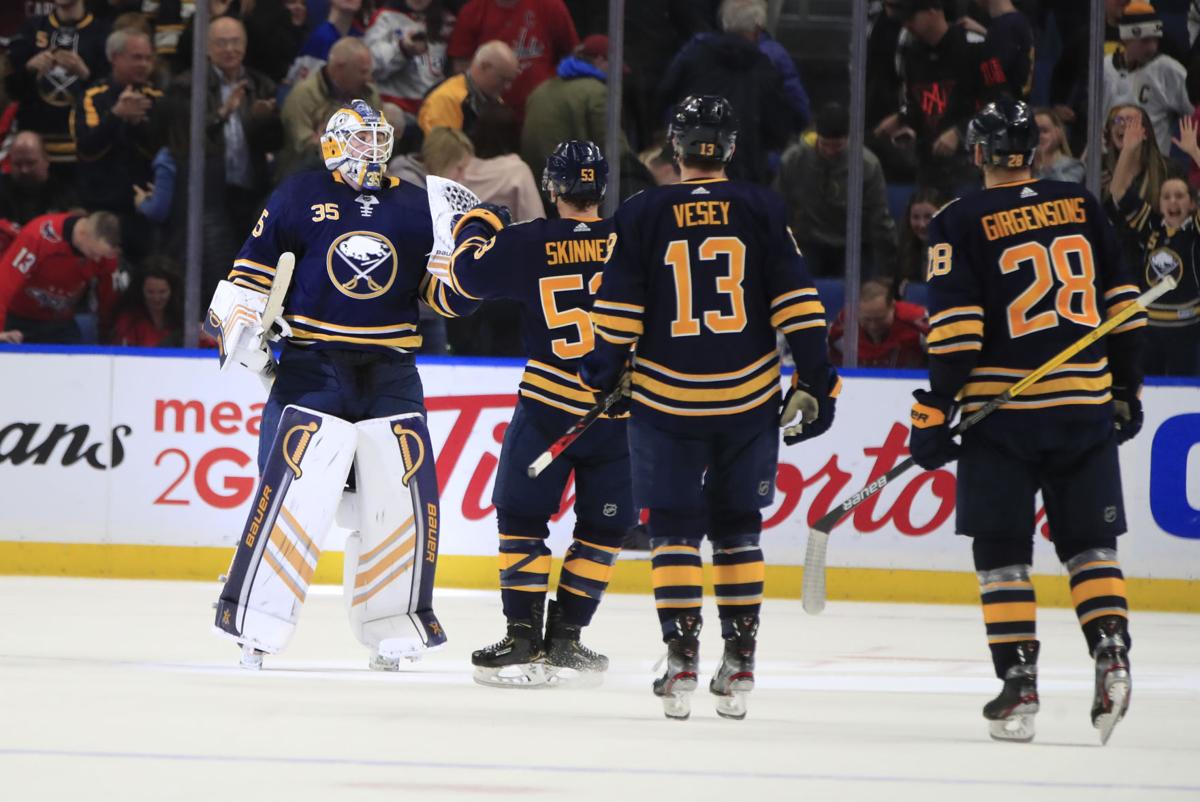 When Jason Botterill was the first of 22 hockey operations employees fired by the Buffalo Sabres in June, owner Terry Pegula told reporters that the department will now prioritize an "effective, efficient and economic" approach.
The Sabres haven't received any meaningful revenue since the coronavirus pandemic abruptly ended their season in March, and there remains uncertainty whether fans will be able to attend games in KeyBank Center in 2020-21. Pegula Sports and Entertainment, the team's parent company, has also made staff cuts across the past nine months. Owner Kim Pegula told The Buffalo News in April that PSE will operate differently in the future.
New Sabres general manager Kevyn Adams, who is still operating a lean hockey operations department, will have to creatively build a playoff contender around a frustrated superstar center, no small task considering the team has the third-most pending unrestricted free agents in the NHL and two significant holes on the roster.
Such a scenario would require Adams to make smart trades, bargain free-agent signings and possibly promote young, cheaper players such as Dylan Cozens.
When projecting the Sabres' possible expenses, it's wise to focus on the player's salary, not his average cap hit. According to CapFriendly.com, the team has approximately $49,248,810 in salary commitments to 13 players next season, including Cozens and two former Sabres whose contracts were previously bought out: Christian Ehrhoff and Cody Hodgson. This figure does not include players projected to play for the Rochester Americans in 2020-21.
This Sabres roster projection includes Cozens, Jack Eichel, Jeff Skinner, Kyle Okposo, Marcus Johansson, Rasmus Ristolainen, Colin Miller, Jake McCabe, Rasmus Dahlin, Henri Jokiharju and Carter Hutton.
Adams also has eight prominent restricted free agents, all of whom will likely have to settle for a qualifying offer or arbitration award: Sam Reinhart, Victor Olofsson. Linus Ullmark, Curtis Lazar, Dominik Kahun, Brandon Montour, Tage Thompson and Casey Mittelstadt, though the latter is not eligible for arbitration.
According to CapFriendly, those eight Sabres are projected to receive qualifying offers in the total amount of $12,650,000. Reinhart, a 24-year-old who has scored at least 22 goals in four of his five NHL seasons, would be a natural candidate for a long-term extension, but such a contract could cost the Sabres anywhere from $5 million to $7 million per season. Adams will likely push the decision to next offseason.
If we assume the Sabres keep all their pending restricted free agents at their projected qualifying offer, the team's total salary commitments increase to $61,899,000.
Theoretically, Adams would have approximately $10 million to upgrade the roster and sign or replace his three prominent pending unrestricted free agents: Johan Larsson, Zemgus Girgensons and Jimmy Vesey. Adams will also have to deal with a $1.275 million cap overage from last season, though he could spread that over the next two seasons.
One of those vacant roster spots could be awarded to Cozens, Thompson or Mittelstadt, but the Sabres would still have two significant holes on this roster: second-line center and left-shot defenseman. The latter could be solved by trading one of the four right-shot defensemen projected to make the team: Ristolainen, Montour, Miller or Jokiharju.
Montour appears to be the most likely candidate to be traded given he's projected to receive a $3.525 million qualifying offer and the 26-year-old never seemed to fit coach Ralph Krueger's preferred style of play. However, trading Montour, who struggled while playing on his off side last season, might prove difficult given other teams are also expected to have lower budgets next season.
The Sabres' new scouting department, most notably director of analytics and assistant scouting director Jason Nightingale, will need to use data and video study to unearth a bargain left-shot defenseman who could possibly help on the penalty kill.
A lower budget would create additional challenges in signing Larsson, who joined Girgensons and Okposo to form one of the top shutdown forward lines in the NHL. According to Evolving-Hockey.com, Larsson is projected to receive a $2.932 million contract if he returns to the Sabres, though industry sources told The News that Larsson is likely to receive more on the open market.
If Larsson leaves, Krueger would have to replace two centers unless he decides to use Johansson out of position for a second consecutive season. The Sabres may have trouble affording the few talented centers available in unrestricted free agency.
Evolving-Hockey projected Florida Panthers' Erik Haula, arguably one of the top centers available, to have an average cap hit of $4.234 million. If the Sabres want to add scoring help on the wing, Mike Hoffman, who has scored 65 goals across the past two seasons with Florida, is expected to receive $6.557 million per year. Additionally, the Sabres may have trouble attracting free agents given the significant front-office turnover.
Adams would likely have more success trading for someone like the Pittsburgh Penguins' Jared McCann, a pending restricted free agent who is projected to receive a $1.25 million qualifying offer. The Sabres might have trouble swinging such a trade given their lack of draft capital – they don't own a third-round selection until 2022 – and tradeable prospects.
In addition to addressing the team's needs amid a difficult economic landscape, Adams will have to earn some goodwill with Eichel, who told reporters in May that he was "fed up with losing" after a "tough" five years in Buffalo. When questioned about preferred additions to this roster, Eichel mentioned veterans and toughness. Both elements might be difficult to add at the right price, which could force Adams to rely on more young talent during a season in which the Sabres will try to snap a nine-year playoff drought.