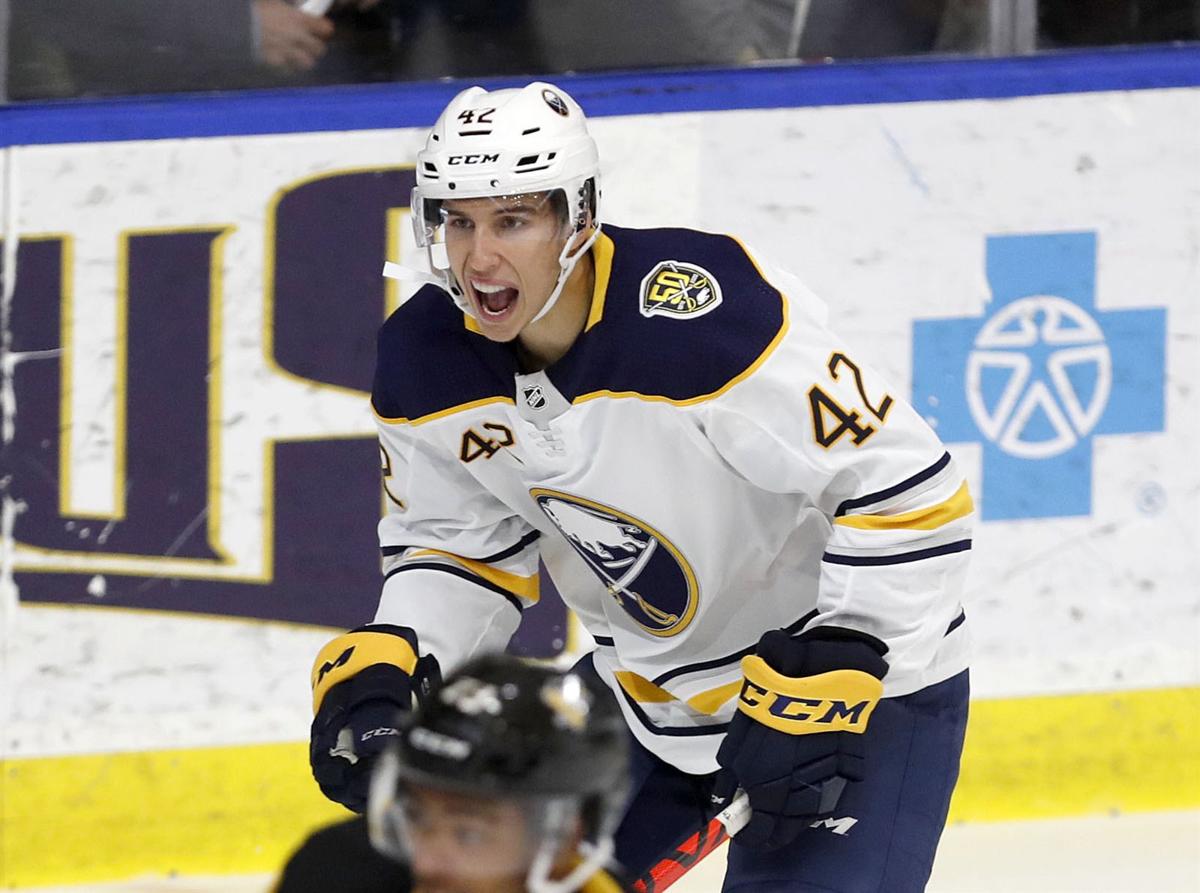 Surrounded by three mountains and situated along the Yukon River, Whitehorse is home to approximately 25,000 residents and has been fondly nicknamed Canada's Wilderness City.
While adventure sports are beloved in the isolated region, hockey is often the talk of the town, as citizens of the Yukon Territory's only city monitor from afar their beloved son, Dylan Cozens.
Cozens, now 19 years old and preparing to represent Canada at the IIHF World Junior Championship for a second consecutive winter, became the first player from the Yukon to be selected in the NHL draft when the Buffalo Sabres chose him No. 7 overall in June 2019.
"The most commonly sold jersey in the local sports store in Whitehorse is a Buffalo Sabres jersey by a mile," said Ben McPherson, Cozens' strength coach the past six years and owner of Northern Strength Academy, a private gym in Whitehorse. "It's kind of funny. I remember coming home from Vancouver after the draft and within a week the place was just littered with Sabres everywhere, so it's kind of cool. He's definitely a celebrity here."
However, Cozens hasn't been home for long in recent summers, as his elite talent had him traveling for the NHL combine, draft or tournaments for Hockey Canada. This time, though, the foundation of Cozens' offseason training took place in Whitehorse.
Cozens' regimen from March through mid-July – which included outdoor workouts that drew the attention of locals – led to improved strength and filled out his 6-foot-3 frame to reach 200 pounds with one goal in mind: withstanding the physical demands of a long season in Buffalo.
"Going into camp last year I had my sights set on the NHL," Cozens said in a recent phone interview with The Buffalo News. "I wanted to make that team right away and play there, but I think my body wasn't quite ready for the stress and work of an 82-game NHL season. I think that's also where they needed an improvement from me and that's where I really focused on working as hard as I can to make sure my body is ready for that. I believe that's where I'm at right now."
Quinn, whom the Sabres drafted with the No. 8 pick in the first round last month, was one of 47 players invited to Hockey Canada's selection camp.
With the two ice rinks north of downtown Whitehorse closed, McPherson collaborated with Sabres strength and conditioning coach Ed Gannon to create an off-ice training plan designed to prepare Cozens for the leap to the NHL.
A full summer of training is rare for an elite hockey player of Cozens' age.
Last year, for example, Cozens' one month with McPherson before the combine helped him gain six pounds, from 176 to 182. Following the draft in June, Cozens attended the Sabres' development camp, where he broke his thumb, and then came the prospects challenge in September. That left little time for strength training.
"It's been a dream for me to have him here for that long as a strength coach because usually you have to give him away to Team Canada to go somewhere," McPherson said.
This offseason, Cozens spent two-and-a-half hours, five days a week, working in and out of McPherson's gym. Cozens improved his squat from 340 to 470 pounds. Stunned by the feat, McPherson had Cozens switch to single-leg squats and more hockey-specific work to turn the improved strength into power and speed on the ice.
"I'm stronger, faster," noted Cozens. "I stepped up my overall game to hopefully play an NHL season."
The two went to a nearby turf field where Cozens pushed a weighted sled 150 yards. With a 400-pound tractor tire flipped on its side, Cozens and his friend Bryce Anderson would push each side like an offensive lineman facing a defensive lineman in a football drill to see who wins the strength battle.
"It used to be a good game for Dylan and I to play against each other, but now he just bullies me every time, so I have to get help from somebody else," McPherson said. "I know he's broken all our speed and agility records we have here. He's moving fast and he's got a big body these days. We're pretty stoked on that combination of strength and size."
There was also agility work running on sand dunes on the edge of a mountain bordering the town. On recovery days, Cozens and McPherson walked down the street from the gym to sit in the glacier-cold Yukon River and perform breathing exercises.
The outdoor work extends to the back alley of McPherson's gym, where Cozens would carry a trap bar or flip a tire. Word spread quickly around town and passersby stopped to watch the workouts.
"Someone will pop out from the apartment building nearby and all of a sudden there are 15 people whispering on the street watching him train," McPherson added.
The tournament, which will be held in a bubble around Edmonton's Rogers Place, is scheduled for Dec. 25 through Jan. 5.
Cozens, along with the other 45 players attending Hockey Canada's selection camp in Red Deer, Alberta, is locked down in his hotel room amid a mandatory two-week quarantine, which occurred in response to positive coronavirus tests on the team.
Between team meetings on video calls, Cozens is filling his free time with video games and heading the players' food committee that decides meals. A stationary bike was delivered to each room to keep players active and prepare them for the return of hockey activities.
Cozens, resolute in his pursuit to achieve his NHL dream, is accustomed to getting creative with his workouts. Aided by his agent, Allain Roy, Cozens traveled across Canada to find ice to train on this summer.
Beginning in mid-July, Cozens spent a few weeks training in Lethbridge, followed by a one-month stay in Kelowna, British Columbia. Before leaving for world junior camp, Cozens went to London, Ontario, where skated for six weeks with a group of NHLers, including Bo Horvat of the Vancouver Canucks, Travis Konecny of the Philadelphia Flyers, Boone Jenner of the Columbus Blue Jackets and Jordan Kyrou of the St. Louis Blues. The on-ice sessions were run by Dwayne Blais, a London-based skills coach who works in player development with the Washington Capitals.
"That was huge to see how I stack up against them and being with them to push myself because I want to play in the NHL," Cozens said. "Working with them and trying to bring my game up to theirs."
In addition to rounding out all areas of his game, Cozens emphasized enhancing his shot, which produced 72 regular-season goals over the past two years in Lethbridge, including 38 in 51 games during the coronavirus-shortened 2019-20 season.
"That's one of my strengths to begin with, but I want to be a goal scorer at the next level," Cozens said. "Working on my release, getting the puck off in awkward, uncomfortable positions where I'm off-balance. That's something I really worked on. As soon as the puck touched my stick, getting my shot off because the goalies in the NHL obviously are a lot tougher to score on than I'm used to."
Cozens' physical transformation showed immediate results in Canada's two selection camp scrimmages before the quarantine. He scored a power-play goal with a shot from atop the right circle and used his speed to confidently drive play on every shift.
Most importantly, though, Cozens appeared in control with the puck. He wasn't forcing plays or skating himself into trouble. Although Cozens scored 34 goals with 84 points in 68 games for Lethbridge during his draft-eligible year in 2018-19, draft analysts, including TSN's Craig Button, penalized the pride of Whitehorse for trying to do too much at times.
"I think we hear the term less is more, and when you're a young player in your draft year you're trying to show I can do 20 things in this game instead of being a little calmer," said Button. "His game matured exceptionally well this year. He's always been a 100% dialed-in competitor and he has all the skills, but the maturity this year really, really stood out in terms of his game and how he can impact the game. How less is more became so much more significant for him."
The Sabres, coach Ralph Krueger included, were impressed by Cozens' skill set during training camp and the preseason last September. Their primary concern was how the teenager would handle the grind of back-to-back games, coupled with difficult travel in what was a somewhat truncated schedule as a result of the team's trip to Sweden in November.
Cozens was assigned to Lethbridge near the end of camp. Rather than sulk upon returning to his junior team, Cozens showed a determination, Lethbridge coach Brent Kisio said, "to win games and play for the right reasons but also tear the league up."
Cozens helped Canada capture a gold medal at world juniors in January and set his sights on winning a Memorial Cup with Lethbridge before the season prematurely ended in March. Despite missing time to attend the world junior tournament, Cozens finished fifth in the WHL in goals and seventh in points (85).
"He's a special player," Kisio said. "Buffalo's going to be happy about the player they have coming in, on and off the ice. … Ever since he came in at 15, he's been one of those guys who always scores big goals. He's scored them for us. He's scored them for Hockey Canada. When the game is on the line, he's a guy you want on the ice and he always delivers. He's a guy you can rely on every night to play hard. … He's getting better and better and showing what he can do."
Beyond world juniors, Cozens' next step is showing the Sabres what he can do. Competition in camp will be stiff with the additions of Taylor Hall, Eric Staal and Cody Eakin, as well as two other young forwards pushing for roster spots, Tage Thompson and Casey Mittelstadt.
Krueger told WGR Radio in October that Cozens could begin his NHL career on the wing in a top-six role playing alongside an experienced center. Eric Staal, 36, a former Stanley Cup champion whom the Sabres acquired in August, would be an ideal mentor.
"I've always seen myself as a true center," Cozens said of a potential move to wing, "but I'm very comfortable on the wing and it does make sense for younger guys to sort of start on the wing and transition to center as they get older and more comfortable. Obviously wherever they want to play me, that's where I'm going to play and I'm going to play there happily. Whatever they want is what I'll do."
Cozens is a lock to make Canada's roster for world juniors and the tournament – which is scheduled Dec. 25 through Jan. 5 – will provide what he described as an opportunity to prepare for the job interview he's waited for since he left Sabres camp more than 14 months ago.
"The competitiveness, mixed with his size and speed, make him really special," said Andre Tourigny, Canada's coach for world juniors. "When you see a big boy like that who can move, who is so driven and plays with that pace ... We could say that about a lot of players: They're big, fast and skilled. But that doesn't mean they play with pace. It doesn't mean they play with that speed and desire to make plays. Dylan has that, though.
"I've been lucky to coach a lot of good players, but he's one of those guys who has that special drive, that special competitiveness who wants to makes a play every time he touches the ice."