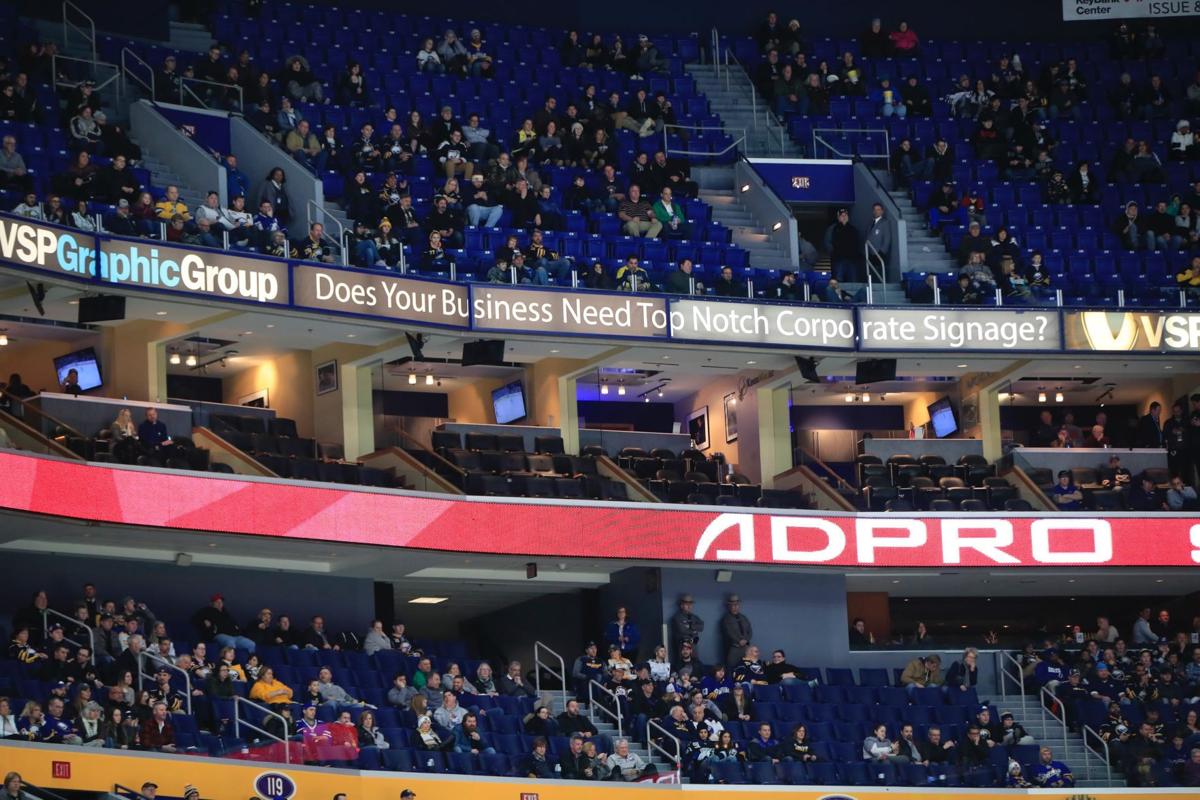 K.P. is a union roofer, a job that depends on decent weather. To keep his income rolling during Buffalo's winter months, he buys and sells Sabres tickets.
"This is the worst it's ever been in the 30 years I've worked hockey," he said a block from KeyBank Center before Tuesday's game. "They just don't want them."
The last-place Sabres lost their season months ago, and the effects are evident every time they take the ice. Empty seats litter section after section, the sea of blue chairs as vast as it's ever been.
The majority of those vacant seats are sold, however, mostly to season ticket-holders. For each seat that goes unused, someone is losing between $30 and $121 per game. The scalpers who patrol outside the arena hold multiple season tickets.
K.P.'s hand was full of unwanted tickets as he stood at the corner of Perry and Mississippi streets.
"I went home with more than half of the season," said K.P., who like the others quoted in this story declined to give his full or real name. "I get eight season tickets a year. I already ate them. That's $7,000 down the tubes."
What was once the hottest ticket in town sometimes isn't worth the paper it's printed on. Tickets are available online for as little as $6. On the streets, they're often worth less than that.
"It's more expensive for the popcorn than it is for the tickets," said Ned, who is said to have one of the largest inventories among the brokers. "I call up some of my friends to give it to them for free, and they don't want them because then they have to buy concessions. They've got to buy souvenirs for their kids. They've got to pay to park. They don't even want to come down."
As Ned strolled up Washington Street after a walk down Perry, his associate, Troy, said they typically have 40 tickets available per game. They've been going home with at least 20, if not more.
"Even the kids that used to come, they haven't even been out here this year, the stragglers," Troy said. "The people who are cheap, the $10 to $15 buyers, when they're not out here you know something's wrong."
Another trend for the scalpers is the ease of acquiring tickets. Whenever fans going to the game were stuck with extras, they could haggle with the brokers to get money back. Good seats used to fetch $75.
"The fans are literally giving us the tickets now," K.P. said. "We don't even have to buy them anymore. They say they can't even give them to family members.
"After they give them to us, we still can't get rid of them for $5 or $10. People don't even want them."
The street sellers are experiencing a double whammy. In addition to a bad team, online sales have diminished the need to search out scalpers. Fans can go to StubHub.com or VividSeats.com and get the seats they want with guarantees that the tickets are real.
Those tickets are selling at a fraction of the price, if at all. For five of the last six home games, tickets were available on StubHub for $6. The other game, a Saturday against St. Louis, featured a low price of $11. Each 300 Level seat cost the season ticket-holder between $30 and $53.
As the clock neared the 5 p.m. cutoff time for StubHub's game-day sales, it was clear most transactions wouldn't happen. For the Feb. 1 game against Florida, there were still 537 tickets available for $10 or less. For Tuesday's game against Tampa Bay – the top team in the NHL – there were still 426 tickets available for only $6.
There were hundreds more at higher prices in the 100 and 200 levels.
"If you're counting on selling some of them, you're getting dimes on the dollar," said Stan, the owner of six season tickets who has been reselling them for 15 years. "There's some nights when I've stood out there from 5 o'clock to 7:30 and not sold a single ticket. Not even not been able to come to an agreement, I mean not talked to a person who's buying a ticket."
Stan's season-ticket bill this season was $14,058. In years past, he had resale profits of up to $5,000. This year, he's down $589 so far on his season tickets. It would be much worse if he sold only on the street. He's built a regular base of customers through the years, and many paid a premium for the marquee games before the season.
For games without presales, he takes a bath. New Jersey and Florida visited in a three-day span two weeks ago, and Stan lost $444.
Stan also has friends and clients who visit him near the corner of Scott and Washington streets when they're not using their tickets. He buys low and attempts to sell higher. Thanks to those sales, he's totaled $89 profit – for five months of work.
However, those buy-low, sell-high transactions are diminishing.
"They just don't bother coming down here because, quite frankly, it's just not worth the trip," Stan said. "They know how much they're losing, and they're not going to complicate it by driving into traffic just to sell the tickets."
People selling tickets hope a few upcoming games brighten their season. Toronto and its rabid fans come to town twice. Chicago and Buffalo-born Patrick Kane still have to visit. There are a few afternoon games, which tend to sell better.
But from Dec. 23 through the home finale April 4, Buffalo will have hosted only one Friday night game. The sellers say that's a killer.
"Whoever made the schedule never should have made them for Tuesdays and Thursdays," Troy said.
The Sabres used to book Friday home games, but many other teams insist on Saturday home games. That meant an inordinate number of back-to-back games with travel for Buffalo, so the organization shifted home outings to other nights to help the players.
It hasn't mattered on the ice. The Sabres have lackadaisical efforts regardless of rest, and more and more fans have lost interest. NHL teams don't announce actual attendance, but the Sabres are selling their arena to only 93.2 percent capacity, which ranks 23rd in the NHL.
The big question is will fans regain their interest by the time season-ticket invoices arrive this spring for the 2018-19 season?
"My supplier network is going to dry up because most of my suppliers have told me, 'This is my last year doing it. I want to give you a head's up,'" Stan said. "Maybe they change their mind when the time comes to pay for them, but I would think there's going to be a big amount of people giving their tickets up."
After years of boasting about renewal rates and season-ticket sales of 16,000, the Sabres declined to provide the information this season. It signaled a drop, which likely will happen again.
"The whole fear that they used to rule over you, 'Give them up and you'll never get them back,' I don't think that's true anymore," Stan said.
When the Sabres were at their peak in the arena, they established the "Blue & Gold Club," which is a waiting list for season tickets. Fans pay a nonrefundable deposit of $100 per seat to get on the list, and they are offered tickets when others fail to renew.
The early years featured only a trickle of openings as the list swelled to more than 3,000. The number is said to still be in the thousands, but since the deposit is nonrefundable, the list includes people who have moved or are no longer interested, according to a source inside the organization with knowledge of the situation.
Everyone who was on the list last summer had the opportunity to buy tickets, the source said, and the Sabres again expect everyone on the list who wants tickets will have a chance to purchase them.
K.P. said he will drop from eight season tickets to six. Ned plans to get rid of the four 200 Level club seats he owns, which total $19,728. Stan says he'll likely keep his six, though since they're split up he may consolidate them to one section.
"I imagine this will be the offseason to move around," he said, referencing the anticipated drop in season-ticket sales.
The guys on the street know all about a drop in sales. The empty seats in the Sabres' arena mean empty pockets for them.
"All you can do," K.P. said, "is thank God and hope for next year."