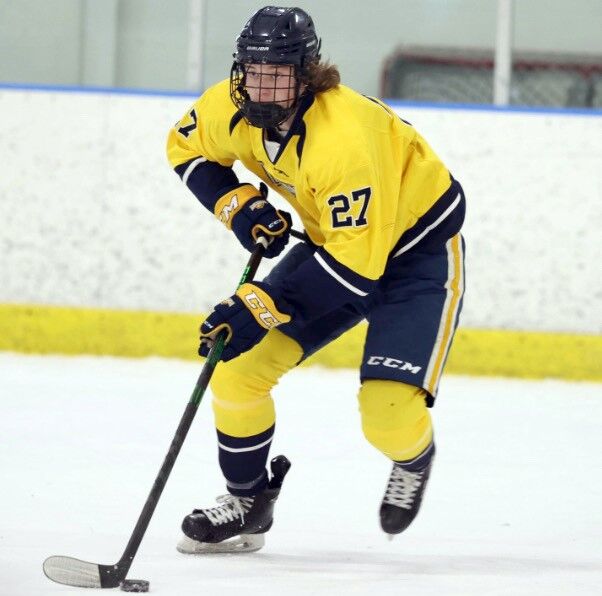 Quentin Musty wasn't going to sit idle while recovering from a shoulder injury.
When the 15-year-old Hamburg native could not grip a stick last fall, he still put on skates and stepped onto the ice in Hackensack, N.J. When Musty's teammates with the North Jersey Avalanche 16U were on the road from September through March this season, he stood alongside them on the bench and took stats.
Unable to use his left-handed shot to fool goaltenders, Musty spent hours watching footage of the National Hockey League's best, particularly Auston Matthews of the Toronto Maple Leafs. So, when Musty was finally cleared to return to the ice this spring, he was ready to show the same tantalizing skills that were enhanced during his three years with the Buffalo Jr. Sabres at LECOM Harborcenter.
"I just knew that I needed to have a positive mindset, really," Musty said during a phone interview with The Buffalo News. "I really didn't miss a beat of real development."
Upon returning to the ice, Musty helped lead the Avalanche to the USA Hockey Youth Tier-1 National Title with 17 points, including nine goals, during the final tournament. His statistics while splitting time between all three forward positions during a shortened regular season: 23 goals and 56 points in 27 games.
The dynamic performance, combined with elite talent in a 6-foot-2, 190-pound frame, has Musty on the cusp of a historic moment. When the Ontario Hockey League holds its selection draft Friday night, Musty will be selected first overall by the Sudbury Wolves. The team made the announcement during a press conference Thursday, officially making Musty the first U.S.-born recipient of the John Ferguson Award since Arizona Coyotes defenseman Jakob Chychrun in 2014.
Other elite players to hear their name called at No. 1 in the OHL draft: Connor McDavid, John Tavares, Aaron Ekblad, Steven Stamkos and Ryan O'Reilly.
"It means a lot just being in the same category as some players like McDavid, Stamkos, all of them," Musty said. "And just being one step closer to reaching my overall dream feels good."
Musty's hockey dream, much like many in western New York, began at a young age. His parents, Mike and Missy, took him to Sabres games. Musty watched closely as South Buffalo native Patrick Kane was amid his run of three Stanley Cups with the Chicago Blackhawks. 
Musty's talents then allowed him to play with top area players at LECOM Harborcenter, where he was coached by former Sabres Pat Kaleta and Brian Gionta. Even at 12 years old, Musty was bigger and taller than most of his competition.
Kalenta and Gionta could have let Musty take over games using his raw talent, but doing so would have likely caused him to form bad habits. Instead, the former NHLers provided Musty with structure and taught him how to use his talent to excel in a team game.
"You may be a little bit harder on guys like Quentin," Kaleta said. "But they also know that you expect more out of them. You need to keep them on the course because they may be able to go through defensemen and go through their legs and score. But realistically, is that going to be something that people are going to be using, or the kid's going to be using, you know, five years from now? If you do that in the NHL and you don't score, then you might be sitting on the bench.
"So, Gio and I are huge advocates of teaching the kids the right way. ... For Quentin, this is a great accolade and a tremendous accomplishment. But then our mindset's got to be that it's what we do with that opportunity to take the next steps and to advance."
The approach to development has proven to be effective. The Jr. Sabres had five former players selected in the 2020 NHL draft in October: forward Luke Tuch (Montreal Canadiens, second round), forward Trevor Kuntar (Boston Bruins, third round), forward Colby Ambrosio (Colorado Avalanche, fourth round), Matteo Costantini (Buffalo Sabres, fifth round) and Declan McDonnell (Tampa Bay Lightning, seventh round).
More alumni were recently selected in the recent United States Hockey League draft and others will join Musty in the OHL.
When Musty sought a new challenge this season, he relocated to New Jersey to join a team that included some of the top 2004-born players in the country. This provided Musty with an opportunity to practice and play against older competition.
During a September game in Connecticut, a routine check caused familiar pain in Musty's left shoulder. He had dislocated his shoulder previously, but this was different.
Musty soon learned that he tore his labrum, an injury that would require surgery and cost him approximately four-to-five months of his season. He spent the first four weeks post-operation at home with family and returned to New Jersey to begin as much on-ice work as possible.
When Musty was cleared to return to practice, albeit without contact, he quickly showed what he is capable of at full strength.
"He's so unique in so many ways," said Jamie Cahill, a coach with the Avalanche. "You would have to call him a generational player, right? His size, he's athletic, his skating ability, but then, you know, he could play both a blue-collar and white-collar style as the game dictates and, you know, his inside hands and how he feels with pressure around him and how he protects the puck. And his shot release is unreal."
The Avalanche completed their championship run with Musty scoring two goals, including the game-winner, during the national title game against the Colorado Thunderbirds. He became the Wolves' top target after deciding that the OHL is where he can develop into an NHL player.
"He does everything well," Sudbury general manager Rob Papineau said during a news conference Thursday. "He skates well. He's a physical player. He's not just a big, skilled player. He's a big, competitive power forward with skill. I anticipate his adjustment is going to be very, very quick. He'll be able to step into our lineup and compete with our top-end guys right off the bat."
Musty plans to spend much of his summer in Buffalo and Pittsburgh. He's been skating at LECOM Harborcenter with former Sabres defenseman Craig Rivet and wants to gain more strength in preparation for playing in the top junior league. Musty, though, is only viewing this as the next step. His goal is to someday hear his name called at the NHL Draft.